Biz: China Hong Kong Hawaii SF
Biz-Video
Hawaii's China Connection
Doing Business in Hong Kong & China
*Biz Opportunities - China - Partnership with China Government Agencies
Do you know our dues paying members attend events sponsored by our collaboration partners worldwide at their membership rates - go to our event page to find out more!
| | | |
| --- | --- | --- |
| | | Listen to MP3 "Business Beyond the Reef" to discuss the problems with imports from China, telling all sides of the story and then expand the discussion to revitalizing Chinatown - Special Guest: Johnson Choi, MBA, RFC. President - Hong Kong.China.Hawaii Chamber of Commerce (HKCHcc) and Danny Au, Manager, Bo Wah Trading |
Shanghai World Expo 2010 http://www.expo.cn http://en.expo2010.cn/ May 1 - Oct 31 2010 Share
Shanghai World Expo highlight Videos on YouTube in Mandarin and Cantonese - it will give you a complete history of World Expo including Shanghai World Expo Highlights - the information is very helpful prior to your arrival in China 世博年漫遊長三角 Video#1A/1B http://www.youtube.com/watch?v=chlK-rjWZVI http://www.youtube.com/watch?v=vn6avEYY-qU Video#2A/2B http://www.youtube.com/watch?v=ZqStd1T0CVU http://www.youtube.com/watch?v=nRK4mJQRvWg Video#3A http://www.youtube.com/watch?v=os7sk7c7PFQ Video#4A/4B http://www.youtube.com/watch?v=RDU7G4pFb8c http://www.youtube.com/watch?v=U4qCs9_iMuc Video#5A/5B http://www.youtube.com/watch?v=Zpn1nyDA5W4 http://www.youtube.com/watch?v=y4Fb30GW65o Video#6A/6B http://www.youtube.com/watch?v=GdP-vGyNkHk http://www.youtube.com/watch?v=s1Er_gD9iq0 Video#7A/7B http://www.youtube.com/watch?v=x565IqgAlk4 http://www.youtube.com/watch?v=nBSOqiFAx2s Video#8A/8B http://www.youtube.com/watch?v=7fkhSmwDRhg http://www.youtube.com/watch?v=KgdKwJHhKRI Video#9A/9B http://www.youtube.com/watch?v=MeR3F4PO980 http://www.youtube.com/watch?v=gzN00sgOax8 Video#10A/10B http://www.youtube.com/watch?v=H-j7KCZUW0o http://www.youtube.com/watch?v=FOkjesRMuH8 Video#11A/11B http://www.youtube.com/watch?v=SEBZyeV3ydE http://www.youtube.com/watch?v=a7nEgVBq6AQ Video#12A/12B http://www.youtube.com/watch?v=l3WGE9eQj7A http://www.youtube.com/watch?v=4rPPfmdjkJY Video#13A/13B http://www.youtube.com/watch?v=5Ap8EFL6gjo http://www.youtube.com/watch?v=dR0nk6rCPUI Video#14A/14B http://www.youtube.com/watch?v=YVgbviB1Ueg http://www.youtube.com/watch?v=JNWoygJAu5w Video#15A/15B http://www.youtube.com/watch?v=yKlZi1MfvPo http://www.youtube.com/watch?v=lzRFGDa4okU Video#16A/16B http://www.youtube.com/watch?v=_AdFGwbwDc8 http://www.youtube.com/watch?v=veVq0Hv-8P4
Shanghai World Expo Pictures on Facebook http://www.facebook.com/album.php?aid=108961&id=562941983&l=d01c8a8eda
Thing to do in Shanghai by our Director Yen Chun http://www.hkchcc.org/shanghai.pdf - information deemed reliable but not guaranteed (the $ listed on the tour guide is Chinese $Yuan US$1 = 6.8 $Yuan) http://www.b2bchinadirect.com/shanghaibiz.htm
AmCham Shanghai launches latest Viewpoint - U.S. Export Competitiveness in China - on the 2010 Washington, D.C. Doorknock - Please download report in PDF format: http://www.hkchcc.org/viewpointusexport.pdf
成功之道 武进制造 Wujin - Changzhou - Jiangsu Province - China http://www.hkchcc.org/wujin.htm
China President Hu Jintao USA State Visit January 19 - 21 2011 http://www.b2bchinadirect.com/hujintaousavisit.htm
USCBC Special Report: Hu Jintao State Visit
Honolulu Chinatown - Year of the Dragon 2012 Lion Dance with Firework http://www.youtube.com/watch?v=-VoFfOglJuI
President Obama's Lunar New Year Message - Year of the Dragon http://www.youtube.com/watch?v=C6gfkYAo5gE
Under the Hawaii State Law "Asian Lunar New Year Commemoration Week" The one week period following the day of the Chinese New Year shall be known and designated as the "Asian Lunar New Year Week of Commemoration in Hawaii". This week is not and shall not be construed as a state holiday. [L 2007, c 48, §2] click for more details
TED: Martin Jacques Understanding The Rise of China 马丁·雅克:了解中国的崛起 http://www.youtube.com/watch?v=DJiOXUHIOeA
Ferries Accident on October 1 2012 - Day of condolence for Hong Kong vessel tragedy 全港哀悼撞船事故罹難者
China is doing the right things dealing with the challenges according the World Bank President Jim Yong Kim at this WSJ Interview http://www.youtube.com/watch?v=9Zn_BP0krBM
China News prior to January 1 2012
South China Morning Post January 10 2014

Abe's Yasukuni visit shows Japan has no remorse over wartime aggression By Song Zhe
Song Zhe says Japan's relations with China and the rest of Asia cannot start afresh unless and until its leaders show true remorse for - and accurate understanding of - its wartime acts. Japan's Prime Minister Shinzo Abe, centre, is led by a Shinto priest as he visits Yasukuni shrine in Tokyo in this December 26, 2013 file photo.

Yasukuni Shrine, located in Tokyo, Japan, is dedicated to over 2,466,000 Japanese soldiers and servicemen who died fighting on behalf of the Emperor of Japan in the last 150 years. It also houses one of the few Japanese war museums dedicated to World War II.The shrine is at the center of an international controversy by honoring war criminals convicted by a post World War II court including 14 'Class A' war criminals. Japanese politicians, including prime ministers and cabinet members have paid visits to Yasukuni Shrine in recent years which caused criticism and protests from China, Korea, and Taiwan.

Hong Kong, known as the "Pearl of the East", is a world city of prosperity. One could hardly imagine what happened here 70 years ago, when the city was ravaged by war. Hong Kong was under Japanese invasion and occupation for three years and eight months, during Japan's war on the region.

In those years, the suffering caused by Japan's invasion and expansion went far beyond a few cities. In the war against Japanese aggression, tens of millions of people lost their lives in China; the casualties and loss of property were countless. The cruelty of Japanese invaders covered almost the whole of Asia, and the suffering inflicted on the people of victim countries was beyond estimation.

Nearly 70 years have passed since the end of that war. But Asia will not be able to turn this page of history if the aggressor does not have an accurate understanding of this wartime aggression and has no feelings of remorse.

How to understand history is always a major political issue in Japan's relations with China, South Korea and other war victims in Asia.

In Japan, the consensus regarding remorse for past aggressions is not as broad as in Germany. But Japan's leader, as an embodiment of the will of the state, cannot say it is a matter of "internal affairs" and use this as an excuse to explain his behaviour with regard to understanding history. Because of this, the decision whether or not to visit the Yasukuni shrine, where convicted second world war criminals are honoured and worshipped, is not only a sensitive issue in Japan; it is also an issue of major importance watched closely by the people in the victim countries in Asia, and by the international community.

The rolling back of history by Japanese right-wingers offends the whole world's conscience
One year after Shinzo Abe became prime minister of Japan for the second time, he visited the Yasukuni shrine, with no regard for the strong opposition from the Chinese government, bringing to the fore this major political issue after seven years of rest. Abe claimed afterwards that he made the visit out of remorse for the past and for "continued peace".

Such thinking can never be a justification for the people of the victim countries in Asia and in terms of international justice. This has been proven by the international community's strong reaction to Abe's behaviour.

Yasukuni was seen as a symbol of dedication to the emperor. As such, it played a role in boosting morale for invasion and expansion.

To this day, war criminals are glorified as "heroes" and "martyrs". In the shrine, past invasions are distorted, militarism is beautified and an absurd historical outlook - such as invasion having a higher purpose - is trumpeted.

But justice comes from the human conscience. The international community has long ago drawn its conclusions about the crimes of Japanese militarism and the responsibilities of war criminals. The International Military Tribunal for the Far East handed down just judgments and sentences on 14 Class-A war criminals; they were the leaders who waged war and on their hands was the blood of the people in the victim countries. They were Asia's Nazis. The rolling back of history on this particular issue by Japanese right-wingers offends the whole world's conscience.

Abe should know the sensitive nature of the Yasukuni issue. Still, he took this adventurist step. His actions show he is not sincere in his remorse for this wartime aggression, and he lacks an accurate historical outlook, which is necessary to see sense. His so-called remorse for the past and commitment to relations with China are a disguise. Through his actions, he is in fact questioning the legitimacy of the Tokyo Trials. Abe's veneration of Class-A war criminals is a sacrilege to the souls of those who sacrificed their lives in the fight against fascism in Asia and elsewhere.

If we also consider that, in the past year, Abe has been talking much about amending the constitution and about a military build-up, we cannot but feel worried. Where will Abe lead Japan? Can Japan live in peace with its neighbours? Will past tragedies be repeated in Asia?

One should take history as a mirror and look to the future. This is not to continue hatred, but to prevent a repeat of past tragedies. We hope Abe will have a correct understanding of, and deep remorse for, Japan's military aggression and colonial history, change course and win the trust of his Asian neighbours, rather than slipping further down the opposite road.

Today, peace and development are ideals to be found deep in the hearts of the Asian people. Asia on the whole is prosperous and growing. But the attempt of a few people in Japan to roll back the history of aggression is a countercurrent that should not be overlooked, because peace does not come easily.

Song Zhe is the Ministry of Foreign Affairs' commissioner in Hong Kong
Dec 28 2013
Abe's shrine visit a reminder of Japan's refusal to face wartime past 安倍晉三參拜靖國神社日本拒絕面對戰爭歷史 By Andrew Leung


Andrew Leung says Japan's refusal to atone for its wartime atrocities remains the biggest obstacle to building relations with China and other victims, and Tokyo can learn much from Germany's courage in owning up to its own history - Japanese Prime Minister Shinzo Abe's visit to the controversial Yasukuni Shrine has stirred tensions.

On December 26, Japanese Prime Minister Shinzo Abe visited the controversial Yasukuni Shrine that houses Japan's war dead, including some convicted war criminals. It was the first such visit by a sitting prime minister in seven years.

Junichiro Koizumi's visit in August 2006 greatly soured relations with Asian neighbours. This time, Abe's visit aroused immediate vitriolic reaction from China. Amid growing tension in the East and South China seas, his visit also drew expressions of regret and disappointment from the UN secretary general and Japan's ally, the United States.

Abe's move is consistent with his calculated right-wing politics. With control of both houses in the Diet, he is thought to be edging towards revision of Japan's anti-war constitution, possibly during a likely second term, given his current popularity with the Japanese public.

The rise of right-wing politics in Japan comes from growing public dissatisfaction with the country's "lost decades", during which its economic and geopolitical clout have declined vis-à-vis China. A sizeable proportion of the electorate were born after the second world war. More people now support the view that, after 68 years, Japan should now stand tall as a "normal" country, with its own military forces, unfettered by its wartime past.

While most Japanese are pacifist, Japan's military spending has expanded to 4.88 trillion yen (HK$360 billion), a level comparable to Britain and France, making Japan the world's fifth-largest military spender. Its shopping list for new military hardware is growing at a rapid rate. Yet the exact scope and details are likely to be shrouded under Japan's newly enacted secrecy law.

Notwithstanding Japan's increasing assertiveness, some in international circles believe China is overreacting. Weighed down by an albatross of "aggrieved nationalism", China is seen as still licking its wartime wounds while Germany and the rest of Europe have long since moved on.

There is, however, one huge distinction in how Germany strived to re-emerge as a "normal" country. Over many decades after the second world war, Germany spared no efforts in atoning for its war crimes, through repeated public remembrances, reparations and education of its young about German atrocities.

A 2003 MIT PhD dissertation, "Apologies and Threat Reduction in Post-war Europe", shows how Germany eventually won over the rest of Europe, particularly France, despite its wartime transgressions. Germany's repeated efforts, including settlement of territorial discords, took several decades.

In the mid-1960s, exhibitions at Neuengamme, Bergen-Belsen, and Dachau showed "how the 'murderous system' of mass killing developed". In 1965, a large plaque naming concentration camps was installed in West Berlin. In 1970, chancellor Willy Brandt fell to his knees before the Warsaw Ghetto memorial. In 1977, chancellor Helmut Schmidt visited Auschwitz and made a contrite speech, followed by Helmut Kohl in November 1989. Absent real German atonement, the peace-promoting European Union project would not have come about.

In contrast, Japan has fallen far short in facing history. So far, it has not accepted any blame for forcing women into sexual slavery during the war. Instead of educating its young on the nation's mistakes, Japan chose to doctor its history textbooks.

Successive Japanese prime ministers have continued to pay homage at the Yasukuni Shrine. Despite Japan's efforts to portray these visits as a normal nation's respect for its war dead, think how provocative it would be to the world if Germany were to pay homage to a shrine honouring, say, Hitler.

Now, nationalism is rising in both Japan and China. A stronger China with deep wartime scars and long memories of foreign humiliation naturally finds Japan's haughtiness difficult to stomach. So would an economically self-assured South Korea. This perceived provocation is adding incendiary tension over island disputes in regional seas, complicated by America's defence treaty with Japan and its "pivot" to Asia.

Abe is working to restore Japan's economy to its former dynamism, but it is uncertain whether he would be able to let fly all his "three arrows" of Abenomics - monetary easing, fiscal stimulus and growth strategy - or if they would hit the target. With its population fast ageing, it is questionable whether Abe, with all his abilities, will be able to turn the economic tide.

During the first year of his second premiership, Abe has visited more than 20 countries, including the US, France and all 10 member countries of the Association of Southeast Asian Nations. He has not missed any opportunity during these visits to advance ostensibly China-containment policies. These are accompanied by generous financial assistance packages, including multimillion-dollar loans to Myanmar, where China's influence appears to be diminishing.

Despite Abe's efforts, however, Asean countries are largely hedging their bets, perhaps with the exception of the Philippines and Vietnam. After all, China, the world's second-largest economy, remains the hub of a regional production and supply chain.

This economic interdependence is underscored by the establishment of the Asean-China Free Trade Area.

Abe's latest shrine visit reminds China, South Korea and other war victims of Japan's lack of repentance for its wartime past. For all of Abe's "arrows" and diplomacy, and Japan's military prowess, the country is unlikely to earn the highest level of international respect and rapport unless it is able to muster Germany's courage and conviction to truly, unequivocally and courageously own up to its history.

If so, this should help build a credible spirit of atonement, trust and co-operation with its war victims, particularly China and South Korea. This will reduce the tension threatening regional stability.

What is more, this should enhance the chances of the Land of the Rising Sun regaining its moral, if not economic, leadership.

Andrew K. P. Leung is an international and independent China specialist based in Hong Kong
Nov 8 2013
Foreign firms shun Shanghai zone By Daniel Ren in Shanghai ren.wei@scmp.com


Lack of specific details for the initiative blamed for lukewarm response - The Shanghai free-trade zone is part of the mainland's effort to attract global talent and funds to strengthen its economy.

The much-trumpeted mini-Hong Kong has turned out to be a damp squib as foreign businesses seem to give the Shanghai free-trade zone the cold shoulder for its lack of specifics.

Fewer than 3 per cent of the firms that had registered at the zone since its opening in late September were foreign-funded, the Shanghai government said.

This lack of interest for an initiative that was touted to become the mainland's new growth engine and aimed to give companies a free rein in a tightly regulated economy has left Shanghai officials red-faced.

"I wouldn't think the lukewarm response from multinational firms is a result of their disappointment," said Ai Baojun, a Shanghai vice-mayor who is also head of the zone's administrative committee. "They expect us to unveil the details soon."

After a lot of internal resistance, the central government had endorsed Shanghai's ambition of developing the Hong Kong-type territory in which officials had envisioned freer cross-border capital and commodity flows that would help the mainland further integrate with the global economy.

Beijing had pledged to make the yuan fully convertible in the zone but has yet to map out a detailed plan.

The ultimate goal is to attract global talent and funds to help the mainland strengthen its economic might while replicating the Shanghai free-trade-zone model in other parts of the country.

It is believed that Premier Li Keqiang has intended to use the zone as a testing ground for more radical reforms.

However, only 38 foreign firms have registered at the 28.78 square kilometre zone, with domestic firms accounting for most of the about 1,400 companies setting up shop there.

"Foreign companies want to find out what businesses they can do and why they need to be at the zone before making a move," said Dai Haibo, an executive deputy director of the zone's administrative committee. "It'll take time for foreign investors to understand the nature of the free-trade zone."

Sources with knowledge of the regulators' thinking said the top policymakers had second thoughts on concerns about hot money inflows as the yuan strengthened. As a result, no time frame was announced on the currency's full convertibility in the zone.

Last month, Hong Kong Monetary Authority chief executive Norman Chan Tak-lam, during a visit to Shanghai, urged mainland officials to give priority to the real economy and trade while drawing up policies governing the free-trade zone.

Hong Kong businesses and financial institutions have yet to show a lot of interest in the zone. Dai said Hong Kong investors, the largest overseas investment source for Shanghai, were most welcome to join in and profit from the development of the zone.

Although the free-trade zone has yet to generate real economic output, property prices in the city have surged in the past months as local investors have flocked to buy houses and office space, betting on a price surge induced by the zone.
Oct 8 2013
Japan's Second World War defeat was not just due to the atomic bomb, says China By Agence France-Presse
Chinese Ambassador Cui Tiankai tells forum of 'dangerous' view by Japanese politicians - The mushroom cloud photographed from US bomber of the August 9, 1945 atomic bombing of Nagasaki.

Japan should realize it was defeated in 1945 "not just" by atomic bombs and thus not challenge the post-World War II order, China's ambassador to Washington said on Tuesday.

Amid high tensions between China and Japan, Ambassador Cui Tiankai said that such historical perceptions "may be the most important issue" between Asia's two largest economies.

Cui, addressing a forum, criticized as "very wrong and dangerous" a view by "a few politicians" in Japan that their country was forced to surrender in 1945 solely because of the nuclear attacks on Hiroshima and Nagasaki.

"They believe that if you don't antagonize the United States, everything would be okay for them, they don't have to take care of the concerns of other countries," he said at Johns Hopkins University's School of Advanced International Studies.

"Japan was defeated in the Second World War not just by two atomic bombs dropped by the US but by all the peace-loving, anti-fascist countries and people - the peoples of the United Nations - including China and the United States, of course," Cui said.

"I think politicians in Japan have to realize this is the post-World War II international order. You cannot challenge that," he said.

Historical issues remain a major sore spot in East Asia, with many Chinese and Koreans accusing Japan of insufficient remorse for its past expansionism in other Asian nations.

Japan has apologized for causing "tremendous damage and suffering" in the 20th century, leading some officials in Tokyo to accuse Beijing and Seoul of intentionally keeping tensions on a simmer.

Japan, officially pacifist since the war, has been seeking a permanent seat on the UN Security Council, whose makeup reflects power dynamics in 1945. China, now the only Asian nation with veto power, has adamantly opposed Japan's bid.

Japanese Prime Minister Shinzo Abe, who is known for his conservative views on history, has vowed not to cede any sovereignty over islands in the East China Sea claimed by Beijing.

Japan reverently observes the anniversaries of the bombings of Hiroshima and Nagasaki, which together killed more than 200,000 people. In May, Japan lodged a protest when a South Korean newspaper called the world's only atomic bombings "divine punishment."
Oct 2 2013
President Xi gives speech to Indonesia's parliament By Wu Jiao China Daily
Ladies and Gentlemen:

Dear Friends,

Since the founding of the People's Republic of China over 60 years ago, in particular the launch of reform and opening-up over 30 years ago, China has blazed a successful path of development and made tremendous progress. China has laid out a strategic plan and set clear goals for its future development, namely, to double its 2010 GDP and per capita income of its urban and rural residents and finish the building of a moderately prosperous society in all respects by 2020; and turn China into a modern socialist country that is prosperous, strong, democratic, culturally advanced and harmonious and realize the great renewal of the Chinese nation by the middle of this century. This is a dream that has long been cherished by the Chinese nation and people. It is also a prerequisite for China to make even greater contribution to mankind.

As an ancient Chinese maxim goes, "only with high ambition and hard work can one make great achievements." We have the confidence, conditions and capabilities to attain our goals. Having said that, we are soberly aware that China remains the largest developing country in the world. We still face many difficulties and challenges on the way ahead. For all the Chinese people to enjoy a happy life, we have to make unrelenting efforts for a long time to come. We will firmly stay on the course of reform and opening-up, adhere to the path of socialism with Chinese characteristics, focus on managing our own affairs well, press ahead with modernization and improve people's wellbeing.

China cannot achieve development in isolation from the world, and the world also needs China for development. China is fully committed to the path of peaceful development, the independent foreign policy of peace and the opening-up strategy for win-win results. A stronger China will add to the force for world peace and the positive energy for friendship, and will present development opportunities to Asia and the world, rather than posing a threat. China will continue to share opportunities for economic and social development with AESAN, Asia and the world.

First, build trust and develop good-neighborliness. Trust in the very foundation of both interpersonal and state-to-state relations. China is committed to a relationship of sincerity and friendship with ASEAN countries and to enhanced mutual political and strategic trust.

There is no one-size-fits-all development model in the world or an unchanging development path. Both the Chinese people and people in ASEAN countries have embraced change and innovation with an open mind, and explored and found, in a pioneering and enterprising spirit, development paths in light of their specific national conditions that conform to the trend of times. All these efforts have opened up a broad prospect for their economic and social development.

We should respect each other's right to independently choose social system and development path as well as each other's efforts to explore and pursue economic and social development, and improve people's lives. We should have full confidence in each other's strategic direction, support each other on issues of major concern, and never deviate from the general direction of China- ASEAN strategic cooperation.

China is ready to discuss with ASEAN countries the prospect of concluding of a treaty of good-neighborliness, friendship and cooperation in a joint effort to build good-neighborly relations. China will continue to support ASEAN in growing its strength, building ASEAN community and playing a central role in regional cooperation.

Second, work for win-win cooperation. As a well-known Chinese saying goes, "The interests to be considered should be the interests of all," China is ready to open itself wider to ASEAN countries on the basis of equality and mutual benefit to enable ASEAN countries to benefit more from China's development. China is prepared to upgrade the China-ASEAN Free Trade Area and strive to expand two-way trade to one trillion US dollars by 2020.

China is committed to greater connectivity with ASEAN countries. China will propose the establishment of an Asian infrastructure investment bank that would give priority to ASEAN countries' needs.

Southeast Asia has since ancient times been an important hub along the ancient Maritime Silk Road. China will strengthen maritime cooperation with ASEAN countries to make good use of the China-ASEAN Maritime Cooperation Fund set up by the Chinese government and vigorously develop maritime partnership in a joint effort to build the Maritime Silk Road of the 21st century. China is ready to expand its practical cooperation with ASEAN countries across the board, supplying each other's needs and complementing each other's strengths, with a view to jointly seizing opportunities and meeting challenges for the benefit of common development and prosperity.

Third, stand together and assist each other. China and ASEAN countries are as close as lips and teeth. We share the responsibility for regional peace and stability. Historically, the people of China and ASEAN countries had stood together through thick and thin in the fight to take our destiny back into our own hands. In recent years, our peoples have stood side by side and forged strong synergy in responding to various crises from Asian financial crisis to the international financial crisis, and from the Indian Ocean tsunami to China's Wenchuan earthquake.

We should cast away the Cold War mentality, champion the new thinking of comprehensive security, common security and cooperative security and jointly uphold regional peace and stability. We should deepen cooperation in disaster prevention and relief, cyber security, combating cross-border crimes and joint law enforcement to create a more peaceful, tranquil and amicable home for the people in the region.
China is ready to work with ASEAN countries to improve China-ASEAN defense ministers' meeting mechanism and hold regular dialogues on regional security issues.

With regard to differences and disputes between China and some Southeast Asian nations on territorial sovereignty and maritime rights and interests, peaceful solutions should be sought, and differences and disputes should be properly handled through equal-footed dialogue and friendly consultation in the overall interests of bilateral ties and regional stability.

Fourth, enhance mutual understanding and friendship. Just as a Chinese saying goes, "A big tree grows from a small seedling; and a nine-storeyed tower is built out of soil." To ensure that the tree of China-ASEAN friendship remains evergreen, the soil of social support for our relations should be compacted. Last year saw 15 million people traveling between China and ASEAN countries with over 1,000 flights between the two sides each week. Increased interactions have nurtured deeper bonds between us and enabled our people to feel ever closer to each other.

We should encourage more friendly exchanges between youth, think tanks, parliaments, NGOs and civil organizations of the two sides, which in turn will generate more intellectual support to the growth of China-ASEAN relations and help increase the mutual understanding and friendship between our peoples. China is ready to send more volunteers to ASEAN countries to support their cultural, educational, health and medical development. China has proposed to set 2014 as the year of China-ASEAN cultural exchanges. In the coming three to five years, china will offer ASEAN countries 15,000 government scholarships.

Fifth, stick to openness and inclusiveness. The sea is big because it admits all rivers. In the long course of human history, the people of China and ASEAN countries have created splendid and great civilizations renowned around the world. Ours is a diversified region. Various civilizations have assimilated and interacted with one another under the influence of different cultures, which affords and important cultural foundation for the people China ASEAN countries to learn from and complement one another.

We should draw upon the experience of other regions in development and welcome a constructive role by non-regional countries in the development and stability of the region. At the same time, these, non-regional countries should respect the diversity of the region and do more to facilitate regional development and stability. The China-ASEAN community of shared destiny is closely linked with the ASEAN community and the East Asia community. The two sides need to bring out their respective strengths to realize diversity, harmony, inclusiveness and common progress for the benefit of the people of the region and beyond.

A more closely knit China-ASEAN common destiny conforms to the trend of the times for seeking peace, development, cooperation and mutual benefit, and meets the common interests of the people of Asia and the world, hence enjoying a broad space and huge potential of growth.
Sept 26 2013
China Outbound Tourist: Taipei, Los Angeles and Singapore top travel search growth list By Xu Lin
As the National Day holiday approaches, travel search site Tianxun.cn released findings about popular searches from Aug 1 to Sept 30 over the past three years.
It shows that Taipei, Los Angeles and Singapore have recorded the greatest increase in search numbers.
The destinations have one thing in common - they provide excellent shopping, a boon to Chinese tourists who are also taking advantage of easier visa applications and an appreciating currency.

According to Tianxu, Taipei has been in the top 10 for two years, with a 78.9 percent increase in search numbers in 2013 compared to last year. In June, residents of 13 more cities on the Chinese mainland were eligible to travel to Taiwan as individual tourists.

Taiwan is also a perfect place for shopping, not only for its specialty items such as ceramics, delicacies and tea, but also for the shopping attractions such as Taipei 101 Mall.
To attract Chinese travelers, Singapore has increased flights between the two countries, especially from the second and third-tier cities in China. Diehard fans of shopping know about Orchard Road, which features international?high-end brands and retail outlets.
As the gateway to the US West Coast, Los Angeles is the first stop for most Chinese visitors. Searches to the city from the Chinese mainland showed a 90.8 percent rise from 2012 to 2013.
Sept 9 2013
Distorted view of China overlooks its many positive achievements By Chandran Nair
Chandran Nair says that while China has its fair share of problems like any other large nation, biased coverage by the Western media gives the impression it has no redeeming qualities - The cover of a recent issue of The Economist featured a Chinese dragon encircling the globe, covering it in smoke and flame. The title read "The world's worst polluter." It was a bold cover typical of The Economist, but it betrayed deep-rooted ideological biases and did its readers a great disservice.

It was, in too many ways, what has become the quintessential "China story" - one that emphasises the nation's huge and growing impact on the world but chooses only to highlight its negative aspects - from environmental and foreign policy issues to investment in Africa, it would seem Beijing can't do anything right.

The lone positive anyone can seem to come up with is China's incredible economic growth. But the hypocrisy of praising this growth with one breath and condemning China's carbon emissions with the next seems lost on most commentators. Even seemingly admirable developments such as China's level of investment in research and development are covered only from the perspective of the threat to Western interests.

The simple truth is that China, like any other large country, is a complicated and messy place that cannot be summed up in a cartoon. Equally obvious is that the rest of Asia sees China in a completely different light than the West. Yet neither of these facts is reflected in Western media coverage, creating a distorted picture of China for the vast majority around the world. China is no paradise but neutral observers must highlight some of the good things happening there.

This should not be hard. Surely, no one would argue China has no redeeming qualities. And it must be done if people are to understand the country that will shape in large part the 21st century, and to avoid the prejudice that can easily damage relations. What follows, therefore, are a few examples of significant achievements, in areas where China is typically criticised.

Firstly, pollution. It is no secret that pollution is and will continue to be one of China's biggest struggles. Sixteen of the world's 20 most polluted cities are in China, a fact that the media harps on about. Yet almost no non-Chinese I ask can name a single thing Beijing is doing to combat it. The implication is that such efforts do not exist and, worse, that Chinese political and business leaders do not care, something that could not be further from the truth.

China's 2020 target for total power generated by renewable means is 20 per cent, the same target set by the far richer EU member states. At present, China is the world leader in installed renewable energy capacity, and far ahead of the US and Brazil in second and third place.

China's environmental policy is not a recent development. China banned plastic bags five years ago and Styrofoam boxes 14 years ago. Even longer in the making is the incredible transformation of Youyu county, a success story which few others can rival. Youyu, in the north of Shanxi , began as a desert-like county, where the coal industry was the main source of gross domestic product. From the 1950s, the government encouraged the local population to plant trees and reforest the region. Sixty years later, the forest cover has risen from 0.3 per cent to an incredible 52 per cent. Countless other efforts like this can be found across China.

Second, the West's image of China as a culturally homogenous place is belied by the 55 ethnic groups besides Han Chinese, which make up 8 per cent of the population, or well over 100 million people. And anyone who has visited places such as Gansu , Qinghai or Ningxia will be aware of how Han Chinese, Muslims and Tibetans co-exist peacefully and successfully, despite major cultural differences. I personally have seen Han Chinese villagers keep pigs without fuss in fields they share with their Muslim neighbours. This is no small feat given the cultural differences.

In these same communities, Han Chinese, contrary to stereotypes, also show great empathy and respect for Tibetan culture and beliefs. Moreover, state authorities have adopted a consistent policy of preserving or protecting minority cultures. Perhaps the most notable example is that ethnic minorities are exempted from the one-child policy.

The state has also mandated quotas at national universities to ensure ethnic minorities are represented as part of the student body, and plans to increase grants to minority students tenfold by 2015.

Then there is the endemic corruption within government. There is no denying it has had a negative impact on citizens on a scale so large that it's hard to quantify. But far too little is said about Beijing's efforts to address the problem. It was a main point in Xi Jinping's inaugural address, which shows the government is willing to admit the severity of the problem.

Xi has gone as far as to acknowledge that measuring the success of officials by a focus on GDP is a major cause of the problem and that changes are needed. And the government has done more than talk - several high-profile investigations have been launched into senior party officials. Of the hundreds of officials convicted every year, many receive long prison terms. Indeed, Beijing has been remarkably unafraid to take drastic action, such as suspending the construction of new government buildings for five years.

The deplorable irony is that not only has much of this gone unreported by much of the press, but many of Beijing's salutary activities, such as the arrest of Rio Tinto and GlaxoSmithKline executives for allegedly paying and receiving bribes, have been cast as attacks by the state on multinational businesses.

And, finally, there is the sensitive issue of Tibet. Most people know that the Chinese invasion caused great suffering, starvation, the destruction of thousands of monasteries and the forced departure of the Dalai Lama. Yet very few outside China have heard of the incredible changes Tibet has undergone over the past 50 years. As a part of China, Tibet has developed at an astonishing pace. GDP in 2010 was 110 times what it was in 1950 - admittedly not always the best measure of progress - while life expectancy has nearly doubled.

The Qinghai-Tibet railway is the first to connect Tibet to the rest of China and has dramatically reduced the cost of power and the transportation of goods and people to even the most remote areas. No doubt some would argue it has all come at too high a price. But it is worth mentioning that, recently, there has been a reduction of the Chinese military presence in some troubled Tibetan towns and that images of the Dalai Lama, once banned, can now been seen in many places.

The truth about China is not a simple one. Foreign media must provide balanced coverage if non-Chinese are ever to fully understand the nation. This will make simplistic judgments difficult, but perhaps one day the need for objective reporting will trump the need for a clever cartoon.

Chandran Nair is the author of Consumptionomics: Asia's Role in Reshaping Capitalism and Saving the Planet, and founder and CEO of the Global Institute for Tomorrow
Aug 9 2013
China's 72 hours Visa-FREE window gives tourists a welcome view By XU JINGXI in Guangzhou
Guangzhou's first foreign 72-hour visa-free tour group visits Canton Tower on Tuesday. The city became the third in the Chinese mainland after Beijing and Shanghai to offer 72-hour visa-free transit to airline passengers.

Guangzhou transit policy expected to appeal most to business travelers - Guangzhou, the third city after Beijing and Shanghai to offer 72-hour visa-free transit to airline passengers, is winning over travelers.

The city's historic and modern attractions are part of the reason, but it has one advantage that the other two cities don't: the 72-hour countdown commences the day after arrival, according to Yang Hongyan, deputy director of the marketing department of the Guangzhou Tourism Bureau.

Guangzhou welcomed its first foreign 72-hour visa-free tour group on Tuesday.

The 23 foreigners arrived to a warm welcome by China Southern Airlines at Guangzhou Baiyun International Airport.

They were also welcomed by the Guangzhou Tourism Bureau, the Guangzhilu International Travel Service and the airport administration.

A special half-day tour was arranged free of charge for the foreigners, from countries including the United States, Australia, New Zealand and France.

Their first day got off to a tasty start with a Cantonese breakfast at the Garden Hotel. Then it was time for sightseeing.

The Chen Clan Academy, built in the Qing Dynasty (1644-1911) was a popular attraction. After that morsel of history, modernity called.

The tourists were taken to the heights of delight as they enjoyed a bird's-eye view from the 600-meter Canton Tower.

Spaniard Fernando Quispez, who teaches Asian culture in the US, was on his first trip to Guangzhou but he has been to China before.

He is fascinated by Chinese history, architecture and sculpture and has traveled to Beijing and Shanghai.

He was flying to Dubai on vacation, by way of Guangzhou, and with the help of the new policy, he finally got the opportunity to enjoy a city with a history of more than 2,200 years.

"I'm stunned by the Lingnan culture in the Chen Clan Academy and the magnificent sight of the Canton Tower. It's such a pity that we had only half a day for the trip, which is not enough to explore this amazing city."

New image

Holders of passports from 45 countries can enjoy a visa-free stay in Guangdong province for 72 hours.

The policy is expected to establish Guangzhou's international reputation as a tourist city as well as a business center, according to Kuang Yingjun, marketing manager at China International Service's Guangdong branch.

To showcase Guangdong's charm, China International Service has designed new tour routes, each with a specific theme. "It could be the Maritime Silk Road or the Hakka culture," Kuang said.

The Ritz-Carlton in Guangzhou hasn't seen a significant growth in the number of guests, according to Andrew C Rogers, the hotel's general manager. But that is likely to soon change as the policy becomes more publicized.

"I'm sure that with such an attractive policy and the government's active promotion, Guangzhou will become a globally important tourist city," said Rogers.

The hotel has become a selected partner of China Southern Airlines.

Guests can make a reservation for the package designed for 72-hour visa-free transit passengers, which includes accommodation, shuttle service between the airport and the hotel, tickets to the Canton Tower and Guangdong Museum.

The Guangzhilu International Travel Service, a leading travel agency in South China, has seen a 30 percent rise in foreigners inquiring about Guangzhou and Guangdong in the past week or so.

Fourteen of the 23 transit passengers who arrived at the Baiyun airport on Tuesday decided not to go on the half-day tour as they wanted a rest.

Guangzhilu's marketing director Wen Qian told China Daily that the agency expects to receive more than 1,000 tourists on a 72-hour visa-free transit coming to Guangdong by the end of this year.

"There are about 2,000 transit passengers in Guangzhou every day, counting only the statistics of China Southern Airlines. I think the annual total of transit passengers will be more than 1 million," she said.

Wide appeal

The visa-free transit also appeals to business travelers.

Fang Fang, director of Guangzhilu's inbound tourism department, said that more business travelers have consulted the agency about the policy than tourists.

"The 72-hour visa-free transit policy will directly benefit foreign businessmen coming to Guangzhou. For example, overseas buyers participating in the Canton Fair don't need to apply for a visa," said Fang.

The majority using the new policy will be business travelers, if Beijing and Shanghai are anything to go by, according to Yang from the Guangzhou Tourism Bureau.

"Apart from tourist attractions, we will promote trips to exhibitions and fairs for business travelers," said Yang.

Whether they are tourists or business travelers, Guangzhou's visa-free transit policy will certainly attract more transit passengers, according to Zhang Yumin, general manager of Guangzhou Baiyun International Airport.

"The number of transit passengers at our airport every year will pass 1 million in 2013 and climb up to 1.5 million in 2015," Zhang estimated.

"It's important for an airport to develop into an international aviation hub so that foreigners have easy access to the city," Zhang said.

"The opening of Guangzhou's visa-free transit is a landmark for the Baiyun airport on its way to becomimg a world-class hub."

The airport is becoming an important junction connecting Europe, Australia, Southeast Asia and Africa.

To facilitate visa-free transit for travel to other cities in the province, the airport has launched 17 long-distance coach routes. And it has also offered car rental services.

However, the visa policies still need improvements and more overseas promotion.

Marco Rimondi, a 49-year-old Italian businessman who frequently flies to China on business trips, hopes that the authorities will extend the length of visa-free stay.

"Taking into consideration the jet leg, 72 hours doesn't seem to be a long period for me to tour a city," said Rimondi.

Zhao Guihong, professor from the School of Economics and Management at Civil Aviation University of China, advised local governments to connect the airports in Beijing, Shanghai and Guangzhou, allowing visa-free transit passengers in Beijing to leave through the airport in Shanghai or Guangzhou within the 72 hours.
Aug 6 2013
Singapore founding father Lee Kuan Yew says Xi Jinping is in Mandela's class By Agencies in Singapore
Elder statesman's new book praises president's 'great breadth' and the way he endured many trials to work his way up Communist Party ladder - Singapore's former Prime Minister Lee Kuan Yew launches his new book in Singapore. Copies of Lee Kuan Yew's book 'One Man's View of the World'.

Lee Kuan Yew has praised President Xi Jinping as a man of "great breadth", comparing him to Nelson Mandela. The high praise from Lee, Singapore's founding father who turns 90 next month, comes from his new book, One Man's View of the World, which was launched yesterday.

He appeared alert but frail at the launch and did not take questions.

Lee is widely credited with building Singapore into one of the world's wealthiest nations with a strong, pervasive role for the state and little patience for dissent. His influence extended beyond the tiny population of 5.3 million, as the city state's economic success served as a model for many developing countries, including China under Deng Xiaoping , and he still garners respect from global leaders.

In his book, Lee says he met Xi in November 2007 in the communist leader's first meeting with a foreign leader after he was promoted to the Politburo Standing Committee. "He struck me as a man of great breadth," said Lee, praising the way Xi endured various trials and tribulations and worked his way up through the Communist Party. "I would put him in the Nelson Mandela class of persons."

Although China is becoming increasingly powerful, Lee said the United States' economic prowess was unlikely to wane, due to its innovative skills that lead to gadgets such as the iPad.

But it was worrying that President Barack Obama had recently lost several of his aides, Lee added. "That such experienced advisers have left him is not a good sign," he said.

Lee also used his book to defend his political legacy. He rejected as "absurd" suggestions that his "Stop At Two" children campaign in the 1970s played a part in the decline of current fertility rates in Singapore.

Rather, he insisted that the reluctance of couples to have more children was the result of changed lifestyles and mindsets, which no amount of financial perks could alter. Lee said the falling fertility rate remained Singapore's biggest survival threat.

He pointed to the example of Japan, which he said was on a "stroll into mediocrity" as the ranks of its elderly swelled due to young couples not wanting enough babies. Japan's reluctance to open up to immigrants would further lead to its decline.

Lee handed power to his deputy Goh Chok Tong in 1990 after 31 years in office but stayed on as a cabinet adviser until 2011.

On his fears for the future of Singapore, Lee, who once famously vowed to rise from his grave if something went wrong with the country, now seems ready to let fate run its course.

"I have done my job," he said. "I found a successor and handed over to another generation ... I cannot live forever as a young, vigorous 40- or 50-year-old."
June 5 2013
Why are Chinese tourists so rude? SCMP offers an insight By Amy Li
Tourists holding umbrellas visit Tiananmen Square in Beijing.

After almost every 'rude Chinese tourist' story, unfortunately, made SCMP.com's top-10 list, I decided to give the question some serious thought - They are seen as pushy, loud, impolite, unruly, and they are everywhere.

And although destination countries welcome the tourism dollars the Chinese spend, they loathe the chaos and hassle some mainland tourists bring upon their cities and other tourists.

"Why can't they just behave?" people wonder, some aloud.

I have been asking myself the same question in the past months after reporting on the uncivilised, sometimes galling behaviour of some compatriots.

It seems that every time a "rude Chinese tourist" story is published on SCMP.com, it goes straight into the site's top 10 most read articles - one such article even managed to crawl back to the top months after it was posted. So I decided to give the question some serious thought.

I read up on the topic, talked to tourism experts and travel agents and chatted with some of these tourists who are now at the centre of public anger.

It soon dawned on me that the real question to ask is: "Why are the Chinese rude?"

Yong Chen, tourism researcher and post-doctoral fellow at Hong Kong Polytechnic University, said most "bad" tourists don't intend to be "bad" or "tourists", they are just being themselves - they are being Chinese.

Education makes a difference

Not every Chinese tourist is a rude one, and educated people are usually better behaved than those who have had a lower standard of education, said Chen.

This could be why middle-aged or older tourists who have been deprived of or received little education during China's politically tumultuous times tend to act more unruly. Many of them do not speak English, and some are not fluent Putonghua speakers. Their knowledge of the destination country and its culture is often at best outdated or non-existent.

This might explain the behaviour of a "rogue" mainland couple who recently visited Hong Kong with a group. They called the police and demanded HK$3,000 yuan in compensation after being made to wait two hours for their coach. The travel agency later said the coach had broken down and accused them of "blackmailing".

Disregard for customs and rules

Jenny Wang, a Beijing-based Maldives travel agent, said uneducated tourists usually turn a blind eye to local rules and customs.

A Chinese man who was recently vacationing at a Maldives resort flipped out after discovering that the restaurant where he wanted to eat was fully booked, Wang said. He yelled threats and slurs at Chinese staff until one member was in tears.

"You cannot reason with these kinds of people," Wang said. "They think they can do anything with their money."

But one thing many Chinese vacationers don't want to do with their money is tip - a custom in some places which many have ignored, Wang said.

Though most travel agents in China would educate their clients about tipping in a foreign country ahead of their trip, most people ended up tipping very little or none.

Some are not used to the idea of tipping, and they fail to understand that staff working at the Maldives resorts, who usually earn a meagre salary, rely heavily on tips, Wang said.

This has created increasing tensions between the Chinese and their hosts. Staff would naturally prefer serving guests from countries with a tipping culture. Other staff have gone after Chinese clients and asked openly for tips, a rare thing for them to do in the past.

Lawless for a reason

Students at Ewha University in Seoul, known for its beautiful campus, have recently complained about an influx of Chinese tourists, said the school.

Apparently taking photos on campus was not enough. Some camera-toting Chinese would also stride into libraries and take photos without the permission of students, according to media reports.

"As much as we want to keep the campus open to the local community," said a university representative, "we'd like to prioritise our students' right to study in a quiet and safe environment."
Ewha resolved the crisis by putting up multi-language signs advising tourists to stay clear of study areas.

It seems that thousands of years after Confucius admonished his students not to "impose on others what you yourself don't desire", the Chinese now act in quite the opposite way.

Such people, both overseas and at home, selfishly skirted rules for a reason, said Chen.

Living in China, where the rule-of-law doesn't exist, means everyone has to look out for their own interest. It also means people have little or no respect for laws.

This is bound to happen when ordinary folk are forced to watch their laws being violated every day by their leaders, Chen said, citing the Chinese idiom, shang xing xia xiao, meaning "people in lower class follow what their leaders in the upper class do".

How long do we have to put up with bad tourists?

China and its people are paying a price for the bad behaviour of their tourists.

A poll by the Public Opinion Programme of the University of Hong Kong recently found that the number of Hongkongers holding negative feelings towards Beijing and mainland Chinese is up by about 40 per cent since November.

Following that survey, SCMP.com conducted another online poll on Wednesday, headlined "What makes some Hongkongers dislike mainland China and its people?"

As of noon, more than 50 per cent readers blamed the negative feelings on "ill-behaved tourists".

"The Chinese government and travel agencies should take the initiative to educate our tourists," Chen said, urging co-operation from both authorities and private sectors.

While many argue that historically American and Japanese tourists were also criticised for their bad behaviour when they became wealthy enough and traveled abroad for the first time, Chen said the Chinese should not use this as an excuse.

In fact, the Communist Party's Central Guidance Commission for Building Spiritual Civilisation and the China National Tourism Administration have recently issued a 128-character-long rhyme to remind tourists of behaving in a "civilised manner" on the road. The topic has also been a big hit on China's social media, where bloggers discuss and criticise the uncivlised behaviour of their compatriots.

But many are not optimistic that the situation will change any time soon.

"Chinese tourists have a long way to go before they will be respected by the world," said Wang.
June 3 2013
New China outbound tourism habit By Wang Zhuoqiong and Wang Wen wangzhuoqiong@chinadaily.com.cn and wangwen@chinadaily.com.cn
Chinese travelers buying fruit in Phuket, Thailand. According to the Annual Report of China Outbound Tourism Development 2013, the percentage of Chinese travelers who spent more than 5,000 yuan ($816) on their outbound trip was lower in 2012 than in 2011.

Number of visits by Chinese see a year-on-year rise of 18.41 percent

In her fifth visit to Hong Kong, Wang Ting, a 25-year old from northwestern China, spent a five-day holiday in April in a room with an ocean view in a luxury hotel. The cost of the accommodation was nearly 20,000 yuan ($3,264). She spent only half of that on shopping.

"I've been here many times. I know what I want," she said. But Wang's aunt, who arrived in Hong Kong one week later, refused to stay at the same hotel. "The room rates are too high and all I need is a bed to sleep in," said the 42-year-old. But she is not price sensitive when it comes to shopping. She bought two luxury watches, three branded handbags and some jewelry.

The two mirror the changing behavior of Chinese outbound travelers. An increasing number behave more prudently when buying overseas, accounting for a sharp decline in the purchase of high-end products, a recent survey found.

According to the Annual Report of China Outbound Tourism Development 2013, the percentage of Chinese travelers who spent more than 5,000 yuan on their outbound trip was lower in 2012 than in 2011.

The highest amount is still spent on shopping, at 34.1 percent, followed by transportation at 21.6 percent, showed the report conducted by the China Tourism Academy.

Dai Bin, head of the academy, said a small number of luxury items purchased by Chinese outbound travelers often overshadows the fact that most Chinese tourists going abroad choose to stay at cheaper hotels in the suburbs and spend sparsely on dining so they can spend more on shopping.

For example, in the United States, although shopping still tops the spending of Chinese travelers, the percentage who regard shopping as their primary purpose has dropped 6.8 percentage points compared with that of a year ago. Meanwhile, spending on leisure and entertainment has risen 5 percentage points, the report revealed.

US tourism officials are trying to change the habits of Chinese travelers.

"We are trying to persuade them to spend more on accommodation," said Lynn Carpenter, vice-president of marketing at the California Travel and Tourism Commission.

She said almost all of the expenditure of Chinese travelers to California went on shopping, unlike other travelers.

The average expenditure of each Chinese traveler in the state was $2,900 in 2011, which is the highest among all the foreign travelers to the state, she said.
"But the situation is changing, especially among those who came for a second time," Carpenter said.

In Hong Kong, the majority of the shopping by tourists from the Chinese mainland has shifted from luxury brands to products that are more practical and evenly priced. The proportion of expenditure on shopping dropped from 35.4 percent in 2011 to 30.7 percent in 2012.

In 2012 there were 77.05 million outbound travelers visiting for personal reasons, about 92.63 percent of the total number of outbound travelers, a year-on-year increase of 1.36 percent, according to the report.

The report showed the percentage of the number of tourists who traveled out of the mainland for the first time fell 4.66 percent to 58.9 percent in 2012 over the 2011 figure.

"Chinese travelers are becoming more mature and rational and making more requests for richer experiences at their destinations," said Jiang Yiyi, an academic researcher.

Because of the rise in frequency in outbound travel, medium-priced hotels are gaining popularity among Chinese travelers with less demand for economy hotels than before, the report revealed.

The number of outbound visits exceeded 83.18 million, a year-on-year increase of 18.41 percent, the report added. Total overseas spending by Chinese tourists in 2012 reached $102 billion, with the tourism services trade deficit further increased to $51.9 billion.

The number of outbound visits from the Chinese mainland is expected to reach 94.3 million this year, a year-on-year increase of 15 percent, while spending is to hit a record $117.6 billion, according to Dai Bin.

Tian Juan, from the media relations department at CAISSA Travel Management Co, said the number of travelers wanting tours providing rich experiences rose to 38 percent in 2012 from 18 percent in 2008.

Chen Xiaobin, president of CAISSA, said with the growing maturity of Chinese travelers, they are no longer satisfied with quick tours but pay more attention to enhanced travel and trips with interesting themes.

Of all the destinations Chinese travelers visited last year, the number going to Asian countries and regions accounted for 90.04 percent.

In addition to the traditional popular destinations such as Europe, the United States and Asian islands, countries such as Brazil, Argentina and Cuba have begun to attract the attention of experienced tourists, Chen said.
May 3 2013
China unlikely to have cold war-style confrontation with US, says report By Agence France-Presse in Washington
China will likely use its growing power to try to force its way with Japan but it is doubtful that Beijing will enter a cold war-style confrontation with the United States, a study said on Thursday.

The report by the Washington-based Carnegie Endowment for International Peace aims to be the most comprehensive unclassified assessment of China's rise and its impact on the US-Japan alliance in the years ahead.

China, which has been boosting its defence spending by double digits each year, has an increasingly tense relationship with Japan, which has voiced alarm at the frequency of Chinese ship incursions around disputed islands.

The report said China likely saw force as a last resort in foreign affairs but that Beijing may see its interests in the islands – known as the Senkaku in Japanese and Diaoyu in Chinese - as a special case.

"The most likely potential challenge to the US-Japan alliance over the next 15 to 20 years does not involve full-scale military conflict between China and Japan or the United States - for example, one originating from Chinese efforts to expel Washington from the region," it added.

"The likeliest challenge instead stems from Beijing's growing coercive power - increasing Chinese military capabilities could enable Beijing to influence or attempt to resolve disputes with Tokyo in its favour short of military attack."

"Dramatic shifts" - such as an Asian cold war pitting China against the United States and its allies, or the dawn of a Chinese-dominated Asia - are unlikely by 2030, according to the study.

The 395-page report was written by nine experts led by Michael Swaine, a veteran US specialist on Chinese security. It faulted previous studies for looking only at military factors or making worst-case assumptions on China.

The study identified two likeliest scenarios for China. In one, its economy would grow at between four and five per cent annually - a more modest pace than in recent years - and the leadership would focus on domestic stability.

Under such a scenario, China would adopt a "restrained and largely defensive stance" toward Japan and the US-Japan alliance over the next 15 to 20 years, largely in keeping with recent policy.

But under another scenario also seen as likely, China would post higher growth and take an increasingly assertive posture. China would probably try more actively to pressure Japan, but would also seek economic cooperation and attempt to avoid "excessive alarm" in Tokyo and Washington.

Japanese Prime Minister Shinzo Abe, a conservative who returned to power in December, has moved to step up defence spending by the world's third largest economy and supports revisions to the post-second world war pacifist constitution.

But the study doubted major changes by Japan toward China due to factors that include the constitution, a likely slow-growing economy, an aging population and business interests involving the larger neighbour.

"Despite the recent ascendancy of those who advocate a full-blown competitive strategy, Japan is more likely to pursue a policy of cooperative engagement that encompasses either a hard or soft hedge," the report said.

Japan is expected to put a top priority on its alliance with the United States, even amid expectations that Washington will scale back its military, the report said.
April 7 2013
The Satellite Life - Chief scientist tells the story of China's aerospace achievements By Tang Yuankai
Despite his ripe age of 83, Sun Jiadong, a renowned scientist in China's aerospace field, is still as busy as ever. In mid-November, Sun flew to Shenzhen, south China's Guangdong Province, to attend the China Hi-tech Fair as the chief designer of the Beidou Navigation Satellite System, also known as COMPASS.

In the exhibition hall, Beidou attracts a throng of visitors. Recently, the 16th Beidou satellite was launched into space by a Long March rocket on October 25, marking another major achievement in the development of China's own navigation satellite network covering the Asia-Pacific region.

China has launched four experimental satellites and 16 navigation satellites in space so far. The Beidou system has been in service in China for five years and it will start to provide positioning services for the whole Asia-Pacific region next year.

Guiding star

Sun, a member of the Chinese Academy of Sciences, is wildly proud of Beidou, which is the third positioning system put into service, following the Global Positioning System (GPS) (the United States) and Global Navigation Satellite System (GLONASS) (Russia). The European Union also is developing its positioning system called Galileo.

"China is a rising power of aerospace science and technology. The country was able to establish its own independent satellite navigation system," said Sun.

In the 1980s, China created a three-step strategy for its Beidou satellite navigation project, said Sun. During step one from 2000 to 2007, four Beidou-1 satellites were launched into geo stationary orbit for experimentation. In step two, China is to establish a navigation and positioning network consisting of 16 Beidou-2 satellites for the Asia-Pacific region by the end of 2012. And in step three, a global network would be made up of 35 Beidou satellites by 2020.

"The project is now two-thirds complete," said Sun.

Compared to other satellite navigation systems, Beidou has its own unique features. Unlike GPS, which only relays signals, Beidou users are able to send messages to the system directly through their devices. Terminals can communicate with each other as easily as using a cellphone or fax machine.

The Beidou system was put to tremendous and life-saving use during the catastrophic Wenchuan Earthquake in May 2008. The earthquake damaged most of the ground communication facilities, leaving communication between disaster-hit areas and the outside completely interrupted.

Rescuers thus went to disaster-hit areas carrying Beidou terminals and were able to send information to the rescue headquarters quickly.

The second generation of Beidou has been significantly improved. Its message function even extends to micro blogging websites. If a user sends a message to the cell phone of a micro blog user, the system will automatically update the message on the micro blog. The message function is very important for those who are traveling in remote areas or on the ocean. If their cellphone isn't functioning, they can maintain contact through Beidou.

Moreover, Beidou is backwards compatible: Users can shift to GPS easily.

"Along with the advances in technology, Beidou will be put into broader use over the next two years," said Sun, adding that the satellite system will provide service for the Asia-Pacific region in 2013 and Shanghai will build a testing center for the satellite.

"In the near future, Beidou will be installed on vehicles such as taxis, chemical cargo trucks and armored cash carriers," said Shen Xueming, Director of Shanghai Engineering Center for Micro satellites and the man responsible for the Beidou's services in Shanghai.

People in Shanghai will be able to enjoy a more convenient and efficient public transport by using their smart phones to search for the nearest bus or even taxi. Transport infrastructure, such as bus stops, could also be equipped with Beidou use, said Shen.

"Beidou has the equivalent performance of other positioning systems like GPS in terms of some key functions. Its precision with regards to position will be further improved as the project develops," said Sun. "In the near future, Beidou will have its uses in transportation, tourism and public services."

The first satellite

Aside from the Beidou satellite positioning system, Sun has been a pioneer of most of China's satellites and space exploration projects over the past half century and has dedicated his life to China's aerospace industry.

"I spent seven years studying airplane design, nine years on missiles, and 40 more years on launching satellites," he said. China created and launched over 100 satellites and spacecraft over the past four decades. One third of them were attributed to Sun's work.

To this silver-haired scientist, the most memorable experience is China's first satellite launch in 1970.

"It is easy to launch a satellite thanks to China's current aerospace science and technology. But in the late 1960s, we didn't even have a 21-core plug," recalled Sun.

At that time China was prevented from possessing high technology during the Cold War. Moreover, the "cultural revolution" (1966-76) seriously impacted the aerospace industry and most research was suspended.

Despite the major setbacks, the Chinese Government vowed to launch its first satellite by 1970. The first satellite was considered more a political success than a scientific one, an attempt for China to show the world that it had grasped satellite technology.

Qian Xuesen (1911-2009), a leading mind in rocket technology, was presiding over major aerospace projects in the middle of the last century when he appointed Sun to organize a research team to develop the country's first satellite. With a team of 18 scientists, Sun developed the prototype Dongfanghong-1 in October 1969.

But there was a problem.

Researchers hoped that the public could see the satellite live with their own eyes.

Sun and his team tried different ways to light up the surface of the satellite in order to make it visible, but to no avail: The team realized that no matter how they lit up the satellite, it was indistinct to the naked eye.

One member of the team suggested the answer lay in the third and final stage of the rocket, upon which the satellite rested. Sun and his colleagues designed a balloon coated with aluminum and attached it to the third stage. When the satellite was launched into orbit, the rocket's final stage would fly in tandem with the satellite. The balloon would be easy to spot.

But, as Sun stressed, "We had to tell people that what they saw was the balloon, and the satellite is near the balloon."

On April 24, 1970, China's first satellite Dongfanghong-1 was launched into space. Thousands of people gathered at Beijing's Tiananmen Square to watch as the Dongfanghong-1 flew over.

In the ensuing decades, Sun designed numerous space projects, many of which are milestones for Chinese aerospace science and technology, including moon exploration.

Today, Sun is still at it.

"What I need to do now is to cultivate more researchers and scientists for the future of China's aerospace development. I hope I can do that," he said.
April 6 2013
George Soros tempers praise for Beijing with warning on risks By Wang Feng feng.wang@scmp.com
"The Chinese regulators have a much closer and more intimate knowledge of what goes on inside the banks," he said. "The lack of detailed knowledge in the West is quite amazing. And that was the reason why things went so wrong. "
Billionaire investor George Soros, who has fallen foul of governments as far afield as Malaysia and Britain during a 60-year career, has praised China's system of financial regulation. But he warned that Beijing faces "exceptional difficulties" in its economic transition in the near term.

Speaking in an interview, the Hungarian-American financier, 83, also cautions against "overconfidence" among Chinese officials, and advises against investors entering some of China's hottest asset markets in the short term.

"I hold China's financial regulatory system in very high regard," he said in Hong Kong.

Soros is perhaps best known as "the man who broke the Bank of England" when he shorted the pound in the British currency crisis of 1992, effectively forcing Britain out of the European exchange-rate mechanism, a precursor to the euro.

He also drew the ire of former Malaysian prime minister Dr Mahathir Mohamad, who suggested in 1997 that Soros was part of a wider Jewish conspiracy and responsible for the Asian crisis.

He is now retired, he says, and is not directly involved in the daily operations of the hedge fund firm he founded, Soros Fund Management.

In the wide-ranging interview, Soros praised the know-how and experience of Chinese officials.

Soros predicted the latest global financial crisis in his 2008 book, The New Paradigm for Financial Markets, which foresaw the collapse of a "super bubble" that had built up in the global financial system.

However, he seems much less concerned about China, including its vast shadow-banking system and huge local government debts.

Its stock markets have taken a hit since late last month when banking regulators announced new rules tightening control over banks' wealth management products, including funds and bonds that offered higher yields than bank deposits.

Such products, which banks have used to lend to capital-hungry industries off their balance sheet, carry the potential danger of large-scale defaults.

"The authorities are aware of the problem, and they also have very substantial resources available to deal with the problem," Soros said. "They will be able to deflate the incipient bubble without [triggering] a serious financial crisis."

The risk of local governments defaulting on their mounting debts, which the National Audit Office estimates at 11 trillion yuan (HK$13.6 trillion), is also unlikely, according to Soros.

"I can't imagine the central government allowing local governments to default, just as it is most unlikely that the state-owned banks would allow one of their wealth management companies to default. The consequences would be too severe."

If local authorities found themselves unable to pay interest on their debts, Beijing might simply step in and shift the liabilities to its own books, at the same time seizing more control over local governments' finances, he said.

But Soros cautioned investors to stay away from Chinese real estate in the short term.

That sector was vulnerable because many residents had been treating property as a kind of savings, with many families accumulating more than one flat when mortgage loans were easily available, he said.

"It's part of the transformation that at least the empty apartments will have to be sold, or maybe taxed," he said. "I think they are now a risky investment."

He welcomed pilot programs in some major Chinese cities to introduce property taxes on empty flats, but advised doing it "gradually and gently", to avoid triggering panic selling and a crash.

He sounded equally bearish on the stock market, saying he was not surprised that the Chinese market performance had lagged the broader economy, citing a lack of profits.

Only if the new Beijing leadership succeeded in changing the economy from an export- and investment-driven model to one powered by robust domestic consumption, would he see good value in the leading consumer goods companies, he said.

While he expressed general confidence in Chinese officials' ability to chart an economic course to avoid major shocks, Soros said he was worried they might become overconfident.

In particular, the new leadership's plans to aggressively accelerate urbanisation, which it sees as a key engine of continued economic growth in the years to come, might be "too rigid", he said.

"China has been at the forefront of economic planning, and very successful at it. But maybe Chinese planners are becoming overconfident in their ability to design the future. There is a danger that they may overdo it."

Chinese media have reported that Beijing will convene a top-level conference this month when officials may announce ambitious plans to build more than 20 "city clusters" and 10,000 new townships nationwide.
March 26 2013
Fast-tracking China's Urbanization - Of the world's 440 "emerging market" cities in 2025, 242 will be from the Chinese mainland
The development of 20 city clusters around the country will help propel the Chinese mainland's rapid urbanisation, says Billy Wong, HKTDC Senior Economist http://www.youtube.com/watch?feature=player_embedded&v=8GOJGpj7I6g

What began as a tentative process seven years ago has now been transformed into a major policy, with underlying implications for mainland China's economic growth. Simply put, the new Chinese leadership has made urbanization one of its "four new modernizations." That's likely to have far greater impact on economic restructuring by unlocking the country's elusive growth in consumer demand.

The years of gradual change may well have been worth the wait. In 2006, China's 11th Five-Year Programme set out efforts to expand consumer demand. By 2010, urban consumption as a percentage of total consumption, including rural consumption, advanced from 72.6 per cent in 2005 to 77.3 per cent in 2010; this illustrated the domination of urban consumption, even if the five-year performance was itself under whelming.

The 12th Five-Year Program continued the effort, combining expanding consumption and urbanization, but again with limited effect. Much now relies on the determination for change introduced by both the report of the Chinese Communist Party's 18th National Congress and the Central Economic Work Conference. Both shed light on the new leadership's future economic policy direction.

The Party Congress report cites the influences of industrialization, information distribution, urbanization and agricultural modernization. Significantly, the role of urbanization in expanding domestic demand and upgrading consumer choices has been emphazised. Indeed, at the Central Economic Work Conference last December, urbanization was cited as the largest potential force for increasing domestic demand, adding that steps would be taken to advance urbanization and enhance its quality.

Under the National Plan for Promoting Healthy Urbanisation (2011-2020), more than 20 city clusters will be built across the country. It's expected that comprehensive support measures for urbanisation reform, covering land, household registration and social, healthcare and education services, will also be introduced successively in 2013. All these seek to shift surplus labour from rural areas to the cities to promote urbanisation and greater consumption.
Demand on Stilts

Projections by consultancy McKinsey & Co reveal that, by 2025, there'll be some 440 "emerging market" cities among the world's 600 major ones, of which 242 will be on the mainland. Of those, 236 will be medium-sized cities. Investment in infrastructural facilities and housing is indispensable for urban development.

Equally important, demand for consumer products and services is closely related to modern city living, with significant opportunities across a broad spectrum. These include new household equipment and home electrical appliances, as well as retail, catering, transportation, entertainment, education and medical services. In other words, urbanisation propels domestic demand in the areas of asset investment in infrastructure and consumer demand.

Stimulating Incomes

Purchasing power is a major factor driving consumption, so it follows that incomes drive people's purchasing power. Significantly, the average incomes of the mainland rural population have accelerated markedly. Nevertheless, income levels of urban residents are still much higher, and their higher incomes lead to larger consumer spending. Preliminary statistics last year show that per-capita consumption for urban dwellers was about three times that of rural residents.

Cluster Effect
The effects of urbanization are not confined to personal consumption but also include consumption by business entities. The city, in its own right, is a place where opportunities and wealth converge, so urbanization promotes economic development. Higher population density brings about a concentration of resources, higher production efficiencies and a cluster effect. Once a population reaches critical mass, production, daily living, cultural and commercial activities take place, stimulating consumption and economic growth. Looking at the available data, the Chinese mainland's consumer goods retailing total in urban areas last year was Rmb17.9 trillion, or more than 80 per cent of all retail sales.

Calculated in terms of differentiated urban and rural populations, per-capita total retail sales in urban areas is more than five times that in rural areas, higher than the figure above, assuming the per-capita consumption expenditure of urban residents is three times that of rural residents. This is partly due to the fact that total retail sales of consumer goods reflect "business" as well as personal consumption. So urbanization plays a star role in promoting both consumer and business activity.

Unleashing Potential
In the past, greater emphasis was placed on the proportion of urban population and the expansion of urban areas. But in future, more importance will be attached to industrial structure, environmental protection and social security. In 2012, the mainland's urbanisation rate was 52.6 per cent. But in terms of household registration, the urbanization rate was only about 35 per cent. The gap in between is the "floating" city population, mainly migrant workers moving into urban districts from rural areas. Among this floating population, the majority (especially the younger generation) wants to truly integrate into the city. These migrants are, however, restrained by the household registration system, which means that the range of medical, education and social security systems in the city is often off-limits to them.

As a result, their consumer demand is suppressed. One important direction in raising the quality of urbanization is to remove the restrictions imposed by these systems, allowing the migrants to become fully urbanised and unleashing their potential purchasing power.

Structural Change

The per-capita consumption expenditure of urban residents is three times that of rural residents; one of the reasons for this phenomenon is the higher income of urban residents. Other contributing factors include a change in the pace and mode of urban life, as well as the fact that urban mid-to-high-income earners place more importance on status and enjoyment. They tend to go after consumer items other than basic necessities, including consumer services related to entertainment, tourism and culture. Of the per-capita consumption expenditure of urban residents across the country, spending on cultural and entertainment services in 2011 was 5.6 times higher than in 2000.

The share of dining-out in urban residents' spending on food rose from 14.7 per cent in 2000 to 21.5 per cent in 2011. Analysis of urban households' consumption expenditures shows that the higher the income, the higher the share of their actual expenses on such consumer services. So it can be expected that, as urbanisation advances, the demand for consumer services will expand at a greater pace. Consumer services have huge potential for development.

Cities in All Sizes

To enhance the quality of urbanization, efforts have to be made to plan the size and layout of cities. The Central Government's development concept envisions steps to promote a rational division of labur among cities at different levels. These include small, medium and large cities, as well as small townships, in order to achieve functional complementarities. It can be expected that urbanization won't concentrate on existing large and medium-sized cities, but on metropolitan links (see sidebar). In the mainland's path to urbanization, there will be rapid growth of more medium and small cities. The investment will generate massive new market opportunities for domestic sales.

Big to Bigger

The rapidly urbanizing Yangtze River Delta (YRD) region is a classic example of how urbanisation is working on the Chinese mainland, taking cities from big to bigger.

In addition to first-tier city Shanghai, there are also many fast-expanding cities in adjacent Jiangsu and Zhejiang provinces.

A well-developed transportation network, a so-called "YRD metropolis circle" covering 16 cities, has already been formed. While the gap in consumer market size and purchasing power between cities in the YRD region is still wide, the economy of each of these cities is vibrant.

In such second- and third-tier cities as Changzhou and Nantong, tremendous effort has been devoted to upgrading the retail landscape, including the building of new department stores and shopping centres, and the introduction of more and better brand products.

The mainland's regional economic policies include developing the country's western, central and northeastern regions. Moves are underway to construct nationwide transportation networks, develop regional industries and expedite the building of major city clusters beyond those in the coastal regions.
February 24 2013

Note: Back in 1985 when we represented Honolulu Hawaii to go to Hainan China to sign the sister-city agreement, we were talking about medical tourism....almost 30 years later, Hawaii is still ONLY talking about it...we may find the following article interesting.

HEALTH CARE IN THE UNITED STATES Business sets up US treatment for Chinese By Zhuang Pinghui
Wealthy mainlanders dissatisfied with medical treatment at home can get top-notch care in the US with little fuss, thanks to a former lecturer - Cai Qiang has found a niche both rewarding and fulfilling.

The lengths to which wealthy mainlanders will go to provide safe imported food or high-quality overseas education to their families comes as no surprise to Cai Qiang. What amazes him is that many of those same people have no idea how to access top-notch medical care when they or their loved ones fall ill. As the general manager of Saint Lucia Consulting, Cai, a 48-year-old former university teacher, has found a business opportunity that is both financially rewarding and personally fulfilling: helping people in China seek treatment abroad.

Who are your clients?

At the beginning, most of our clients were at the end of their tether - those who had sought every possible treatment on the mainland, such as a boy who had a brain tumour removed. His doctor said he could either receive radiation therapy and risk harming his ability to learn, or he could receive no therapy and risk having a relapse. His mother is a real estate developer in Shanxi , and she could not accept either scenario. Eventually she came to us and we arranged for him to receive proton therapy for three months at Massachusetts General Hospital [in Boston], because there was no such treatment available in China. Nowadays, more and more patients come to us when they are diagnosed with cancer. They are affluent and of high social standing. They went to the top doctors in China, but they want to see the best doctors in the world to get the best results. Another reason [they come to us] is because they lack confidence in hospitals or doctors on the mainland, partly because of negative media coverage of the medical sector there, such as doctors receiving kickbacks or prescribing unnecessary drugs.

Tell us about yourself and why you are in this business.

I studied physics at college and then stayed at my university in Zhengzhou, Henan, to be a teacher. Then, in 1998, I started a business to help people apply to study abroad. This business opened in 2010 after I realised that so few wealthy people were aware they could seek better medical treatment abroad. My objective was to help 1,000 people to seek treatment abroad within 10 years.

Is this business of helping people get medical treatment in the US new in China?

Yes, it's still in the very early stages in China. Out of 100 potential clients - people who have more than 10 million yuan worth of assets - only four or five are aware that they have the option of seeking treatment at overseas hospitals. They are used to going to their friends and asking for recommendations about which hospitals or doctors they should go to, and that's it. It's a very hard habit to break.

How exactly does it work?

The process is quite easy for the patients. All they have to do is give us all of their medical history and medical-examination results, like MRIs [magnetic resonance imaging] and CT [computed tomography] scans or pathological biopsy results. We will sort out a medical-history summary in Chinese for the patient to confirm. Then we translate the confirmed history into English and send it to the hospital, find the right doctor and make an appointment. When the client goes abroad, we have staff pick him up at the airport and then accompany him to the hospital. We fill out all of the registration forms and are responsible for making all of the appointments for necessary tests, and we help communicate with the doctor if the patient has any further questions. All the patient has to do is show up and pay.

Does it take long to see a specialist in the United States?

If the client has a passport we can arrange to see a specialist within three weeks. For some who already have a visa, the wait may be shortened to two weeks. We promise clients they won't wait for more than a month.

How long do patients need to stay?

On average, a client stays there for three months, but some for only a couple of days because the doctors say there is nothing they can do.

Is it expensive to seek medical treatment in the US?

We charge 68,000 yuan (HK$83,800) for all of our services, and patients pay the hospital bills directly to the hospital. We also offer a long-distance consultation service without patients being there [in the US], and that costs 18,000 yuan. Sometimes the patients are too sick or old or want a second opinion; we recommend they use this service. It is expensive to receive medical treatment in the US, but not that expensive. Some clients ask me: Will 5 million yuan be enough, or 10 million? But the fact is that most clients pay US$100,000-$150,000. Sometimes it is cheaper than going from hospital to hospital in China. It is safe to say that at least 80 per cent of our clients have received unnecessary treatment or taken useless but expensive drugs before coming to us.

Does going to the US for treatment guarantee a satisfactory result?

I should say 85 per cent of clients are happy because it has to do with the results of the consultation. Two of our clients died in the US; one was a child and the other was a middle-aged man. We have a patient who was told his melanoma was benign and was refused further tests no matter what he said. The patient was very upset, so we made an appointment with another doctor, and the second doctor said the same thing. Another client was very, very angry when he was told that doctors refused to remove a tumour on his liver and said the best option for him was to return to China and get a liver transplant. Eventually he came to his senses and felt the doctor was being responsible because if he had had other operations , he would not have been able to receive a liver transplant.

What are the risks for patients?

We want clients to be reasonable. They should adjust their expectations and not assume that their illness will definitely be cured at a top hospital. They should be aware of all the risks. Second, they should respect the doctors and be understanding. They pay to enjoy a medical service but nothing more. The mindset of "customer is god" won't work there. Then they should be financially secure enough to seek treatment in the US.
*February 17 2013
Outside Macau, China tests gambling with cashless casino By Reuters in Sanya
Further development is seen at the newly opened Mangrove Tree Resort World in Hainan island.

Placing bets on green-felt baccarat tables in a new casino bar on China's southern Hainan island, punters seem oblivious to a huge wager quietly being placed around them, one that could potentially siphon business from the world's largest gaming hub in Macau an hour's flight away.

For now, players at Jesters casino bar, part of the newly opened Mangrove Tree Resort World on Sanya Bay, cannot win cash – only points that they can use to pay for accommodation, luxury goods, jewellery and artwork for sale at the resort.
Real estate mogul Zhang Baoquan at Mangrove Tree Resort.

Owned by art, film and real estate mogul Zhang Baoquan, the casino bar marks the Chinese government's first tacit approval of a gaming concept outside Macau. Global investors, including some of the world's biggest gaming companies, are watching to see how the chips will fall.

"Our casino bar is the first in the country. The government is monitoring, it's a test," Zhang said in a recent interview at his 23rd-floor office overlooking his sprawling 173-acre property that opened late last year.

"Right now we are not at this stage [legalising casino gambling], but my personal opinion is, in future, there is a big possibility that they will have."

The stakes are enormous – China's monopoly gambling site, Macau, raked in US$38 billion in gaming revenues last year, primarily from Chinese gamblers. If Beijing were to allow gambling elsewhere in the country, cash would follow.

It's not just the Chinese government that is watching the development. MGM Resorts International opened a hotel in Sanya last year and fellow US casino operator Caesars Entertainment is set to open a hotel next year.

An MGM spokesman said the company had no plan to introduce "anything of this kind". Caesars did not respond to requests for comment.

Dressed in jeans and a black-and-white Hawaiian shirt during his interview, the 56-year-old Zhang said he aims to create an integrated resort similar to those in Las Vegas and Singapore where gaming, convention space and retail outlets are offered together.

Mangrove Tree Resort World, the newest addition to Hainan's rapidly developing hotel scene, will be China's biggest resort when construction is completed next year. It will have more than 4,000 rooms, a convention hall accommodating 6,000 people and facilities including a water park.

It is one of 10 integrated resorts that Zhang is developing around the country, including one more in Sanya and others stretching from Lhasa in Tibet to the eastern coastal city Qingdao.

While the Chinese government does not permit casinos in the country outside Macau, Zhang – ranked by Forbes as one of the country's 300 richest people last year with US$600 million – said Hainan could become an exception.

Sensitive to existing restrictions, the soft-spoken businessman emphasised cultural attractions such as his art gallery that, along with the casino bar, will be incorporated into the planned resorts.
Winning 'Mangrove' points

Inside Jesters, which models itself on Macau's casino halls with garish chandeliers and a giant roulette wheel ceiling, players buy tickets costing 500 yuan (US$80) each. Bets range from 20 yuan to 2,000 yuan in the mass area, while the high-limits area is set at 2,000 yuan to 100,000 yuan. Big whale punters will be able to bet over 100,000 yuan once the VIP room opens on the second floor.

The casino bar, with 50 gaming tables now, is currently open only to hotel guests, but when the resort is completed, local residents will be allowed in.
Mangrove Tree Resort World on Sanya Bay offers gamblers rewards points, not cash.

When players win, they receive "Mangrove" points that can be used to buy products available in the casino such as an iPad 3G or a Rimowa suitcase. Once luxury brands open outlets within the resort, customers will be able to spend their points in those stores. Art work from Zhang's Beijing art gallery is also available for purchase.

Retail stores including Prada and Louis Vuitton will be part of a network of 20 luxury stores that will open at the resort next year, Zhang said.

Zhang, president of Beijing conglomerate Antaeus, has the financial backing of China Development Bank. The state lender invested 70 per cent of the cost of the Mangrove Tree expansion.

"The local governments are very supportive," says the boyish-looking Zhang, who started off as a carpenter in his hometown of Zhenjiang in eastern Jiangsu province, and now is well known as an arts philanthropist and prominent film investor.

Married to Wang Qiuyang, a mountaineer whose father Wang Chengbin was a former army commander, Zhang said any potential change to gambling restrictions would take time, adding that the government would need to decide whether to let other operators open similar casino bars.

"Gambling culturally is a very bad thing, but today there is a difference – gambling is a financial tool," said Zhang.

"In Asia, even North Korea has two casinos. The richest country, Singapore, before you would never think society would accept it there. All over the world the attitude towards casinos is different from what it was traditionally."

Sanya and beyond

China is positioning Hainan as an international tourist destination, approving the construction of 15 large resorts and 63 five-star hotels as part of the country's five-year plan.

Gambling culturally is a very bad thing, but today there is a difference – gambling is a financial tool
As Chinese spend their money in new casinos across Asia from the Philippines to Vietnam, pressure is growing on Beijing to keep more gamblers at home.

"To some extent, the approval of gaming on Chinese soil is inevitable," said Gary Pinge, analyst at Macquarie Group in Hong Kong.

"With regional markets already vying for a share of the Chinese gambling wallet, unless China brings gaming onto its own shores, it will not only lose tax revenues to other countries, but also the 'multiplier effect' from the consumption spend."

In the meantime, Zhang is pushing ahead with his expansion plans. Aiming to list the Mangrove Tree brand on the Hong Kong stock exchange in 2015, Zhang hopes to use the capital raised to take his Mangrove Tree brand outside China.

"Sydney, the Maldives, the United States, England, Paris and Turkey" would all be good, said Zhang with a shy smile.
*February 5 2013
China taking the innovation game to the West By Dan Steinbock
Dan Steinbock says emerging Asia, led by China, may soon leapfrog the West and Japan in the innovation race, judging by both the number of patents filed and R&D spending - Up the value chain

If, just half a decade ago, you had asked leading senior executives in the United States, Western Europe or Japan how they intended to cope with the rise of China, you would have got a familiar response: "We shall move higher in the value-added chain."

Perhaps China was the "world's factory", but the conventional wisdom reassuringly said, "Cheap manufacturing may migrate to China - but innovation will remain in the advanced economies."

Well, the conventional wisdom is a myth. From Huawei and Lenovo to Haier, the most sophisticated multinationals in China have been converting their cost advantages to more sustainable competitive advantages since the late 1990s - often by innovation.

Today, prosperity is seen to be based on productivity, which rests on innovation. In turn, innovation is often measured by input indicators, such as research and development, and output indicators, such as patents. These indicators are crude but they can reflect significant trends.

Throughout the 1950s and 1960s, the US set the standards for prosperity, productivity and innovation. It enjoyed superior leadership in science and technology, R&D and patents.

After the second world war, the economies of Europe's leading nations and Japan were too devastated to pose a competitive threat to US multinationals, which were barely exposed to international competition.

Since the late 1970s and 1980s, the innovative capacity of the member countries of the Organisation for Economic Co-operation and Development have converged substantially, however. Like Britain, Germany and France in the post-war era, China has been engaged in catch-up growth, especially after 2001, when it joined the World Trade Organisation.

At the time, American, European and Japanese companies were still adjusting to the idea of Chinese price competition. However, Chinese senior executives were already internationalising their operations - first in Asia's emerging and developing economies, then in Africa and the Middle East and Latin America, and finally in Europe, Japan and the United States.

After the global recession, a new phase of competition emerged, accelerating the expansion of Chinese innovation relative to the innovation of the developed economies. The trend is reflected by innovation indicators.

According to the World Intellectual Property Organisation, China's patent office became the largest in the world in 2011, as measured by the number of patent applications received. Even before, China accounted for most filings of utility models, trademarks and industrial designs.

In the century before 2011, only three patent offices - Germany, Japan and the United States - dominated the world's patent markets. Of course, it is not simple to compare intellectual property rights across borders. Still, the changing trends reflect significant shifts in the geography of innovation.

In the US, patents are dominated by multinational giants, including Qualcomm, IBM, Hewlett-Packard, 3M, Procter & Gamble, Microsoft, Dupont and Intel. They represent computer technologies, medical sciences, pharmaceutical industries, energy and digital communication. In China, the patent kings include ZTE, Huawei, Alcatel-Lucent Shanghai Bell, China Academy of Telecommunications Technology, Hunan Sany, Tencent, Ocean's King and Xiamen Solex. These companies represent digital communication, pharmaceutical industries, computer technologies and energy.

Actually, the shift from one patent era to another may already be more extensive than we assume. In the long-term patent monopolies, the US, the core European economies and Japan still represent the global patent elite.

But as these monopolies fade out, new players - China, but also South Korea, Russia, India and Brazil - will become more prominent.

As output indicators, patents occasionally tell us more about past glory than future trends, unlike research and development. Today, international R&D rivalry is no longer driven by the US, Europe or Japan, but Asia - more precisely, emerging Asia, which, in practice, translates to China and other major Asian nations.

Currently, the US, Europe and Japan account for over 60 per cent of the world's R&D investment. If, however, these figures are analysed regionally, Asia dominates 35 per cent of the total, while the US has 28 per cent and Europe some 23 per cent. Moreover, a significant part of these investments actually take place in emerging economies.

On a country basis, the global rivalry is presently dominated by three nations: the US (US$419 billion) China (US$197 billion) and Japan (US$160 billion), which together are expected to account for more than half of all research and development expenditures worldwide. In their footprints follow countries such as South Korea, France, India, Britain, Russia, Brazil and Canada.

As the global crisis is entering a new phase, in which the developed economies can no longer defer their debt challenges indefinitely through monetary policies, the research and development budgets of the most developed economies are either growing slowly or standing in place, in real terms.

In the large emerging economies, however, these same budgets are either growing rapidly, as in China, or enjoy strong and solid growth in relative terms. Consequently, the top rankings of the leading R&D nations will morph dramatically in the next decade.

Only a while ago, China's research and development expenditure was barely half of that in Europe. Due to relative growth differentials, however, it looks increasingly likely that China may bypass Europe before the end of the decade, whereas the US could fall behind China by the early 2020s.

Of course, the catch-up in innovation intensity (R&D expenditure divided by population) will take a lot longer.

Nonetheless, innovation is no longer the monopoly of the West.

Dr Dan Steinbock is research director of international business at the India, China and America Institute (US), and a visiting fellow at the Shanghai Institutes for International Studies (China) and at the EU Centre (Singapore)
*January 15 2013
New study lifts veil on China's most affluent By SCMP
Solid gold bling. A visitor looks at a gold model locomotive at a luxury exhibition in Beijing, capital. A new survey has found that the top one per cent of Chinese families make an average 1.51 million yuan a year.

What does China's typical "one per cent" look like? According to a recent university study, they live in an eastern Chinese city, have a college degree, run their own business, and make around HK$2 million a year or more.

The top one per cent of Chinese families in terms of wealth make an average 1.51 million yuan (HK$1.88m, US$243,000) per household a year, according to a new study on the country's wealthy families.

More than 3.7 million families in China have total assets worth more than 10 million yuan (HK$12.5 million, US$1.6 million), according to the study, which was conducted by the Chengdu-based Southwestern University of Finance by polling 8,400 households nationwide. Almost 20 million families in China have total assets worth more than 3.05 million yuan (HK$3.8m, US$490,000).

Of the families in the top five per cent, with an average annual income of half a million yuan, almost nine out of ten live in urban areas. An overwhelming 94 per cent of these families live in eastern parts of the country.

The study also shows a close relationship between wealth and education in today's China. Of the top five per cent of families, 63.8 per cent of family members have an associate degree or above, the study found.
*January 12 2013
Chinese Investment in the U.S. Shatters Records (By Derek Scissors, Ph.D. and Amy Payne) China set a record with its investments around the world in 2012. And in the United States, China shattered its previous investment record. Before people start panicking, it's important to know: This is not a bad thing. First, let's put it in perspective. Chinese investment is still very, very small as compared to the size of the U.S. economy. At the national level, the stock of investment is barely $50 billion—which sounds large, but is negligible compared to a stock of American wealth of more than $60 trillion. No one's "taking over" anything. In fact, more Chinese investment is a good thing. It creates jobs; it benefits companies, and it should be welcomed. It also gives us more leverage to push for a more open Chinese market, which continues to be a major problem. Globally, the U.S. can compete and win with China in terms of economic influence, but we have to be willing to play. We have to be willing to expand our trade and investment in both directions.
The Heritage Foundation (they ranked Hong Kong world's freest economy) offers the only public dataset of Chinese outward investment, tracking the country's investments of $100 million or more since 2005. Using our interactive map, you can see where the flow of investment is going—by country and by sectors, including technology, transportation, agriculture, real estate, metals, etc.

>>>Use the China Global Investment Tracker's Interactive Map (click on the link)

Energy continues to attract the most Chinese money, while North America became the most popular destination for Chinese firms in 2012. Australia also remains a top destination for Chinese investment.

Chinese investment in the U.S. is no reason to get nervous. It boosts our economy and should prompt us to secure top-flight trade and investment agreements across the Pacific and around the world.

It's also important to note that this trend won't last forever. North America has jumped to the forefront of Chinese business activity, but this development is likely to be temporary: The pattern over time is for Chinese enterprises to move as a group from region to region. The U.S. should take this opportunity both to welcome Chinese investment and to respond to it according to our laws and values.
*December 18 2012
China's rich and skilled leave in record numbers By Peony Lui
San Francisco, California, is a popular destination for Chinese emigrants.

More than 150,000 Chinese became permanent citizens in major immigrant countries including the United States, Canada, Australia and New Zealand last year, topping the world's list of overseas migration in absolute numbers, a recent report revealed.

The Centre for China and Globalization (CCD) and Beijing Institute of Technology (BIT) School of Law jointly released their findings in the Chinese International Talents Annual Blue Book's International Migration Report (2012) on Monday, according to media reports.

Global migration increased from 195 million in 2005 to 214 million in 2010, constituting 3.1 per cent of the world's population, statistics showed.

International migration in and out of China spiked in the past decade. In 2010, the number of overseas Chinese reached 45 million, ranking first in the world.

Another report by Hurun Research Institute and Bank of China in 2011 found that 14 per cent of China's high-net-worth individuals had either emigrated or were in the process of doing so.

In addition, 46 per cent were considering permanently moving overseas through various immigrant investor programs with real estate, foreign currency deposits and stocks being the primary areas of investment.

US Citizenship and Immigration Services (USCIS) declared that 41 per cent of total EB-5 Immigration Investor Program applicants were Chinese while the Australian Department of Immigration and Citizenship reported that 61.5 per cent of applicants for the Business Skilled Migration Program were Chinese.

China's brain and wealth drain is increasing as highly-skilled professionals and wealthy individuals leave the country in record numbers in search of better education and services, secure investment environments and higher standards of living.

The report concluded by identifying six international migration development trends: increasing size and complexity of international migration – IOM forecasts the total number of international migrants to reach 405 million by 2050; increasing proportion of skilled migration; deepening integration of immigrants in host countries; rising environmental migration; increasing role of non-governmental organizations in the issue of modern international migration; and increasing complexity of irregular immigration issues.
*December 5 2012
New CPC leadership rejects extravagance, bureaucracy 中央政治局出台八項措施改進工作作風
The newly-elected leadership of China's ruling party has pledged to reject extravagance and reduce bureaucratic visits and meetings, in a bid to win the trust and support from the people.

In a meeting of the Political Bureau of the Communist Party of China (CPC) Central Committee on Tuesday, senior officials agreed that there should be "no welcome banner, no red carpet, no floral arrangement or grand receptions for officials' visits."

"The spending on officials' trips and inspections should be kept at the minimum necessary level," according to a statement issued after the meeting.

The meeting, presided over by Xi Jinping, general secretary of the CPC Central Committee, was held less than three weeks after the 18th CPC national congress.

The CPC vowed at the keynote congress to "always work hard and practice economy." It also promised to reject the practices of extravagance, formalism and bureaucracy.

Tuesday's meeting adopted a document making explicit requirements on how Political Bureau members should improve their work style in eight aspects, according to the statement.

"There should be fewer traffic controls arranged for the leaders' security of their trips to avoid unnecessary inconvenience to the public, and inspection tours as a mere formality should be strictly prohibited," the statement said.

Political Bureau members are not allowed to attend all sorts of ribbon-cutting or cornerstone laying ceremonies, as well as celebrations and seminars, unless they get approval from the CPC Central Committee, according to the statement.

Officials' visits abroad should only be arranged when needed in terms of foreign affairs with fewer accompanying members, and on most of the occasions, there is no need for a reception by overseas Chinese people, institutions and students at the airport.

According to the statement, all members of the Political Bureau are urged to understand the real situation facing society through in-depth inspections at grassroots.

Senior leaders should listen more to the public and officials at grassroots levels, and solve people's practical problems, the statement said.

It was also agreed at the meeting to strictly regulate the arrangements of national official meetings and major events, improve the efficiency of official conferences and issuing of official documents.

Official meetings should get shortened and be specific and to the point, with no empty and rigmarole talks.

The meeting underscores the exemplary role of officials, especially high-ranking officials, in improving the Party's work style.

"The Political Bureau members should implement the dos before asking others to do so," the statement said.

It also asked the senior officials to keep a frugal lifestyle and strictly comply to regulations on housing and vehicles.

The meeting demands Party organizations and officials at all levels to implement the eight requirements. Disciplinary and auditing authorities are ordered to play their role to ensure the implementation at various levels.

NEW STYLE BY NEW LEADERSHIP

Prof. Xie Zhiqiang with the Party School of the CPC Central Committee believed that the new requirements are another move of a series of exemplary conducts taken by the CPC's new top leadership in improving the Party's work style.

"The eight requirements are feasible and targeted," Prof. Xie said. "They will help leaders turn rhetoric of improving work style into practice."

Xi Jinping said in his speech when meeting the press after being elected general secretary of the CPC Central Committee that the new leadership had taken on an important responsibility for the people and the party had to solve problems such as "corruption, being divorced from the people, going through formalities and bureaucratism."

"We must make every effort to solve these problems. The whole Party must stay on full alert," Xi said.

Two members of the Standing Committee of the Political Bureau of the CPC Central Committee recently asked officials not to read their prepared reports at meetings to save time in order to speak about more concrete contents.

Taking the lead by their own examples from the top leadership will bring a nationwide influence with new changes and fashion in work style, said Xie.

Prof. Wang Yukai with Chinese Academy of Governance said the eight requirements are designed and aimed at dealing with complaints from the public for a long time.

"They showcased a strong determination of the top leadership to fight chronic and lingering problems within the Party," Prof. Wang said.

The Political Bureau's meeting on Tuesday is seen as a follow-up to the pledge to win public trust and support at the CPC's 18th national congress.

The CPC congress report said that the Party should "put people first, exercise governance for the people and always maintain close ties with them".

It also stressed that the Party "should make determined efforts to improve the style of writing and the conduct of meetings, and reject undesirable practices such as mediocrity, laziness, laxity and extravagance, the practice of just going through formalities, and bureaucratism.

"We should use the Party's fine conduct to enhance Party cohesiveness, win popular support and improve the conduct of the government and the general public," the report said.

NETIZENS HAIL, EXPECT PRACTICE

Chinese netizens are also getting upbeat about the new requirements, believing them as a positive signal from the newly-elected CPC leadership to take the gloves off in the fight against bureaucracy.

A microblogging entry by the People's Daily on the requirements has been retweeted more than 5,700 times within three hours since its release.

"The required measures are exactly what I expect and appreciate, and my comment on them is only one word: good!" wrote Sina Weibo user "Antique1999090909".

"These requirements indicate that the CPC has made a choice between empty talks and down-to-earth works," wrote weibo user "aepmmi".

However, web users also expressed their hope that the new requirements be carried out.

The new requirements are good, and they can be better if fully implemented, said a netizen named "Chengdu lawyer Lei Fugen".

Ren Zhiqiang, a well-known outspoken real estate boss, commented at weibo that he believes more similar measures will follow, and the new leadership will not disappoint the people.

會議強調,抓作風建設,首先要從中央政治局做起,要求別人做到的自己先要做到,要求別人不做的自己堅決不做,以良好黨風帶動政風民風,真正贏得民眾信任和擁護。

會議一致同意關於改進工作作風、密切聯繫民眾的八項規定:

  ●要改進調查研究,切忌走過場、搞形式主義;要輕車簡從、減少陪同、簡化接待。

  ●要精簡會議活動,切實改進會風;提高會議實效,開短會、講短話,力戒空話、套話。

  ●要精簡文件簡報,切實改進文風,沒有實質內容、可發可不發的文件、簡報一律不發。

  ●要規範出訪活動,嚴格控制出訪隨行人員,嚴格按照規定乘坐交通工具。

  ●要改進警衛工作,減少交通管制,一般情況下不得封路、不清場閉館。

  ●要改進新聞報道,中央政治局同志出席會議和活動應根據工作需要、新聞價值、社會效果決定是否報道,進一步壓縮報道的數量、字數、時長。

  ●要嚴格文稿發表,除中央統一安排外,個人不公開出版著作、講話單行本,不發賀信、賀電,不題詞、題字。

  ●要厲行勤儉節約,嚴格執行住房、車輛配備等有關工作和生活待遇的規定。

星島環球網消息:中共中央政治局12月4日召開會議,審議中央政治局關於改進工作作風、密切聯繫民眾的八項規定,分析研究2013年經濟工作。中共中央總書記習近平主持會議。

新華網報道,會議強調,領導幹部特別是高級幹部作風如何,對黨風政風乃至整個社會風氣具有重要影響。抓作風建設,首先要從中央政治局做起,要求別人做到的自己先要做到,要求別人不做的自己堅決不做,以良好黨風帶動政風民風,真正贏得民眾信任和擁護。要下大決心改進作風,切實解決民眾反映強烈的問題,始終保持同人民民眾的血肉聯繫。

會議一致同意關於改進工作作風、密切聯繫民眾的八項規定。規定要求,中央政治局全體同志要改進調查研究,到基層調研要深入瞭解真實情況,總結經驗、研究問題、解決困難、指導工作,向民眾學習、向實踐學習,多同民眾座談,多同幹部談心,多商量討論,多解剖典型,多到困難和矛盾集中、民眾意見多的地方去,切忌走過場、搞形式主義;要輕車簡從、減少陪同、簡化接待,不張貼懸掛標語橫幅,不安排民眾迎送,不鋪設迎賓地毯,不擺放花草,不安排宴請。要精簡會議活動,切實改進會風,嚴格控制以中央名義召開的各類全國性會議和舉行的重大活動,不開泛泛部署工作和提要求的會,未經中央批 一律不出席各類剪綵、奠基活動和慶祝會、紀念會、表彰會、博覽會、研討會及各類論壇;提高會議實效,開短會、講短話,力戒空話、套話。要精簡文件簡報,切實改進文風,沒有實質內容、可發可不發的文件、簡報一律不發。要規範出訪活動,從外交工作大局需要出發合理安排出訪活動,嚴格控制出訪隨行人員,嚴格按照規定乘坐交通工具,一般不安排中資機構、華僑華人、留學生代表等到機場迎送。要改進警衛工作,堅持有利於聯繫民眾的原則,減少交通管制,一般情況下不得封路、不清場閉館。要改進新聞報道,中央政治局同志出席會議和活動應根據工作需要、新聞價值、社會效果決定是否報道,進一步壓縮報道的數量、字數、時長。要嚴格文稿發表,除中央統一安排外,個人不公開出版著作、講話單行本,不發 賀信、賀電,不題詞、題字。要厲行勤儉節約,嚴格遵守廉潔從政有關規定,嚴格執行住房、車輛配備等有關工作和生活待遇的規定。

會議強調,制定這方面的規定,指導思想就是從嚴要求,體現從嚴治黨。改進工作作風、密切聯繫民眾,關係黨和人民事業成敗。各級黨政機關和領導幹部要堅持以人為本、執政為民,帶頭改進工作作風,帶頭深入基層調查研究,帶頭密切聯繫民眾,帶頭解決實際問題。各地區各部門要嚴格按照本規定,結合實際情況,制定貫徹落實辦法,狠抓落實,切實抓出成效。各地區各部門要嚴格執行本規定,每年年底對執行情況進行專項檢查,中央辦公廳、國務院辦公廳要定期督促檢查,每年年底通報執行情況,並向中央政治局常委會議、中央政治局會議彙報執行情況,對違反規定的要進行處理。各級紀檢監察機關要把監督執行本規定作為改進黨風政風的一項經常性工作來抓。審計部門每年要對各地區各部門會議活動等經費 使用情況進行審查。

會議指出,明年經濟工作要穩中求進:

  ●保持宏觀經濟政策的連續性和穩定性,適時適度進行預調微調。

  ●著力擴大國內需求,促進投資穩定增長和結構優化。

  ●毫不放鬆抓好農業生產,落實和完善扶持政策,加大農業科技投入。

  ●保持物價總水準基本穩定,規範市場價格和收費秩序。

  ●紮實推進重點領域改革。

  ●大力保障和改善民生,穩步提高社會保障統籌層次和保障水準。

會議強調,今年以來,面對世界經濟復蘇明顯放緩和國內經濟下行壓力加大的嚴峻形勢,在黨中央、國務院正確領導下,各地區各部門堅持以科學發展為主題、以加快轉變經濟發展方式為主線,按照穩中求進的工作總基調,根據經濟形勢發展變化,加強和改善宏觀調控,著力穩增長、調結構、抓改革、惠民生,我國經濟趨於穩定,積極因素進一步增多,全年經濟社會發展任務能夠較好完成。我國仍處於可以大有作為的重要戰略機遇期,明年經濟社會發展具備很多有利條件和積極因素,同時經濟發展面臨的困難仍然較多,各種挑戰不能低估。全黨全國要切實增強憂患意識和緊迫感,充分估計困難和挑戰,紮實做好各方面工作。

會議指出,明年是全面深入貫徹落實黨的十八大精神的開局之年,是實施"十二五"規劃承前啟後的關鍵一年,是為全面建成小康社會奠定堅實基礎的重要一年,做好經濟工作意義十分重大。要深入學習和全面貫徹落實黨的十八大精神,堅持以鄧小平理論、"三個代表"重要思想、科學發展觀為指導,緊緊圍繞主題主線,以提高經濟增長品質和效益為中心,穩中求進,開拓創新,紮實開局,進一步深化改革開放,進一步強化創新驅動,加強和改善宏觀調控,積極擴大國內需求,加大經濟結構戰略性調整力度,著力保障和改善民生,增強經濟發展的內生活力和動力,保持物價總水準基本穩定,實現經濟持續健康發展和社會和諧穩定。

會議提出,要保持宏觀經濟政策的連續性和穩定性,著力提高針對性和有效性,適時適度進行預調微調,加強政策協調配合。要著力擴大國內需求,加快培育一批拉動力強的消費新增長點,促進投資穩定增長和結構優化,繼續嚴格控制"兩高"和產能過剩行業盲目擴張。要毫不放鬆抓好農業生產,落實和完善扶持政策,加大農業科技投入,鼓勵發展新型農業生產經營模式,加強農田水利和防災減災能力建設。要加快推進產業轉型升級,發揮自主創新對結構調整的帶動作用,支持企業牽頭實施產業目標明確的國家重大科技項目,推進產能過剩行業兼併重組、扶優汰劣,支持中小企業發展,發展生產性服務業,加強生態建設。要積極穩妥推進城鎮化,增強城鎮綜合承載能力,提高土地節約集約利用水準,有序推進農業轉 移人口市民化。要深入實施區域發展總體戰略,加快推進集中連片特殊困難地區發展,發展海洋經濟。要不斷提升對外開放水準,優化外貿結構,完善穩定出口政策,積極增加進口,抓住機遇推動企業走出去,支持內陸和沿邊地區對外開放。要保持物價總水準基本穩定,促進重要商品市場供需平衡,進一步降低流通成本,規範市場價格和收費秩序。要紮實推進重點領域改革,擴大營業稅改徵增值稅試點地區和行業範圍,健全資源性產品價格形成機制,深化醫藥衛生體制改革,推進國有經濟和農村改革,抓好科技、教育、文化、行政審批等領域改革。要大力保障和改善民生,健全城鄉公共就業服務體系,穩步提高社會保障統籌層次和保障水準,發展教育、衛生、文化等社會事業,加強房地產市場調控和住房保障工作,強化社 會服務和管理,維護社會和諧穩定。

會議還研究了其他事項。
*November 17 2012
Chinese people's bad manners in public By Liu Zhihua
Chinese have become some of the most sought-after tourists because of their spending power. Statistics suggest they will take 80 million overseas trips in 2012.

Bad behavior is more a result of social pressures on Chinese tourists than personality, experts suggest. Liu Zhihua finds out why they say nurture overcomes nature. Bad manners in public are due to many factors, and not just individual personality. Experts say society, historical circumstances and the environment must all be taken into consideration. "People are relatively tolerant and polite in their daily lives toward acquaintances and friends, but when placed in a crowd or in a strange place, such as when traveling abroad, chances are that people will be more prone to anger, to be rude, aggressive or even violent," says Han Xueqing, director of clinical psychology at the Beijing Tongren Hospital.

She points to the case of an old man who died of a heart attack after he quarreled with two young women in the Beijing subway during rush hour. "Studies have shown that in a noisy place people tend to become rude and angry," he says. "That is because they feel insecure or threatened. It is human nature to switch into self-protection mode and look out for their own well-being."

In a society that boasts of a 5,000-year-old civilization formed by the doctrines of Confucius and Mencius, civic education starts early. At school, children are familiar with the tale of Kong Rong, who gave his siblings the larger fruits and kept the smallest for himself, when his father asked him to share out some pears. Kong Rong had been taught that, as the youngest, he had to give way to his elders. Many Chinese are aware of teachings such as these, and that politeness and kindness are marks of a civilized society.

But for many, these values were thrown out of the window during the "cultural revolution" (1966-76), a period of social turbulence and moral decline. In the past few decades, blind worship of material success has also affected moral values and complicated behavioral paradigms, experts say.
Tourists litter a sandy beach at Dadonghai Resort in Sanya, Hainan province, during the National Day holiday.
A tourist climbs onto a tree and hands down red autumn leaves to his companions at Fragrant Hills, Beijing.

"It is not that the Chinese cannot behave. The society we live in, the phase of social development we are going through, and the social network we belong to all decide our behavior in public," says Cheng Lehua, a social psychologist with the department of psychology at Sun Yat-sen University. For one, people are more inclined to be rude if they feel their personal space is being violated. For another, when social resources are limited, and there is no actual penalty mechanism for improper behavior, it becomes a free-for-all. Finally, identity plays an important role, Cheng adds.

"Travelers are a good example in such extreme cases," Cheng says.

"They are more likely to behave badly than locals. They are in a strange place and they are in a hurry to get the most out of the limited stay, while locals have more time and opportunity, relatively, to do the same.

"The better educated, those with higher social status, are more likely to be polite and control themselves in public, because they have an identity and image to maintain. For this reason, too, you find that overseas Chinese cling to traditions more than those in China."

"It is all about the conflict between self-interest and limited resources, especially in a strange or crowded place," says Han Xueqing, the psychologist at Tongren Hospital.

"I believe such ugly behavior is temporary," she says.

It has been a steep learning curve for Chinese tourists abroad, but experts say as they slowly get used to being affluent, and their vision broadens with more frequent travel abroad, they will feel less pressure to grab as much as they can in as short a time as possible, and they will learn to relax and behave better. But this improvement has to take place against a background where the authorities encourage and instill order, provide lifelong moral education, and penalize bad behavior in public.
*November 16 2012
Tencent's WeChat Takes Bite Out of Weibo
Tencent's fast-growing mobile messaging application WeChat isn't making money yet, but according to rival Sina Corp., the application is already taking user attention away from competitors.

A screenshot shows the Apple iTunes page for recently released English-lanuage version of Tecent's WeChat mobile messaging app.

Speaking during Sina's earnings call on Friday, chairman Charles Chao said that the time users spent on the company's Weibo microblogging platform declined slightly in the third quarter from the second quarter, in part due to competition from WeChat. Though analysts have pointed to rising competition between Weibo and WeChat, Mr. Chao's comment marks the first official indication from either of the companies that the game is on.

Launched in early 2011, WeChat already has more than 200 million users and has helped Tencent claim a healthy chunk of China's middle- and upper-class users, who do not necessarily use the company's microblog or QQ desktop-computer messenger services.

That means it is square on Sina's turf, since Sina Weibo is predominantly used by China's urban upper crust. Tencent reports larger user numbers for its own microblogging service than Sina does, but most analysts argue that users of Tencent's Weibo tend to be less wealthy or from smaller cities in China.

During the call, Mr. Chao sought to draw a strong distinction between the roles of Sina's Weibo and Tencent's WeChat (known as Weixin in Chinese): "I think as everyone knows that Weixin and Weibo are probably the two most popular applications on the mobile terminal right now. Weibo is probably more like a public network, (with) people sharing information publicly, whatever they say or publish can be seen by everybody. But Weixin is more like private network, people sharing information content among friends, and people know each other."

Despite those differences, Mr. Chao admitted that as WeChat's popularity grows, it will inevitably cut into the amount of time users are putting into Weibo, since every user only has so much time in a day to spend on mobile social networking. Mr. Chao said Sina is adding private sharing to Weibo, so that users can use it more like WeChat if they care to, but he insisted that Sina would continue to focus on its core competency, which is enabling its roughly 400 million registered users to share jokes, photos, news and any other thought they might have publicly (assuming it gets by the service's increasingly trigger-happy censors).

That's smarter than trying to create something to compete with Tencent, which has over the past decade proven itself to be China's undisputed king of messaging.

Due to its large numbers of influential users, along with the requisite political junky followers, Sina's Weibo is probably insulated from the Tencent threat in the short term. But WeChat does directly link to Tencent's Weibo, and not to Sina's, making it possible that Tencent could gradually lure faithful Sina Weibo users over to its own microblog.

The true goliath of the Chinese Internet, Tencent is sitting on $3.7 billion in cash compared to Sina's roughly $700 million. With its massive gaming revenue stream, it is far better poised to weather an expected dip in advertising revenue due to the country's slowing economy

As Tencent has long known, money doesn't translate into influential users, but applications like WeChat show it's trying to lure them over. It is early days in the development of the mobile Internet in China, but Mr. Chao's comments set up what's likely to be a key battle in the coming years.
*November 14 2012
Why Rich Chinese Are Investing Overseas (It's Not What You Think) By Dinny McMahon
Property prices in Vancouver might be cooling, but as a favored destination for Chinese money the respite might only be temporary. Vancouver has long been a popular destination for rich Chinese looking to emigrate, but the current round of overseas investors from the world's second-largest economy may have other goals in mind.

According to a joint report by consulting firm McKinsey & Company and Minsheng Banking Corp. on China's private banking sector, the number of wealthy Chinese is rising quickly and they're looking to shift more of their investments overseas.

The number of China's high net worth individuals – defined as someone with more than $1 million to invest – increased 15% annually from 2010 to 2012, according to the report's estimate. It forecasts their numbers to rise 19% annually between now and 2015, to 1.9 million people from 875,000 in 2010.

According to the report, which was based on interviews with 700 high net-worth individuals in 29 Chinese cities, roughly 60% of China's wealthy have assets overseas. This group keeps only about 10% of their investment funds offshore, the survey found, but more than half said they hoped to increase that percentage over the next five years.

Most surprising, though, were the reasons China's wealthy choose to invest overseas, which were not unlike their counterparts in the rest of the world. While governments around the globe are raffling off residency perks to attract Chinese money, immigration was cited as a reason for investing overseas by only 23% of respondents. And children's education was a reason for only 16%.

Instead, diversification of risk was a major reason for 86% of respondents, and 76% cited having access to a wider range of investment products. Under no illusions about the relatively dire state of the global economy, only 15% said they were hoping for a higher return overseas than what's available in China.

A lack of investment products has always been a problem in China. That's started to improve in recent years with the development of trust companies – which have found a niche using private wealth to make loans to customers the banks won't touch – and private equity, although investors are fast falling out of love with the sector as domestic funds struggle to deliver on advertised returns. Moreover, the major investment outlets of developed economies – the stock market and corporate bonds – remain underdeveloped in China.

The report doesn't offer comparisons with how China's wealthy felt about investing overseas in the previous years, but it's likely that the need for diversification wasn't as much of a priority in the past. An appreciating yuan meant that any overseas investment would have to yield a return in excess of however much the yuan had risen, which was particularly tricky in those years the yuan rose in excess of 7%. Moreover, with the global economy in the doldrums and Chinese property prices spiraling upward until mid-2012, diversifying overseas was a low-return or even losing proposition.

Now that China's economy is slowing – and the yuan is in a funk – it makes more sense for China's rich to hedge their bets by keeping more funds overseas. Moreover, China's elite are nervous about what the leadership handover will mean for their political fortunes, and by extension their wealth.

The report paints a picture of China's rising wealthy class at odds with the image of the world-beating engineer-turned-entrepreneur from Beijing that looms so large in Western imagination. According to the survey, 49% of China's wealthy don't have a university degree. And almost 50% of China's high net-worth individuals are from neither tier-one nor tier two-cities (although more than 70% of them are clustered around the Pearl River and Yangtze River deltas).

The message of the rest of the world is that China's rich are multiplying – and they're not content to stay at home.
*November 11 2012
Former US Commerce Secretary Mickey Kantor: Huawei, ZTE risks 'overstated' By Wang Jun in Los Angeles
Congressional report 'politically' driven, says former top Clinton aide - Speaking exclusively to China Daily, Mickey Kantor - who served as US trade representative from 1993 to 1996, followed by nearly a year as US secretary of commence - said the report was politically motivated, coming as it did, in election year in the country.

A former top US official who served under Bill Clinton has branded last month's House of Representatives Intelligence Committee report, alleging China's Huawei Technologies Co and ZTE Corp posed risks to US national security, as "vastly overwritten and overstated".

The long-time advocate of open trade said he regrets the anti-China rhetoric that flared up during the presidential campaign.

But he added that now the race to the White House is over, with Clinton's fellow-democrat President Barack Obama winning a second term in office, he expected people, or at least US politicians, to talk more rationally about China-related issues.

Referring to the Intelligence Committee report, which alleged illegal conduct and was vigorously denied by the two Chinese companies, Kantor said: "You've got to remember this is a political year in the United States. Therefore, people believed that if you criticize China, that will help you politically. I'm sorry that's the case."China snubs US descrimination against Chinese firms

"I believe the report is vastly overwritten and overstated," he said. "Interestingly enough, the report admits they have no evidence that Huawei and ZTE have done anything."

The congressional report capped a series of actions by Obama's administration involving US trade with China.

In mid-September, the White House filed a trade complaint with the WTO claiming that Beijing subsidizes automobile and auto-parts exporters.

Later that month, Obama then said he was blocking Ralls Corp, a Chinese-owned company backed by leading Chinese construction machinery conglomerate Sany Group, from erecting wind turbines near a navy test site in Oregon - the first time in 22 years that a US president had barred a foreign investor for national security reasons.

In stark contrast to this year's anti-Chinese US sentiment, an Asia Society report titled An American Open Door reported last year that Chinese direct investment in the US was "soaring, both in value and number of deals".

The report, undertaken by the society's Center on US-China Relations and the Kissinger Institute on China and the US at the Woodrow Wilson International Center for Scholars, outlined the relationship's enormous potential to create economic growth.

But it had warned the US may squander immense opportunities for employment and investment gains through political fear-mongering.

It said Chinese companies had established operations and created jobs in at least 35 of the 50 US states, across dozens of industries, such as manufacturing and services.

"The actual number of (US) jobs that Chinese investors have created likely exceeds 10,000 - many times the official estimate," the report said.

"If China follows the pattern of other emerging economies, more than $1 trillion in direct Chinese investment will flow worldwide by 2020, a significant share of which will be destined for advanced markets such as the United States," the Asia Society added.

Kantor, who was also a key member of the Clinton administration's team on trade-led negotiations that formed the WTO in 1995, makes the point that all governments have security laws to protect themselves against commercial acquisitions of home-grown technology.

"What interests me is that the US government continues to focus on Huawei," he said.

"Now companies that compete with Huawei are pressing the US government to take their side, and they're trying to convince the government that Huawei is doing something wrong."

The former official added he was concerned that such claims could have escalated to the point they have, without firm evidence being cited.

"Everyone's technology can be hacked," he said.

Last year, The Washington Post obtained a presentation titled "Huawei and National Security", which was prepared by Cisco Systems Inc, the Silicon Valley giant that competes against the Chinese company in the manufacture of networking equipment and other telecommunications gear.

The presentation's content was seen as similar to that of the eventual House committee report.

"It's good if it's healthy and everyone plays fairly, by the same rules," Kantor said of competition between such rival companies.

"But in this case, the report is wrong. I hope that responsible officials in the US government read it, understand that the report is not what it pretends to be, and will act in a mature fashion supporting open trade.
"We can use investment and commercial relations to build our political relations as well," he added.

"Commercial relations are wonderful ways to bring countries closer together because both sides have something to gain and something to lose.

"We've got to be open to each other in promoting our own products and attracting products and investment from other nations.

Kantor's work since leaving government office has seen him guiding US companies' entry into European and Asian markets, and he said the US must turn its concerns over China into opportunities.

"Opportunities to make progress, to cooperate, to sit down and understand each other's goals, aspirations," he said.

"We have many things in common that bring us together. We need to use that as a foundation to build our relations," Kantor added.

"There's a huge amount of Chinese investment in the US. Haier and Lenovo, for instance, have been very viable and have done very well in the US."

Criticisms such as those in the House committee report can be costly to any company, individual or government, Kantor said.

"We are by far the two most powerful nations. Therefore, we have a special obligation to work together."
*November 1 2012
International education-exchange firms may be banned By Cheng Yingqi and Luo Wangshu
New regulations are likely to ban international agencies from providing education-exchange services in China, according to the Ministry of Education. A man walks by advertising for a company that provides overseas study services for Chinese students, in Nanjing, Jiangsu province, in June.

A recently published draft regulation allows provincial-level educational authorities to approve or reject qualifications of intermediary agencies, bans foreign agencies entering the market and strengthens supervision of the agencies.

The draft also requires agencies to build an emergency fund, supervised by educational authorities, so that clients can be refunded when the intermediary agencies cannot provide services.
The ministry has published the draft regulation on its website and is soliciting opinion at yaojinju@moe.edu.cn until Nov 5.

According to Xinhua News Agency, the ministry said some unqualified agencies provide advisory services to people wishing to study abroad, and some help clients forge materials required for applications or cheat clients out of money.

In July, New Zealand immigration officials found 279 applications submitted by Chinese students contained some forms of fraud, and intermediary agencies were to blame for the fake materials.

"I think the ministry simply cut foreign agencies out without good reason. If foreign agencies can forge materials or cheat clients of money, domestic agencies can do that too," said Chen Naibo, who works for an intermediary agency based in the United States. Chen declined to give the name of his company.

Chen's company mainly provides consultant services to Chinese students who plan to attend high schools in the US.

"Since the students are too young to take care of themselves, most prefer living in a homestay, and we can find reliable homestays for them, which is much more difficult for agencies based in China," Chen said.

"Intermediary agencies win the trust of clients from good word of mouth. An agency, either domestic or foreign, can't survive a long time by cheating clients or forging materials," said a staff member of a Canadian agency, who refused to give her name because of the interview provisions of the company.

"I think the administrative intervention will not work effectively in the consulting market for overseas study," she said.

Zhao Kun, 20, a student from Beijing, was shocked when she found out about the new draft regulation.

"The draft regulation did not specify the extent, though. If Hong Kong-based companies are involved, I will be totally lost. It is so urgent that I don't have time to look for a new agent," she said.

Being busy preparing for the IELTS test, Zhao, who is planning to enter college in the United Kingdom in the spring of 2013, handed her application process to an education agent, Amber Education, a Hong Kong-based education-counseling firm.

"I hope it will not pass this term," she said.

However, domestic agencies gave the new regulation the thumbs up.

"It makes the industry more transparent and reliable, and reduces the risk," said a staff member of an education agent based in Beijing, who declined to give her name.

"If the companies are located on the Chinese mainland, students and parents can easily visit the companies to see the qualifications and environment, getting a feel for the company. However, if the companies are located overseas, it is not easy to judge their qualifications by looking at their websites and other non-face-to-face means of communication."

She explained that some unqualified agents on the Chinese mainland usually have overseas partners that help them run overseas businesses. However, the cost increases.

"Agents with qualification usually have connections with overseas schools, which may not need help from overseas partners," she added.
*October 20 2012
Huawei row shines light on East-West culture clash By Agence France-Presse in Beijing
Huawei Technologies Co is a networking and telecom equipment and services company headquartered in Shenzhen in southern China. Now the world's biggest telecom equipment maker, and serving 45 of the world's 50 biggest telecom operators, it was founded in 1987 by a former military officer. The company has been accused of copying other companies' technology. Cisco Systems sued Huawei in 2003 for allegedly infringing on its patents. In the US, Huawei has been challenged due to concerns of US security officials that Huawei-made telecom equipment is designed to allow unauthorized access by the Chinese government and the Chinese People's Liberation Army. US political opposition forced Huawei to withdraw its purchase of 3Leaf systems in 2010, following a review by the US Committee on Foreign Investment.

US security fears over two China telecom firms have spotlighted Western suspicions that Chinese companies are state-influenced, a culture clash analysts say could loom larger as the country's businesses look overseas.

Telecommunications equipment firms Huawei Technologies and ZTE were put on the defensive this month by a US congressional committee that labelled them potential national security threats that should be excluded from government contracts and barred from acquisitions in the United States.

Huawei, a private company founded by a People's Liberation Army veteran, and ZTE – publicly traded and less than 16 per cent state invested, according to the corporation – have denied they pose any such security risk.

But countless Chinese companies remain either majority state-owned or maintain intricate government links, a fact noted even by ZTE itself.

ZTE spokesman David Dai Shu said in a statement that the committee's finding that the company may not be free of state influence, "would apply to any company operating in China".

Analysts said the issue could become a recurring stumbling block as more Chinese firms look for expansion opportunities abroad – especially in sensitive sectors – just as China is increasingly viewed as a strategic US rival.

"We've never had a country with a one-party state and a very large state sector that has played such an important role in the global economy, that has been in a position to make investments around the world," said Patrick Chovanec, professor at Tsinghua University's School of Economics and Management in Beijing.

Worries over Chinese companies buying into US industries considered strategic have scuttled past deals, as in 2005 when state-owned China National Offshore Oil Corp (CNOOC) tried to take over US oil major Unocal.

More recently, US President Barack Obama last month blocked a Chinese-led group from purchasing several wind farms near a US naval station, saying the acquisition threatened national security.

"Such decisions by the United States will affect the enthusiasm of Chinese companies to invest in the United States," Chinese ministry of commerce spokesman Shen Danyang said.

The distrust stems from what is seen as an increasingly assertive China that is pouring money into building up its military and, US defence officials have warned, its ability to potentially use high-tech means to disrupt US communications or information systems.

China already has been accused of being a major source of international computer hacking and cyberattacks, although Beijing denies involvement.

Compounding the issue is the generally opaque nature of many Chinese companies, which often seem secretive in the west, where there is more pressure for corporate transparency.

"They can either operate according to the logic that works in China or they can operate according to the logic that works in the US," said Scott Harold, a China expert at the US-based Rand Corporation.

"But sometimes they will not be able to operate according to both logics simultaneously since they're incompatible."

A research report by Fitch Ratings said US sales for Huawei and ZTE account for less than 5 per cent of their revenues and the House committee move was unlikely to immediately affect their bottom lines.

"A more meaningful impact could arise if more countries decide to avoid the Chinese manufacturers over alleged national security concerns," they wrote.

Just after the US congressional report release, Canada said it had invoked a "national security exception" that could exclude Huawei from a role in helping build a new secure government network, as the country rebuilds networks damaged by cyber attacks in 2010.

Australia earlier this year blocked Huawei from bidding for contracts on a huge national broadband network.

Analysts said security is a legitimate concern when assessing foreign investment in areas such as telecoms with bearing on national security.

But there is a danger that protectionist sentiments could get out of hand, harming Chinese companies that pose no threat, said John Lee, an expert on China's political economy and foreign policy.

"The decision of the House committee can potentially be misused by various groups in the West to justify protectionism, to justify irrational fear of foreign investment, particularly Chinese investment, so it's very important that that doesn't occur," said Lee, of the University of Sydney.

Anti-China rhetoric is climbing in the US, especially as the presidential campaign kicks into high gear with both candidates seeking to emphasise their tough-on-China credentials.

A broader impact on Chinese companies has yet to emerge, but Chovanec said excessive anti-China feelings could be counter-productive for the US economy.

"There are Chinese companies that have made investments in the United States, have contributed to jobs in the United States. It would be a shame if they were tarred by the same concerns that we ran into here [with Huawei and ZTE]," he said.
*October 18 2012
Obama and Romney indulge in debatable accusations By Chen Weihua
US Republican presidential nominee Mitt Romney and US President Barack Obama during the second presidential debate in New York.

US presidential campaign again targets China, Chen Weihua reports in New York. When President Barack Obama and Republican challenger Mitt Romney faced off in the second presidential debate on Tuesday, both grabbed every opportunity to display a tough stance on China.

China was mentioned dozens of times during the 90-minute debate, with questions from the audience covering both domestic and foreign policy, ranging from jobs, taxes and immigration to energy, gun control and equal opportunities for women.

Only the first reference to China, by Obama, was positive, when the president accused Romney of not having a clean-energy plan.

"China and Germany are making these investments (in clean energy)," said Obama, who appeared much more aggressive and confident than during his performance in the first debate.

In outlining his five-point economic plan, Romney said he will expand trade with Latin America, "cracking down on China when they cheat." The presidential hopeful has used those words repeatedly during the campaign.

"I will crack down on China. President Bush didn't," said Romney, in answer to a question on the differences between himself and Obama's predecessor George W. Bush.

Obama hit back immediately: "When he talks about getting tough on China, keep in mind that Governor Romney invested in companies that were pioneers in outsourcing to China. Governor, you are the last person who's going to be tough on China."

The president then touted his tough stand on China, saying that his administration has brought twice as many cases against alleged unfair trade practices than the previous administration. "We won every single one that has been decided," he said.

Obama then blasted Romney for calling him a "protectionist" after the imposition of punitive tariffs on Chinese tires more than two years ago. "We saved thousands of jobs," he said.

However, the president didn't mention that the cost of tires has risen since the tariffs were introduced.

Romney refuted Obama's allegations that he has invested in Chinese companies. He said many of his investments have been managed by blind trusts during the past eight years. "Mr. President, have you looked at your pension? You also have investments in Chinese companies, investments outside the United States," said Romney.

The fiercest attacks on China came when both candidates were asked about outsourcing of US jobs.

While saying China is now the world's largest manufacturing nation, a position formerly held by the US, Romney said that when the US trades with other nations, it has to ensure that those nations play by the rules.
"And China hasn't," he said, accusing China of artificially undervaluing the yuan.

"China has been a currency manipulator for years and years. And the president has had regular opportunities to label China as a currency manipulator, but he refuses to do so," said Romney.

"On Day One, I will label China a currency manipulator, which will allow me as president to be able to put in place, if necessary, tariffs where I believe that they are taking unfair advantage of our manufacturers," Romney said.

"China has been cheating over the years. One, by holding down the value of their currency and two, by stealing our intellectual property — our designs, our patents, our technology," said the former Massachusetts governor.

"There's even an Apple store in China that's a counterfeit Apple store, selling counterfeit goods. They hack into our computers," claimed Romney.

Obama argued that, under the pressure from his administration, the Chinese currency actually has risen 11 percent. "We have put unprecedented trade pressure on China, that's why exports have significantly increased during my presidency," he said.
*October 17 2012
On otters, opium and tea By Kelly Chung Dawson
A US author examines China's trade with his homeland from the time of colonial America. Kelly Chung Dawson reports in New York.

After the colonists of New Netherland introduced tea to what would eventually become New York, the import spread quickly through the American colonies.

By the 1770s, Americans were estimated to have been drinking up to 1.3 billion cups a year.

A burgeoning trade relationship with China helped feed that demand, which - along with a Chinese desire for sea otter pelts and sandalwood - fueled further exploration and trade between the two cultures.

In When America First Met China, author Eric Jay Dolin traces the history of that relationship, which began when the Empress of China set sail on Feb 22, 1784, with a crew of 42 men under captain John Green. In the century that followed, trade with China was vital to US economic growth, Dolin argues.

"It helped create the nation's first millionaires, instilled confidence in Americans in their ability to compete on the world's stage and spurred an explosion in shipbuilding that led to the construction of the ultimate sailing vessels - the graceful and exceedingly fast clipper ships," Dolin writes.

In those years, the United States bought tea, silk, porcelain and other exotic items from China. The Chinese wanted sea cucumbers, furs and, strangely, a less potent (and less expensive) form of ginseng grown in New England's mountains and forests.

In response to China's increasing visibility today, the author set out to write a thorough history to provide context for what he views to be the most important relationship in US foreign policy, he says.
"Our relationship with China did not begin 40 years ago," Dolin says.

"It goes back to the origins of our country. It has been a long relationship and, in most ways, a positive one. We should understand that this fixation on China was in the beginning an exclusively economic interest - we looked at them as a way to pump up our economy and to get the goods that we wanted.

"I find that fascinating because, despite the greater connections we have now, those economic ties are still, to some extent, what the relationship is defined by. We had a trade deficit back then, and we have it now. The US' long-held dream about China becoming this enormous marketplace for American goods still remains unrealized."

A fundamental problem that still exists, he argues, is that China was largely self-sufficient. Despite encouraging trade, it has remained less dependent on US goods than vice versa, he says.

And until the British introduction of opium to the Chinese market, that power dynamic defined early US-China interactions.

"The Chinese looked down on foreigners as uncivilized barbarians," he writes.

"That didn't mean, however, the Chinese eschewed contact with foreigners. In fact, they welcomed it and encouraged it. But that contact had to take place within the larger context of Chinese exceptionalism. In other words, the barbarians had to know their place, which was well beneath that of the Chinese."

This led to a series of clashes between the two cultures on Chinese territory in the early years of the relationship.

But the growth of the opium trade, and the subsequent Opium Wars of 1839-42 and 1856-60, which resulted in the Treaty of Nanking and the ceding of Hong Kong to Britain, fundamentally changed the balance of power, he writes.

"China was for thousands of years the premier country or empire in the world, but by the end of the 1700s and the early 1800s, that imperial structure began to crumble," he says.

"When the Americans went over, they didn't witness the highest level of imperial Chinese splendor. They had a jaundiced and condescending view of the country."

Dolin first became interested in the history of US-China trade while researching his 2011 book Fur, Fortune and Empire: The Epic History of the Fur Trade in America.

That history included details of early business transactions between Native Americans and American traders, who sold seal and sea otter pelts to eager buyers in China's Canton (now Guangdong's provincial capital Guangzhou).

"That was my first inkling that there was something interesting about trade relations between China and the US," he says.

"Whenever I write a book, I almost always pick a topic that I don't know a lot about. I want to remain interested and excited, so that not only is the reader surprised by the material, but so that I am also continually surprised."

What startled him most was the history of American involvement in the Opium Wars, he says. The details of those wars are common knowledge in China, and yet the average American knows "next to nothing" about that history, he says.

"Americans were very involved in nurturing the drug trade and were in the thick of it during the wars," he says.

"But here in the US, we don't learn about them. That was just a total surprise to me and one of the most dramatic parts of the book to write because it's a very dramatic story."

And it's one that he feels bears lessons for Westerners in dealing with China, he says.

"It's important that we acknowledge that this traumatic period of history took place," he says.

"Modern China does not have amnesia when it comes to the 1800s. I am not Chinese, but I've heard several people make the argument that when Westerners are very aggressive in their relations with the Chinese, Chinese might, to some extent, view those actions through the lens of the Opium War.

"It's a painful history for China, so the Chinese might be particularly sensitive to being bullied or pushed around by the West. It's important to understand that. How a businessman or politician might internalize that to make decisions is up to them.

"My objective is only to illuminate history so that people today can take that background and put it in their own framework to better understand the people they're dealing with today."

Dolin's research was drawn from hundreds of books, articles and archives that were often available online.

In the closing chapter of the book, Dolin writes: "Although America and China still often view each other unfavorably, and many issues still profoundly divide the two nations, perhaps a respective (and respectful) backward glance over our historic shoulders to see where we have been will enable us to focus more clearly on how far we have come since we first met - and to travel more hopefully into the future."

Although some might write that sentiment off as "Pollyanna gobbledygook", his intentions are earnest, he says.

"We're going to be dependent on each other for many years to come, and I'm genuinely hopeful that we will be partners in the future."
*October 16 2012
Ex-diplomat says Sino-Japanese rift part of American agenda Julian Ryall in Tokyo
Ukeru Magosaki, left, says US plotted fall of Yukio Hatoyama, center, and Ichiro Ozawa

A former Japanese diplomat has accused the United States of manipulating Japan since the second world war in order to "eliminate" prime ministers who sought to develop better relations with Beijing.

Ukeru Magosaki, who also served as the head of the Foreign Ministry's Intelligence and Analysis Bureau, has recently written a book that has soared to the top of Japan's bestseller lists.

The book - Sengoshi no Shotai (The Truth Behind Post-war History) - states that the US will never remove its military bases from Japanese territory, no matter how much public outcry there is. Magosaki also said he believes that certain factions in the US would even like to see Japan develop nuclear weapons.

"In the book, I divide Japanese leaders into two groups; those who have wanted to pursue independent foreign policies and those who have just followed US instructions and policies," Magosaki said in Tokyo yesterday.

"Those in the first group were not welcomed by the US government and were usually quickly eliminated from the post of prime minister."

This was not achieved directly by Washington, he claimed, but through subtle influence over key politicians, the media, government officials and senior executives of major companies.

A spokeswoman for the US embassy in Tokyo declined to comment on the allegations made in Magosaki's book.

To achieve its control of Japan's political processes, Washington has interfered with media coverage, encouraged opposition parties, twisted public opinion and even brought down governments by "eliminating" key cabinet members, Magosaki claims.

Two of the Japanese politicians who he claims have been hounded for their independent thoughts have been Yukio Hatoyama, who lasted less then nine months as prime minister until June 2010, and Ichiro Ozawa, whose reputation has been tarnished by a financial scandal and a legal case.

Magosaki believes that had Hatoyama remained in power, the government would not be making moves to restart Japan's nuclear reactors - shut down in the aftermath of the disaster at the Fukushima Daiichi nuclear plant - and would not have gone ahead with raising the consumption tax or deploying US military Osprey aircraft to Okinawa.

These issues, along with the ongoing debate over the Diaoyu-Senkaku islands and the Trans-Pacific Partnership free trade discussions, are all closely connected with Washington's global geopolitical interests, Magosaki said.

The US was "encouraging politicians like [national policy minister Seiji] Maehara to take action against China as that has a benefit for the US," he said.

And while business interests in the US may want closer co-operation with China, the US government was pursuing what Magosaki termed an "offshore balancing strategy" under which neighboring nations - he named South Korea, the Philippines, Vietnam and Japan - are encouraged to pursue actions to constrain China and its growing regional influence.

"The Senkaku [Diaoyu] issue is part of that strategy," he said.

"Today, in the US, there are some people who want Japan to have a nuclear bomb.

"This is related to balancing strategy, to counter China by using Japan's military power.

"From China's point of view, Yoshihiko Noda has been the worst prime minister they could have had and they feel there can be no trust" between the two governments, Magosaki said. "That means that anyone who replaces him will be welcome."
*October 15 2012
Campaign 'China-bashing' a sign of things to come By Wang Chenyan in Beijing and Tan Yingzi in Washington
Experts say tough talk could harm bilateral relations in the long run - China-bashing is fiercer in the 2012 US presidential election than any previous election campaign, with both the Republican and the Democratic candidates attacking China, observers said.

Experts also warned that bipartisan hostility toward China in the US presidential election will not help the country's slow economic recovery and could even be harmful to relations between the two nations in the long run.

On Friday, Mitt Romney, Republican presidential nominee claimed he would "label China a currency manipulator" on "day one" of his presidency, and accused the Obama administration of "passing the buck" after the US Treasury Department delayed releasing a report on international trade and exchange rates in which they would have had to say whether China was a currency manipulator.

US Republican presidential candidate Mitt Romney and President Barack Obama wave to the audience during the first presidential debate at the University of Denver in Colorado on Oct 3.

Harsh criticism of China has been prevalent in this year's US presidential campaign, although it is not unusual for US presidential candidates to have a harder stance during the election campaign but revert to a milder policy afterward.

Ronald Reagan repeatedly criticized Jimmy Carter for establishing diplomatic relations with Beijing. However, bilateral relations between Beijing and Washington during the Reagan administration worked exceptionally well.

It was a similar situation with Bill Clinton, who promised to stand up to China on both trade and human rights issues in the 1992 campaign, but trade between the two countries expanded rapidly after he took office.
Analysis in some Western media, however, suggests that the campaign hostility toward China could be more than a political gesture.

Romney has appointed several advisers who are famously anti-China, such as John Bolton, the former US ambassador to the UN.

This week a report labeling Chinese telecommunication companies Huawei and ZTE as national security threats may suggest a change in the Obama administration's policy tone.
*October 14 2012
釣魚島背後的金融暗戰 美國是背後最大黑手The Financial Conspiracy battle behind the Diaoyu Islands Disputes By 杜德涛
(English Translation below by Google Translate)
司馬昭之心路人皆見,中日釣魚島爭端,美國是背後最大黑手。此輪釣魚島、獨島等東亞地區的領土紛爭,在地緣政治和軍事上的解讀甚眾。然而,在國際經濟和金融安全的領域,美國又有什麼樣的算盤?釣魚島對中美金融安全有何影響?本文試換一個角度,作一些解讀。
Villain road for all to see, the Sino-Japanese dispute over the Diaoyu Islands, the United States is behind the biggest black hands. The current round of the Diaoyu Islands and Dokdo territorial disputes in the East Asian region, geopolitical and military interpretation very public. However, in the field of international economic and financial security, the United States, what kind of thinking? Diaoyu Islands is the impact on Sino-US financial security? This article tries a different angle, to make some interpretation.

釣魚島爭端愈演愈烈,最直接的效果就是使大量的國際游資因為避險的需要而流出中國和日本。因為國際熱錢對地區政治的穩定尤其敏感,經受不起戰爭的陰霾。如今歐洲市場仍然深陷火海,流向哪裏最為安全?普天之下,莫非美國!
The Diaoyu Islands dispute intensified, the most immediate effect is to make a large number of international hot money out of China and Japan because of hedging needs. Because the international hot money is particularly sensitive to the stability of the region's political, can not afford the haze of war. Today, the European market is still bogged down in flames, flows to where the most secure? This world, does the United States!

中日釣魚島之爭逐漸邁向熱戰之際,美國對華貨幣暗戰亦進入高潮。從國際戰略棋局來看,今次釣魚島之爭激化,很可能是美國在經濟上圍堵中國,打擊人民幣國際化的重大步驟。
Gradually transforms into a hot war on the occasion of the Sino-Japanese dispute over the Diaoyu Islands, U.S. currency Running out also reached a climax. The view from the international strategic chess game, the intensification of the dispute over the Diaoyu Islands, is likely to be a major step for the U.S. containment of China in the economic, against internationalization of the RMB.

中日關係每況愈下,日本對華出口開始萎縮,而在華日企的生產亦開始舉步維艱,與此同時,中日韓自由貿易區談判亦開始擱置,中國與日本的貨幣互換也將中止。東亞經濟一體化進程受阻,最大受益者正是美國,華盛頓可以藉機加快推行TPP協議,維持美元的霸權地位。
Deteriorating Sino-Japanese relations, Japan's exports to China began to shrink, and in the production of Chinese enterprises are also hobbling at the same time, Japan and South Korea also started FTA talks shelved, China and Japan currency swap will abort. Blocked the process of economic integration in East Asia, is the biggest beneficiary of the United States, Washington can take the opportunity to accelerate the implementation of the TPP agreement to maintain the hegemony of the dollar.

近年來,人民幣國際化進​​程不斷加快,尤其是通過貨幣互換的方式,為人民幣今後自由兌換奠定了基礎。人民幣在國際上日益吃香,令弱勢美元遭遇巨大挑戰,像對付歐元那樣對付人民幣,成為華府決策者案頭上的重要課題。
In recent years, the process of internationalization of the RMB continues to accelerate, especially by way of currency swap, laid the foundation for the Renminbi freely convertible in the future. RMB become increasingly popular in the international arena, the weak dollar suffered enormous challenges, as against the euro, as against RMB, an important issue for the head of the Washington policy makers case.

維護霸權 一箭三雕 Maintain hegemony kill three birds with one arrow

而中日貨幣互換協議恰恰是美國不能容忍的,中日是世界第二、第三大經濟體,假如人民幣和日圓之間徹底互換,則東亞國家對美元的依賴將明顯減少;而在雙邊貿易方面,由於日本對華依存度極高,自由貿易區建立後,人民幣的區域國際化將往前推進一大步,美國對此當然不樂見。美國一直對中日之間的貿易與金融合作持警戒心理,使用各種手段試圖粉碎兩國的努力成果。
Japan currency swap agreement is precisely not be tolerated in the United States and Japan is the world's second-and third-largest economies, East Asian countries dependent on the dollar will be significantly reduced if completely interchangeable between the yuan and the yen; while in bilateral trade, Japan's high degree of dependence, after the establishment of the free trade zone, regional internationalization of the renminbi will move forward in a big step forward, the United States would like to see this course not. Of trade and financial cooperation between China and Japan, the United States has been holding alert mental efforts in trying to crush the two countries, using a variety of means.

弔詭的是,在中日貨幣互換即將獲得實質性發展時,釣魚島問題突然激化,美國也一再聲稱要維繫美日同盟,指《美日安保條約》適用於釣魚島衝突,並將「魚鷹」運輸機、X波段雷達引入日本,不斷鼓勵日本冒險。此外,日本政府中積極支持中日貨幣互換的大藏相也突然莫名其妙自殺了。
The paradox is that the Diaoyu Islands issue is about to get a substantial development in the Sino-Japanese currency swap sudden intensification, the United States has repeatedly claimed to maintain the US-Japan alliance, the US-Japan Security Treaty applies to the Diaoyu Islands conflict, and osprey "transport aircraft, the X-band radar is introduced in Japan, continue to encourage the Japanese adventure. In addition, the Japanese government actively supported the Japanese currency swap large Tibetan phase suddenly and inexplicably committed suicide.

與此同時,美國推出第三輪量化寬鬆政策,以每月四百億美元的債券購買,直到經濟和就業明顯好轉,並將超低利率延續至二○一五年中。無限量、無限時的量化寬鬆,將使美元持續弱勢,推出的時機與力度,正好在中日惡鬥,雙方經濟滑坡之際。這一連串怪異事件背後,讓人感覺有一隻看不見的黑手在操控,其真正的戰略目標就是絞殺人民幣國際化,維護美元的霸權地位。
At the same time, the United States launched a third round of quantitative easing to $ 40 billion a month in bonds to purchase significant improvement until the economy and employment, and low interest rates continue to in 2015. Infinite amount the infinite of quantitative easing will keep the dollar continuing weakness, the timing and intensity of the launch, just battles in the Sino-Japanese bilateral economic downturn on the occasion. A series of bizarre events behind feels manipulated by an invisible black hand, the real strategic goal is strangling the internationalization of the RMB, maintaining the hegemony of the dollar.

美國的霸權地位實際上建基於兩點,一是無與倫比的軍事力量,二是以美元為基礎的國際金融體系。美國通過美元向全球源源不斷地徵收鑄幣稅,這是美國經濟活力的源泉。所以美國不容許任何一種貨幣挑戰美元,即使盟友的歐元,也被美國強力打壓。今次釣魚島之爭,不僅將阻撓中日貨幣互換,而且加劇地區軍備競賽,也使中國無法騰出手幫助歐元。美國今次可謂一箭三雕,既圍堵了中國,又拴牢了日本,更打擊了歐洲。
The hegemony of the United States is actually based on two points, unparalleled military strength, and the second is the dollar-based international financial system. U.S. dollars to the world an endless stream of levy seigniorage, which is the lifeblood of the U.S. economy. So the United States does not allow any one currency to challenge the dollar, even if the allies of the euro, but also intense pressure from the United States. This time, the dispute over the Diaoyu Islands, will not only obstruct the Japanese currency swap, and exacerbate a regional arms race, and also so that China can not free hand to help the euro. United States this can be said to kill three birds, the containment of China, tied firmly in Japan, more combat in Europe.
*October 11 2012
http://www.youtube.com/watch?v=fUYH8yMxwAg Peter Englund, Permanent Secretary of the Swedish Academy
http://www.youtube.com/watch?v=2-1-DCfPwqs Jeffrey Brown talks to Charles Laughlin Xiao Qiang
From books to blockbusters (By Raymond Zhou) Photographers take pictures of books written by Chinese writer Mo Yan during the book fair in Frankfurt on Oct 11. A scene from Red Sorghum, which was adapted from Mo Yan's novel of the same title in 1986, starring Jiang Wen (left) and Gong Li (right). Mo Yan's works have had mixed success on the big screen. Mo Yan's brush with cinematic fame started with a bang. In 1986, Mo published Red Sorghum as a novella; the following year the film version swept the world off its feet and went on to collect the Golden Bear award at the 38th Berlin International Film Festival. Red Sorghum jump-started many high-octane careers, including Zhang Yimou as China's pre-eminent filmmaker and Mo as a major literary figure. Both have acknowledged the other's contribution to their mutual success. For Mo, "without the movie, I'd have been known only within literary circles". However, the experience also exposed his ignorance about filmmaking as an art form separate from literature. When Mo first saw Gong Li on the set, he was not impressed. "She looked like a college girl to me, without any trace of the female lead I envisioned for the part," he said. "She would ruin the movie." In addition, the thick script he helped adapt from his own work was slashed by Zhang to only "seven or eight pages". The end result, of course, took him by surprise. The five-minute bridal sedan scene alone leapt from page to screen with striking visuals and unforgettable energy. "And I was so wrong about Gong Li," he said. Zhang's other film of another Mo Yan novel, however, was an abysmal failure. Happy Times (2000), based on Mo's writing, got mixed reviews both inside and outside China, with US film critic Roger Ebert calling it "creepy", even though the premise is eerily similar to Charlie Chaplin's City Lights. Mo said that, unlike Red Sorghum, which also removed many plotlines from the original, Happy Times deleted "some of the most valuable things from my novel". But Mo accepted that turning book to film is a double-edged sword. "It is a pity, but once I give the rights to a filmmaker, it's none of my business. If the adaptation is good, I'd be happy because it will promote my book; if it's not good, it may have the adverse effect but that's not my shame." Another failed project with Zhang was Cotton Fleece, which Mo wrote specifically for him. "I had Gong Li in mind when I was working on the story, her mannerisms and her way of speaking." He also set the crucial scene in a cotton field, knowing that Zhang has a penchant for vibrant colors. But Zhang didn't like it. It also had scenes of the "cultural revolution" (1966-76) which were potential censorship minefields. The screenplay was later picked up by a newcomer from Taiwan and turned into a little-known feature. Another of Mo's works fared better on screen. Nuan (2003) is set in rural China, but instead of the Bacchanalian abandon typical of Mo's style, the story is delicate and subdued, more a trait of its director, Huo Jianqi. Mo has always believed that his better works such as Big Breasts and Wide Hips,Life and Death Are Wearing Me Out and Sandalwood Punishment are made for cinema. He lamented at the 2010 Shanghai Book Fair that no filmmaker had the foresight to adapt these stories, and said he would be more than willing to serve as their scriptwriter. The consensus is that Mo's works have too much graphic sex and violence to be palatable for the big screen, which needs to be more sanitized than novels. Compared with other writers, Mo has limited exposure to the glitter of showbiz, but his take on the symbiosis of the two art forms is unique. For one, he does not believe in the conventional wisdom of using literature for storylines. "The more valuable thing novelists can provide for filmmakers is an ambience, a setting for values and intelligence, not just the plot." On top of that, money has been a temptation to Mo just as it was to William Faulkner and other US writers who ventured into the muddy waters of Hollywood. "I tried screenplays in the 1990s," said Mo. "I had a clear motive to make money." He was paid 15,000 yuan ($2,100) for each television serial episode, three times the market price. But he had to endure grueling rewrites. His conclusion: Do not treat scriptwriting purely as a moneymaking tool. Be serious about it. Back in 1987, Mo earned 800 yuan for the rights to Red Sorghum. That was in addition to the 1,200 yuan he got as one of three writers for the script. "I was so excited I was awake the whole night. Nowadays, 800 is a pittance. Some writers make millions by selling the movie rights to their novels." Mo has been left wiser after his occasional forays into the business of films. "Do not think of movie stuff when you write a novel. Do not pander to directors. It's their job to pick what's useful to them from the novels."
莫言成就獲肯定 世界注視中國 記者 劉坤領 北京報道
莫言在2008年憑小說《生死疲勞》獲選香港浸會大學第二屆「紅樓夢獎」首獎。

諾貝爾獎官方網站給予中國作家莫言高度評價,稱「用魔幻般的現實主義將民間故事、歷史和現代融為一體。」中國文學界不少專家及學者認為,莫言獲獎,也是漢語文學獲得世界承認的一個重要標誌,「將把世界目光引向中國作家」。

前文化部部長、著名作家王蒙表示,莫言獲得諾貝爾文學獎是件很好的事情。「莫言是中國這一代很具代表性的作家,其作品在國內外的影響很大,包括日本的著名作家大江健三郎等,對莫言都有很高的評價。」一份大江健三郎贈給莫言的手跡,這樣寫道:「莫言先生,作為朋友,我認為你是可怕的對手,然而,仍然是朋友!」

借漢語超越民族國界

而在作家麥家看來,莫言的獲獎對於中國作家群體意義非凡,「感覺就像獲奧運首金」。他此前表示,如果中國人得獎,肯定對促進國人關注文學是有幫助的。「中國人向來很在乎得到世界承認、認可。如果有一個中國作家在世界文壇上拿了一個公認大獎,我覺得就像在奧運會上許海峰拿了首個金牌一樣。」

北京大學中文系教授陳曉明將此事看作促進中國文學和世界文學進行密切交流的良好契機,能夠把世界目光引向中國作家。北京師範大學文學院教授張清華表示,莫言的獲獎,可以說是漢語文學憑借自己的藝術水準和文化承載力獲得世界承認的一個重要標誌。在「越是民族的,越是世界的」成為世界文化共識的今天,莫言憑借他具有鮮明而豐富的民族文化色彩的作品,成為了一個成功的範例。

見證中國社會成功發展

文學評論家譚五昌認為,莫言是運用中國元素最成功的作家,他運用了大量名家的傳說、地方文化元素,把中國的經驗做了非常生動的詮釋。「莫言的作品非常有效地表達了中國的經驗,而且讓中國的經驗成為世界經驗的有機組成部分,極大豐富了文學內涵。他這次獲獎眾望所歸,讓中國文學獲得了一個非常高的平台,也讓中國文學和現代文學平等對接。」
 中國作協書記處書記李敬澤認為,莫言此番獲獎有力證明了隨著中國的發展,中國文學會越來越多被世界所認識。他還肯定地表示,未來還有中國作家會獲得諾貝爾文學獎。中國作家協會副主席何建明則表示,莫言一貫堅持「現實主義」寫作,且一直關注中國社會、歷史的發展,是諾貝爾評委會對現實主義寫作的肯定。
莫言著作 英文版比中文版搶手 世界新聞記者劉庠舊金山報導
獲諾貝爾文學獎,密爾布瑞市圖書館收藏的莫言書籍很快就被借走.

莫言獲諾貝爾文學獎,他的著作在舊金山市立圖書館甚受歡迎,出借率高,尤其是長篇小說。市立圖書館華埠分館館員朱秀瓊說,莫言相當有名,獲得諾貝爾獎之前就常有民眾借閱他的書,翻譯的英文版比中文版更受歡迎。如1997年的史詩小說「豐乳肥臀」,英文版目前還有九人在排隊等著借閱。朱秀瓊11日說:「我們幾位圖書館員今天聊起,不知道是哪位作家得諾貝爾文學獎。上網一查才知道是中國的莫言。他很有名,每次圖書館進他的書,都會有很多人借閱。現在他得了大獎,估計會有更多人來借書。」

華埠圖書館的莫言作品位在中文小說區的一角。11日下午,架上的莫言長篇小說有「冰雪美人」、「四十一炮」和「十三步」。其他十餘本都是文集或中短篇小說集,北京、台北和香港版本都有,大部分書背的出借紀錄上,出借日期都比較靠近出版日,近年來很少借出。其他長篇小說架上都沒有。

朱秀瓊則表示,莫言英文版長篇小說除「豐乳肥臀」外,「酒國」、「紅高粱家族」等都有四人排隊等著借。民眾若想借書,就算舊金山沒有,連線服務的其他縣市圖書館若有書也可透過市立圖書館借,約一周可抵達。她說:「今天還沒人到圖書館來問,大部分讀者都知道可上圖書館網站查詢,不需親自跑一趟。」
莫言獲諾貝爾文學獎 世界新聞網-北美華文新聞
中國作家莫言11日贏得諾貝爾文學獎,成為繼2000年高行健後,第二位摘下諾貝爾文學獎桂冠的華文作家,也是第一位獲得這項殊榮的中國籍作家,獨得800萬瑞典克朗(約120萬美元)獎金。莫言表示,他將於12月10日親自前往瑞典斯德哥爾摩領獎。莫言與日本作家村上春樹是今年諾貝爾文學獎的大熱門,莫言11日出線,中國中央電視台罕見播出快報,莫言在獲獎後談到村上春樹時說,「他是非常優秀的作家,完全具備獲獎的資格。」

諾貝爾委員會在頌辭中讚許莫言「以魔幻寫實手法揉合中國鄉土民間故事、歷史及現代生活。」瑞典皇家科學院秘書長英格倫宣布得獎者後說,宣布前已與莫言通過電話,莫言在家中陪伴父親,對於得獎,表示「非常欣喜但也戒慎恐懼」。

英格倫說:「莫言的作品極為獨特,你只要讀個半頁,立刻就能認出是他的作品。」英格倫表示,莫言寫過11部小說,上百個短篇故事,「如果你想開始感受一下他是怎麼寫的,了解他作品精神核心,我建議你去讀『天堂蒜台之歌』。」

諾貝爾獎頌辭中說,莫言揉合奇想與現實、歷史觀點及社會展望,創造出的世界讓人聯想到福克納及馬奎斯的作品。同時,他在中國舊文學及口述傳統中找到新的起點。

作品有想像力 善於講故事

諾貝爾文學獎評委之一、瑞典漢學家馬悅然對新華社表示,莫言是很好的作家,作品十分有想像力和幽默感,善於講故事,莫言獲獎將進一步把中國文學介紹給世界。

莫言應諾獎組委會要求,自己推薦一部作品時,他推薦了今年在瑞典出版的「生死疲勞」,「因為這本書比較全面地代表了我的寫作風格,以及我在小說藝術上所做的一些探索」。

57歲的莫言原名管謨業,生於山東省高密縣,雙親都是農民,他的作品也主要以中國為背景。莫言在1976年加入中國人民解放軍,從1980年代起開始他的創作生涯,以一系列鄉土作品崛起,充滿「懷鄉」及「怨鄉」的複雜情感,使他被歸類為「尋根文學」作家。1997年,莫言以長篇小說「豐乳肥臀」奪下中國的「大家文學獎」,獲得高達10萬元人民幣的獎金。

西方人最熟悉的莫言作品,是他1987年的小說「紅高粱」,後來由導演張藝謀拍成同名電影,鞏俐和姜文主演,內容講述抗戰前後一對農民夫婦經營高粱酒坊的故事,該片後來獲柏林影展金熊獎。莫言的其他作品包括「酒國」、「豐乳肥臀」、「生死疲勞」等。

談藝文 被批為官方政策護航

莫言認為藝術與文學應該為社會服務,被批評為官方的藝文政策護航。莫言在2009年法蘭克福書展演講時說,作品是評斷作家的唯一標準:「作家應該表達對於社會黑暗面及人性醜陋面的批判與憤慨…有些人喜歡罵大街,但我們應該容忍那些藏身室內,透過文學發聲的人」。

最近五年的諾貝爾文學獎中,前四年皆是歐洲作家摘冠,美聯社在報導中就說莫言的獲獎是個「有點令人意外的選擇」,因為近年來諾貝爾委員會偏好歐洲作家。

過去獲頒諾貝爾獎的還有獲得和平獎的劉曉波,但他遭到中國當局逮捕入獄至今;還有2000年獲得諾貝爾文學獎的小說家高行健,則是在1997年就入籍法國,由於與當局關係不睦,北京並不承認他為國爭光。
有高行健現在還有莫言 星島社論
中國作家莫言獲得本屆諾貝爾文學獎,不少國人的情意結得到紓解,終於圓夢。

莫言不是第一個獲得諾貝爾獎的華人,即使在文學獎的領域,早有了高行健。高行健當年獲獎,內地官方低調處理,原因是他的作品在國內向來沒有獲廣泛推崇,部分更曾被禁,他又自我流放法國,成為法籍華人,與早前獲得物理學獎的外籍華人一樣,不屬於中國公民,他的獲獎,不能標誌國內社會主流獲得諾獎象徵的西方社會價值觀推崇。

不少中國人,對於沒有主流作家躋身諾貝爾獎殿堂,有一種難解的情意結。有的忿忿不平,認為諾獎評判諸公偏見,缺乏識別泰山的慧眼;有的認為,這反映中國缺乏胸襟視野和文學表現能夠令普世折服的作家。莫言自己沒有孜孜追求諾獎,今次得獎,是替不少其他人圓諾獎夢。

不少港人是從張藝謀導演的得獎影片《紅高粱》認識到原著莫言的名字,在兩岸三地的嚴肅文學圈子和讀者中,莫言已經享負盛名多年,他的作品,在內地、台灣和香港都得過崇高的嚴肅文學獎項,並且在德法日等國得獎。

有人說,這位在內地社會主流獲得廣泛接受的作家,得到諾獎評判垂青,顯示中國當代文化超越國界的感染力。當年不少國人曾因神槍手許海峰為中國奪得奧運第一金而雀躍,今次莫言獲得諾獎,內地不少官民也有類似的心情,國人的奧運和諾獎情意結已先後得到解脫。

從另一個角度看,諾獎委員會過去多頒予海外華人,人文獎項如文學獎和和平獎,先後頒了給有異見色彩的高行健和劉曉波,這次頒給了在大陸社會廣泛受到認同的莫言,是否也替評審證明了他們的口味,不一定是那麼「另類」呢?

可以說,無論從國人或諾獎評審來說,有高行健後,再有了莫言,或許解除了諾獎的另類情意結。

有異於奧運的最快、最高、最強等衡量尺度,文學口味隨人而異,故此莫言得獎,不可能眾口一致毫無異議。不止在文學上,在政治上也有爭議,自由主義藝術家艾未未等,就覺得莫言身為中國作家協會副主席,「與官方沆瀣一氣」,反對他獲獎,成為另類政治排擠。

莫言自己倒不孜孜求獎,早在兩年前,日本諾貝爾文學獎作家大江健三郎,已經表示莫言可以問鼎諾獎,莫言沒有為此高興得昏了頭腦。他曾說過:「老是對諾貝爾文學獎念念不忘,只是自尋煩惱。」

莫言不需要為了求獎而迎合所謂的「西方口味」,他的作品融入了魔幻寫實的西方手法,但是背景和內容都是能夠引起中國讀者共鳴的。實際上,如果僅以獲獎為最終目標來創作,這個作家本身的胸襟情懷就狹隘得難登諾獎之堂,莫言有更高層次的追求,正正成為他獲獎的基本條件。
外媒稱莫言獲諾獎有益中國文學融入世界 文匯網訊
據中新網報道,中國作家莫言11日被授予2012年諾貝爾文學獎,成為首位獲得諾貝爾文學獎的中國籍作家。對於莫言問鼎諾貝爾文學獎,外媒十分關注,不僅紛紛在重要位置予以報道,更對莫言作品做出高度評價,稱其獲獎為中國文學融入世界打造了良好契機。

莫言作品藝術風格與價值獲讚

莫言獲獎後,外媒對其作品內容和藝術風格進行了大篇幅的介紹與評論。據英國《金融時報》12日報道,中國作家莫言憑借融合「民間故事、歷史和當代」的「魔幻現實主義」獲得2012年諾貝爾文學獎。

報道稱,莫言對農民生活的描寫備受好評,他在西方最出名的作品是《紅高粱》。報道引述瑞典皇家科學院常任秘書彼得•英格倫的話稱,莫言從「內部」審視了中國社會,是「福克納、拉伯雷與狄更斯的混合體」。

《紐約時報》於11日刊文,稱莫言是一位多產作家,其小說和故事想像豐富,奔放不羈,描繪了「被生活重創甚至壓垮的普通人的生活」。莫言作品的最大特點就是「幽默」。曾被張藝謀翻拍成電影的莫言作品《紅高粱》「充滿狂野的想像,極富創造力」。

此外,《紐約時報》評論稱,莫言的作品題材多樣,風格多變。文章引述莫言小說譯者霍華德•哥的布拉特的話說:「如果你喜歡愛倫•坡(西方象徵主義文學及推理小說鼻祖——編者注),你也會喜歡看《檀香刑》。如果喜歡幽默,《酒國》是再好不過的選擇;如果你喜歡寓言,我推薦《生死疲勞》。」

報道稱,西方評論家均對莫言的作品大加讚揚,學者喬納森•斯彭斯曾於2008年撰文,稱莫言的作品「像一部時代的紀錄片」。

諾獎首次頒給中國國籍作家是「轉變」

在莫言之前,諾貝爾文學獎把獎項頒給中國籍作家並無先例。莫言此次的「突破」也被媒體認為,這是評審諾貝爾獎的瑞典皇家科學院在評審標準上的一個轉變。

法國《89街》雜誌刊文稱,莫言作為中國的「官方作家」,其創作是自由的,作品內容豐富,理應獲得國際認可與尊重。

俄羅斯《導報》也認為,諾貝爾獎在「轉變偏見」。《導報》稱,此前諾獎委員會雖否認文學獎歸屬受政治因素影響,但多年來獲獎者卻大多是歐洲人。但此次,該獎項卻將目光投向了亞洲。文章認為,莫言與俄羅斯作家肖洛霍夫相似,都是靠自己的作品贏得該獎項。

《紐約時報》11日報道,莫言獲獎「是瑞典皇家科學院評獎標準有所變化的一個標誌」。

另外,韓國《朝鮮日報》也對莫言獲諾貝爾文學獎進行了報道,稱中國籍作家獲該獎「還是第一次」。報道稱,莫言是繼印度的泰戈爾(1913年)和日本的川端康成(1968年)、大江健三郎(1994年)之後,第四位獲得諾貝爾文學獎的亞洲作家,這也使中國成了第三個產生諾貝爾文學獎得主的亞洲國家。

莫言獲獎推進中國文學融入世界

諾貝爾文學獎首次頒給中國籍作家,由此可能對中國文學造成的積極影響也成為外媒關注的重點。有評論稱,莫言獲獎不僅是諾貝爾獎評獎標準轉變的標誌,也更有利於中國文學、中國文化為世界所接受。

《紐約時報》11日評論認為,從某種意義上來說,中國文化成就的光芒多年來被中國的經濟實力蓋過,莫言獲獎對中國的國民心理是一個極大的推動。

《紐約時報》引述華盛頓布魯金斯研究所中國問題專家肯尼斯的觀點稱,莫言獲獎被中國人認為是為世界所接受的一個標誌。

美國有線電視新聞網則援引美國筆會中心的拉裡•賽姆斯的話稱,對於中國文學來說,莫言的獲獎「發生在一個非常重要的時刻」。拉裡說,中國是一個「特別有文學素養、充滿活力的社會」。他認為,莫言獲獎讓人們意識到,中國有很多生動的文學作品,莫言獲獎也可以使人們更加關注中國作者,而不僅僅是莫言。

澳大利亞《澳大利亞人報》報道說,中國渴望諾貝爾獎已經有幾十年,這能顯示中國作為一個全球性大國的存在——它不僅是一個巨大工廠,還是一個文化知識中心。

該報稱,在澳大利亞,莫言獲獎也讓當地書商「大吃一驚」,因為這裡幾乎買不到莫言的作品。

英國《衛報》則援引英國帝國理工學院漢語教師哈曼的話稱,莫言是「偉大的作家,如今將更為世人所熟知」。哈曼認為,莫言獲獎對所有中文作家來說都是好消息,因為這將「把中文作家同英文讀者的距離拉得更近」。
諾貝爾文學獎:莫言 東方日報
中國山東紅高粱地裏滋養起來的鄉土作家莫言,昨在內地民間、官方媒體一片呼聲下,獲得二○一二年諾貝爾文學獎,是首位獲此殊榮的中國籍作家,亦是繼高行健後第二位獲獎華裔作家。評委會讚揚莫言以幻覺色彩的現實主義手法,糅合中國民俗、歷史及當代故事。五十七歲、出身農民的莫言得獎後卻反應低調,表示會像北方尋常人家般吃頓餃子。而在獎項揭曉前,莫言二哥更是袒露農民的爽朗,他反問:「高粱地裏出來的文章,都是平常東西,有啥可說的?」

諾貝爾獎主辦單位瑞典皇家學院昨日在斯德哥爾摩公布今屆文學獎結果,盛讚以《紅高粱家族》等作品在中國家喻戶曉的莫言,從中國古典文學及口述傳統為出發點,作品錯綜複雜,足以與美國短篇小說大師福克納(William Faulkner),以及《百年孤寂》作者馬奎斯等量齊觀。莫言打破過去五年間,有四名歐洲作者獲文學獎的壟斷格局,他會得到八百萬元瑞典克朗(約九百三十五萬港元)的獎金。

「沒甚麼好慶祝 包餃子吃吧」 昨日在公布結果之前,網上有傳莫言已經前往瑞典斯德哥爾摩,亦有指他已回山東老家避靜。被指過去多日「失蹤」的莫言,獲獎後證實身在老家山東高密。他在內地一派高調慶祝中,卻反應平淡,認為「事情很快就會過去。」又稱:「我覺得獲獎並不能代表甚麼,我認為中國有許多優秀的作家。」他表示未來會將大部分精力投放於新作品創作,會等待諾貝爾委員會安排,才決定是否前往瑞典領獎。

瑞典皇家學院常任秘書長恩隆德稱,莫言在正式公布前已得到通知,當時莫言稱感到「極度歡欣,但又惶恐」。不過莫言接受諾獎官方網站採訪時,卻表示對諾獎感覺很遙遠。他說:「沒甚麼好慶祝的,明天晚上我會和家人一起,包個餃子吃吧,因為我最喜歡吃餃子。」

莫言原名管謨業,父母皆是農民。莫言的二哥及父親,諾獎揭曉前夕在高密老家的舊房子接受訪問,高齡九十三的管老先生稱,兒子不可能得獎。二哥管謨欣更說:「高粱地裏出來的文章,都是平常東西,有啥可說的?」二哥在得知弟弟真的獲獎後終於流露真情說:「農家孩子走到這一步不容易。」他還回憶莫言兒時是個好動貪玩,也嗜書如命的「調皮蛋子」,兩人常搶書看。

農民出身 鄉土文學糅合魔幻 莫言出身鄉土,對青紗帳、紅高粱有深厚的感情。他於小學五年級時,因為文化大革命而輟學,在農村工作多年,亦曾經到城裏當民工,背後有很多不為人知的辛酸。七六年加入解放軍,此後五年才開始創作生涯。他自言說普通話都有番薯味。他曾表示,自己說話直率,在中國不是好事,所以取「莫言」為筆名。他的作品被歸類為「鄉土文學」和「尋根文學」,又深受魔幻現實主義影響,構造出獨特的風格。

內地中央電視台在昨晚的新聞聯播時段,罕有以插播方式報道莫言得獎消息,形容他是首名獲得諾貝爾獎的「中國籍作家」。二○○○年諾貝爾文學獎得主高行健雖也是出生於中國,是首名獲諾獎的華文作家,但他得獎時已入籍法國。日前央視已公布首次獲邀採訪文學獎揭曉,是三間獲邀傳媒之一,令莫言得獎的消息不脛而走。不過在揭曉前夕,亦有內地學者提醒,中國人渴望奪得諾獎,不要只是基於「大國意識」和民族主義熱情,更應專注文學本身。
Chinese leader congratulates Mo Yan on Nobel win - Chinese leader Li Changchun wrote the China Writers Association on Thursday to congratulate Mo Yan, vice president of the body, on his winning of the 2012 Nobel Prize in Literature. In his congratulatory letter, Li said Mo's victory reflects the prosperity and progress of Chinese literature, as well as the increasing national strength and influence of China, according to an official statement issued on Friday. As China moves rapidly with its reform, opening-up and modernization drive, great creative vitality has emerged in Chinese literary circles, Li said. "Basing their writing on the life of the people and the traditions of the nation, Chinese writers have created a great many excellent works of Chinese characteristics, styles and spirits," reads the letter. Li, a Standing Committee member of the Political Bureau of the Communist Party of China Central Committee, expressed hope that Chinese writers will focus on the country's people in their writing and create more excellent works that will stand the test of history. "Thus, Chinese writers can contribute more to the prosperity and development of Chinese culture, as well as the progress of human civilization," he continued in the letter. The Swedish Academy announced in Stockholm on Thursday that Mo Yan would receive the 2012 Nobel Prize in Literature, making him the first Chinese national to win the award. Mo Yan, a pseudonym for Guan Moye, was born in 1955 and grew up in Gaomi in east China's Shandong Province. In his writing, Mo draws on his youth and the province of his birth, which are most apparent in his novel "Red Sorghum," which was made into a film by director Zhang Yimou. "Big Breasts and Wide Hips" and "Life and Death are Wearing Me Out" are also among his most famous works. His works have been translated and published in English, French, Swedish, Spanish, German, Italian and Japanese. In Mo's works, "hallucinatory realism merges with folk tales, history and the contemporary," according to the official Noble citation. "Through a mixture of fantasy and reality, historical and social perspectives, Mo Yan has created a world reminiscent in its complexity of those in the writings of William Faulkner and Gabriel Garcia Marquez, at the same time finding a departure point in old Chinese literature and in oral tradition," said a biographical notes posted on www.Nobelprize.org.
Mo Yan: a dark satirist who tells the 'big stories of China' (By Raymond Li) Mo Yan rose from the countryside to write epic works on the country's tumultuous 20th century. Mo Yan (left) has won a raft of awards, including the Mao Dun Literature Prize. Mo Yan has come far from Gaomi, where he was born to a farming family in the early days of communist rule, but his writing has never left. The rural county in eastern Shandong province, with its rich, earthy landscape, has provided the setting for several of his accomplished works, not least his 1987 breakthrough Red Sorghum: A Novel of China - a tale of the brutal violence that plagued the countryside in the 1920s and 1930s. Born Guan Moye, he left school aged 12 to work on a farm during the Cultural Revolution. A stint in a factory followed before he joined the People's Liberation Army in 1976. It was there the future Nobel Prize laureate began writing and studying literature. Early on, he adopted the pen name Mo Yan - "don't speak" - in Chinese. The author often got in trouble as a chatty child and figured it was better to express himself through writing. Crafting a style that has been compared to the magical realism of Gabriel Garcia Marquez, Mo Yan went on to author works, such as Big Breasts and Wide Hips, Republic of Wine and Life and Death are Wearing Me Out. He has written dozens of other novels, novellas, and short stories, often eschewing contemporary issues, instead reflecting on China's tumultuous 20th century with a dark sense of humour. Backdrops for his works include the 1911 revolution that toppled the last imperial dynasty, Japan's wartime invasion, communist China's failed land reforms of the 1950s and the chaos of Mao Zedong's 1966-76 Cultural Revolution. He studied at the PLA's institute of arts and literature and later at Beijing Normal University, where he received a master's degree in literature and art. His first short story was published in 1981. Chinese literary expert Eric Abrahamsen called Mo Yan "a great writer" who tells "the big stories of China". "So many of modern China's stories are political in nature, simply because politics has shaped so much of recent Chinese history," said Abrahamsen. "He's also very canny about what can and can't be written." His latest novel, 2009's Frog, is considered his most daring yet, due to its searing depiction of China's "one child" population control policy and the local officials who enforce it with forced abortions and sterilisations. The heroine of the novel is a midwife who is an enthusiastic advocate of such practices. "A writer should express criticism … at the dark side of society and the ugliness of human nature, but we should not use one uniform expression," Mo said, according to China Daily. Although the fantasy and satire of Mo Yan's books have been branded "provocative and vulgar" by state media, and resulted in an occasional ban, much of his work has remained in print. Mo Yan's ability to escape the censors has made him stand out among Chinese authors. But his support for the practices that have led to the banning - and even imprisonment - of some of his peers has made him a controversial figure. Mo Yan, one of China's leading writers of the past half-century, yesterday won the Nobel Literature Prize for his writing that mixes folk tales, history and the contemporary. "Through a mixture of fantasy and reality, historical and social perspectives, Mo Yan has created a world reminiscent in its complexity of those in the writings of William Faulkner and Gabriel Garcia Marquez, at the same time finding a departure point in old Chinese literature and in oral tradition," the Swedish Academy said. This is the first time a Chinese national and the second time a Chinese- born writer has won the prize, after Gao Xingian, who received French citizenship in 1987, was honored in 2000. Mo Yan, 57, is perhaps best-known abroad for his 1987 novella Red Sorghum, a tale of the brutal violence that plagued the eastern China countryside - where he grew up - during the 1920s and 30s. The story was later made into an acclaimed film by leading Chinese director Zhang Yimou, and won the Golden Bear at the Berlin film festival in 1988. The Academy's permanent secretary, Peter Englund, said the Academy had spoken to Mo Yan by telephone and quoted the author as saying he was "overjoyed and terrified" at being given the prize. Mo Yan, whose real name is Guan Moye, has written dozens of novels, novellas, and short stories, generally eschewing contemporary issues and instead looking back at China's tumultuous 20th century. Mo Yan grew up in Gaomi in Shandong province, the son of farmers. As a 12-year-old during the Cultural Revolution he left school to work, first in agriculture, later in a factory and in 1976 he joined the People's Liberation Army and began to study literature and write. He chose the pen name Mo Yan, which means "Don't speak," and his first short story was published in a literary journal in 1981.
Mo Yan, born on February 17, 1955, is a renowned Chinese author. He is the winner of the Nobel Prize for Literature in 2012. Mo is best known in the West for two of his novels which were the basis of the film Red Sorghum. He was appointed a deputy chairman of the quasi-official Chinese Writers' Association in November 2011. Chinese writer Mo Yan, now the 2012 Nobel Literature Prize winner, seen on July 19, 2010 on a TV series in Ningbo, east China's Zhejiang province. After Nobel, Mo Yan's Books Should Win Wider Audience - Chinese writer Mo Yan was named the winner of the Nobel Prize for literature on Thursday. If past recent winners are any indication, Mo Yan's previously published books will now find plenty of new readers. In the year since Swedish poet Tomas Transtromer won the 2011 Nobel Prize for literature, his 2006 book, "The Great Enigma: New Collected Poems," sold about 17,000 copies in the U.S. in all formats. Until the prize was announced, the book had sold about 3,000 copies. "It's a really great performance for a book of poetry," said Jeffrey Yang, an editor at New Directions Publishing Co. who acquired the book.
*October 8 2012
Huawei calls US panel report 'China-bashing' - A US spokesman for Huawei said the report by the House Intelligence Committee was "utterly lacking in substance". By Agence France-Presse in Washington
Huawei Technologies Co is a networking and telecom equipment and services company headquartered in Shenzhen in southern China. Now the world's biggest telecom equipment maker, and serving 45 of the world's 50 biggest telecom operators, it was founded in 1987 by a former military officer. The company has been accused of copying other companies' technology. Cisco Systems sued Huawei in 2003 for allegedly infringing on its patents. In the US, Huawei has been challenged due to concerns of US security officials that Huawei-made telecom equipment is designed to allow unauthorized access by the Chinese government and the Chinese People's Liberation Army. US political opposition forced Huawei to withdraw its purchase of 3Leaf systems in 2010, following a review by the US Committee on Foreign Investment.

Chinese tech giant Huawei on Monday called a US congressional report warning of security risks from its telecom equipment "an exercise in China-bashing" as US lawmakers held firm to their allegations.

A US spokesman for Huawei said the report by the House Intelligence Committee, which warned of national security risks from equipment from Huawei and fellow Chinese firm ZTE, was "utterly lacking in substance".

"Huawei unequivocally denies the allegations in the report," the spokesman, William Plummer, told reporters on a conference call.

Plummer said Huawei requested the congressional investigation a year ago in an effort to clear the air and help provide a better understanding of how the telecom equipment industry shares a "global supply chain" that may lead to security vulnerabilities.

"The report utterly ignores these facts and dismisses 10 months of open information sharing," he said.

"This report is little more than an exercise in China-bashing and misguided protectionism."

Plummer said that if the committee's recommendations to block access to contracts and acquisitions for Huawei and ZTE are carried out, "it would set a monstrous market distorting precedent which could be used against American companies doing business overseas".

And because rival vendors based in the US and Europe use much of the same components, he said the idea of blocking a single company to improve cybersecurity is "at best naive".

The comments came as Beijing reacted to the report by urging Washington to "set aside prejudices" and "do things that will benefit China-US economic co-operation instead of the contrary".

But US lawmakers, who officially released the report on Monday, remained adamant about the potential risks cited in the document.

"We have to be certain that Chinese telecommunication companies working in the United States can be trusted with access to our critical infrastructure," said committee chairman Mike Rogers.

"Any bug, beacon or backdoor put into our critical systems could allow for a catastrophic and devastating domino effect of failures throughout our networks. As this report shows, we have serious concerns about Huawei and ZTE, and their connection to the communist government of China."

Rogers said China "is known to be the major perpetrator of cyber espionage, and Huawei and ZTE failed to alleviate serious concerns throughout this important investigation. American businesses should use other vendors".

Representative Dutch Ruppersberger, the ranking Democrat on the panel, echoed those comments, saying: "It is our responsibility on the Intelligence Committee to protect our country's national security.... As this report shows, we have serious concerns about Huawei and ZTE."

Separately, lawmaker Frank Wolf said the report "confirms what many have suspected for years: Huawei and ZTE's relationship with the Chinese People's Liberation Army is too opaque to allow them to command and control US telecom networks".

Wolf added that "it would be unwise for any American company or government agency to use Huawei or ZTE products" and urged American firms currently using these products to "quickly divest" of the assets.

Both Huawei and ZTE have repeatedly denied any ties with the Chinese government.

ZTE, in a statement published by China's Xinhua news agency, said its equipment is "safe".

"ZTE is China's most independent, transparent, globally focused publicly traded company," the statement added.

The committee report said the two firms "cannot be trusted" to be free of influence from Beijing and could be used to undermine US security.

The panel launched its probe over concerns that China could use the fast-growing firms for economic or military espionage, or cyber attacks.

"Based on available classified and unclassified information, Huawei and ZTE cannot be trusted to be free of foreign state influence and thus pose a security threat to the United States and to our systems," the document said.
*October 7 2012
Anti-China election talk may harm ties By Tan Yingzi in Washington
Experts urge US presidential hopefuls to cool harsh campaign rhetoric - Harsh campaign rhetoric about China from both US presidential candidates is a big foreign policy mistake that will hurt bilateral ties, experts from each country said on Thursday.

The next American president should adjust to the rising economic power of China, welcome Chinese investment, manage any conflict and increase cooperation, they said.

Challenger Mitt Romney has vowed that he would label China a "currency manipulator" if he makes it to the White House, and he reiterated during Wednesday's presidential debate that he would take on China in trade disputes as one of his five economic fixing plans.

Both President Obama and Romney have blamed China for American job losses and a trade deficit, and have also criticized each other for outsourcing jobs to China.

In a panel discussion on Wednesday afternoon before the first presidential debate, Henry Kissinger, former US secretary of state, said both candidates had been making irresponsible comments about China during the campaign.

"In each country there are domestic pressures that emphasize disagreements that arise, and we see that in our political campaign, in which both candidates are using language that I find extremely deplorable," Kissinger said at the Woodrow Wilson Center in Washington.

"Both used the word 'cheat' as applied to China, in trade," Kissinger added, saying that "theoreticians" unschooled in the nuances of the US-China relationship "want to turn this into a crusade."

Former US ambassador to China Stapleton Roy said both candidates are making "two fundamental mistakes" in dealing with China in the campaign.

"First of all, the issue is not currency manipulation," he said from the Carnegie Endowment for International Peace, a Washington-based think tank. "China's current account has been declining sharply. Its accumulation of foreign exchange reserves has slowed markedly, and its currency has appreciated over 30 percent since 2005, and it's continuing to appreciate."

What really concerns the US business community, he added, was intellectual property protction, market access and investment conditions.

"The second mistake is when you're trying to manage a difficult relationship, you don't make it more difficult," he said. "We are trying to have a constructive, strong relationship with China, and the candidates are talking about China in ways that undermine public support for the concept of a strong, cooperative relationship with China."

Elizabeth Economy, director of Asia studies at the Council on Foreign Relations, said both candidates have targeted China as a scapegoat for America's economic ills instead of engaging the Asian country in a "serious or substantive" manner.

"What should they be talking about?" she said. "I think the issues that we're going to discuss today - namely, how can the US enhance its economic position vis--vis China and the bilateral relationship? Are there opportunities for the United States and China to cooperate more on global issues? And does the US have it right when it comes to the pivot or rebalancing, as I guess it's now called more broadly within Asia?"

Yan Xuetong, director of the Institute of International Studies at Tsinghua University in Beijing, said the candidates' accusations of China "stealing" American jobs have a negative impact on China-US relations and undermine the cooperation between the two countries.

On security and military matters, former ambassador Roy said both the US and China have a legitimate right to develop defense, but the next American president should control the growing military build-up.

"The question is how much is enough?" Roy said. "I think the next American president and the current American president have a responsibility to try to bring an unconstrained competition over military capabilities between the Chinese military and the US military under control. Otherwise we are going to pour trillions of dollars into a competition which is not driven by the reality of the differences that we have with China, that simply don't justify that high level of spending."

On the attitude towards Chinese investment, experts agree that Chinese money is a good thing for the American economy, but Washington needs more transparency in its review process on foreign investment.

The Committee on Foreign Investment in the US has rejected several high-profile deals from China in recent years over concerns about national security.

Last Friday, President Obama blocked the proposed purchase of a wind farm in Oregon by a Chinese company on the grounds that it could damage America's national security interests.

"I think they (CFIUS) make mistakes," said Chas Freeman, chairman of Projects International and a leading China hand.

"They do it on a fairly routine basis, and they reflect fair amount of paranoia within the Beltway that's quite contradicted by attitudes in the country at large."
*October 3 2012
Beijing, Seoul Blast United States Fed Push By Aaron Back and In-Soo Nam
Chinese and South Korean central-bank officials criticized the U.S. Federal Reserve's latest easing efforts and advocated reducing Asia's dependence on the U.S. dollar.

The comments Thursday, at a joint seminar in Beijing by the two central banks, are the clearest indication yet of a rising backlash in Asia against U.S. monetary policy, suggesting it could speed up the search for alternatives to the dollar as the main global currency.

"The rise in global liquidity could lead to rapid capital inflows into emerging markets including South Korea and China and push up global raw-material prices," said Bank of Korea Gov. Kim Choong-soo. "Therefore, Korea and China need to make concerted efforts to minimize the negative spillover effect arising from the monetary policies of advanced nations."

Chen Yulu, an academic adviser to the People's Bank of China, said Asia needs a "regional core currency" to reduce its dependence on the dollar. China's ultimate goal is for the yuan to be as important as the euro or the dollar, he said.

But he acknowledged that will be a slow process, saying it would be possible for the yuan to be fully convertible by 2020, and that the overall yuan-internationalization process may last until 2040. China strictly controls its currency, though it has made small moves to broaden its use globally in recent years and has also allowed a little more flexibility in its movements.

Facing persistent economic stagnation and high unemployment, the U.S. Federal Reserve earlier this month launched a mortgage-bond buying program, its third round of so-called quantitative easing, or QE3.

The Bank of Japan has also expanded its existing easing program, and the European Central Bank has unveiled a plan for potential purchases of the sovereign bonds of stressed euro-zone countries.

The latest round of easing by the U.S. will increase inflationary pressures for emerging-market economies, Mr. Chen said. This contributes to a monetary-policy dilemma for Chinese authorities, he added. While markets have looked for signs of more forceful action by China's leaders to rekindle growth, some officials attribute the government's caution to fears of reigniting inflation.

"On the one hand, China needs to stabilize growth, but on the other hand China is very worried about a property-price rebound," Mr. Chen said.

At the time of the Fed's second round of quantitative easing in 2010, many Asian economies looked to tighten, rather than easing, monetary policy as strong growth made them attractive for speculative money. Currently, with the Chinese economy slowing, hot-money inflows are likely to be more subdued.

Two years ago, several emerging-market central banks also faced a painful choice between raising rates to thwart inflation—risking stronger currencies, which would threaten their exports—and leaving rates alone and tolerating inflation. In 2012, with global growth slowing and inflation less of a threat in Asian emerging markets, central banks can more easily row in the same direction as the Fed and ease credit.

The Korean and Chinese economies are also likely to be affected differently by the Fed's easing. The freer flow of South Korea's currency, the won, means sudden rushes of capital can destabilize the financial system quickly, while China's tighter controls means pressures build more slowly.

Mr. Kim of the Bank of Korea is already on the record fretting about the effects of QE3 on Korea. Earlier this month he said that the Bank of Korea may need to take steps to curb the potential influx of liquidity into South Korea.

The PBOC hasn't made any official comment on the Federal Reserve's latest bond-buying program since it was unveiled. But Chinese policy makers and government scholars have generally reacted negatively, making similar arguments to those from Mr. Kim, predicting inflationary effects on China as commodity prices rise and capital rushes in.

That fits with the past reaction of the PBOC to previous rounds of quantitative easing. In November 2010, PBOC Gov. Zhou Xiaochuan said in a speech that he understands that the Fed's mandate is only to look after the U.S. economy, but quantitative easing is having adverse effects on the rest of the world.

"A domestic policy may be optimal for the U.S. alone. However at the same time it is not necessarily optimal for the world," he said at the time. "There is a conflict between the U.S. dollar's domestic role and its international settlement role."

A year earlier, Mr. Zhou argued in an influential essay that the world should move to a multicurrency system, including an increased role for Special Drawing Rights, a synthetic international currency created by the International Monetary Fund.

Mr. Kim said Thursday that China and Korea should consider making the two countries' bilateral currency-swap agreement permanent. The three-year agreement allows each country to swap a fixed amount of its own currency for the other's, facilitating trade in the currencies and serving as a possible liquidity booster during times of crisis. South Korea and China agreed last October to almost double the size of their currency swap agreement to 64 trillion won ($57 billion) or 360 billion yuan, from 38 trillion won.

He told reporters on the sidelines of the forum, that there has been no discussion with his Chinese counterparts on the proposal and declined to give a timeline for changes to the swap line.

Both countries should also try to use the yuan and the won in bilateral trade, to cut costs and reduce their reliance on the dollar in transactions, Mr. Kim said. In the long term, the two countries may consider setting up a won-yuan foreign-exchange market, he added.

Il Houng Lee, a South Korean who currently serves at the chief representative for the IMF in China, said at the seminar that Asian countries can use the yuan as a core currency to settle trade. This can reduce reliance on the dollar and the euro, and can also help improve the efficiency of trade, he said.

But Mr. Lee also echoed Mr. Chen's assessment that yuan internationalization will be gradual, saying it could take more than 30 years.

Liu Li and Liyan Qi contributed to this article.
*October 2 2012
Japan picks wrong time to test Beijing By Leslie Fong
Leslie Fong says by buying the Diaoyu/Senkaku Islands, at a time when a power struggle is straining nerves in China, Tokyo may be unwisely giving Beijing a reason to assert itself.

What are the chances of war breaking out between Japan and China over their competing claims of sovereignty over the tiny islands which the former call Senkaku and the latter Diaoyu? This was the question posed by a junior Japanese parliamentarian to a respected political grandee from the pre-war era. They were soaking in a private onsen two hours' drive from Tokyo. The young man had secured the meeting with the sensei - the respectful term used to address very senior figures in Japanese politics - through his grand-uncle.

The old man replied: "Tokyo has already thrown down the gauntlet by rushing to buy the islands from their private owner in the face of strong protests by both Beijing and Taipei. This is really pushing our luck. We may get away with it this last time but any further move which strikes the Chinese as even greater provocation is certain to leave them feeling their backs are to the wall. They will push back - their masses, already not too happy with us Japanese, will demand they push back - and then things will spin out of control.

"So, an all-out war, most probably not. But serious armed clashes, leading to substantial loss of lives, cannot be ruled out."

The young man said: "But, sensei, we were briefed at a party caucus last week that the purchase was to pre-empt Tokyo Governor Shintaro Ishihara and his supporters from creating more trouble. They were talking of holding events on these islands and installing a weather station. Now that will really rile the Chinese, which is why Tokyo has to stop them. Can't the Chinese see that?"

The old man said: "Kato-kun, that's what your party leaders would say. But do you think the Chinese will swallow that?"

"But why not? Surely the Chinese will understand that with an election looming, that's the best Prime Minister Yoshihiko Noda can do without getting the right-wing hawks on the warpath."

The sensei said: "See it from Beijing's perspective. It's heads we win and tails they lose. Even if it were true that the intention was to stymie Ishihara, the end result is we Japanese will come out winners. We will have asserted our sovereignty, never mind that our rhetoric is that we seek only to obtain and hold those islands, not nationalise them."

Kato said: "But those islands are ours."

The sensei said: "I am not so sure the facts are on our side. The Chinese cite Ming dynasty records from the mid-14th century to show Senkaku and other islands in the Ryukyu chain, including Okinawa, were already declaring allegiance to the Son of Heaven, not us, as vassal states. These annals are in a museum in Britain.

"We have nothing to show. We only took those islands by force just before the first Sino-Japanese war and bullied the Qing dynasty into ceding them as well as Taiwan to us under the 1895 Shimonoseki treaty after we won that war. Then came the second world war. In 1943, when the tide was turning against us and Germany, the Allied Powers, including China, met in Cairo and on December 1 issued a declaration, which, among other things, stipulated that once Japan was defeated, all that we had taken by force must be returned to the original owners.

"And on July 26, 1945, the same Allied Powers plus the Soviet Union issued another declaration reaffirming what was agreed in Cairo. Well, Kato-kun, we lost, didn't we? After we surrendered, we had to give up Taiwan, Penghu and so on, but for reasons I still cannot pinpoint, Nationalist China under Chiang Kai-shek did not take back the Ryukyu chain but agreed to joint administration with the United States.

"Maybe by that time the Yanks already had more than an inkling that the communists would soon take over China and wanted Okinawa, Senkaku and others to be part of the so-called first island chain encircling China, as part of a containment strategy. Then on November 21, 1969, Richard Nixon and our prime minister at the time, Eisaku Sato, came to an agreement in Washington to revert the administration of the Ryukyu chain to us, but with the proviso that the Americans would have the right to station forces on Okinawa. And on May 15, 1972, the islands were handed over to Tokyo. Of course both Beijing and Taipei protested loudly.

"This is why to this day, the US is careful to assert its neutrality on the issue of sovereignty, though in the very next breath, it tells the world that should war break out, Japan would be covered by the 1952 defence treaty it signed with the US."

Kato spoke up: "But does China really want to fight over 6.3 square kilometres of barren rocks?"

The sensei said: "It's not the islets and the much talked about mineral wealth beneath the surrounding seas. It's their national honour, which they cannot allow to be tarnished, especially by us Japanese who invaded them so brutally.

"Moreover, the Chinese think we have stabbed them in the back. When prime minister Kakuei Tanaka went to Beijing in 1972 to re-establish diplomatic relations, it was agreed that the dispute over sovereignty would be set aside for future resolution. In 1978, when Deng Xiaoping came to Tokyo, he made that famous remark that resolution was best left to wiser heads in later generations. A long period of calm between us followed until Ishihara and others of his ilk started agitating.

"This is absolutely the wrong time to test Beijing! China is on the rise and the Chinese political elite are in the midst of a difficult leadership change. History has shown that, sometimes, an emerging power needs to assert itself against an existing power. In 1898, the US beat the living daylights out of the exhausted Spanish empire, ostensibly over Cuban independence. The Spaniards didn't want to fight but the Yanks needed to prove they were the next global power to be reckoned with, and went ahead to clobber them anyway.

"In 1904, we did the same. Japan shocked the world by whacking Imperial Russia on land and at sea and thereafter became the hegemon in Korea and the Liaodong Peninsula.

"Leaders also start wars when they feel their personal power and position are being challenged or when they need assurance or a distraction. By 1962, Mao Zedong had already started to feel he was being sidelined by his comrades after the disastrous Great Leap Forward and other campaigns. So he made use of a border dispute with India and launched a short war against the Indians, thrashing them decisively and assuring himself of total control over the People's Liberation Army.

"In 1979, after Deng's third rehabilitation, he needed to make sure the PLA was entirely obedient to his command. So he launched a campaign against the Vietnamese. His dictum then was that a naughty boy would have to be spanked if he misbehaved. There were of course other factors that led Mao and Deng to press the button, but don't ever underestimate the personal factor. So, now, when Xi Jinping is slated to take over from Hu Jintao, who is probably reluctant to let go of his grip over the military, and a power struggle seems to be going on, Tokyo wants to give them the catharsis they need?"

Kato took all that in. Then he exclaimed: "But no one will win if we and the Chinese start shooting!"

"Are you sure?" replied the sensei as he made his way out of the onsen, whistling The Star-Spangled Banner.

Leslie Fong, a former editor of The Straits Times, is senior executive vice-president for marketing at Singapore Press Holdings. Source: Straits Times © Singapore Press Holdings Limited. This is a shortened version of an article first published in The Straits Times on September 15.
*Aug 24 2012
Entering the Chinese Food & Beverage Market using Hong Kong Holding Company – The San Gines Way By Nicholas Hopper - China Briefing
China's restaurant and food retail market is a difficult one to break into. Competition is fierce and prices are low. Nevertheless, the prospect of getting a share of the most populous market in the world outweighs the associated risks for many foreign restaurant chains.

Guillermo García is one of the entrepreneurs in the process of entering the China market. He recently opened a Shanghai subsidiary of San Gines (圣吉诺), a famous Spanish churro restaurant from Madrid. Selling churros (Spanish fried dough pastries) in China is not an easy thing to do, as most locals are not yet aware of what the product is and tend to associate it with youtiao, a Chinese breakfast snack, which is sold at much lower prices.

About his experience Guillermo notes, "Opening the first San Gines shop in Shanghai has probably been the biggest challenge of my life. To some extent I had to reinvent myself. There were several difficulties to overcome: finding the right location and keeping the balance between adapting the product to please local palates without losing the foreign flair of the concept were probably the toughest to manage. However, the business started off well and the market has given me a positive response." He goes on to say, "Now the most important thing is to focus and fulfil the potential of this project. To achieve this, it will be crucial to keep in touch with the costumers and properly manage their feedback."

Guillermo moved to Shanghai in 2007 to spearhead the expansion of Café Los Portales, one of the biggest Mexican coffee producers, into Asia. The job as Los Portales representative, as well as his role in seasonal collaborations with Mi Tierra Mexican Restaurant, gave Guillermo crucial insight into the food and beverage (F&B) industry in Shanghai. This experience became an invaluable foundation for when he was eventually approached by San Gines to setup their brand in Shanghai.

San Gines inaugurated their international expansion through a franchise model in Japan with locations in Tokyo and Osaka. Now that its first privately owned Shanghai outlet is operational, it is considering opening its second location in Shanghai before the end of the year. Further expansion plans to Bangkok, Thailand, are in the making. The Asian market seems to be receptive to churros, but the key to success for the company lies in its marketing strategy.

Set-up and structure of the business
Registering a company in China is a complicated and time intensive process. In the "Ease of Doing Business" index published by the World Bank, China ranks at 151st place out of 183 economies in the category of starting a business. Without taking on a local partner in the scope of a Joint Venture (JV), the only other option foreign entrepreneurs have is a Wholly Foreign Owned Enterprise (WFOE). The WFOE lets foreigners hold 100 percent of the shares and issue invoices (fapiao), which are required to generate revenue. At least three governing positions must be filled to establish a WFOE: the legal representative and director can be the same person, while the supervisor position needs to be held by someone else.

China's food & beverage industry is far more regulated than most foreign entrepreneurs expect and additional license requirements in the sector further complicate the setup. Depending on individual F&B license requirements, the setup process usually takes at least 4 to 6 months, however close to a year should be expected before the establishments is up and running.

For foreign companies who are planning to expatriate their profits at a later stage, a holding company in Hong Kong or Singapore should be considered. The registration process is fast, fairly easy and makes dividend transfers across the Chinese border more tax efficient. Total dividend tax on expatriated profits shrinks from 10 to 5 percent in either location and virtual offices can be used in some cases, which are inexpensive to operate.

Recent regulation changes have made it tougher to profit from these tax reductions and generally require multinationals to generate parts of their revenue in Hong Kong or Singapore in order to legally take advantage of lower expatriation taxes of Mainland China profits. However, when the business grows, the holding can be used to offer franchise licenses in other Asian countries and new investors can easily join in or take over the business through an acquisition of the holding company.

San Gines decided on a Hong Kong holding company to manage the distribution of shares between its three Mexican shareholders. This setup facilitates licence applications and administration of the China WFOE, as it serves as a single owner of the WFOE in Mainland China.

Industry specific regulations

As previously mentioned, several licenses need to be acquired to operate a restaurant or fresh food retail establishment. Usually a "Health and Food Hygiene License," an "Environmental Impact Assessment Report" and a "Fire Protection Opinion" need to be acquired. Depending on the locality of the establishments several others might be necessary, as local authorities set most of the standards.

Opening a restaurant before the licenses and reports have been fully processed is not advisable. Foreign enterprises should take local legislation seriously and not assume that the relaxed standards of local street vendors and traditional restaurants apply to every location and every type of business. This is not the case! Certain establishments – especially food chains setting up in malls, food courts and more developed areas of first tier cities – need to go through rigorous licensing processes, and some rental spaces have their own standards they want to see fulfilled. Foreign businesses attract attention and random inspections are not uncommon. Abiding to all regulations is important, as non-abidance has cost some foreign enterprises substantial fines.

Funding

The minimum registered capital requirement varies depending on the specific venture. Local government authorities decide on the specific amount by trying to determine how much capital is required to fund operations on a case-by-case basis. Many foreign enterprises only inject the minimum capital required by local authorities, however this is usually not advisable. China is more expensive than most foreign investors think. In the Eastern first tier cities rent and wages are constantly on the rise and have already reached levels comparable to some western countries. Getting more registered capital approved can take around two months and some companies go bankrupt before they are allowed to inject new capital.

The additional time and capital requirements for the pre-registration process should be taken into account when drafting market entry plans. Before the pre-registration process can commence, a suitable location for the first restaurant must be found and letter of intent for a rental agreement acquired. Specific industry licenses and permits need to be applied for at this point, before being able to start the company registration process. To proceed to this step, the actual rental contract is necessary. This means that rent has to be paid for several months before the business can start its operations. If the budget does not account for this expense the business might experience financial difficulties very soon after opening. In order to avoid this expense some foreign WFOEs register an administrative entity and once the right location is found, an additional branch company to manage that specific outlet.

Getting higher amounts of capital approved during the registration process should still be considered. Usually a minimum of 20 percent of the capital needs to be injected at the outset. It is advisable to choose a realistic amount that reflects the needs of the organization and gradually work up to fulfilling the target within the required time-frame of two years.

Understanding the Chinese customer and your product
Most successful multinational food chains, whether SMEs or billion-dollar corporations, succeed in China because they customize their products to suit local tastes and trends. Few foreign restaurants are able to survive by focusing on expats and well-traveled Chinese alone.

Kentucky Fried Chicken has become immensely successful by customizing their products according to the local tastes of their customers in China. Furthermore, they have designed a wide variety of products to specifically target the local market. Many foreign entrants underestimate this factor and fail for this very reason.

San Gines only serves churros with chocolate sauce in Madrid, but upon setup in China decided to expand their palette to products like ice cream, green tea chocolate sauce and cheddar cheese. This last one has been especially successful given that a substantial segment of the Chinese population prefers savory snacks to sweet ones. Although for the average Spaniard, the idea of savory churros sounds strange, it is selling considerably well in China.

Another adjustment that was made for the Chinese market was the transformation of San Gines into a fast-food establishment. In Madrid, San Gines is a sit-down restaurant where waiters take the order, churros are prepared in the kitchen and costumers pay at the end of their visit. Since the beginning, Guillermo became convinced that is was necessary to rely on a fast-food format, with an open kitchen and an over-the-counter selling method in order to attract first-time customers.

China specific marketing

Before entering the market, the current brand should be thoroughly analyzed. Some companies have opted for a complete redesign of their corporate identity for the Chinese market. The traditional Spanish San Gines logo features simple lettering without any icons. To create brand awareness, Guillermo decided to include an icon displaying a chef and a Chinese translation of the brand name underneath. Even though the majority of Chinese people know the alphabet, many cannot pronounce and remember foreign names that easily. "How would you become a regular customer and tell your friends about something you cannot even name?" Guillermo asked.

When deciding on a Chinese name for San Gines, he tried to follow the Starbucks example by mixing phonetics with meaning. The Chinese name for Starbucks is "Xingbake", which is a combination of the Chinese word for star and a phonetic equivalent of "bucks". In San Gines' case, the first character is the Chinese character for "saint" and the second two characters are phonetic transliterations of "Gines." The Chinese San Gines name (圣吉诺, Shengjinuo) can literally be translated as holy promise of fortune, or luck. This is easily associated with Spain's image in Asia, has a positive connotation in Chinese culture and reflects the identity of the Spanish brand, which was named after a famous church.

If you wait around the San Gines kiosk in Hongkou Plaza you often see curious locals stop and ask what kind of product is for sale there. Playing on this curiosity, Guillermo decided on a glass front for the stall to give customers a better view of how churros are prepared. Every time a new batch is being fried, people gather around to watch. This educational measure gets customers momentarily invested in the product and receptive to giving it a try.

Most foreign F&B enterprises aren't really familiar with the Chinese social networking scene. Due to restricted access, Facebook and Twitter are barely used in China, but there are many alternatives. Successful marketing campaigns often rely on Chinese micro blogs such as Sina Weibo, Renren and Kaixing Wang to spread the word. Guillermo notes that many people show up at the Hongkou Plaza kiosk and point on their mobile phone indicating what kind of product they are looking for. The word of mouth spread through these mediums can make or break the launch of a new product.

Choosing the right location

In the business-to-consumers (B2C) retail and service sector, location often matters more than anything else. Finding affordable rental space that also attracts the right customers and gives you a strong starting point, is crucial from both a financial and an operational perspective. "Choosing the right location is the most important factor to a successful food start-up," Guillermo agrees. "Having visited over 100 different places across Shanghai, it took me a very long time to find a suitable, decently priced location."

Starting in second tier cities is often easier, as the market is less saturated and growth rates are higher, but first tier cities like Shanghai and Beijing set the trends for the rest of the country. "If you make it in Shanghai you can make it anywhere in China," notes Guillermo.

After the interview, it becomes apparent that while the market offers great potential, it is not for the faint of heart. Chinese business regulations can be complicated and occasionally counter-intuitive to what westerners are used to back home. However, for entrepreneurs with a strong business model and a profound understanding of the market, success or failure often just comes down to one factor: location.

Guillermo did not rush the decision of where to start his venture and hasn't regretted doing so. "If you hand me a blank sheet of paper I can draw you the entire Shanghai metro map, because I have been everywhere."

Nicholas Hopper works with the business advisory division of Dezan Shira & Associates in Shanghai.

Dezan Shira & Associates is a specialist foreign direct investment practice, providing corporate establishment, business advisory, tax advisory and compliance, accounting, payroll, due diligence and financial review services to multinationals investing in emerging Asia. For further details or to contact the firm, please email china@dezshira.com, visit www.dezshira.com
*Aug 19 2012
Spirited into the world of e-commerce By Shi Jing in Shanghai
Moutai is again testing the waters of e-commerce after an initial trial saw poor sales because of logistical problems. Experts say the impact will be very limited as the liquor e-commerce market in China is still in embryonic form compared with mature online industries such as garments.

Liquor makers look online for the next bonanza in sales - While several well-known Chinese liquor manufacturers bicker about which is the No 1 "State-banquet spirit" in China, the 61-year-old Kweichow Moutai Co has something else on its mind.

Instead of just courting its traditional customers in government and business circles, Kweichow Moutai, headquartered in Southwest China's Guizhou province, is taking a more down-to-earth attitude toward its business, planning to try its luck in the decade-old Chinese e-commerce market, taking the view it is never too old to learn.

Moutai Co put up a notice on its official website on July 23 saying the company will set up a wholly-owned subsidiary to be fully responsible for the new online Moutai shop.

"Prices for each type of the liquor have not been released on the website at present because some details are being ironed out. The website will be targeting individual buyers, thus group-buying dealers will not be affected," said Ou Guangliang, one of the directors of Moutai's online outlet.

Moutai tested the waters of e-commerce as early as 2010 but sales were poor due to logistical problems. However, the company is now determined to enter this new territory, hoping to be fully online in August.

"It is very hard to say whether liquor dealers' entry into e-commerce will stabilize the ultimate price of spirits. As far as I can see, the impact will be very limited as the liquor e-commerce market in China is still in embryonic form. Compared with mature online industries such as garments, the newly emerged business is quite unstable and of a fairly small scale," said Mo Daiqing, an analyst with Hangzhou-based China E-commerce Research Center.

But Mo said distributors of traditional channels should not feel threatened by the e-commerce dealers because the former have accumulated a stable supply of customers over the years. The two will also differentiate from each other in terms of the supply chain.

"There are some aspects that online liquor dealers should take into account, including delivery, storage and temperature, which will all greatly affect the quality of liquors or wines. And all these will add to their costs," said Mo.

However, Mo considered the move is being made at the right time because "the big picture is that almost all the companies are marching into the e-commerce industry when the traditional market is almost saturated".

She added: "The sales of liquor are fairly good nowadays, with stable consumer groups and steady demand. On top of that, the outlook for e-commerce is equally as good. So it is wise to enter the market as early as possible and seize the opportunity."

Wines imported from overseas entered the Chinese e-commerce industry as soon as they started to arrive in the Chinese market. Wang Jiaqi, business development director of Shanghai Wine Exchange, said she knew little of liquor being distributed online but overseas wine dealers were keen to approach online channels first.

"Costs are added because there are many processes to go through in the traditional distribution methods for wine, resulting ultimately in the soaring price of the drink. With the help of e-commerce, many redundant processes have been eliminated and so the wine prices we see on the websites have come down," said Wang.

"It seems to me that both wine and liquor dealers are now prepared to wave goodbye to the traditional bricks-and-mortar stores, a traditional branding method with the purpose of promoting sales. But unnecessary costs are incurred that way, including labor, maintenance and rent, the last of which accounts for the largest part of the operation of a store," she said.

There are, of course, different costs for online business, most significantly logistics. Special attention will be given to the inventory and delivery of wines and liquors. Nonetheless, Wang calculates the overall cost for e-commerce operators is definitely lower.

"Liquor dealers should note that the operation of their online market should differentiate from that of wine because the profit chains for the two alcohols are quite different on the Chinese mainland. However, the demand for such e-commerce has developed now as this emerging industry makes periodic huge leaps in this country," said Wang.

"Credit is at the core of the online purchase of wines or liquors. People used to be concerned about the integrity of dealers, considering the products have such a high unit price and were little known to the general public. But, over time, this skepticism has waned and customers have come to realize that there are reliable dealers," she said.
*Aug 14 2012
China Trade Benefits United States Substantially - Representatives' protectionist rhetoric vs. districts' export reality By Wall Street Journal
The U.S.-China Business Council, an association of large American companies doing business in China, has published an analysis of how America's individual congressional districts gain from trans-Pacific trade. The results show a striking dissonance between anti-China rhetoric on Capitol Hill and the boost to business on Main Street.

Republicans such as Frank Wolf of Virginia, John Shimkus of Illinois and Joseph Pitts of Pennsylvania have all signed onto the latest legislative effort to punish Beijing for its alleged currency manipulation. But their districts' goods exports to China have increased by 536%, 686% and 640%, respectively, over the past decade—much faster than exports to the rest of the world. On the Democratic side, Jim McDermott of Washington, Nancy Pelosi of California and Louise Slaughter of New York also have co-sponsored currency legislation despite their districts' booming China exports. Voters can check their own districts' reality on the Council website and compare it to stump-speech rhetoric.

Then there is the state-level analysis. New York and South Carolina, homes of Senators Chuck Schumer and Lindsey Graham of China-is-a-currency-manipulator fame, have seen export booms in the years since China joined the World Trade Organization: 472% for the Empire State and 2,261% for the Palmetto State. That counts only the trade in goods; the latest data for services aren't out, but historically the U.S. has run a trade surplus with China in services.

Of particular interest to Presidential candidates, swing states Pennsylvania, Ohio and Michigan all make the list of top-15 state exporters to China in dollar terms, with export growth of 1,177%, 838% and 1,169% respectively over the past decade. Yet this hasn't kept President Obama from touting his trade "enforcement" policy that relies heavily on protectionist measures. Mitt Romney is also threatening to sanction China for currency manipulation if he wins.

Railing against imported Chinese goods is especially shortsighted given that so many of America's own exports are components to the products the U.S. eventually imports again. And don't forget all the transportation, retailing, marketing and other jobs dependent on those Chinese goods. Roughly 55 cents of every dollar Americans spend on "Made in China" products goes to the Americans who design, ship and market those products, according to a study last year by economists at the San Francisco Federal Reserve. This is in addition to the boost to standards of living as import competition checks price increases for consumer goods.

Such statistics are reminders that free trade is a bedrock of American prosperity, and should be a bipartisan priority. There is plenty of room for American leaders after the campaign to press their Chinese counterparts to continue opening the Chinese economy to trade, not least for the benefit of the Chinese. For now, candidates shouldn't be shy about reminding voters that trade works for everyone.
*Aug 13 2012
Checking in for China travel boom By China Daily
Chinese tourists check out the waterfront in Singapore. The travel trend among Chinese mainlanders is increasingly on the up, backed by a rapidly growing consumer class.

The number of mainland tourists heading abroad has roughly doubled in five years, despite what may be the slowest year of growth in over a decade.

Soaring numbers of Chinese tourists packed onto flights out of the country is a sure sign that a fast-growing consumer class of about 130 million is not worried that the likely slowest year of economic growth since 1999 will sap their spending power.

Nearly 39 million mainlanders left China on overseas trips in the first half of this year, roughly double the number five years ago and evidence that a powerful consumer force - envisaged by the top leadership as the engine of economic expansion in a generation to come - may be bulking up faster than thought.

The question for investors is whether a burgeoning bourgeoisie is now big enough to fully offset the economic impact of faltering foreign demand evident in data last week, when undershoots in July new bank lending, export, import and industrial output growth prompted analysts to start slicing into gross domestic growth forecasts.

Paul French, Shanghai-based chief China strategist at market intelligence consultancy Mintel, said the purest view of the health of the domestic economy always came from the consumer.

"If consumers feel good about things, they'll spend. If they don't feel good, they'll stop," he said. "Travel is a good indicator because people are travelling more and they are consuming a lot when they travel abroad."

Investors, facing world growth slowing to levels that economists define as marking a global recession, are anxious for any sign that critical consumer mass may have arrived in China.

Consumer spending in China has comfortably enjoyed double-digit growth for a decade, while exports have slowed to become a net drag on the economy last year and in the first half of this year.

Retail sales rose 13.1 per cent year on year last month. Adjust for inflation and it was the second best month of the year.

But that has not been enough to arrest six straight quarters of slowdown, with the latest Reuters poll forecasting economic growth to slide to 8 per cent this year from 9.2 per cent last year.

While well below the 10 per cent average of the last 30 years and a level that has previously prompted urgent action to create jobs, 8 per cent remains above Beijing's 7.5 per cent target.

Meanwhile the labour market appears tight, with data showing the ratio of vacancies to workers near its highest in 10 years.

Evidence that consumers are rapidly getting stronger comes from the Geneva-based Digital Luxury Group, which reckons China's travel market is already worth some US$232 billion.

It said in its new World Luxury Index China Hotels report that Chinese travellers made 70 million outbound trips last year to be pampered at spa resorts in Bali, to shop in Dubai, Paris and London, and to spend in Singapore and Hong Kong.

Tony Tyler, chief executive of the International Air Travel Association, says airlines will see an extra one billion travellers in a decade if average annual incomes in China hit US$15,000.

Part of the proof is in the construction going on. China, Iata says, plans to build 56 new airports across the mainland before the end of 2016, with a further 16 relocated and 91 to be expanded.

Chinese carriers made about half of the US$7.9 billion in profits earned by the global airline industry last year, said Iata, which expected international traffic growth of 8 to 9 per cent from China in the five years to 2015.

A Beijing-backed World Bank report envisages per capita income rising to US$16,000 by 2030 from about US$5,000 now, with two-thirds of economic activity forecast to come from domestic consumption, against less than 50 per cent now.

But while workers in the world's second-largest economy are earning more, they lag well behind those of the United States.

Average annual wages in state-owned companies, which dominate economic output, were 42,452 yuan (HK$51,966), or US$6,700, last year and just 24,556 yuan in the private sector, which creates some 75 per cent of the mainland's jobs. The US average wage was US$39,959 in 2010, the latest data available showed.

China's wealthy elite, however, have generated a whole new market for the world's luxury personal goods makers, estimated to be worth US$25 billion a year now and likely to leapfrog Japan and America to the US$28 billion top spot by 2015.

It indicates a consumer market polarised between the super rich and a middle class with modest discretionary spending strength, but growing rapidly in size and affluence.

It is one reason why Yolanda Fernandez Lommen, head of the economics unit at the Asian Development Bank's China mission, says a self-sustaining consumer class is some way off.

"We consider that 10 to 15 per cent of the [Chinese] population shows a consumption pattern that is consistent with the type that would be regarded as a solid domestic driver of growth," she said. "In general, economies where consumption plays a meaningful role as a driver of growth entail a wide middle class that on average comprises about 70 to 80 per cent of the population."
Aug 9 2012
US lawmaker Rick Larsen said China-bashing a reality of United States elections By Chen Weihua in New York
(note: The China bashing by elected official has created serious negative consequences against Chinese American encouraging hate crimes on both public and private sectors levels. It could also be racially motivated hide behind the politically shield)
US lawmaker Rick Larsen said he hopes China understands that "China-bashing" in the presidential campaign is simply a reality of elections.

Both President Barack Obama and Mitt Romney, the Republican challenger, have talked tough on China during their campaigns, accusing the country of unfair trade practices and stealing American jobs.

"My advice to folks is always: Take a deep breath, the election is almost over," Larsen said at a talk last week at the National Committee on US-China Relations in New York.

As co-chairman of the US-China Working Group, a group established in 2005 to raise awareness in Congress of US-China issues, Larsen works with, as he puts it: "panda huggers, dragon slayers and even panda slayers - folks who are really extreme against China".

Larsen believes the US has to take a multi-pronged approach toward China. Focusing on just one aspect will hurt the whole relationship.

"We have many relations with China, not just one. A good policy toward China tries to work all of those relationships. If you just focus on one, as you might hear in the fall [election], we do that to the detriment to US interests," said Larsen, a Democrat who is now serving his sixth term in the House of Representatives, representing the state of Washington.

Larsen said the US-China relationship is a foreign policy issue that has a direct overlap with economic issues in the US that people connect to in their everyday lives.

"It is not just the foreign policy aspect, but the economic aspect, trade aspect - what it means for US jobs and for US trade policy. As a result, that plays out more so than other foreign policy issues in this presidential campaign," he said.

Larsen is not a fan of TV coverage of China in the US, which he claims is often biased. "I don't watch a lot of that because it doesn't do anything good to a lot of things I am working on," the 47-year-old said.

However, Larsen said the US military rebalance in Asia, a hot topic in both China and the US, is not to contain China.
"We are not going to contain China. You can't. Not only do we have no interest, it's also impossible. So why do you bring that up? It can't happen," he said.

He described the rebalancing as the third step following diplomacy and trade and the economic relationship, which has been leading the way for the US in Asia.

Larsen said he believes the US stance on the South China Sea is about freedom of navigation, freedom of the seas as well as security and stability.

Bonnie Glaser, a senior fellow at the Center for Strategic and International Studies based in Washington, implied in a talk two weeks ago that some of the US policies in the region might have unintentionally emboldened countries such as the Philippines.

Having made seven trips to China over the last six or seven years and having attended many meetings with top Chinese and US officials, business leaders and academics, Larsen said he knows a lot about China now, although he barely speaks Mandarin.

However, he said he sees the need for America's next generation to learn both the language and the culture.

"In the United States, kids who are learning Chinese are learning China. The cultural aspect is as important. We are not just sending our kids to China to learn Chinese, it's more about learning cultural norms, how to do business, how to do pleasure and how to do anything," said Larsen, who spoke highly of the Obama administration's 100,000 Strong Initiative to send 100,000 American students to China over a four-year period.

On Chinese foreign direct investment in the US, Larsen said he believes the amount is still not enough to make a broad impact because it is still less than 1 percent of the total FDI in the US.

Larsen said while different cultures and values are still a hurdle, he advised Chinese investors to try to understand the importance of attracting positive attention in the US.

He recalled a meeting in Shanghai in 2011 with a Chinese entrepreneur who said he had created 500 jobs in Michigan. Larsen asked if he had talked to the local congressman.

"No, why would I do that?" the Chinese businessman asked.

"Because it's an auto parts company in Michigan. That's why," Larsen said.
Aug 3 2012
Canada smart approach to bilateral trade - A CNOOC-Nexen deal would foster trade between China and Canada
G. Bin Zhao says unlike CNOOC's failed bid in 2005 to buy Unocal, its proposal to acquire Nexen has considerably more chance of success, and, on the whole, a deal would benefit both China and Canada.

China National Offshore Oil Corp announced last month that it was proposing to buy Canada-based Nexen in a US$15billion deal. This caused quite a stir in Canada, with the domestic mainstream media reporting it widely. By contrast, the response of the Chinese media and public appears rather muted.

Perhaps the Chinese have become insensitive to the ambition of their rich and powerful state-owned enterprises to conquer the world, or perhaps the torrential rains in Beijing the previous weekend gave people a more sober view of national strength; they recognise perhaps that there is a need to do more locally to build a powerful nation.

So far, the mainstream attitude in Canada's financial and media sectors on the acquisition and the prospects for government approval is optimistic, but it is difficult to judge whether the conservative government, led by Prime Minister Stephen Harper, will prevent the sale or not. After all, the Canadian government has many considerations when making its decision.

First, Canada determines whether or not it should approve a large foreign acquisition based on the important but ambiguous "net benefit" principle, which gives the Harper government plenty of room for interpretation. In 2010, the Canadian government blocked BHP Billiton's attempt to acquire the fertiliser company Potash Corporation at a price of US$40billion. The reason was that it could not be demonstrated that there would be practical benefits for Canada.

However, in contrast to BHP Billiton's hostile acquisition, which faced significant opposition from the beginning, thereby making it easy for the Canadian federal government to block the transaction, CNOOC (SEHK: 0883) has received active co-operation from Nexen. It is expected that at least the provincial government will not oppose the deal.

Second, whether the acquisition is approved in one country is also determined by economic and political interests, not to mention other factors. The high-priced proposal by CNOOC to acquire Nexen has won the support of shareholders and the management team. CNOOC has also promised to establish Calgary as the head office for its North and Central American operations, to retain the current management team and employees, to increase future capital investment, and to list its common shares on the Toronto Stock Exchange.

CNOOC has clearly tried to make its offer of economic benefits attractive, but it is unclear whether these concessions will have an impact on political factors.

Third, Nexen in Canada and Unocal in the United States are both important energy companies, so we have to ask, since the United States said no to CNOOC's bid to take over Unocal in 2005, why would Canada agree to a similar proposal? Although CNOOC has drawn some lessons from its failed attempt to acquire Unocal, and its strategies have definitely improved, from the Canadian perspective there is no essential difference between the two attempts.

Perhaps the benefits that CNOOC, as a state-owned company, can bring to Nexen and Canada are worth considering. These are benefits in addition to financial and market advantages.

Since 2009, Chinese companies have invested about C$16billion (HK$124billion) in Canada, a figure which is quite small compared to the proposed offer of US$15 billion for Nexen. China is Canada's second-largest trading partner and third-largest export market; trade volume between the two countries reached US$47.5billion in 2011; both bilateral trade and investment have developed very quickly in recent years.

In January, the US formally rejected an oil pipeline construction project proposed by Canada, which was expected to export 700,000 barrels of Canadian crude oil to the United States each day, an incident which caused a great deal of shock in Canada. In early February, Harper visited China, and he indicated that strengthened co-operation in oil and gas has become an important option for Canada after hitting the wall in the US.

In the current period of global economic malaise, the Canadian economy is very stable compared with that of other developed countries', but its resource- and energy-based economic structure faces severe challenges due to falling demand. In this context, the huge foreign investment by CNOOC in its bid for Nexen should be attractive to the Canadian government and the energy industry.

If the Harper government approves the acquisition, the deal will have great significance. Not only will it encourage Chinese enterprises to continue investing in Canada, promoting Canadian economic and trade co-operation, but it will also have far-reaching implications for long-term development of a strategic Sino-Canadian partnership.

Roger Martin, dean of Rotman School of Management at the University of Toronto, has written that if Canada approves the acquisition of Nexen, to be fair, the Canadian acquisition of equivalent Chinese enterprises should also be automatically approved.

I have previously called on Ottawa to strengthen financial co-operation with Beijing, allowing direct exchange between the Chinese renminbi and the Canadian dollar, and gradually establishing an offshore renminbi market in Toronto. Canada has some of the world's most robust large banks and financial institutions, and China may consider appropriately relaxing business development controls for Canadian financial institutions in China and supporting the development of offshore renminbi business in Toronto.

G. Bin Zhao is executive editor at China's Economy & Policy
Aug 1 2012
Foreign interns seek experience in Chinese firms By Chen Xin
More foreign youths are seeking internships in China as the country's economic growth remains robust and businesses become more open to foreign interns.

Katherine Harris, from Britain, is a university student majoring in risk management. She came to China in May and has just completed an internship as a research specialist at the Beijing-based British Chamber of Commerce in China.

"There are a lot of internship opportunities in China but in the UK and other European countries there aren't many," the 20-year-old said.

Harris' internship lasted for two months and she was paid 2,500 yuan ($394) each month.

"I plan to take another internship in the commerce or finance field in China during the summer vacation next year, and I also want to find a job in the country after my graduation," she said. "I'm quite interested in Chinese language and culture."

Katsuhiko Kayama, 23, from Japan, studies marketing in the United States. He is now working as an intern at Digital Jungle, a social media marketing company in Beijing.

"I was born in China but left when I was 6. I'm taking an internship here because on one hand, I want to seek my roots, and on the other, the industry is growing fast here. I really like the company I'm working for, and I hope I can stay and work here after my graduation next year," he said.

Peter Hao, executive director with UOutlook Education International, a Shanghai internship service company, said they have organized internships for 60 foreign youths from the United States and European, South Asian and South American countries this year.

"We expect more young people to seek internships in China over the next few months during the summer vacation. I'm sure the number of interns for the whole year will exceed that in last year," he said.

Hao said most people who seek internships in China are university students, and major in fields as diverse as engineering, biology, economics, finance and marketing.

Hao said, depending on what their field of study is, students seek different experiences. Engineering technology students want the chance to take part in project development, students majoring in public relations want to participate in designing and organizing activities, business students want to get involved in foreign trade.

He said his agency has connections with many organizations, including colleges in foreign countries and more than 100 privately run and foreign enterprises, non-governmental organizations and language training institutions in China.

Cao Enyu, business development manager of Getin2China Group, an internship service company in Beijing, said his company has introduced nearly 300 foreign interns to China this year and he believes that number will surpass 500 by the end of the year.

China's visa policy allows foreigners stay a maximum of six months to complete an internship.
"We pick companies for candidates based on their majors and willingness and then arrange phone or online interviews. If the two sides reach an agreement, employers will send candidates an invitation to facilitate their visa procedure," said Cao.

Cao said candidates normally apply for an internship visa ranging from one to three months but they can prolong their internships with permission from both the employers and police authorities.

"What we can do is supervising visa expirations of foreign interns and helping them prolong their visa terms or change visa types in line with their requirements," said Lin Song, a publicity officer at the exit-entry administration of the Beijing Municipal Public Security Bureau.

"They (foreign interns) must come to our office for their visa transaction. We'll collect their information when they come for the visa, and we'll remind them with text messages when their prolonged visa is about to expire," he said.

If foreign interns are offered a job, they have to change their visa type from internship to employment, otherwise they will be suspected of staying illegally in the country or being illegally employed, Lin said.

Cao said about 30 percent of interns are hired by the Chinese companies where they worked.

Meng Ling, a partner with Perfect Alliance CPA Partnership, a Shanghai accounting firm, said they have hired foreign interns ever since they opened for business in 2006.

Meng said the company currently has two foreign interns working as audit assistants, one from Singapore, the other from Britain.

"Foreign interns not only bring different cultures, they're also helpful in improving English communication in the office," he said. "We're impressed by their patience and carefulness, which is quite important for our work. And our staff members can learn those good qualities from them."

Meng said companies like his, whose clients are mainly foreign enterprises, always hire foreign interns.

Gu Lili, a manager with International Students Travel Exchange in Beijing, said they expect the numbers of foreign interns in China to continue to rise. Last year the company helped more than 100 students intern in China.

"As China sustains a quick economic growth and Western markets weaken, and Chinese enterprises become more open to the outside world, more foreigners will seek internships in China," she said.

Gu said one of the recruitment projects her company is promoting is a beer festival at a tourism resort in Beijing scheduled in August, which needs some 20 foreign interns to work as receptionists and waiters.
July 16 2012
Chinese travelers seek experience, not treadmill tourism By Tan Zongyang
The stereotypical image of Chinese tourists abroad is of large tour groups following a guide with a red flag through sightseeing spots and shopping malls.

But all that could be about to change, as the country's leading travel agencies attempt to replace traditional tour packages with high-end experiences.

On Monday, China Travel Service, a big player in the travel industry, announced it will cooperate with vacation resorts in South Korea to provide packages that appeal to well-off families, eco-golfers and winter sports enthusiasts.

"Getting in and out of a tour bus at tourist spots and being in a rush is no longer working with outbound tourists," said Zhang Ping, president of CTS. "We have to move upstream in quality and create tourism products tailored to the demands of individuals and that give people more freedom for unique experiences."

The company says its cooperation with South Korea's GB Networks, an agency that provides travel services to 14 resorts, will give Chinese tourists access to large-scale ski resorts, golf courses, water parks, hotels and convention centers.
Jin Chengxiu, director of the CTS' branch in Seoul, said it was the first time a Chinese travel agency has attempted to tap into the South Korean resort market, which currently attracts a large number of Korean and international tourists, but few Chinese.

"Most resorts are in northern Gangwon Province, which has a smooth, sandy coastline and is known as the epicenter of winter sports in Korea," he said. "Chinese tourists, especially those traveling with their families or for business conventions, can spend several days and nights in one place relaxing."

The province is also the site of the 2018 Pyeongchang Winter Olympic Games, and authorities expect to draw 10,000 tourists from China each year in the lead-up to the event.

According to Zhang, Chinese tour agencies are making bold attempts to offer a variety of high-end tourism packages to cater for a booming market demand.

"Some remote but captivating destinations that were believed to be too expensive for Chinese tourists are becoming more popular," said Zhang, adding that the agency has organized trips to Seychelles in the Indian Ocean with chartered flights this year. "Because the number of Chinese outbound tourists is increasing, the prices of hotels and airline tickets are getting lower, which can cut the price for outbound travel.

"Amid the economic downturn, people are more likely to spend money on tourism to relieve stress. The industry is now also promoted by the Chinese government as a way to stimulate consumption."

According to the National Tourism Administration, 38 million Chinese tourists traveled overseas in the first half of this year, up 18 percent from the same period last year.

After Japan, China is South Korea's second largest source of inbound tourists. A new visa policy will come into effect next month, loosening restrictions on Chinese tourists in a bid to promote tourism.
July 14 2012
China's Glass half full, not half empty By Zhu Qiwen
Alarm over slower growth fails to recognize the painful changes made to shift toward a more sustainable growth pattern. Media fanfare about China's economic slowdown, though somewhat exaggerated, shows the high hopes that global investors have pinned on the world's second largest economy, especially with the United States and Europe still struggling with their debt problems.

Before China released its growth figures for the first half of the year on Friday, Western media like the Wall Street Journal pointed out that growth in China is expected to slow to its lowest rate since the global financial crisis. Moreover, the newspaper suggested that the true picture could be even worse.

Is such alarm justified?

Maybe. For those who have counted on robust growth in emerging economies to make up for economic weakness in the US and Europe, they have good reason to take a second look at the prospects for a global recovery.

If China, a leading growth engine for the world economy, loses steam, what chance is there of avoiding a double-dip recession? Not much, since European policymakers still cannot agree on how to arrest the downward spiral of their sovereign debt crisis, and US politicians show little inclination to fix their huge fiscal deficits.

Yet, such a dim global growth outlook, resulting from debt-laden Western countries' inability to put their economic and fiscal houses in order, does not mean China's slowdown should be deemed as an equally worrying cloud on the economic horizon.

Chinese policymakers should certainly exercise caution to prevent too drastic a slump that may make a massive stimulus necessary to prevent a hard landing; but a 7.6-percent growth in GDP year-on-year is really not that alarming. However, policymakers should adapt themselves to such relatively lower growth as soon as possible if they want to make steady progress on improving the quality of growth and adjusting economic structure.

For foreign firms that have become accustomed to China's double-digit growth over the past three decades, it is high time they re-examined their business strategies in line with the country's new economic reality.

Their grasp of the complexity and implications of the transformation of China's growth model will have a big bearing on their future success. If it was those who best tapped into China's investment and export booms based on its cheap labor force that prevailed during the past three decades, it seems likely now that only those who can effectively facilitate consumption growth in the world's most populous country will benefit from China's economic transformation.

As the latest statistics show, the Chinese economy is slowing. But reading too much into the fact that a 7.6-percent GDP growth in the second quarter is the lowest since the first quarter of 2009 during the depths of the global financial crisis is a case of viewing the glass as half empty. It is basically a failure to recognize all the painful but necessary changes that the Chinese economy has undertaken to shift toward a more balanced, coordinated and sustainable growth pattern.

Chinese policymakers should come to grips with the challenges of economic transformation and refuse quick solutions that only bring about short-term gain for long-term pain.

For instance, though a property boom has proven almost a magic wand in immediately shoring up investment growth in this country and many others around the world, the Chinese government has so far rejected domestic calls to ease its squeeze on housing bubbles, because of concerns over their long-term impact on the economy.

It is predictable that some local officials will try to make the current slowdown an excuse to return to investment-led growth, at least for the time being. But policymakers should pay close attention to the difficulties of specific industries or regions and roll out targeted measures to help them endure the pain of economic transformation and achieve sustainable growth. However, it is important that they drive home the message that they are focused on the long-term goal.

By doing so, they will not only set an example for policymakers in debt-laden developed countries, who are unfortunately still shying away from their responsibilities to set their economic and fiscal houses in order, they will also inspire confidence in investors at home and abroad in the future of the Chinese economy.
July 13 2012
More Chinese FDI set to pour into United States By Chen Weihua
The AMC Empire 25, just across 42nd Street in New York City from a rival Regal Entertainment cineplex, is part of the AMC Entertainment Holdings chain that Dalian Wanda Group acquired for $2.6 billion. China's National Development and Reform Commission has approved the deal to form the world's biggest cinema operator.

The announcement last week that China's National Development and Reform Commission had approved the acquisition by Dalian Wanda Group of AMC Entertainment Holdings is the latest sign a new influx of Chinese foreign direct investment into the United States may be underway.

Wanda, China's biggest movie-theater chain, struck a deal in May to buy AMC, the No 2 cinema operator in the US, for $2.6 billion. The merger, which could receive US regulators' approval later this year, forms the world's biggest cinema chain.

In late April, China Petroleum & Chemical Corp, or Sinopec, said it had completed its $2.4 billion acquisition of one-third of the equity in Devon Energy Corp's five shale gas assets in the US.

Despite the possibility of an economic slowdown in China and ongoing political and trade frictions between the countries, experts in the US remain confident that Chinese FDI will increase.

The upward trend was disrupted last year when Chinese FDI in the US dropped to $4.5 billion from $5.2 billion in 2010, according to the New York-based Rhodium Group research firm.

But 2012 will be rife with China-to-US investment, predicted Karl Sauvant, author of Investing in the United States: Is the US Ready for FDI from China? and a senior fellow at Columbia University's Vale Columbia Center on Sustainable International Investment.

Clarence Kwan, formerly a senior partner in Deloitte LLP's Chinese services group, who has helped companies from China expand to the US since the 1980s, said increased FDI is likely in coming years. He compared the expected influx to the flood of Japanese investments into the US some 30 years ago. Japan's FDI in the US hovered around $1.4 billion a year in the early '80s but within seven years hit $18 billion.

"Many of us ask the question of when Chinese investment will replicate that kind of growth rate. And then how do you capture that type of investment," Kwan told a seminar at the China Institute in New York.

"My answer is, it's not going to happen overnight. I keep saying it's going to happen in the next two or three years. It's going to come. The question is how to prepare for it."

Kwan based his conclusion about FDI on what he regards as new motivations and strategies of Chinese companies.
When it comes to Chinese FDI, Western news media tend to highlight the search for natural resources, Kwan said. But he sees a trend of Chinese enterprises coming to the US to acquire technology they can use back home to gain a competitive edge.
State-owned AVIC Automobile Industry Co in April finalized its purchase, from General Motors Co, of Michigan-based Nexteer Automotive, which makes steering and drivetrain systems.

"It's a very good acquisition," Kwan said. "It's only $400 million but allows AVIC to acquire a top-notch-operation company with penetration to all major automakers, and at the same time help bring them back to China."

He described the Nexteer deal as a classic example of a Chinese State-owned enterprise making a significant US acquisition to strengthen its market position domestically.

Wanxiang Group, an auto-parts manufacturer that started investing in the US in the early 1990s, is another success story, according to Kwan. After multiple acquisitions of distressed auto-parts companies, Wanxiang now generates $2 billion a year in revenue just in the US. It is also moving into cleaner energy and electric cars, of which China and the US are potentially the two biggest markets in the world.

Kwan believes more Chinese companies will invest in hopes of breaking into the US market, pointing to the Wanda-AMC deal.
As for the US market, he expects that deep-pocketed SOEs from China will maintain an opportunistic approach to big acquisitions while private companies, particularly those listed on stock exchanges, continue investing steadily.

Increasingly, Chinese are moving assets to the US through real estate purchases, said Kwan, who says these are the result of "wealth-preservation motivation."

Viking Weiqiong Tao said Dallas-based law firm Kane Russell Coleman & Logan, where she is a director, has received more investment inquiries from Chinese companies in recent years than ever before, representing a variety of industries.

Tao, a graduate of Peking University's law school, believes a slowing of the Chinese economy could actually mean more outbound investment to the US and other foreign markets.

"If the economy slows down," she said, "and domestic demand is going to decrease and competition becomes fierce at home, you want to go to new markets including the US."

Brion Tingler, a North Carolina-based spokesman for Lenovo Group Ltd, said the Chinese electronics giant's experience in taking over the PC business of International Business Machines Corp proves that Chinese companies can acquire and manage large, complex foreign peers. He stressed that achieving such success is part of a learning process and that Lenovo navigated the challenges of not only acquiring but also integrating the IBM operation into its own.

For example, after Lenovo bought the IBM unit in 2005, the two companies took several years to resolve differences in their business cultures, which included divergent views of budgets and targets.

"We have continued to acquire companies in the last few years and we focused on culture from the very start. This is really important," Tingler said.

"It's like a marriage: Bride and groom get really excited about the wedding but fail to communicate about how they are actually going to make this marriage work after the honeymoon," he said.

He said Lenovo's IBM experience is a model not solely for Chinese companies but for any company out of any of the world's emerging markets.

Tao, the Dallas lawyer, said Chinese companies are paying more attention to the principle of corporate social responsibility. "Some are purely pushed by outside pressure, because if you don't comply with certain codes of conduct, you are not even allowed to join the bid" for an investment, she said.

Wanda recently released its January-June report, which showed impressive work in creating jobs, charitable donations, volunteerism, energy-saving and reduced emissions of carbon-based gases.

Tao said mergers and acquisition are a shortcut for Chinese companies to penetrate the US market. She isn't worried about resentment among Americans over foreign M&A.

"Local governments and local people pay a lot of attention to job creation. In general, local governments welcome Chinese investors," she said.

When ground was broken last August for Tianjin Pipe Group's $1 billion pipe factory in Gregory, Texas, local leaders and residents applauded. The factory is expected to create hundreds of jobs and $2.7 billion in economic impact for communities along Texas' Gulf of Mexico coast during its first 10 years of operation.

Governors and mayors from across the US have visited China in droves in recent years, seeking investment, including at the China-US city mayors' forum in Nanjing two weeks ago. Such enthusiasm contrasts to the noise often heard on Capitol Hill.

At the federal level, President Barack Obama's administration has been actively seeking foreign investment by launching the SelectUSA Initiative. According to a report from the Organization for International Investment, a trade group, the US subsidiaries of foreign companies directly employ 5.3 million Americans, including 2 million in manufacturing. These subsidiaries also account for 21 percent of all US exports.

Columbia University's Sauvant believes a bilateral investment treaty, or BIT, between China and the US may be in the offing. The two governments promised to continue talks toward a BIT. In the US, many have urged the federal government to be more active in seeking a share of China's outbound investment, which is expected to reach $1 trillion by the end of this decade.

In 2010, only 0.25 percent of total FDI in the US came from China.

If the US doesn't act swiftly to improve bilateral investment conditions, it might continue to lose Chinese investment to Europe and other regions, warned Sophie Meunier, of Princeton University's Woodrow Wilson School of Public and International Affairs.

"The US must avoid incorporating reciprocity into consideration of its openness to FDI," Meunier wrote in Columbia FDI Perspectives. "Inward FDI, exempt a legitimate security issue, should be encouraged no matter its country of origin."
July 12 2012
Unprecedented choice in history By Chen Yonglong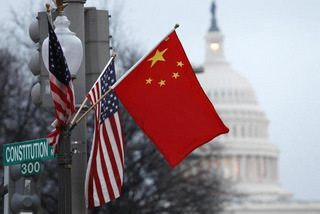 The relationship between China and the United States is not the same as that between the US and the former Soviet Union. Neither is history doomed to repeat itself, with a rising power battling with an established power for supremacy.

The competition between the US and the former Soviet Union was a contest for global hegemony. It was an adversarial struggle between two ideologies, capitalism and socialism, that became locked into the Cold War and an arms race to acquire a nuclear strike advantage. There were almost no economic links between the two sides. The present-day relationship between China and the US is so completely different that there is no sense in comparing it with the one between the US and the former Soviet Union.

Neither China nor the US can deny there exist some difficult structural contradictions and strategic competition between them. But the relationship between them differs from all the historical precedents.

Throughout history rising powers have clashed with established powers to decide who would be the winner that takes all. But times have changed and China and the US do not have to repeat the follies of the past.

However, the Sino-US relationship has been likened to one between a rising power and an established one too early. Historically, a rising power has only challenged an established power when it has the capability to do so. China and the US are far from equals in terms of their national strength.

The US possesses the biggest economic aggregate and the strongest military in the world. Its military spending is almost as much as all other countries in the world combined. It has a significant scientific and technological advantage and its soft power is heads and shoulders above any other country.

China is far behind the US in all these fields. There has been no essential change in the Sino-US balance of power, despite China's remarkable economic achievements over the last three decades. In other words, China does not have the capability to challenge the established hegemony. In fact, it is quite clear that the US does not really consider China as a big power.

This is because China is different from other rising powers in history, as it has only moderately increased its military strength during the course of its economic development and has not relied on military strength for its development. As China has repeatedly said, it has no desire to seek hegemony. China is committed to its policy of non-alignment, and adheres to a new security concept of mutual trust, mutual benefit, equality, and cooperation. China will never engage in any arms race.

China advocates win-win cooperation, and constantly adheres to this. This is in line with the trend for globalization. Like all other countries, China is just one link in the global economic chain. Its development will benefit the world, while it will also benefit from the world's development.

China will never seek development by sacrificing the interests of other countries. On the contrary, it is willing to sacrifice its own interests in favor of regional and global economic recovery, as has been demonstrated by its actions during the Asian financial crisis in the late 1990s and the current global economic uncertainties. China's continuing reform and opening-up is aimed at integrating it further into the international system, where it seeks improvements in the international order, not its overturning.

The Chinese economy and the US economy are mutually dependent and strongly complementary to each other. The two countries are major trade partners and key financial and investment destinations for one another. These facts distinguish their relations from the historical relationships between rising and established powers. Viewed as a whole, the momentum is for broader and deeper cooperation between the US and China. The economic competition between the two countries is natural and it can be a driving force for their common development.

The world has entered an unprecedented era. Peace, development and cooperation have become the dominant trends. Both China and the US shoulder a historic responsibility to further boost these trends. Aware of this, China and the US have already started to explore the type of relationship that will be developed between them. US Secretary of State Hillary Clinton said at a recent news conference that a situation has now developed that has never before been seen in history, when an established power and a rising power are seeking ways to cooperate.

Confrontation between China and the US is not preordained or inevitable. It simply requires mutual trust and honest communication for them to write a completely new chapter in human history.

The author is director of American Center, China Foundation for International Studies.
July 11 2012
'Toothless' code seen as victory for Beijing - Draft proposal for mediation in South China Seas disputes lacks enforcement measures, say analysts By Greg Torode in Phnom Penh
Deputy Foreign Minister Fu Ying is mobbed by the media as she leaves yesterday's Asean-China meeting in Phnom Penh.

A landmark Asean proposal to govern tensions in the South China Sea lacks any new enforcement measures - an outcome some diplomats and analysts say represents a potential diplomatic victory for Beijing.

For months, China's envoys have courted individual states within the Association of South East Asian Nations to limit the grouping's role in South China Sea disputes, which Beijing insists should be handled via one-to-one talks with claimants.

Asean's draft of its Code of Conduct was completed this week and handed to Beijing for input, amid a push to finalise it by the end of the year. A copy of "elements of the code" seen by the South China Morning Post (SEHK: 0583) shows it ties dispute resolution measures to the UN's Law of the Sea and Asean's existing provisions.

"Of course we expect China to further weaken it and object to some things, but right now there is nothing in there that is really going to annoy Beijing," said one veteran Asean envoy. "You could say it lacks punch and in that regard is at least a partial victory for Beijing's diplomatic manoeuvring. But at least we are keeping them at the table."

The South China Sea is expected to dominate Asean's Regional Forum on security starting today, with Japan set to toughen its stance, diplomats say. That follows yesterday's formal Asean-China ministerial meeting in Phnom Penh, which was attended by Foreign Minister Yang Jiechi and deputy Fu Ying .

China and the Asean powers 10 years ago agreed on a broadly defined declaration of conduct for the South China Sea, which Fu said calls for consideration of a code of conduct "when the time is ripe".

"But Minister Yang stressed a very important point: the declaration is agreed by all of us [China and Asean] and it requires all of us to implement. For instance, if there are countries not abiding by the declaration, then it would not be conducive towards enhancing mutual trust, and also not constructive in moving us towards the discussion of a code of conduct."

Beijing has already exempted itself from the Law of the Sea's dispute settlement measures, while the enforcement regime under Asean's Treaty of Amity and Co-operation has never been made operational.

Many measures advocated by the Philippines, including steps to clarify precise claims, have been removed. Dr Ian Storey, of Singapore's Institute of South East Asia Studies, said there was little concrete in the draft that would constrain actions by claimant nations to "build sovereignty".

"It completely lacks teeth. And it was the prospect of some sort of enforcement teeth to curb excesses and aggression that people, inside and outside of Asean, were hoping to see just a couple of years ago."

In that regard, the document reflected the divisions within Asean over how hard to push China, he said.

While claimants, led by the Philippines and Vietnam, have been keen to stand up to China over the South China Sea through the grouping, others, such as Cambodia and Thailand, have been increasingly resistant.

As well as the Philippines, Asean members Malaysia and Brunei claim part of the strategic Spratly Islands in the South China Sea. And, like China, Vietnam claims the Paracels and the Spratlys in their entirety.

Dr Surin Pitsuwan, Asean secretary-general, said the draft still represented a milestone in South China Sea mediation.
China has rightful role in world affairs - Tom Velk and Olivia Gong say there can be no partnership without amity

American reliance on China is deep and complex. Properly managed, the evolving relationship will have far-reaching benefits for the entire world, by stabilizing and equilibrating what are now conflicting national interests.

One of America's largest homebuilders recently requested China's help in funding two long-delayed San Francisco projects that would provide 20,000 new homes, a sports arena, and millions of square feet of office and retail space. China has become the second-largest foreign purchaser of US homes. Similar relationships are found elsewhere in the world; China has been funding major infrastructure initiatives and acquiring commodity equities in Africa, South America and in other parts of Asia, much to developing countries' relief.

But China cannot and will not be the world's savior. Europe is asking China to lend bailout money to the European Union. The Chinese wisely say "no thanks", at least not when current holders of Greek bonds have to accept a haircut on the money owed. But there is a big idea that will bring them on board: a true East-West partnership of civilizations. While China cannot be the lone savior, a strategic East-West partnership can rebalance global assets, endowments and national interests, paying a global dividend well into the next century.

In a culture marked by excessive borrowing and non-existent saving habits, the West faces financial Armageddon. It needs a more feasible solution than printing money to sustain growth. China will help if a deal is structured that will help with its own challenges.

How long the relative strength in Asia will last remains to be seen. China's wealth today is largely a result of foreign investment, a population accustomed to hard work, remarkable saving rates, relatively cheap labour costs, and a willingness - for now - to export a large fraction of its growth dividend. These factors are, in part, dependent on a sound Western economy.

The West has superior assets to bring to the trading table; it understands the importance of innovation, rule of law, free markets, capitalism and democracy. China will benefit from Western advice as it moves from a planning economy to a market economy, from command and corruption to the rule of law, from producing for exports to producing for domestic consumption; from yesterday to tomorrow.

The partnership cannot be possible when both candidates for the US presidential election in November are excessively hostile towards China. Barack Obama is constantly telling China to "grow up". Mitt Romney threatens to declare China a currency manipulator.

China has never taken tough talk well. A co-operative equilibrium must be found through friendly conversations behind closed doors. Obama also cannot tell China to abide by international economic rules when China does not have a part in writing them.

The Obama administration needs to be wiser in choosing friends. Secretary of State Hillary Rodham Clinton recently declared Afghanistan a major non-Nato ally, as the US led donors in pledging US$16billion in aid. If the same energy were directed at friendship with China, the pay-off would be more certain and long lasting.

America's military, economic and political sphere of influence in Asia helped stabilise the global balance of power in the 20th century. But that strategy is no longer affordable, realistic or acceptable. The reality of China's transformation will take time to be grasped psychologically in the West. How fast and to what degree China will adapt to Western "necessary luxuries" like the rule of law, while maintaining a communist state, will remain a big question.

The West should accept this new and prominent role for China in the world. It needs to figure out a way to help the East absorb and adopt these Western ideas, without insulting the great achievements of their more ancient, nuanced and elegant civilisation. Only then can the redeeming, humane idea of an open, free society remain safe for the entire world.

Tom Velk is a professor of economics and director of the North American Studies programme at McGill University. Olivia Gong is a research assistant at McGill
Chinese link in missing-link breakthrough By Cheng Yingqi
Two parts of colliding points of the Large Hadron Collider teeth together in the European Organization for Nuclear Research in Geneva in 2006. Chinese scientists participated in the building of the collider that plays an important role in the finding of the Higgs boson. This undated image made available by the European Organization for Nuclear Research shows a typical candidate event including two high-energy photons whose energy (depicted by red towers) is measured in the CMS electromagnetic calorimeter. The yellow lines are the measured tracks of other particles produced in the collision. The pale blue volume shows the CMS crystal calorimeter barrel. Scientists at the world's biggest atom smasher claimed the discovery of a new subatomic particle on July 4, calling it "consistent" with the long-sought Higgs boson — popularly known as the "God particle" — that helps explain what gives all matter in the universe size and shape.

For years, deep in an underground European laboratory, Chinese physicists have been contributing to one of the most ambitious scientific experiments ever attempted — a search for the missing link at the beginning of the universe.
"How do we seize Higgs boson?" said Chen Guoming, a researcher at the Institute of High Energy Physics at the Chinese Academy of Sciences.

"We copy the starting moment of the universe."

Chen was one of 3,000 scientists from 175 universities or research institutions in 38 countries and regions who have spent several years re-creating mini Big Bangs in a 100-meter underground laboratory on the French-Swiss border in an attempt to find the elusive particle.

Better known as the "God particle", it is the crucial link that could explain why other elementary particles have mass.
Last week, in a major scientific breakthrough, scientists at the European Organization for Nuclear Research, better known as CERN, announced they had found a particle consistent with the Higgs boson, an announcement greeted with great fanfare in the scientific community across the globe.

CERN conducted two major experiments focused on finding the Higgs boson — CMS and ATLAS. Thirty scientific researchers from China, representing the Institute of High Energy Physics of the Chinese Academy of Sciences and Peking University, took part in the search for the particle.

On July 4, CERN announced the CMS and ATLAS experiments had observed a new particle that was consistent with the Higgs particle.

"It's hard not to get excited by these results," said CERN Research Director Sergio Bertolucci.

"We stated last year that in 2012 we would either find a new Higgs-like particle or exclude the existence of the Standard Model Higgs. With all the necessary caution, it looks to me that we are at a branching point: the observation of this new particle indicates the path for the future toward a more detailed understanding of what we're seeing in the data."

The Higgs boson is named after British physicist Peter Higgs who, along with others, proposed the mechanism that suggested such a particle existed in 1964 — a theory ridiculed by some of the most respected minds of the time.
Stephen Hawking even bet another renowned physicist, Gordon Kane of the University of Michigan, $100 that the Higgs particle would not be found.

"It seems I have just lost $100," Hawking was quoted saying in London newspaper The Daily Telegraph following CERN's breakthrough.

Last week, Higgs, 83, traveled to Switzerland to witness the landmark announcement. The octogenarian was visibly moved as the presentation finished to tumultuous applause from a wildly excited audience, some of whom had waited overnight to secure their seats.

Choking back tears, Higgs paid tribute to the scientists who worked on the project.

"I would like to add my congratulations to everyone involved in this achievement. It's really an incredible thing that it's happened in my lifetime," Higgs said.

The CMS program cost about 500 million Swiss francs ($511.47 million), of which China contributed 1 percent.

China built the Resistive Plate Chamber, one-third of the Cathoed Strip Chamber, and supplied materials to help build part of a device called an electromagnetic calorimeter.

The experiment was carried out in the $511 million Large Hadron Collider, a huge device mainly made up of a 27 km ring of powerful magnets. Protons are placed into the collider and made to speed up before crashing together. Particle detectors in the machine read the data.

"Let's assume that you have two crystal balls, both composed of some inner structures you do not know. If you clash the two, they break apart into pieces, and then you can see what is in it," Chen said.

"That is like what we did on Large Hadron Collider, only it is much more difficult," he said.

"Actually the chance of finding Higgs boson is so rare that you could have 1 trillion collisions and you get one Higgs boson."
One barrier faced by the scientists was that the collision produced other particles called hadron and quantum photon. The scientists had to find a way to distinguish the particles from each other in order to find the Higgs boson.

"Chinese scientists found a unique method to distinguish the two particles, which was better than the solution of any other team. So our method was used for this and helped find the hint of Higgs boson," Chen said.

CERN is not the first group of scientists to search for the Higgs boson.

Before the Large Hadron Collider was switched on in 2008, the Tevatron in the United States was the most powerful collider in the world and in its final years of operation, raced to catch the first glimpse of the Higgs boson.

Although Tevatron was closed in 2011 due to budget constraints, the scientists involved in that project announced in March they had found evidence of a new fundamental particle that had a mass that fit in with predictions for the Higgs boson and was similar to experimental evidence announced by the Swiss-based scientists in December.
July 8 2012
Watch out for enemies of trade in China
Roderic Broadhurst and Brigitte Bouhours find that businesses in China are suffering more from fraud and bribery than from crimes such as robbery and theft. Yet, Hong Kong firms in particular are reluctant to report such offences.

In Hong Kong, household surveys about the victimisation of individuals have been conducted since the late 1970s, but no study has focused on the victimisation of businesses. A recent book, Business and the Risk of Crime in China, analyses the results of the first large-scale victimisation survey of 5,117 businesses in Hong Kong, Shanghai, Shenzhen and Xian.

The survey, conducted in 2005-06 under the auspices of the United Nations, shows that the level of crime reported by Chinese businesses was relatively modest compared with other emerging economies such as Brazil, Russia, Nigeria and India, and much lower than Western and Eastern Europe. However, incidents of bribery and extortion were more frequent in China than in Western Europe, but less frequent than in Eastern Europe.

Respondents from mainland China were much more likely to report to police than elsewhere, including Hong Kong.

Over one-quarter (26.2 per cent) of businesses reported at least one incident of crime over the past year, but higher risks of victimisation by non-conventional crime (fraud, bribery, extortion and intellectual property offences) than by common crime (robbery, assault and theft) were found. Across the four cities, the rate of non-conventional crime (22.6 per cent) was 3.4 times that of common crime (6.7 per cent), and businesses in Shenzhen were at higher risk of non-conventional crime (27.9 per cent) than those in Xian (25.3 per cent) and Hong Kong and Shanghai (19.5 per cent).

Just over 6per cent of respondents mentioned incidents of bribery, but much less frequently in Hong Kong (2.7 per cent) than in mainland cities (8 per cent). Intellectual property theft was more of a problem in Shenzhen (9.1 per cent) and Xian (7.6 per cent) than in Shanghai (5.9 per cent) and Hong Kong (3.5 per cent). Larger businesses were most at risk, especially for fraud, but smaller businesses had a higher prevalence of fraud by outsiders.

China's transition from a command to market economy has been underpinned by an emphasis on order and authoritarian policing that has helped contain many crimes against business, with the exception of fraud. Extrapolating from our data, we calculated that annual losses from crime against businesses reached about US$6.4 billion for all four cities. For Hong Kong, we estimated the loss at US$1.52 billion and the bulk arose from fraud (by employees and outsiders) and intellectual property theft.

In times of rapid change when the "rules of the game" are ambiguous, a lag between socio-economic changes and government capability can occur, as the experience of the former Soviet Union has demonstrated. Such a "governance lag" has manifested itself in inadequate policing of economic crime. Although China may have controlled common crime, its failure to establish independent oversight and checks and balances has facilitated corruption. Corruption was more frequently reported on the mainland than in Hong Kong, and especially in Xian where state-owned businesses and traditional Communist Party control remain strong.

The survey also showed that Hong Kong's commercial competitive advantages, such as its relatively open society and rule of law legacy, did not reduce crime risks for business. Apart from the lower level of bribery, overall differences between Hong Kong and the mainland were small. Furthermore, mainland businesses were more likely to report offences to police compared to Hong Kong. Mainland business operating in Hong Kong were also just as prone as local businesses active on the mainland to perceive that crime and corruption were obstacles to doing business.

Yet, Hong Kong has curbed bribery both among officials and businesses to a much greater extent than other Chinese cities. Given the concern about corruption among businesses in China, Hong Kong's reputation for clean government is a credible example of what can be achieved. Even so, businesses in Hong Kong remain reluctant to report bribery and this suggests Hong Kong's anti-corruption efforts needs to target unreported experiences of corruption, especially by business.

The current annual survey by the Independent Commission Against Corruption focuses on attitudes and perceptions towards corruption rather than behaviour. It also now asks whether corruption has been experienced either by an individual or their family and friends but not if they reported the event.

The opening up of the Chinese economy has produced both an increase in consumer goods (more opportunities for common crime) and an increase in business and commercial activities (more opportunities for fraud, bribery and crimes of deception). Our analysis of the risk factors shows that Chinese businesses suffer similar crime risks as found elsewhere and could benefit from crime prevention measures - such as improved guardianship and specialisation in complex crime investigations, such as fraud and corruption.

Identifying the "new enemies of the state" has become harder than in the past when class enemies, "rightists" and feudal remnants could be readily distinguished and demonised. Fraud and deception are difficult to counter, especially in weakly regulated markets where criminals pose as valued entrepreneurs to bribe officials, but improved countermeasures can limit the scale and costs of economic crime.

Roderic Broadhurst is a professor, and Brigitte Bouhours is a research officer, at the ARC Centre of Excellence in Policing and Security, Australian National University
July 5 2012
Fox news: another view of China By Andrew Moody
Claire Fox, director of the Institute of Ideas, says countries like China should not be constrained by narrow Western attitudes toward economic development.

'Little credit given to growth that has lifted more people out of poverty than in any period in history'
Claire Fox believes debates about China in the West are often introspective and offer no insights into the new rising economic superpower.

The 52-year-old is director and founder of the Institute of Ideas, a leading London-based think tank.

"The debate we have here about China is often more about us than it is about China," she says.

"We say that as a consequence of economic growth, we have destroyed the planet and that they shouldn't do what we did wrong."

Fox, a leading libertarian thinker and who is well known in the UK for her TV and radio appearances such as on BBC Radio 4's The Moral Maze, says little credit is given to the fact that China's growth over the past 30 years has lifted more people out of poverty than in any period in history.

"I happen to be enthusiastic about the achievement of taking 300 million people out of poverty," she says.

Fox, who was interviewed in her offices in central London, says she is frustrated by much of the discussion that takes place about China.

"I think there is some kind of disillusionment in the West about the gains of modernity and of economic growth and it takes a form of skepticism about the gains of prosperity generally. It all then somehow informs the way we talk about China," she says.

Fox, who with her slightly aggressive flat northern vowels often comes across as fearsome in her broadcast appearances but in reality has an easy-going wit, has had a particular focus on China.

Just before the 2008 Beijing Olympics, she organized a one-day conference in London, called the Battle for China, which was a series of debates "interrogating attitudes to and prejudices about contemporary China".

"There was a catchy strap line to that conference that China bashing had become the new Olympic sport. I felt very uncomfortable about that way of dealing with China because it had become a very easy thing to do," she says.

Fox was born in Barton-upon-Irwell, an area of Eccles in Greater Manchester but was brought up in North Wales before studying English and American literature at The University of Warwick.

She began her career as a mental health social worker but was also prominent in the Trotskyist Revolutionary Communist Party fighting on the side of the miners in the Miners' Strike, the seminal UK industrial dispute, in the mid-1980s.

She has become very disillusioned with a lot of leftist thinking in the UK and in the West in general saying that it has become associated with a "hairshirt mentality" and against progress.

She argues this is particularly the case in the environmental debate pertinent to China where the Left seems to want everyone to go back riding bicycles.

"I think a lot of things have become associated with the Right. For example, an unapologetic commitment to progress and modernity is now almost always associated with neo-conservatism whereas it traditionally used to be associated with left-wing thinking and moving society forward," she says.

Through her role with the RCM, Fox moved into journalism and became responsible for its magazine Living Marxism, later shortened to LM, which had a wide readership as an intelligent current affairs magazine. In 2000, it went bankrupt, however, after losing a libel action, but she was allowed by the judge to continue operating the magazine's summer festival of debates called the Institute of Ideas.

This has since become today's think tank, which employs 10 people and runs a number of programs, including debating competitions in the UK and India and an annual Battle of Ideas Festival at the Barbican, which has no fewer than 350 speakers and is now in its 8th year.

"We felt there was too much orthodox thinking and not enough questioning and we wanted to try and get people to have a richer experience of discussing the big social and political trends of the day. That is why we set up broadly speaking," she says.

Many who follow her appearances on radio or TV are unaware that Fox has a left-wing background since she often takes unexpected positions on a wide range of issues.

"I think that is partly because the old labels of Left and Right no longer work in today's conditions.

"It is not that I consider my old politics has changed but the world has changed and there is no point in rehearsing old arguments. We have to be on top of new developments," she says.

She returns to the theme that one of her frustrations is with the Left and the Green movement about China and other rapidly-industrializing nations such as India.

"If you look at the reaction here when Tata brought out the cheap car. It was 'Oh my God every Indian can now have a car. What a disaster!', when it should have been seen as a fantastic step forward. You have got this new capacity for ordinary people in India to have mobility."

Fox says it was also the same when it was announced the 7 billionth people had been born in October 2011. "It led to a real anxiety fest in the Western media about what a problem this was. I have a different attitude. I tend to see human beings as being part of the creative solution and not a problem," she says.

The think tank head, who has made a number of visits to China, is also a fan of the current trend toward urbanization. By 2025, China will have eight giant cities.

"I am generally enthusiastic about cities. Here in the West there is a panic. Every time we have a debate about cities, we talk about the problems of cities," she says.

"They are destructive and dirty and you find Western consultants going over to China to advise them on how to make them 'sustainable'. It is a dead word from my point of view because it is usually about limits. It is just another of the anxieties of the West transferred into a debate about China," she says.

Fox also says there is a lot of hypocrisy in the West to China's involvement in Africa, particularly when countries like Britain are major investors themselves.

"I went to a conference in London when one of the African speakers was warned by someone from an aid agency about the dangers of accepting Chinese investment," she recalls.

"He thanked them for their advice but said when Africans accepted their money they had to do this, that and the other and now were obviously very wary about this Chinese money being invested in roads and hospitals. It was very amusing."

Fox says she is conscious about making pronouncements about a country like China while not living there. "I am well aware of the fact I am not living in China. I have been there and obviously there are things that are very complicated there.

"I think people are surprised, however, to discover that in China there is very vibrant and open discussion on television that you can sit and watch," she says.

She insists countries like China have a real energy and should not be constrained by narrow Western attitudes toward economic development. "I am ever hopeful that there are generations of young Chinese people who are really thinking about the future and what kind of society they want. I think it is really exciting because they are optimistic," she says.
June 27 2012
Shanghai needs time to be financial hub: AmCham By Gao Changxin in Shanghai
Visitors on the Bund, the Shanghai area famous for being a financial center in the 1920s. An American Chamber of Commerce report has suggested it would be unrealistic to expect the city to once again become a global financial center by 2020.

Shanghai can indeed become a global financial center, although it will take longer than expected, said the American Chamber of Commerce in Shanghai on Tuesday.

The chamber made the comment after Shanghai's ambition of becoming a global financial hub by 2020 got a new boost from the central bank's move to liberalize the country's interest rate formation system, allowing lenders to set deposit rates up to 10 percent higher than the benchmark.

A market-based interest rate regime and a fully convertible currency are widely seen by economists as two prerequisites for Shanghai to achieve its ambition.

The 55-page research report, jointly published by AmCham and the Brookings Institution, looked in detail at the pros and cons of Shanghai's financial industry and came to the conclusion that Shanghai has the potential to become a global center for finance, but probably not as early as 2020.

"The building blocks are in place to create a true international financial center in Shanghai," said Ben Kinnas, a senior vice-president and general manager of Wells Fargo Bank who sits on AmCham's Shanghai financial services committee and led the writing of the report.

He added that 2020 may be "unrealistically soon" for Shanghai to become a true global financial center rather than a regional hub.

"Shanghai has the resources, and has the economy behind it to become a financial center, regional or international," said Tim Huang, chief operating officer for Bank of America Merrill Lynch China.

"I think the regulators and the government do need to look at opening up more on the market side. And there is plenty for both domestic and foreign players to gain in this market and everybody wins if you really open it up."

Shanghai has made rapid progress in developing its financial industry since a central government decision in 2009 called on the eastern city to speed up its process of becoming a large international financial center.

In January, the municipal government vowed to double the transaction volume of its financial markets to 1,000 trillion yuan ($157.38 trillion), as part of its plan to "greatly expand" the size of its capital markets and open them more widely to foreign investors by 2015.

The transaction volumes of the city's stock, bond and commodities exchanges are already among some of the world's biggest. In 2010, the Shanghai Stock Exchange's market capitalization ranked sixth globally, just behind London.

The city has also established shipping and insurance exchanges as part of a move to develop the city's derivatives market.
The AmCham report gave a list of Shanghai's seven key disadvantages, including regulatory opacity and a limited use of sophisticated financial products.

Walker Wallace, a partner at the law firm O'Melveny & Myers LLP, said that the lack of regulatory transparency in China is the main reason many Chinese companies seek listings overseas.

In the report, AmCham recommends that China's stock market transit from an approval-based listing system to a disclosure-based system.

Talent is another issue Shanghai needs to deal with to achieve its goal. And lowering the tax rate is essential to attract financial talents who typically get big paychecks.

The personal tax rate is substantially higher in the mainland than in other financial centers. High-income individuals could be taxed by a rate of 40 percent in the mainland, while the rate ceiling is 15 percent in Hong Kong and 20 percent in Singapore.

"Income tax issues have to be addressed in order to attracting financial service professionals into the country," said Kinnas.
June 24 2012
To learn the Chinese language, live the culture By Ng Tze-wei
Andreas Laimböck says expats must escape their bubble to achieve fluency in Putonghua, and his school in Beijing puts the emphasis on going local - At Andreas Laimböck's Live the Language Mandarin School you have to banish English from your life - the focus is on immersion.

When Austrian Andreas Laimböck, 33, came to China in 2002 to learn Putonghua, he ran into a wall of discouraging obstacles. But the hardship proved inspirational, and four years ago he set up the LTL Mandarin School in Beijing to help foreigners master what can at times seem like "a language from a different planet". This year, he started the University Pathway program to help foreign students learn enough Chinese to earn university degrees on the mainland.

What first brought you to China?

I first came to China on a one-year exchange program with City University of Hong Kong in 1999. At the time, I didn't have any special interest in China or indeed Asia. I was 20 and studying in England.

While the year in Hong Kong was fun and exciting, I pretty much lived an expatriate life, and in the end I felt unsatisfied. I wanted to learn Cantonese during that year, but the university didn't offer a Cantonese course. They offered Mandarin, but they were teaching it in Cantonese. Because I didn't speak the language, I felt hidden from a world I couldn't explore, one which my classmates would not bring me to, because even though they spoke English, they did not want to speak it after class.

I returned to Europe, graduated in finance and worked for a bank in Germany. But after three months I realised that was not what I wanted to do. One rainy day, sitting in my office in Frankfurt, I decided I had to make a radical move. So, to the slight shock of my parents, I quit my job and came back to China.

What was your Mandarin-learning experience like?

There were some problems to begin with. For example, the university insisted on me paying a US$100 application fee in cash one month before the course started, and I was still in Germany. It was only after many phone calls that someone agreed to let me pay when I got to Beijing.

When I arrived, there were more blunders, as I didn't speak any Chinese, and neither the school administrator nor the teachers spoke English. I didn't know I had been placed in the beginner-intermediate class, together with Japanese and Korean students who didn't speak English, until two weeks later when I met an American student.

The classes had 25 students, so they were very big. Students from different parts of the world have different problems. For European students, while learning Chinese characters is challenging, the grammar is very easy, so you can learn step by step. The hardest part of learning Chinese is tones, since we don't have them, and the teachers didn't pay enough attention to that.

I only started to really learn Chinese when I moved in with two Chinese guys, and we tried hard to socialise together. But even that is quite difficult, because at 23, Europeans like to go to bars, but Chinese are not so interested in that. So we would go swimming, or for dinner, or cook together at home. It took effort from both sides, but it worked for us, and we remain good friends.

So I found that learning a language without social interaction doesn't work. I've seen many people learn Chinese, and those who achieve fluency are willing and able to accept and live the culture.

Why did you decide to open a school to teach Mandarin?

I worked in sales and marketing for different European companies for several years, and I learned a lot about China - both the good and the bad. For example, competition here is very tough. For me it was a great adventure to learn how these people do business, which is so different from us. However, once I understood it, it became boring.

I was 30, and I asked myself again what I wanted to do with my life. I looked back on my past year, and I realised one thing I enjoyed doing and was proud of was helping a friend who came to China to study Chinese. I helped arrange the whole thing - the university, accommodation, I advised her on how best to study. I felt that was the thing I did best - helping others to learn Chinese, and to escape the expatriate bubble. It was very fulfilling.

How is your program different?

LTL stands for Live the Language and that's how I believe one should learn Mandarin - you have to live Chinese and banish English from your life. We therefore focus on immersion. Most of our students stay with host families in Beijing, and we offer programs in Chengde , a city in nearby Hebei province, where students can spend anywhere from a weekend to three months living with a Chinese family while attending Chinese classes every day.

Is looking for a host family difficult?

Yes, very difficult, but it is what makes the difference. We have more than 30 host families now, but we have to work hard to maintain these relationships.

Many Chinese families are becoming wealthy now, have several apartments, and they are interested in hosting a foreign student, but you need to spend a lot of time convincing them. We pay them, of course, but they don't really need the money; they do it because they like our students. For example, one of the family hosts is called Uncle Guo, and the students love him. We keep going back to the family, and they say "oh, where is the student from this time? Ah, American, we haven't had an American yet; send him along." Many of our students become very close to their host families.

What is the University Pathway program?

We just started organising it, and the first batch of students start this September. I understand we are the only school offering such a program at the moment, and we thought of it because people overseas have been asking us if we could provide a program so that students could go to university in China. There are currently degree programs in English, but all the good programs are in Chinese.

Most students have been coming to China to learn the language, but we've seen increased interest in coming here for other subjects. Right now, I'd say 80 per cent of students are interested in business subjects. Another popular subject is Western medicine. This is probably because, in many countries, there are only very few places for medical studies.

Universities here are also very interested in attracting foreign students for degree programs. So far we've signed agreements with seven universities. Students can choose other universities too, but with these seven it will be easier to arrange enrolments, and we'll guide students through the process.

The program will last half a year, and will bring students with no Chinese language skills up to proficiency level four - the highest in the standard Chinese language test.

We are expecting about 20 to start in September and demand is likely to grow.

This is partly because the teaching of Chinese overseas is still in its infancy, which is why even foreign students who learned Chinese in their home countries do not speak it well enough for university-level studies in China.

Recently there has been talk of anti-foreigner sentiment. Do you feel that?

I haven't experienced it in all my years here. On the contrary, I've always felt that Chinese people take extra care of foreigners. For example, just this morning, a woman on the subway was trying to tell me that my bag zip was open, relying on her mobile phone to translate to English. Would she have done the same for a Chinese passenger? I'm not sure.

Also, you can't talk about China as a whole, because anywhere outside Beijing and Shanghai there are simply not enough foreigners for Chinese to like or dislike. The vast majority of Chinese have never met a foreigner, so how could they have strong feelings towards them?

Do you think Beijing has changed during your time here?

Beijing has really changed, from what was a backwater to an international, very self-confident city. It's quite hard to describe. I'd say almost everything has changed but the Beijingers themselves. They still roll up their shirts, drink spirits and eat grilled lamb skewers. They may have become wealthy and drive BMWs, but this is probably still what they enjoy doing the most.
May 30 2012
Hong Kong Focus on Services
Hong Kong will be allowed to invest in the mainland securities market through the Renminbi Qualified Foreign Institutional Investor program

The visit by China's Vice Premier Li Keqiang to Hong Kong last summer signalled a breakthrough for Hong Kong services operating on the Chinese mainland under CEPA. Revealing a package of 36 measures, the Vice Premier indicated that trade in services between the mainland and Hong Kong would essentially be liberalised by the end of the current 12th Five-Year Programme in 2015.

It's perhaps one of the clearest indications yet of how soon and how far the mainland market will eventually open for Hong Kong services suppliers and professionals. They can expect progressive liberalisation in a number of sectors over the next few years, until they're accorded national treatment.

Culture Among New Services
The latest service liberalization measures under Supplement VIII, the ninth phase in the CEPA arrangements, took effect in April. The new package expands the liberalization of 16 services sectors through 23 measures already granted, with five measures under three new sectors: inter-disciplinary research and experimental development services, manufacturing services, and library, museum and other cultural services.

The latest CEPA supplement, which took effect last month, makes it easier for Hong Kong services suppliers to do business on the mainland

CEPA Supplement VIII expands the number of liberalised sectors under CEPA from 44 to 47, while bringing the total number of liberalised measures to more than 300.

An important breakthrough is the relaxation of the "substantive business operations" criterion for Hong Kong services suppliers. The business scope now allowed on the mainland won't be restricted to their business in Hong Kong: services suppliers will, for the first time, be allowed to apply for CEPA benefits on the mainland in areas not confined to the 47 sectors.

The 16 services sectors covered under the latest supplement include legal services, construction services, research and development services, technical testing, analysis and product testing, manufacturing services, job intermediary services, distribution, as well as key insurance, banking and securities services. Medical services, tourism, recreational, cultural and sporting services, road transport services, professional qualification examinations and individually owned stores make up the remainder of the categories.

To cope with the fallout of the international financial crisis that began three years ago, Hong Kong is nurturing the growth of six new industries in which it enjoys clear advantages: education services, medical services, testing and certification services, environmental industries, innovation and technology, and cultural and creative industries. CEPA has incorporated measures geared to benefit those industries. The new measures also reflect the symbiotic relation between Guangdong and Hong Kong as a result of their geographic proximity and strong business ties – and the fact that cooperation between the two economies has been elevated to national-policy level.

Asia's Financial Center
Hong Kong is known for quality medical services on the mainland

Last December, Hong Kong moved to the top of the World Economic Forum's Financial Development Index, overtaking the United States and the United Kingdom for the first time since the index was launched in 2008.

The index measures the efficiency and size of banking and other financial services, the business environment, financial stability, and the extent of financial disclosure and market liberalisation. Last September, the Global Financial Centre Index, compiled by the City of London, ranked Hong Kong Asia's leading financial centre, and only marginally trailing London and New York.

CEPA has been a key mechanism employed to spearhead financial cooperation between the mainland and Hong Kong. Supplement VIII to CEPA supports mainland banks making use of Hong Kong's international financial services to develop their international business on the basis of prudent operation. To gain preferential access to the mainland market, for instance, it was established in previous CEPA provisions that the minimum asset requirement for establishing a branch or body corporate there would be set at US$6 billion, considerably lower than the requirements that would otherwise apply to non-CEPA foreign banks.

For a Hong Kong bank to set up a wholly foreign-funded bank or a foreign bank branch on the mainland, the minimum time required for maintaining a representative office on the mainland was set at one year prior to the application, compared to the two-year minimum for other foreign-funded banks.

Renminbi Investors Program
Under CEPA VIII, Hong Kong will be allowed greater involvement in the mainland financial market

Crucially, under Supplement VIII, Hong Kong will now be allowed to invest in the mainland securities market by means of the Renminbi Qualified Foreign Institutional Investors (RQFII) programme. While the RQFII programme will be the primary route for Hong Kong subsidiaries of mainland financial institutions to invest in the mainland financial market, the China Securities Regulatory Commission has also indicated that it is studying the feasibility of allowing more overseas institutional investors to participate in the pilot RQFII program. It's also looking at expanding the investment ratio and products in the future.

The RQFII program will enhance the mechanism of recycling offshore renminbi into the mainland and reinforce the role of Hong Kong as an offshore renminbi centre.

Hong Kong bank branches or wholly foreign-funded banks established in Guangdong are allowed under CEPA to set up "cross-location" sub-branches in Guangdong, without a branch being first established in the same administrative area. More than a dozen Hong Kong banks now operate in Guangdong, many of which have invoked the cross-location sub-branching measure to speed up establishment of their networks in Guangdong.

Supplement VIII to CEPA also stipulates that any mainland-incorporated banking institution established by a Hong Kong bank will be allowed to engage in the sale and distribution of mutual funds from April. This measure will expand the allowable business scope for Hong Kong banks operating on the mainland, taking advantage of mainlander needs for investment diversification as they become increasingly affluent.

Medical and General

Hong Kong's medical sector is recognised on the mainland for its professionalism and service quality, especially in Guangdong, where many people travel to Hong Kong to take advantage of the city's premier medical services.

As a hub for medical tourism, Hong Kong is better known for cutting-edge procedures and quality, with top hospitals and doctors offering medical care that rivals the best practices in the world.

Supplement VIII allows the establishment of wholly owned hospitals beyond the five pilot places of Guangdong, Shanghai, Chonqing, Fujian and Hainan, to cover all mainland municipalities and provincial capitals.

This measure will broaden the location for establishing Hong Kong-run hospitals on the mainland. This new liberalisation measure is expected to supplement existing ones by providing greater job opportunities for Hong Kong healthcare practitioners to work in Hong Kong-run hospitals on the mainland.

China Compulsory Certificate

As for Hong Kong laboratory and testing services, mainland authorities are intent on fuelling economic growth with private consumption. To be sold on the mainland, many products must receive the official safety requirement, the China Compulsory Certificate, or CCC mark.

In keeping with Supplement VII, which opened the new sector of CCC product testing for the first time to the Hong Kong services sector, Supplement VIII will expand the scope of CCC product testing from some Hong Kong-processed items to all existing products processed in Hong Kong that require the CCC mark.

The mainland has never opened CCC-related product testing to foreign testing entities before, so this CEPA provision is certainly a "WTO-plus." Among testing organisations in Hong Kong, about 160 are eligible to benefit from such a scheme. Hong Kong bodies wanting to perform testing for the relevant products under the CCC system will have to be accredited by the Hong Kong Accreditation Service, a unit of the Hong Kong Government.

Though falling short of market expectations, this measure is a marked improvement over the previous supplement, in that it covers all relevant Hong Kong-processed products. It should eventually be expanded to include items other than those processed in Hong Kong.
Service Sectors Benefiting from CEPA (1st to 9th Phase)




Service Sectors Benefiting from CEPA (1st

to 9th

Phase)

| | |
| --- | --- |
| Accounting | Medical and dental* |
| Advertising | Manufacturing services# |
| Air transport | Mining services |
| Audio-visual | Patent agency |
| Banking* | Photographic |
| Building cleaning | Printing |
| Computer and related services | Professional qualification examinations* |
| Construction and real estate*˜ | Public utility |
| Convention and exhibitions | Rail Transport |
| Cultural entertainment | Research and development* |
| Distribution*˜ | Scientific and technical consulting |
| Environmental | Securities* |
| Freight forwarding agency | Services related to management consulting and project management |
| Individually owned stores* | Social services for elderly and disabled |
| Insurance*˜ | Specialty design |
| Inter-disciplinary research and experimental development service# | Recreational, cultural and sporting services (including library/museum services#) |
| Job intermediary* | Telecommunications |
| Job referral agency* | Tourism*˜ |
| Legal* | Trade mark agency |
| Logistics | Translation and interpretation |
| Management consulting | Transport (road and maritime) |
| Market research | |

* Existing services sectors with liberalisation under Supplement VIII to CEPA
˜ Guangdong pilot and implementation measures under Supplement VIII to CEPA
# New services sectors under Supplement VIII to CEPA
Financing America in Asia - Hong Kong is a good partner
Patricia Loui recently visited Hong Kong on the latest of her regular stops in Asia as a member of the Board of Directors of the Export-Import Bank of the United States (Ex-Im Bank). With more than 30 years' experience in the region, Director Loui is now leading the charge to promote US exports to Asia.

In Six Questions, Ms Loui explains why the official US export credit agency believes it has found a good partner in Hong Kong to help local SMEs finance exports of US goods and services

What brings you to Hong Kong?
The purpose of our visit is to identify opportunities for us to grow our China portfolio. We are interested in Hong Kong for its role as the United States' 10th-largest trading partner, as well as its hub relationship of pass-through investment to China. We find that Hong Kong's banking and financial services, as well as legal and other consulting professions, all offer tremendous insight to the trade relationships within the country. And we look to establishing with banks and other consultants in Hong Kong a mutually beneficial and valuable relationship in identifying opportunities in Greater China that will help increase Ex-Im Bank financing to its client base.

What services does Ex-Im Bank provide for small and medium-sized businesses here?
Ex-Im Bank was founded in 1934 to help support US jobs in the manufacturing and services sectors. We've been growing rapidly in the last few years, since President Obama launched the National Export Initiative (NEI), which seeks to double exports by 2015.

Currently, 85 per cent of our transactions and 20 per cent of our dollar value go to US SMEs. This benefits SMEs in other countries, because experience shows that SMEs tend to work with each other. One of the risks of a small or medium-size business is collecting on the products and services that you sell. The risk, or at least the perception of risk, is even greater when you are going outside your home country. So one very important product that we offer is insuring the US exporter's accounts receivable. By doing that, the risk of non-payment is eliminated, enabling the seller to offer more favourable terms to international buyers.

Another major initiative is the Foreign Buyer programme, which allows importers of American products and services to get financing for their purchases of US-made products or services. We're agnostic about the country of registration, so if Siemens is manufacturing in North Carolina, for example, we can finance them. The buyer-financing programme enables importers to get very competitive terms. We do medium term of five-to-seven repayment terms and, for larger purchases or structured finance projects, we can go up to 10 to 12 years. For renewable energy, we can lend for a term of 18 years at fixed rates.

What gaps in trade financing do you help to bridge?
Ex-Im steps in to provide an additional source of financing when it is not available to a qualified company in the commercial private-sector market.

We also level the playing field. The classic example is Airbus, which has been heavily financed by European export credit agencies. We believe, with confidence, that when American products have comparable financing, our quality, reliability, lifespan and economic life value all give US-made products the ability to compete effectively.

A good example is Hong Kong's Cathay Pacific, which was looking to buy additional fleet, and considered both Boeing and Airbus. The financing available was critical in their decision-making. With Airbus offering financing through European export credit agencies, they obviously wanted to know what type of financing Ex-Im could match for Boeing. When the offer on financing was comparable, they chose what was perceived as the better product for their needs, and that was the Boeing 777.

Can that also work for smaller companies?
Yes, our smallest loan last year was US$4,000. For example, we financed the export of pickles to China by a family-owned business. In the power sector, we have financed smaller power units that are more suited as independent, stand-alone units within business industrial parks in Southeast Asia. When there are products from Japan, Europe and China, we can level the playing field for a product that is manufactured in the United States.

Another small company we finance is in the water-purification and filtering business. This is another family-owned company selling to large and small buyers around the world, and it has grown significantly due to Ex-Im financing.

In what other SME sectors do you help bridge financing gaps?
Renewable energy is another area. In many cases, renewable energy is more expensive to produce, yet it has a number of great benefits in terms of the economy as a domestic source and the overall environment as a renewable source. So, for example, in the solar area, China is very aggressive in supporting solar panel manufacturers. We've also stepped up to finance US-made solar equipment for major projects in India. We offer an 18-year fixed rate for renewable energy. By being able to lock in 18-year financing at a fixed rate, these renewable energy projects become much more viable.

Another area of SME financing is franchising of American brands, which is very big in Asia. We can finance the upfront licensing fee for a foreign buyer and insure accounts receivable for the domestic exporter. In the small-business area, we've financed hair care and small automotive products, educational materials and architectural services.

What role can Hong Kong play in supporting your efforts in Asia?
Hong Kong knows the trade finance area extremely well. Historically, it's been built by trading companies, and this expertise is important to US exporters. One very strong indicator of the important partnership between Hong Kong and the United States is the Pacific Bridge Initiative, which was started by the Hong Kong Trade Development Council. We understand it's the first agency outside of the United States government to support the US NEI.

And the fact that Hong Kong has a large group of professionals with expertise in trade financing and trade law, trade services and trade consulting benefits Hong Kong and the US. Hong Kong also has a well-developed bank infrastructure and years of experience in the trade finance area. Much of Ex-Im's work is guaranteeing financing for banks, so this is a product companies here can use. Also, as we see more SMEs move into the Asia-Pacific region, they will be looking for consultants that Hong Kong can offer.

About Patricia M. Loui (PBN November 2 2011):

Patricia M. Loui of Honolulu was confirmed to a seat on the board of the Export-Import Bank of the United States by the U.S. Senate.

Patricia M. Loui has been confirmed for a place on the board of the Export-Import Bank of the United States , Sen. Daniel Akaka's office said Wednesday.

Loui, who was nominated by President Barack Obama in May to serve on the board, was confirmed by the full Senate late Tuesday night, Akaka's office said. She will serve on the board until Jan. 20, 2015.

"I spoke to Pat today and congratulated her on her well-deserved confirmation," Akaka said in a statement. "She brings a wealth of international experience in banking, business, and economic development to the Export-Import Bank, and I am confident that the board will benefit from her skills, background and work ethic."

Loui, the founder of the Hawaii-based marketing research firm OmniTrack Group Inc., also previously served as president of the East-West Center Association and as vice president of marketing, planning and development at Bank of Hawaii.

She also most recently served on the Hawaii Host Committee for the Asia-Pacific Economic Cooperation meetings, but resigned when she was nominated to the Export-Import Bank board.
May 28 2012
Home advantage - Retail outlet companies are trying to reverse the trend of Chinese shoppers flying overseas to shop for luxury goods By Yao Jing
Beijing Scitech Premium Outlet Mall attracts Chinese shoppers who are looking to buy luxury brand products at discounted prices.

Retail outlet companies are trying to reverse the trend of Chinese shoppers flying overseas to shop for luxury goods

The number of affluent Chinese who are flying overseas in the hunt for luxury goods is soaring, mostly because prices for high-end items are higher on the Chinese mainland due to import tariffs. Many are willing to pay for a flight to the United Kingdom for a chance to shop at the outlets of Bicester Village in Oxfordshire or to Woodbury Commons in New York.

But a few Chinese retail companies are trying to change that outbound trend. Companies such as the Bailian Group, China's largest retail conglomerate, are trying to bring the luxury items to affluent shoppers by building outlet centers in major cities across the country.

More than 300 outlet centers have been built in around 81 cities in China over the past decade, says Guo Zengli, director of Mall China Information Center, a nonprofit organization serving China's retail property. Recent deals and openings this year, however, show that Chinese companies, as well as foreign firms, are looking to add to that number.

In March, the Bailian Group signed an agreement with Simon Property Group, the world's leading retail real estate company, to develop an outlet center in Shanghai adjacent to the Shanghai Disney Resort. Beijing-based Yansha Outlets Shopping Center is poised to build the second outlet mall and Beijing Scitech Premium Outlet Mall will soon break ground on the second phase of construction. Outlet (China) Ltd's BalletTown in both Beijing and Foshan, Guangdong province, is scheduled to open at the end of this year.

Value Retail, a luxury outlets company based in London, said it will also open its first outlet mall in China next year, a 60,000-square-meter center in Suzhou, Jiangsu province.

With many international luxury brands investing in the Chinese market and the country's urban middle class growing in wealth, the prospects for the outlets industry in the second-largest luxury goods market are rosy but a bit "messy" at the moment, Guo says.

"There are fewer than 30 authentic outlet centers among the 300 in China. Most of them cannot meet the criterion of a real outlet center. Some of them are just small discount stores without any well-known brands," Guo says.
In comparison, since the world's first multi-tenant outlet center, the Reading Outlet Center, opened in 1974 in Pennsylvania, there were 179 outlet centers in the United States in June 2011, according to Value Retail News. Kou Ping, general manager of Yansha Outlets, says one of the reasons why Chinese outlet centers have been disappointing in the past is that many of the centers misunderstood the business model and luxury brands were not attracted to the Chinese market.

"We did not understand the nature of the outlet center at first," she says. "Luxury brands also could not provide enough leftover products as they were not expanding in China at the same speed as now. Consumers also knew nothing about outlets."

Ten years ago, Yansha Outlets, the first outlet mall in China, opened off the Fourth Ring Road in Beijing at the Yansha Youyi Shopping City out of two converted workshops.

Last year, sales at Yansha Outlets totaled 3.2 billion yuan ($506 million, 396 million euros), a dramatic rise from 300 million yuan in sales in 2002. More than 700 brands are sold in the mall, Kou says. With the opening of a third wing five years ago, Yansha Outlets introduced more brands such as Hugo Boss, Zegna and MaxMara. Western lines account for 50 percent of the brands at the mall, compared with just 10 percent a decade ago.

Although Kou knows that discounted luxury items are at core of the mall's allure, she is cautious about increasing the proportion of luxury brands. "Before 2008, we were just testing the waters and I think we have figured out an appropriate model which fits the local situation," Kou says.

While only a small percentage of China's population travels overseas to shop for the best in luxury brands, the market is massive: According to the World Luxury Association, Chinese travelers spent about $7.2 billion on luxury goods during the Spring Festival earlier in the year.

An obvious problem, however, is that unlike in Europe and the US, most Chinese consumers cannot afford luxury brands. Furthermore, China charges high duties on imports of high-end goods such as clothing, footwear and watches.

Statistics from the Ministry of Commerce show that watches, suitcases, garments, liquor and electronics are priced 45 percent higher on the mainland than in Hong Kong, 51 percent higher compared to the US and 72 percent higher than in France.

Luxury items imported into China are subject to three taxes: customs tariffs (at a minimum of 4.4 percent but at a maximum of 60 percent), value-added tax (17 percent), and a consumption tax (up to 30 percent).
"Compared with Western outlet centers, we don't have the price advantage," Kou says.

Ninety-five percent of the customers at Yansha are Chinese shoppers so the mall must keep its local brands to attract a broad range of consumers and stick to the high quality, low price concept.

The Beijing Scitech Premium Outlet Mall, on the other hand, is a completely different experience from Yansha. Operated by Hong Kong-based investment holding company PCD Stores (Group) Ltd, it opened in 2009 and was built to look like a complex of European villas. It offers not only shopping, but entertainment and leisure as well over 150,00 sq m, though the car park has a capacity of only 1,600.

Top name brands include Armani, Burberry, Coach and MCM and most are sold at discounted prices starting at 20 percent off and as high as 80 percent off. Along with brands such as Tommy Hilfiger and Calvin Klein, Western brands account for three-fourths of the more than 200 brands at Beijing Scitech.

Located along Xiangjiang North Road in Chaoyang district, about a 25-minute drive from the center of Beijing, the stores are housed within two-story goose yellow buildings on wide streets and sidewalks. It is common to see lovers snapping photos and parents playing with their children near the fountain at the square.

"About 30,000 customers come here on the weekends. On weekdays, the number is half or one-third of that," says Anthony P. Chan, chairman of Scitech Group Company Ltd.

Turnover for the outlet center reached 1 billion yuan last year, more than double from 2009. More brands, Chan says, hope to open stores in the complex as a way of branching out in China.

"The second project in Beijing will be started in the first season of 2013 and its Shenyang outlet will be opened in July," Chan says. About 15 percent of the brands at Scitech supplement their stock of goods with merchandise especially created for the outlets store, a common practice in many outlets in the US and Europe.

Gap, the San Francisco-based clothing retailer, will open its first outlet store in China at Beijing Scitech Premium Outlet at the end of this year.

Guo from the Mall China Information Center says an obstacle to the long-term development of malls such as Scitech is that big name brands are not producing enough special or out-of-season products for outlet stores.

Problems not withstanding, the government's continuous moves to tighten real estate policies in the residential market has led more property developers to turn their eyes to commercial properties, which means more malls.

Outlets (China) Ltd, backed by the Beijing Capital Land Ltd and the China Infrastructure Group Ltd, is expected to invest 12 billion yuan in three malls in Beijing, Guangdong and Zhejiang. According to the company, it will set up a batch of outlets in China's major provincial capitals and tourist sites within a decade.

Outlet malls will be one of the company's engines of growth, accounting for 20 percent of its compound real estate product line, says Lin Zhuoyan, chairman of Outlet (China) Ltd. The company also hopes to use entertainment squares, convention centers, cinemas, supermarkets and hotels in the BalletTown projects.

"We have to develop residential buildings together as we can get part of money back quickly after we sell the residential projects," Lin says.

To ensure a variety of goods at low prices, the company will work with parent companies abroad instead of their sales agencies in China.

"But we will allocate a different mix of brands in each city depending on different consumer groups, different spending habits and different degrees of brand awareness," Lin says.
May 27 2012
U.S. backs down in visas row on China's Confucius Institute Teachers
President Hu Jintao tours a Confucius Institute in Chicago.

State Department revises directive that led to warning some Chinese teachers working for the Confucius Institutewould have to leave America next month.

The US has backed down on new visa requirements for instructors at China's premier overseas cultural institution, ending a week of deportation fears and averting another row between Beijing and Washington.

Chinese teachers working for the Chinese-government-sponsored Confucius Institute (CI) in the US under J-1 visas - which are given to people participating in work- and study-based exchange programmes - had earlier been told that they were violating the rules by teaching in primary and secondary schools, rather than at university level.

They were told they must leave by the end of next month. About 51 of the 600 Chinese instructors working with the CI in the US were estimated to have been affected.

Some critics in China had complained that the directive was discriminatory against the CI, saying other countries' cultural institutions in the US were not affected.

A revision of the policy guidance issued by the US State Department now says the accreditation given to 81 CI branches in the US is sufficient.

Instructors "are not required to depart the United States at the end of this academic year".

The Chinese embassy in Washington said the new US directive was the result of diplomatic negotiations, with the State Department promising to take "a flexible attitude" in dealing with the instructors' visa problem, Xinhua reported.

The new directive, issued on Friday in Washington, was a revised statement of a May 17 directive that sparked the deportation concerns, a statement on the State Department's Bureau of Educational and Cultural Affairs website said.

"The original directive that we issued a couple of days ago was, frankly, sloppy and not complete," State Department spokeswoman Victoria Nuland said. "That's what caused all this confusion. So we now have a new directive.

"We regret the fact that the first notice was not our best work - let's put it that way."

Xu Lin , director of China's Office of Chinese Language Council International, which supervises the CI, welcomed the new directive yesterday, describing it as a "quick correction", Xinhua said.

"The Confucius Institute is a new organisation … which has some things that need to improve," Xu told Xinhua. "We could put up with different opinions from different people [in the US], but we can't tolerant emotional abuse. The May 17 directive damaged the feelings of people from the two countries, but it was corrected very quickly."

The Chinese embassy's minister counsellor, Fang Maotian said on Friday that the embassy had raised the issue with the State Department as soon as the old directive was issued, and the embassy's education affairs official and their counterparts from the State Department held a meeting on Thursday.
May 13 2012
Western views of China increasingly positive By Zhou Wa
A man attending the Hanoverian Industry Expo in Germany visits the China exhibition area on April 24. About 400 Chinese enterprises attended the expo.

An increasing number of people in Western countries view China's influence in a favorable light, according to a BBC World Service poll published on Friday.

The percentage of people in the United Kingdom who view China's influence as positive grew from 38 percent in 2011 to 57 percent in 2012. Similar increases were reported in Australia (43 to 61 percent), Canada (35 to 53 percent) and Germany (24 to 42 percent).

In the United States, the percentage of people holding negative views of China dropped from 51 percent to 46 percent during the same period, and the number of people holding positive views of the country increased from 42 to 46 percent.

Fifty percent of the people interviewed for the poll regard China as having a positive influence on the world, up 6 percentage points from 2011. The percentage of people who view China's influence as positive has increased in each of the last three years.

People from Africa, Asia and Latin American countries were more likely to have favorable opinions of China, while people in major Western countries tend to have negative opinions.
The survey was conducted for the BBC World Service by the international polling firm GlobeScan, its research partners across the world and the Program on International Policy Attitudes at the University of Maryland in the United States.

A total of 24,090 people from 22 countries including the US, the UK, China and Egypt were interviewed face-to-face or by telephone between Dec 6, 2011 and Feb 17.

While favorable opinions of China have increased dramatically in Western countries, some of China's neighbors and emerging countries still hold negative opinions on the country's influence on the world.

According to the poll, 64 percent of people in South Korea have a negative opinion of China, up 11 percentage points from 2011. One out of every two Japanese have negative views of the country, compared to just one out of 10 in 2011.

The trend is similar in emerging countries such as Brazil, where the percentage of people with favorable opinions of China dropped from 55 to 48 percent, and Russia (52 to 46 percent).

The more favorable image of China among Western countries shows that these countries need China more than ever to solve their economic problems, said Su Hao, an expert on international affairs with China Foreign Affairs University in Beijing.

"People from Western countries themselves have benefited from cheap Chinese products with relative good quality. The Chinese products are more appropriate to meet their needs," Su said.

"It is Chinese economic assistance to these countries and their closer economic ties with China that have improved China's popularity in these countries."

The negative opinions of China in neighboring countries is due to maritime disputes and sensitive issues such as the confrontation between a Chinese captain and South Korean coastguard officers, Su added.

China's economy is more complementary with Western countries, and more competitive with emerging markets, which explains the decrease in positive views of China in some emerging countries, said Jin Canrong, an expert on international relations with Renmin University of China.

Both Su and Jin warned that the poll is based on people's perceptual knowledge of China and does not reflect the practical ties between China and relevant countries.
May 11 2012
Mutual benefits of Sino-US trade - Tung Chee-hwa says that, despite the quarrels that at times mar the relationship between China and the US, the facts and figures show that both have profited greatly from the flow of trade, services and capital By Tung Chee-hwa
t has been four years since the start of the global financial crisis of 2008, and, despite a slight recovery, the need for China and the United States to work together for global financial stability and economic recovery is higher than ever. But the most urgent need is a true understanding of the economic benefits each economy has provided the other since the start of China's reform and opening.

Since 1978, China's gross domestic product has grown to over US$7trillion, a 130-fold increase in 34 years. China's international trade has grown to US$3.6trillion by the end of 2011, an increase of over 100 times. More importantly, hundreds of millions of Chinese citizens have been lifted out of poverty.

America, too, has benefited. Since China joined the World Trade Organisation, inexpensive products imported into the US from China have kept inflation low, saving the average American household US$1,000 each year, according to an Oxford Economics study. Additionally, the investment of China's surpluses into US treasury bonds has also lowered interest rates in the United States.

In the past decade, US exports to China have risen at an astonishing pace, doubling about every four years - a trend that is set to continue. China has now replaced Japan as the third- largest importing nation of American goods, after Canada and Mexico. By 2011, total exports from the US to China reached US$103.9billion. If bilateral trade continues to grow at such a pace, the total export value by 2016 will be over US$200billion, creating 800,000 additional jobs in the US.

The enormous Chinese consumer market presents a tremendous opportunity to American businesses. Brand-name American companies such as Proctor & Gamble, FedEx, UPS, KFC, McDonald's, Ford, General Motors, Walmart and many others operate freely in China, winning substantial market share and becoming household names. Apple's iPad sales are doing very well in China.

And in 2011 alone, the US welcomed over one million tourists from China. It is estimated that every Chinese tourist, during a two-week visit to the US, spends US$6,000. For every one million tourists, 100,000 jobs are created in the US, both directly and indirectly.

Of course, in any broad economic and trade relationship between two large and vibrant economies, there will always be conflicts of one kind or another.

It has been advocated in America that its recent high unemployment rate is because of imports from China. This is simply not true. For an extended period of time before June 2008, the unemployment rate in the US was about 5 per cent. But, by 2009, unemployment had shot up to 10per cent, not because of China but because of the onset of the global financial crisis and the subsequent recession. Furthermore, most of the goods China makes and exports to the US result from jobs the average American would not want.

If China is not manufacturing these products, the goods are likely to be made in Indonesia, Vietnam, Bangladesh and the like. With regard to the value of the renminbi, the last four years have seen a 20per cent appreciation in the currency, and Chinese workers in the manufacturing sector have also received substantial salary increases.

These factors, combined with increased imports from the US and the rest of the world, have caused the trade and current account surpluses in China to rapidly diminish. We are now seeing the desired effects of the gradual appreciation of the renminbi.

While some complaints may be based on exaggerated or erroneous contentions, some issues are real. In addition to renminbi currency valuation and the effects of Chinese exports on US jobs, from the American side, the most common of these conflicts are complaints about intellectual property rights protection, government procurement agreement as it relates to indigenous innovation, and the role of state-owned enterprises in the economy.

Chinese complaints are about US export control on hi-tech products, the limitation of Chinese investment in the US and China's market economy status. These issues need to be addressed.

In the next 10 years, China's reform and opening will be broader and deeper in all respects. Its economy will be driven by domestic consumption and by the expansion of the service sector. Value-added and innovative manufacturing will be emphasised, and science and technology will be relied on. Together, urbanisation and rural renewal will be the drivers of economic activities.

The Chinese manufacturing sector is also moving up the value chain, with emphasis on innovation and technology. The US manufacturing sector is a leader in this area, so there is a great opportunity for the US to participate in this development and thereby gain access to the vast Chinese market.

China imports large quantities of hi-tech products from around the world. The US has restricted many such exports to China, but this has not stopped China from buying from other developed countries. At present, America has not lifted these restrictions, thereby depriving US businesses of access to the growing Chinese market.

China is a nation of savers. Therefore, although China has huge domestic needs, it still has ample surplus capital to export. Through the investment of Chinese capital, millions of jobs could be created in the US. This in turn would increase US exports to China.

I am confident that, in the coming 10 years, with the complementary nature of our two economies and the new economic direction of both countries, this will create sweeping new opportunities that will add to, if not multiply, the enormous benefits they enjoy today.

The US and China share a symbiotic, mutually beneficial and inextricably linked economic relationship. A vigorous America is good for China, and a successful China is good for America. Through trade and commerce, let us build a stronger bond between the US and China, not only for the people of both countries, but for the world at large.

Tung Chee-hwa is founding chairman of the China-United States Exchange Foundation. This is an abridged version of his recent speech to the Economic Club of New York
May 1 2012
U.S. Trans-Pacific Trade Deal is a Waste, Says Free Trader By Bob Davis
Arvind Subramanian is both a free trader and a U.S.-based expert on Chinese economic power. So why does the Peterson Institute for International Economics senior fellow argue that efforts to create a Trans-Pacific Partnership should be scrapped?

The proposed trade deal with Asian nations, including Japan, is the flagship trade effort of the Obama administration. It would more deeply tie the U.S. to Asia and, with the inclusion of Japan as a potential signee, become the most significant U.S. trade deal in many years.

It's also aimed at a huge non-participant, China. The idea is to create rules governing state-owned enterprises, currency trading, antitrust policy as well as the usual trade fare, which would become international norms. If it works, China would either become a signatory or eventually adopt the practices.

But Mr. Subramanian argues it simply won't work — or won't work as well as other measures.

"China would never agree to just fall in line with rules in the negotiations of which it has not participated," he writes in a policy brief.

If China did agree to participate in the talks, it would have huge bargaining leverage. Better to have multilateral talks where China's power is diluted by the addition of Brazil, Europe, India and others to the talks.

A third possibility is that China comes to view the TPP as a hostile effort to "encircle" China economically. "TPP could thus provoke China into playing the regionalism game in a way that could fundamentally fragment the trading system," he writes.

But the alternatives to the TPP aren't promising either. The World Trade Organization's "Doha Round" negotiations are "moribund," he notes. (They have been going on for more than a decade with no sign they will be concluded any time soon — or ever. )

Mr. Subramanian suggests a few possibilities: giving China equal status to the U.S. and Europe at the International Monetary Fund, promoting the yuan as an international currency and granting China market-economy status so it has a better chance to defend against anti-dumping actions. He would also upgrade the Strategic and Economic Dialogue between the U.S. and China — the latest round starts on Thursday in Beijing — to include Europe, Japan, Brazil and India.

The idea is to make China feel its rise is welcomed by other nations and also to lessen its power by including other nations. But he warns: "There remains a distinct possibility of an eventual unbenign exercise of dominance by a hegemonic or near-hegemonic China."
April 23 2012
Cameron may work on Chinese film By Liu Wei
Titanic director James Cameron and his wife, Suzy Amis, walk the red carpet at the Second Beijing International Film Festival.

James Cameron - the director of box office smashes Titanic and Avatar, who is known for his cutting-edge special effects - may soon work on a 3-D Chinese film.

Cameron told a news conference at the Second Beijing International Film Festival on Monday that his company would probably join the crew of The Art of War, a 3-D Chinese film based on the classic book about military strategies.

"We are still in discussions, but have agreed on the principles that we will provide certain service to ensure the quality of 3-D," he said.

The film's director, Hu Bo, approached him a year ago and sought opportunities for his company to provide 3-D camera and technology for the first epic 3-D film in China.

"There is no signed agreement now, but we are very excited about the possibilities to work with Chinese companies, especially when China as a market has been expanding so rapidly," Cameron said.

China has become the second-largest box office contributor outside North America for many Hollywood blockbusters, including Cameron's Avatar, which grossed 1.3 billion yuan ($210 million) in the country, about 8 percent of the film's global box office revenue.

His Titanic 3-D has raked in more than 500 million yuan in two weeks in Chinese theaters.

Adding to the boom is a deal made earlier this year during Vice-President Xi Jinping's visit to the United States, which raised the foreign films' box office share in China to 25 percent, a jump from the original 13 percent. And 14 more foreign films (above the current 20), mainly IMAX and 3-D productions, will be released in Chinese theaters.

Cameron gave a lecture to students of the Beijing Film Academy, and will talk about 3-D technology in the making of Titanic. His traveling companions to Beijing include James Gianopulos, chairman of Fox Filmed Entertainment, John Landau, his work partner and producer for 18 years, and Wendi Deng, wife of News Corporation chairman and CEO Rupert Murdoch.

They will talk about international co-productions at a forum today with Michael C. Ellis, president and managing director of the Asia-Pacific Region for the Motion Picture Association of America, and Han Sanping, chairman of China Film Group. The director is open to further involvement in the Chinese film industry.

"The government is clearly creating incentives for co-productions," he said. "But there are requirements that need to be met, such as the approval of scripts. We need to weigh those factors very carefully."
April 22 2012
China Grows Its Dairy Farms With a Global Cattle Drive By Alex Frangos


Calves at China Modern Dairy's 20,000-head farm in Feidong, Anhui province, were bred from highly productive foreign cows.

In one of the largest transoceanic cattle drives in history, as many as 100,000 heifers from Uruguay, Australia and New Zealand will board multistory cattle-carrying ships this year—bound for China.

The global roundup is a key part of China's effort to satisfy growing domestic demand for milk and remake its dairies after a deadly tainted-milk scandal in 2008 devastated production and caused distrustful consumers to turn to imported milk.

China's dairy industry has a long way to go: Chinese cows are only half as productive as their American cousins. But just as it built up dominance in electronics, textile and toy manufacturing, the Chinese government has set its sights on becoming a dominant milk producer. It has set production goals, created tax and other financial incentives for big dairy producers and encouraged foreign investors to come in with capital and technology. And it is buying up high-producing foreign cows by the boatload.

Since 2009, China has become the world's most important buyer of dairy cows, driving up prices for calves world-wide and putting pressure on other markets such as alfalfa and bull semen. China has imported nearly 250,000 live heifers, or cows that haven't yet reproduced, since 2009, according to data tracker Global Trade Information Services. Last year it spent more than $250 million on 100,000 foreign heifers, about 25 ships worth.

Some farmers in countries that are exporting their prized heifers worry that in coming years China could go from customer to rival in the global milk market.

"It's building the herds of our competitors," says Nick Renyard, owner of a 550-head dairy in Victoria State, Australia. "It's like selling the family silver, you can only do it once."
Australian heifers are offloaded onto a truck at a Chinese port.

The cow pipeline is expected to stay full for several more years as Chinese dairies try to meet government production targets that could eventually wean the country from imported milk.

"We have to solve our dairy problem ourselves," says Deng Jiuqiang, the millionaire founder and chairman of China Modern Dairy, which has quickly become the country's largest milk producer. Modeled on America's biggest dairies, Modern Dairy has 15 industrial farms and another four under construction. The company now has 128,759 head of cattle and is importing about 22,000 more per year until it reaches its goal of 300,000, including imports and breeding, around 2015.

Modern Dairy, which benefits from government subsidies and tax incentives, received critical funding from U.S. private-equity firm KKR., along with several other investors, which put $150 million into the company. KKR stationed two full-time consultants on its farms, advising on, among other things, the best mix of fodder to feed cows to maximize production.

"China has a short history of dairy. I'm confident we can be doing as well as the U.S." Mr. Deng says.

To get to that point, China's dairy industry will have to overcome the lingering distrust from the melamine scandal of 2008. Milk was in short supply at the time and the government, concerned with rising inflation, leaned on milk sellers to hold down prices, crimping profits.

Traders and processors watered down the milk and added toxic melamine powder to pass crude protein tests. At least six babies died, and tens of thousands suffered kidney problems.

In reaction, China quickly implemented an overhaul. Provincial governments banned backyard farms and insisted small-time operators move their animals into approved group facilities known as cow hotels that could be more easily monitored by inspectors.

To encourage growth of big farms, the government has mandated that the country's top milk processors—those who buy from the farms and turn raw milk into boxed milk, yogurt, ice cream and cheese—purchase a substantial percentage of their milk from big farms.

Foreign companies and financiers have jumped on China's dairy bandwagon. Hong Kong-based private-equity firm Olympus Capital and Mueller Milch, a large German dairy, have invested in Chinese dairies. New Zealand dairy cooperative Fonterra, the world's biggest exporter of milk products, is building its third dairy farm in China stocked with Kiwi cows.
Offices of China Modern Dairy

Modern Dairy, like other big Chinese dairy farms, enjoys substantial state support. The company received government subsides of $7.6 million in 2010 and 2011, most of which was earmarked to purchase cows, according to company securities filings. (It set aside $113 million from its 2010 initial public offering to purchase heifers.)

At its $100 million Feidong facility, a digital photo montage in the showroom shows Premier Wen Jiabao and Mr. Deng, Modern Dairy's founder, touring a Modern Dairy farm.

"The local government is very supportive," says Chief Executive Gao Lina, a former government official and Communist Party member. The government provided the land and gave 3,000 yuan ($475) per cow. As an agricultural producer, the company pays no income taxes.

Chinese on average drink about 2.5 gallons of liquid milk a year, less than a third as much as Japanese and South Koreans, and far behind the 20.8 gallons drunk in the U.S., according to the International Dairy Federation, a Brussels-based trade group. That is after a 90% increase in consumer spending in the past five years, to $32 billion, according to market researchers Euromonitor International. Euromonitor expects the milk consumption gap will narrow as more Chinese move to cities, diets change and spending on dairy grows at a similar pace in the years ahead.

Modern Dairy, which wasn't implicated in the melamine scandals, could never meet that demand relying on the country's existing herd.

China's 12 million cows are generally poor producers. About 15% of the nation's cows were lost after the melamine scandal as financially ruined farmers sold them for meat. The ones left are prone to illness and have short lives. Chinese cows, imported from Europe decades ago but never scientifically bred, produce on average four tons of milk a year, compared with nine tons for American cows.

Breeding Chinese cows with American bull semen would eventually improve the stock, but it would take decades to accomplish, according to animal husbandry experts.

"You can't keep breeding short animals and hope to get tall animals," says KKR's Julian Wolhardt.

Modern Dairy and its investors figure the only way to bring Chinese cows up to speed is to replace them. Output per cow at Modern Dairy has increased from 6.1 tons per year in 2008 to 7.8 tons in 2011 thanks to the new cows and investments in American-style facilities and feeding techniques.

Mr. Deng founded China Dairy in 2004, hoping to catch the wave of rising demand. In the early part of the decade, he made his riches as an executive at Mengniu, one of China's largest milk processors. The company struggled to get enough quality milk from China's network of small farmers and milk collection stations. Mr. Deng set off on his own to become a producer with assurances that Mengniu would be his main customer. Today, Modern Dairy sells 98.5% of its milk to Mengniu.

Wearing a red cashmere sweater while eating a lunch of steamed buns, pickled garlic and spicy lamb salad in the farm's executive dining room, he recalled his visits to American dairies in Texas and Ohio. He was most impressed that Americans had figured out how to densely pack cows into sheds.

"You don't have to own lots of land, and you can be more efficient," he said. China's high population density limits grazing land. Grazed cows, like those in Australia and New Zealand, produce less milk than those confined to sheds, where feeding is controlled.

The result is farms like Modern Dairy's Feidong facility, a sprawling set of buildings that from the outside looks more like an electronics factory than a farm. Cows live in football-field-size covered sheds, rarely venture outdoors and are milked three times a day on German-made, bovine merry-go-rounds, with automated pumps that measure each cow's milk flow by the second and send that data to central computers.

Mr. Deng motions with his hands toward the sheds. "On this side we have 10,000 cows. On that side we have another 10,000 cows," he says.

Getting the right cows has been difficult. Since an outbreak of mad-cow disease in the U.S. in 2003, China has banned live cattle imports from North America, which has the world's most productive large herd.

Mr. Deng turned to Australia and New Zealand. And more recently, as demand outstripped supply in those countries, to Uruguay, the country farthest away from China on the globe. The three countries are currently the only ones approved by Chinese authorities.

Modern Dairy impregnates the immigrant heifers exclusively with American bull semen that arrives by air in pencil-size "doses" stored frozen in liquid nitrogen canisters.

Since 2002, China has gone from America's 45th-largest recipient of bovine semen to the 9th-largest, accepting 366,000 doses last year, around $10 to $30 a slug. (The more expensive doses have been "sexed," raising the likelihood for a female offspring.)

America also sends the food the cows eat because China doesn't have the supply of high-protein alfalfa that top producing cows need. Demand from Chinese cows has helped U.S. alfalfa prices double in the past year.

China's generous offers for heifers are helping farmers in Australia, New Zealand and Uruguay. But it is also raising concerns in some overseas farming communities.

"Its extraordinary money they are offering," says Roma Britnell, an Australian dairy farmer who recently sold 50 calves to a Chinese buyer. She used the A$62,500 ($65,000) proceeds to pay down debt on the farm she and her husband bought in 2000.

"I would not say that it created turmoil, but almost," says Hector Laca-Viña, a Uruguayan agronomist. China imported 15% of Uruguay's young dairy herd last year, skimming from Uruguay's future productivity. Farmers were well compensated, with prices hitting $1,400 a heifer, up 50% in two years.

Aboard the cattle-carrying ships bound for China, heifers and calves are penned and bed down on piles of sawdust or similar material, according to cattle shippers. Regulations require emergency provisions in case the ship gets stranded. Dehydration is a problem and ample ventilation is needed to prevent buildup of deadly gasses. Onboard veterinary staff and stockmen attend to the animals' health. Dead animals are generally buried at sea.

Upon arrival in China, the animals spend 45 days in quarantine before traveling by truck to the farm. They are artificially inseminated to produce a calf and start their milk production.

At the Modern Dairy Feidong farm, which is modeled after U.S. farms, cows spend their lives in sheds that hold up to 3,000 head, sleeping and eating in pens lined with recycled and sterilized manure that serves as bedding. An automatic scraper slides across the concrete floor to remove fresh manure. Uniformed guards watch the perimeter outside.

New age music, including a version of "Time to Say Goodbye," made famous by Andrea Bocelli, plays from loudspeakers while the cows are being milked. Chris Sun, KKR's representative, says it is meant to calm the cows, though there is no scientific proof that it works.

At a similar Modern Dairy farm in Shaanxi province of central China, lives Mr. Deng's proudest achievement. She goes by the number 08080434.

Her mother was an Australian cow imported to China. Her American father did his part via imported frozen semen. Her output in 2011 was 22 tons of milk, more than four times the national average.

Mr. Deng says the future of his business isn't the milk, but the cows. In 2015 when Modern Dairy's farms are fully populated, he plans to start selling the offspring to other farms.

"Our goal is to renew the biological capital," he says. "It's more profitable to sell the cows than the milk."
April 20 2012
Farmers Retool to Feed China - Dairies in California Make Powdered Milk Last Longer for Growing Middle Class By Vauhina Vara

California's agricultural Central Valley has thrived for decades on Americans' seemingly endless appetites. Now, with U.S. market growth slowing, farmers are going after a different group of consumers: middle-class Chinese attracted to Western fare like milk and almonds.
Consider Dave Bush, operating chief of California Dairies Inc. Mr. Bush recently discovered that the dairy cooperative, the nation's second-largest, wasn't exporting very much to China, whose population is now the world's biggest consumer of milk powder. So he invested $35 million in machines here that process milk into powder to meet Chinese and other Asian requirements.

"We're in an evolution," Mr. Bush said. "No question."

U.S. Dairy Producers Look to China - Milk trucks at California Dairies Inc.'s dairy processing plant in Visalia, Calif.

The shifting global economy is forcing more U.S. farmers to turn to markets they once treated as an afterthought and reshaping the relationship between rural America and the rest of the world. Milk powder from California Dairies now ends up in ice cream, flavored dairy drinks and infant formula sold by China's biggest dairy company, Inner Mongolia Yili Industrial Group.

Soybeans, used largely for feeding livestock, remain the largest American agricultural export to China. Big Midwestern growers of commodities such as soybeans and corn have looked to the Chinese market for several years. But the interest in food meant for consumers themselves is more recent.

Chinese demand for American food is linked to shifting tastes, limited domestic supply and concerns about the quality of domestic products. But when it comes to milk, American producers have lagged behind their rivals in New Zealand. On a recent grocery trip, 23-year-old Beijing finance worker Huang Xin said she would buy American milk if she could find any in her usual markets. Ms. Huang looks for New Zealand labels or Chinese brands that haven't been caught up in safety scandals.

"I just want something that tastes good and that isn't going to hurt me," Ms. Huang said.

New Zealand, the top milk exporter in the world, has benefited for years from an early investment in exports, and it sold about 379,700 tons of milk powder to China in 2011, up 10% from the previous year, according to the Global Trade Information Services. By comparison, the U.S. exported 14,900 tons last year, down 4% from 2010, according to the U.S. Department of Agriculture.
Yili products, in a Beijing market last week, use California milk powder.

Driving through his sprawling dairy farm outside Visalia, lifelong dairyman John Moons said he is still reeling from the recent recession and sees a glimmer of hope in China's interest in milk powder—a product that had been low on American dairies' priority lists for years because it wasn't coveted in the U.S.

"All of a sudden, milk powder has become this valuable commodity," said Mr. Moons, whose farm belongs to the California Dairies cooperative. "It's exciting to know that demand's going to be there."

With many of the newly popular exports to China grown close to the important Pacific Ocean ports in California, the milk industry isn't alone. In 2010, California exported $1.4 billion worth of agricultural goods to China and Hong Kong, up 86% from 2008, according to the University of California Agricultural Issues Center. By comparison, U.S.-wide exports to China of $15 billion in the year ended September 2010 were up only 34% from 2008, according to U.S. Census Bureau trade data.

In December, California's entry in this year's Miss America pageant traveled across China to promote pistachios with the American Pistachio Growers. The Almond Board of California is sponsoring student-recipe contests in China. A trade group for Napa Valley wineries last year started plastering billboards in Shanghai and Beijing with images like the Golden Gate Bridge and a tow-haired surfer alongside the tagline, "Discover California wines."
California Dairies buys raw milk from cooperative members like Mr. Moons, who together own the business, and processes it into products like fluid milk, butter and milk powder. In recent years, the dairy noticed that China's inability to meet domestic demand for milk was boosting the demand for foreign milk powder that was then processed in China into dairy products.

China consumed an average of 1,338 kilotons of milk powder annually from 2008 to 2010, compared with 528 kilotons consumed each year in the U.S., according to the Organization for Economic Cooperation and Development and the Food and Agriculture Organization of the United Nations.

The challenge for Mr. Bush of California Dairies was that U.S. dairies have long produced the wrong kind of milk powder for China and other Asian countries. China imports mostly long-lasting milk powder to mix with water and other ingredients and make products such as fluid milk that can sit on a grocery shelf without spoiling.

U.S. milk producers, on the other hand, have produced a variety that can't sit very long at room temperature after being turned into those dairy products.

The company opened a new plant in 2009 with machinery capable of making longer-lasting powder, and it plans another facility with even more equipment within five years. The goal: getting China sales up to one-third of the company's exports, from about 5% today.
April 18 2012
Growing popularity of online shopping in China is sweet music for multinational firms By Lin Jing and Su Zhou
Shopping in the fashionable stores of New York, London or Paris may soon be a thing of the past for the Chinese, with online purchases fast changing the dynamics of retail trade. Unlike the popular Western shopping destinations, the online retail market is a new kid on the block, but more importantly, it is the impressive returns being notched up by the sector that is making it a "must-be" market for multinational companies and Western brands.

Till recently, the global retail market has been dominated by mega brands with shops/stores in prime locations. Shopping was often an experience that also had the added elements of affluence, travel and holiday built into it.

But all of that is slowly beginning to change as the prolonged financial problems in the Western markets have forced global retailers to increasingly look at China to bolster revenues even as the nation slowly makes a transition from "Made in China" to "Consume in China."

The changing dynamics is clearly visible in the robust double-digit growth during the past few years. More importantly, in what is good news for the retail trade, the future looks bright in China, as demand is set to escalate further on the back of increased spending power and a growing number of affluent people.

The real catalyst for the retail boom in China has been the Internet which has not only given a new meaning to online shopping but also opened up a plethora of opportunities for retailers in what is likely to be the biggest retail market in the world.

German auto major Daimler AG was one of the first major Western companies to realize the potential of online sales. The company's luxury car unit Mercedes-Benz (China) has enjoyed considerable success with its ultra mini car Smart after using the online sales method.

Launched in 2009, the Smart had sales of 11,000 units in China till February this year. The same month, the company teamed up with the Beijing-based Jingdong Mall (360buy.com), a leading business-to-customer (B2C) platform, for online sales of Smart.

Since then, the Pearl Grey limited Smart edition, which costs 149,000 yuan ($23,661, 17,731 euros), has been in the shopping carts of more than 17,200 registered users of Jingdong Mall and enjoyed an online traffic volume of more than 2.27 million. Not surprisingly, on the first day itself, Mercedes-Benz received bookings for all the 300 Smarts it offered online in the first 89 minutes.

Big numbers

It is these kind of massive numbers that is making online shopping in China a phenomenon that cannot be ignored. The total e-commerce market in China reached $1.1 trillion in 2011, up about 46 percent from a year earlier, according to market research firm iResearch.

It also shows that the total online shopping revenue in China for 2011 was 773.56 billion yuan, while in 2010 it was about 461 billion yuan. The online shopping revenue is expected to grow more than 50 percent to 1.18 trillion yuan this year and reach 2.55 trillion yuan by 2015.

According to consultancy Boston Consulting Group (BCG), the share of e-commerce in total retail trade is expected to reach 7.4 percent in China by 2015 from the present 3.3 percent. That indeed is impressive growth, considering that it took the United States nearly 10 years to achieve similar figures.

China is also expected to surpass the US as the largest e-commerce market in the world by then, achieving a compound annual growth rate of 33 percent, and a market size of more than 2 trillion yuan.
Perfect fit
Wang Hanhua, president of Amazon China, says the company plans to optimize its strategic layout on a long-term basis.

Even as Western retailers are fast realizing the massive online retail opportunities in China, it is the apparel brands that have been the fastest off the block.

Though many of the big brands are striking it out on their own in the virtual world, others have realized that it pays dividends to team up with a local partner in an otherwise fiercely competitive market.

According to a recent survey by global consultancy Pricewaterhouse-Coopers (PwC), nearly 60 percent of the online shoppers in China search and purchase clothing and footwear online, compared to just 23 percent of shoppers in the Netherlands.

American clothing and accessories retailer Gap entered the Chinese market in 2010 at a time when its peers like Zara and Uniqlo already had more than 75 boutiques in China. The US retailer realized that if it wanted to make a mark in China, it needed to explore alternative channels like the online shopping business to shore up revenues. Gap has its own official e-commerce website as well as a flagship store on Tmall, the B2C arm of Alibaba Group.
The online shopping trend is however, not just restricted to mass market shopping, but also extends to luxury goods, the fastest growing segment. However, the online market still continues to be dominated by shoppers looking for premium, affordable products at the cheapest prices.

"The digitally-enabled environment is fast changing consumer shopping habits. The Internet will continue to increase in importance globally and in China, as both a marketing communication vehicle and a sales driver," says Jonathan Seliger, president and CEO of Coach China, a unit of Coach, a leading American designer and maker of luxury lifestyle handbags and accessories.

In December 2011, Coach China teamed up with Tmall, opening an online flagship store (coach.tmall.com) for China. During the four-week trial operation, the online flagship store recorded about 3.5 million hits.
Seliger says the success enjoyed in China has gone a long way in further shaping the US retailer's next moves in e-commerce.

"It not only helps us to gain insight by collecting fresh new responses from online consumers, but also allows us to interact more with them," Seliger says.

At the same time the company also realizes the influence and significance of such moves, he says. "This is a valuable experience which will help pave the way for a permanent online Coach store in China."

The US retailer closed its online store after the trial operation, but Seliger says it will kick off its e-commerce business in China in the next 12 to 18 months, and provide a comprehensive range of Coach products, including some that will be exclusively available on the online shopping site.

High stakes

With the winds clearly blowing toward the online market, the competition is also getting fiercer as more companies are vying for a slice of the pie.

Besides online retail pioneers like Amazon China and Carrefour, which started their online business in 2004 and 2006 respectively, other multinational companies like Tesco, Walmart and Metro China are also making rapid retail strides.

Carrefour established its own B2C platform but only provides services to Beijing and Shanghai shoppers. Tesco has only deals for clothing and baby products online, with all deals operated by its flagship store on Tmall.
US-based retail major Walmart has also been on an expansion spree in China and is fast sprucing up its online moves to tackle competition.

Last year, Sam's Club, a retail warehouse club owned and operated by Walmart, launched its online operations. The online shopping service is available to Sam's Club members in Beijing and Shenzhen. In February, Walmart also increased its investment in Yihaodian, an online grocery store based in Shanghai.

With 5,400 employees and a logistics network based in Shanghai, Beijing and Guangzhou, Yihaodian's revenue has grown from $127 million in 2010 to $430 million in 2011. The company now holds an estimated 2 percent share of the total Chinese B2C market, according to a DDMA report, citing sources from the Deloitte Fast 500 Asia Pacific 2011 report.

Yu Gang, co-founder and chairman of Yihaodian, says that for many international companies, the online sales market in China is now large enough to justify the consideration of an online sales strategy as a first step in entering the market.

"Both parties in the cooperation have their strategic values. Local companies that are more familiar with market, business environment and consumer behaviors can better lay out the operation plan," Yu says.
Yu says that e-commerce is much more than having an official website. It requires full capacities from supply chain management and warehousing to distribution and consumer management.

"The core of e-commerce business lies in the continuous optimization of the supply chain to reduce operational costs and improve efficiency in order to achieve the scale operation. It needs special teams and large amounts of investment."

Neil Ashe, president and CEO of Walmart Global eCommerce, says that Walmart hopes to cash in on Yihaodian's strong management team and solid competence in supply chain management.

Christina Lee, corporate affairs senior director with Walmart China, says that China's online sales have grown rapidly and are projected to match US online sales in five years.

"By investing in Yihaodian, we are continuing to establish a presence in China, and are moving toward our aspiration of being a leading global multi-channel retailer," Lee says.

Waldemar Jap, partner and managing director of BCG Greater China, says that Walmart can also take advantage of the fine logistics and operating center of Yihaodian and reach out to more consumers in second- and third-tier cities.

"Traditional retailers like Walmart have their own merits. They can use current offline stores for order fulfillment and treat online stores as an efficient supplementary channel. Their offline stores could also cover the online logistics costs."

Though not targeted at ordinary consumers, but rather for business customers, the Germany-based Metro Cash & Carry International is planning to develop its online business along with the offline store expansion plan.
According to Uwe Hoelzer, president of Metro Jinjiang Cash & Carry Co Ltd (Metro China), the company is planning to open up to 10 stores per year, while e-commerce service is likely to be available in the near future.

"Multi-channel sales platforms are one of the important components of Metro China strategy. Metro China is working on a B2B solution so that its customers have the opportunity to buy online from Metro," Hoelzer says.

Challenging task

Though opportunities are plentiful, the challenges are also formidable, experts say.

"Compared to multinational companies, local e-commerce companies enjoy more advantages," says Chen Shousong, a senior e-commerce analyst from Analysys International.

Chen says that multinational companies may not invest too much, until they are familiar with the market. On the other hand, local companies are more aggressive and enjoy considerable support from venture capital and private equity firms.

"Compared to traditional offline retailers, Internet companies are more fast-paced, have shorter product life cycles, and can be easily copied and replaced. It requires companies to develop products that cater to local demand quickly. Multinational companies cannot maintain this pace due to high communication costs and structure of operations," Chen says.

Unlike its ambitious parent, which operates in diversified segments including B2C, Kindle device sales and platform services, Amazon China's development has been mainly focused on the B2C field. However, even after nearly eight years of expansion and development, Amazon China still lags behind Tmall and Jingdong Mall in terms of market share.

Jap attributes this to the different philosophy of the US retailer.

"China is a large market. Starting a business in new cities does not mean adding new choices on your website. You need to be prepared in terms of services, supply chain and infrastructure," says Jap. "Some companies prefer to occupy the market even before they are ready, while some prefer to wait."

Lu Zhenwang, an independent e-commerce observer, says the ecosystem of the e-commerce industry in China is not that favorable for multinational companies given that most of their Chinese competitors are gaining market share by losing huge amounts of money every year.

"Take Jingdong Mall for example, if the turnover of Jingdong in 2011 was 30 billion yuan, and 2012 is 50 billion yuan, the total loss will be more than 4 billion yuan," Lu says. "From Amazon's perspective, it is hard to imagine how it is going to succeed.

"There has also been a change of strategy by Chinese retailers. Local companies like Dangdang and Vancl are now more concerned about making money than just adding numbers," Lu says. "This means competition has shifted to the fields that multinational retailers may be familiar with, such as the management of supply chain, product quality and customer service instead of just prices."

Left: Yu Gang, co-founder and chairman of Yihaodian. Right: Jonathan Seliger, president and CEO of Coach China.

Shipping concerns
Another challenge for e-commerce is logistics management to ensure product quality and delivery efficiency.
According to BCG's report, the e-commerce industry in China has benefited from low shipping costs of just $1 on average to ship a 1-kg parcel, compared with $6 in the US. However, logistics has also become one of the biggest concerns for online retailers.

Due to the high cost of building their own delivery networks, many companies have outsourced these services to third-party logistics firms. But the negative feedback from many customers has prompted companies to set up their own delivery chains.

According to data provided by Jingdong Mall, complaints on third-party delivery services are as high as 12 times that of what is recorded on their own delivery chain.

Amazon China is the first company to explore the possibility of having its own logistics network. In February, Amazon China announced the launch of its 11th fulfillment center in Tianjin, taking the total floor area of Amazon's fulfillment facilities in China close to 500,000 sq m.

"The fulfillment network is especially important in China given its vast territory," says Wang Hanhua, president of Amazon China. "Amazon is the earliest among e-commerce companies to invest in this area in China, and is set to optimize its strategic layout in China on a long-term basis," he says.

However, distribution costs have increased by nearly 200 percent in the past five years. According to the China Federation of Logistics and Purchasing, logistics costs were the equivalent of 18 percent of GDP in 2011.

Warehousing costs are also increasing. The China Federation of Logistics and Purchasing stated that storage costs rose 22.6 percent year-on-year to 2.9 trillion yuan while management fees amounted to 1 trillion yuan, up 18.7 percent.

Another challenge, especially for offline retailers, lies in the integration of online and offline resources.
Chee Wee Gan, a principal in A.T. Kearney's Management Consulting practice in Shanghai, says that traditional retailers, such as Walmart, already have certain advantages: they are typically very strong in merchandising, category management, product assortment as well as strong retailing experience.

He says that returning goods and managing fulfillment is still a big challenge for online-offline synergy.
Mulligan feels that brands and traditional retailers should team up with large B2C companies, rather than trying to make it on their own.

"For big brands in China, which don't have their own online strategies at the moment, they can sell products from their own websites in partnership with companies like Yihaodian or Jingdong Mall, which will look after the deliveries and fulfillment for them.

"They can also partner with local large companies and sell products directly on these platforms. It is better for branded companies and traditional retailers to team up with the large local B2C websites as it will help take care of the distribution problems," Mulligan says.

Old is gold

Though many multinational companies have started making online moves, there are still some companies who feel that the offline stores are still the best bet for retail.

Many of these companies do not invest enough resources on e-commerce as they believe that the online business represents cheaper priced goods, something that may jeopardize their high-end image.
Companies like Marks & Spencer and Ikea have restricted their online presence to product exhibitions and do not sell any merchandise through the e-commerce platform.

Jap from BCG says that traditional retailers should strive to match the different aspirations of online consumers and provide different experiences, rather than just trim the prices.

"Some consumers are looking for cheaper prices online, while some others search for unique products or something that is sold only online or in overseas stores. There may also be some others who just enjoy the convenience of online shopping, without worrying too much about parking or crowds," says Jap.

Right choices

However, Gan at A.T. Kearney says that the multiple online channels act in diverse ways for retailers.
Most of the new online consumers tend to shop mostly on the Taobao platform, whereas customers who have been shoping online for more than a year use the same platform only 50 percent of the time. In contrast, the older/repeat customers spend only less than a third of their time on Taobao for shopping, Gan says.

"That means companies can use different channels to capture consumer trends. They can use Taobao to gain feedback from new consumers, and use more experienced consultancies to gauge consumer trends of older/experienced online shoppers."

Jap says that companies must speed up their movements in the online sector, as it not only generates more sales, but also influences customer behavior.

"It is fine for some companies to prioritize their offline channels. But they still need to understand how the Internet is affecting the decision-making process," he says.

"Consumers may purchase products offline, but their research and decision making process in the first-phase is greatly influenced by online information. This is especially so when buying items like large furniture. They will compare a lot of information before actually walking into an offline store."

Gan feels that while the future is indeed bright for e-commerce in China, there is going to be "more of a winner takes more type of situation", meaning that the leader will always get the bigger market share.
"There is a projection that by 2016, 16 percent of the retail trade in China will be conducted online, much higher than the US, where it is just 12 percent," he says.

But the physical retail landscape in China is nowhere as developed as those in the US or Japan. The Chinese online market is heavily fragmented, with consumers leapfrogging from various sites to grab the elusive bargains.

"The e-commerce battle will not be fought in the first-tier cities like Beijing, Shanghai or Guangzhou. The real battle will be in the second- and third-tier cities where new-middle class consumers are coming up. It is not going to be that easy for companies to expand their physical presence in these locations. Going online is the best way to ensure that they get more consumers and profits," Gan says.
April 17 2012
Nation's new compass - Budding online travel industry is providing chinese travelers with efficient tools to vacation By Lin Jing and Su Zhou
Arc de Triomphe in Paris is one of the many destinations of Chinese travelers. An increasing number of Chinese people going overseas has helped boost the online travel business.

On March, 15 Chinese tourists bought an around-the-world trip that lasted about 80 days, probably feeling as cavalier as Phileas Fogg in his 1873 novel Around the World in Eighty Days, except for one big difference: Fogg accomplished his trip with 20,000 pounds, which amounts to about $2.1 million today. The group from China? It spent about $158,000. And while Fogg probably used a rusty compass as his guide, the Chinese travelers had three major advantages. They had a computer, the World Wide Web and a handy online travel agency.

In recent years, Chinese travelers as a whole have been finding numerous vacation deals through online travel agencies in China. The March trip around the world, which was sold out in a day, was provided by Ctrip.com International Ltd, a Shanghai-based company, one of many online companies that are quickly overtaking the nation's brick-and-mortar tradition of arranging trips for clients.

As disposable incomes rise in the second-biggest economy in the world, more and more people in China are spending it on vacations, from going to the United Kingdom for shopping sprees to Australia for the casinos and resorts. One major consequence of this rush to travel is immediate growth in the online travel industry.
In 2011, there were 70.25 million outbound Chinese tourists, up 22.42 percent from the previous year, according to statistics from the National Tourism Administration (NTA). That total is expected to grow this year to about 77 million.

Domestically, the number of trips in China is staggering. In the past year, there were 2.64 billion domestic travelers, up from 2.3 billion in 2010. According to the NTA, in 2011 China contributed 30 percent in terms of sales revenue to the global travel industry.

Coupled with the fact that China has 195 million online shoppers, the highest total in the world, with about three-fourths of them booking trips online and you have the recipe for financial success for the nation's online travel agencies.

"It is more efficient for Chinese tourists to seek cheaper prices and better choices online," says Hou Tao, director of the research division of online travel site Qunar.com. "The profit for online travel agencies is more than traditional ones, so we have witnessed a rapid growth."
The online travel industry saw annual sales of 9.05 billion yuan ($1.4 billion, 1.1 billion euros) in 2011, an increase of nearly 34 percent from the previous year, with annual sales expected to grow at an average clip of 45 percent, according to Shanghai-based iResearch Consulting Group.

One of the major beneficiaries in China's penchant to book online and travel is Taobao.com, the retail arm of e-commerce giant Alibaba Group. Taobao launched an online travel service in May 2010 and recorded transactions of 10.9 billion yuan last year, an increase of 122 percent from the previous year. This figure includes direct sales between customers and airlines/hotels.

Most online agencies have a common business model of having customers search on their sites for deals and handling transactions.

Taobao, on the other hand, took advantage of its business-to-consumer model to attract hotels and airline companies to launch their own e-commerce sites on its platform. The move has been highly successful in terms of traffic, but thus far has yet to make a profit.

"Taobao's travel business is still a platform for search, display and e-commerce transactions," says Zhang Lingxiao, public relations manager at Taobao. "As an entrance for the majority of Chinese online shoppers, Taobao Travel can help to acquire more traffic."

Still, Ctrip is the leader in this industry, acting as a portal for airlines and hotels to distribute their business online while taking a commission from transactions. It also provides a whole slew of services from transportation, accommodations and restaurant listings to tour arrangements.

According to its 2011 financial report, the company reported 3.5 billion yuan in total revenues, up 21 percent from 2010. With nearly 50-percent market share and 41-percent annual growth from 2004 to 2009, Ctrip is planning to focus more heavily on outbound traveling.

In March, the company launched a new booking platform for international flights. The platform will increase the number of air routes that the company offers by 10,000.

"The new platform will boost Ctrip's flight business and outbound tourism and will contribute at least 50 percent growth to our flight sector," says Guo Dongjie, vice-president of the Nasdaq-listed company. Ctrip also recently launched a high-end outbound travel platform called HHtravel.com in conjunction with Taiwan-based EZTravel.com and Hong Kong-based WingOnTravel.com. The site offers 50 trip routes, with prices ranging from 50,000 yuan to 100,000 yuan per trip. Guo says Ctrip has received positive market response to the new site.

"Take the most expensive worldwide tour for example, we only organize such tours once a year," says Guo. "It took nine minutes to sell out the limited 15 tickets (for the trip around the world) in the first year but only took 17 seconds this year."

The next globetrotting trip will begin in January 2013 and Guo says he is confident in the high-end market and says the potential in the niche industry is great.

Lvmama.com, a company that initially began selling tickets for tourist attractions, is also shifting its core business to outbound tourism. It recently acquired Synwalk Travel Co Ltd based in Shanghai.

In only six months after it began shifting to outbound tourism, the division has accounted for about 30 percent of the company's total revenue. Li Dan, general manager of Lvmama, said the business has grown fourfold since last August.

One of Lvmama's interesting vacational products is the option to reserve a "new concept trip". It allows people to experience an overseas trip under a specific theme, such as a 32-day trip to Africa or driving to London to watch the 2012 Olympic Games.

Its strategy to tailor its business to high-end customers in recent years has reaped dividends. Lvmama's monthly sales have increased 40 percent to 50 percent and it has plans to open 15-20 branches in China this year. But Hou from Qunar says domestic tourism is still where the money is at. Despite the fact that profits in outbound tourism currently dwarfs profits in domestic traveling, it's far too early in a fledging online travel industry to depend on high-end tourism as a mainstream business model.

"Leaders or smaller player in this field should refine their strategies for further development since competition in hotel, flight booking and business trips is already too fierce," Hou says.
Wang Tingting, an iResearch analyst, says that though Ctrip has the largest market share, the market is far from saturated.

"In the online travel industry, the cake is still big enough for all parties. And the future competition of online travel industry relies in the diversification of different business models of commission or platform," Wang says. "With a lower cost in service fees and sales expenses, these platforms will keep attracting more consumers. But companies that rely on commission can also attract customers by providing high-quality service."

Wang adds that companies "should work more on their brand awareness to potential tourists if they want to keep their business growing in this sector".
Several online travel agencies are indeed working to develop new growth models. Many are trying, like Ctrip, to gain more revenue through outbound tourism.

One innovative travel search site is Qunar, which is majority-owned by search giant Baidu Inc. The Chinese-language site has quickly become one of the leading online travel sites in China, with more than 60 million monthly visits.

Its formula is simple: it allows the best choices through its search technology that gives users real-time results from the latest Chinese travel deals.

Its mobile app has also done well, with 7 million users. It recently received an award from Apple as the best.
Jingdong Mall (also known as 360buy.com), is an Amazon-like company in China that opened an online hotel booking division in February. Prior to that Jingdong had worked with online travel site Mangocity.com (which has an 8.8-percent market share in the industry) on an online flight-booking venture.

In its new division, Jingdong has set up deals with more than 20,000 hotels across China and is planning to create an online travel channel to promote car rental deals, cruises and educate tourists on its visa services.
April 5 2012
Redefining China's relationship with the United States
Paul Cheng, the well-known Hong Kong politician and businessman, believes China has become a convenient punching bag for the West in recent years.

The 75-year-old, who exudes a certain old-world charm, says the problem often lies in China's intentions being misunderstood or, worse, misrepresented.

"China has certainly become the punching bag during the US elections. What I feel is that these ideas about China being a threat are based on misconceptions and generalizations," he says.

Cheng, who was speaking in his suite at the China World Hotel in Beijing, has, in fact, just written a book, On Equal Terms: Redefining China's Relationship with America and the West, under his Chinese name, Zheng Mingxun, which explores some of these issues.

He argues that if the United States or China were ever to engage in military conflict, for example, in the Pacific, over various territorial rights, both would be major losers.

He also insists it would be an unfair contest since the US defense budget of close to $700 billion is seven times that of the world's second-largest economy.

On Equal Terms stands out in that it is one of the few books of this genre written by someone of Chinese origin.

Cheng, who speaks English with a slight American accent, believes that sometimes Western authors miss some of the finer points of the Chinese perspective.

"I wouldn't say they get it wrong. They may not appreciate some of the subtleties, such as things like guanxi, which means trusting each other, and mianzi, Chinese face. That is not just about being humiliated but giving face to the other person, making the other person look good," he says.

Cheng, who is currently chairman of a private equity group and holds a number of directorships, was a prominent politician in Hong Kong, up to and including the return of the former British colony to China.

He was a member of the Legislative Council in the 1980s and 1990s, and a member of the preparatory committee for the return itself.

Cheng says Hong Kong's newly elected chief executive, C.Y. Leung, may find many problems in his in-tray, not least the growing inequality between rich and poor.

"We have a wealth-gap problem. How you stop that is another very difficult issue. The problem is that if you start doing things to disincentivize the wealthy sector, they are not going to invest. They will go somewhere else. That might have a more adverse impact on the poor than if you did nothing."

Cheng says, however, he has empathy with the poorer sections of the community.

"These things are a real dilemma because you also stand on the side of the people having trouble finding housing because the poverty standards are so high. That is why there has to be a balance somewhere."

Cheng was born in Gulangyu island, Xiamen, Fujian province, but at the age of two, when the Japanese invaded, his grandfather arranged for the family to move to Hong Kong.

Unusually for the time, he was brought up by his mother alone after his parents divorced. His father went off to become an academic in the United States.

"My grandfather was a tough guy. He just told my father that if you do this to my favorite daughter-in-law, your son will never see you again. He lived up to that, too. I did eventually reconnect with him. He had three kids in Hawaii."

Cheng attended La Salle College in Hong Kong and then went to Lake Forest University, Illinois, at the time when American consumer society was taking off in the mid-1950s.

He began his career in consumer products and marketing as a brand manager with Richardson-Merrell in New York, returning to Southeast Asia with roles in Malaysia and Thailand.

This led to an impressive business career, which eventually led him to become chairman of Inchcape Pacific, one of the oldest British international trading companies.

He believes the recent furor in the United States and in the West in general about the Chinese taking away jobs is unrealistic.

"Why is Apple being assembled here? It is because Steve Jobs used to make changes at the last minute. If you do that in America, you have to wait for a few weeks," he says.
April 2 2012
Chinese Applicants Flood U.S. Graduate Schools By Melissa Korn
Wang Chengdong, a Chinese student in the executive MBA program at Missouri State University in Springfield, Mo., worked in a library study room in 2011. Applications from China for U.S. master's and doctoral programs starting this fall rose 18%.

More than ever, Chinese students have their sights set on U.S. graduate schools.

Application volume from that country rose 18% for U.S. master's and doctoral programs starting this fall, according to a new report from the Council of Graduate Schools that provides a preliminary measure of application trends. Specific programs of interest include engineering, business and earth sciences.

That is on top of a 21% jump last year and a 20% rise in 2010—and is the seventh consecutive year of double-digit gains from China, according to the graduate-school industry group. Applications from China now comprise nearly half of all international applications to U.S. graduate programs.

China's expanding middle class has fueled an interest in expensive U.S. schools, as has corporations' interest in hiring local talent with Western exposure. As the quality of undergraduate institutions in China improves, more young people are also finding U.S. programs within reach. And as more Chinese students attend U.S. schools,burgeoning they encourage friends and colleagues to apply in what is called a "multiplier effect."

Not only is China the largest country of origin for international graduate students in the U.S., but its rate of growth is far outpacing all other countries and regions in the survey, including South Korea and India. Overall, international application volume rose 9% this year, according to preliminary results.

Based on data provided by 242 respondents, a total of 514,298 applications were sent to U.S. graduate schools by prospective international students for fall 2012, according to the report. Final application figures will be released this summer.

The outsized rate of growth in China is due in part to a concerted effort by some U.S. schools to attract Chinese students. The thinking, say school administrators, is that international students who stay in academia will connect U.S. schools with new research partners, while those entering the corporate world may become clients of business schools' lucrative executive education programs.

Ohio State University, with more than 10,000 graduate students, opened a "gateway" office in Shanghai in 2010 to coordinate recruiting, alumni activities and fundraising efforts in those markets. While international applications rose 18% for all the school's graduate programs this year, they jumped 29% from China specifically. That compares with a 3% increase in applications from India; the school opened a similar gateway office in Mumbai last month.

International students comprise about 14% of students at U.S. graduate schools, says the Council of Graduate Schools.

U.S. schools say they cannot become complacent just because interest now is strong. Other countries are increasing investments in higher education, specifically in graduate programs, and viable competitors are emerging as they gain internationally recognized accreditation.

According to the Institute of International Education, the U.S. enrolled 20% of all international students—undergraduate and graduate—in higher education in 2010, down from 28% in 2001.
March 29 2012
USA exports to China surpass $100 billion in 2011 - top five US state exporters to China are: California at $14.2 billion, Washington at $11.2 billion, Texas with $10.9 billion, Louisiana with $7.3 billion, and New York at $4.5 billion.
Total United States' exports to China surpassed $100 billion last year, with 30 states now counting China as one of their top three export markets, according to a new report released by the US-China Business Council (USCBC) on Wednesday.

The annual report says that China remains the US' third-largest export market, just behind Canada and Mexico - two neighbors that have a regional free-trade agreement with the US.

"Exports to China are vital to America's economic health and create good jobs for American workers," said Erin Ennis, vice-president at the Washington-based organization, which represents about 240 American companies doing business in China
Between 2000 and 2011, total US exports to China rose 542 percent - from $16.2 billion in 2000 to a record-breaking $103.9 billion in 2011 - while exports to the rest of the world increased 80 percent. US exports to China recovered faster after the recession than exports to anywhere else in the world, according to USCBC.

"Clearly, China is a market that is important to US companies' bottom lines, even in tough economic times," Ennis said.
"Forty-eight states have registered at least triple-digit export growth to China since 2000, far outpacing exports to the rest of the world, and 20 of those states have experienced quadruple-digit growth," Ennis said.

The $88 billion increase in exports to China from 2000 to 2011 exceeded the increase to every other market for US goods and farm products, with the exception of Canada, according to the report.

"US exports to Canada rose $102 billion over the same period, while US exports to Mexico rose $86 billion. Brazil was a distant fourth with just a $28-billion increase in purchases of US products," Ennis said.

The report shows that the top five US state exporters to China are: California at $14.2 billion, Washington at $11.2 billion, Texas with $10.9 billion, Louisiana with $7.3 billion, and New York at $4.5 billion.

US exports to China also exceeded the global average annual growth rate of 18 percent that US President Barack Obama set as a goal in his National Export Initiative - a plan announced in 2010 that aimed to double total US exports by 2014.

The initiative requires at least a 15-percent average growth rate per year for five years to reach that goal; China is the only major US export market to have consistently exceeded the 15 percent target growth rate since 2000, according to the report.

Exports from the US that were highest in demand from China last year included crops, computers and electronics, chemicals and transportation equipment.

"American companies from every corner of the nation are exporting high-value computers, electronics, agricultural products, chemicals, transportation equipment, and machinery to an expanding marketplace in China," Ennis said.

China emerged as the top market for US agricultural products last year, importing about $20 billion US goods. The nation is also the largest buyer of US soybeans, according to the US Department of Agriculture.

Vice-president Xi Jinping's visit in February gave a shot in the arm to agricultural ties between the two nations. In Iowa, Xi visited a corn and soybean farm that was seen as a positive sign for local farmers.

"We produce more than we consume so we have to rely on trade, and on China, with its population and growing economy. It's great to be its trading partner," said Grant Kimberley, son of the owner of the farm that Xi visited.
March 23 2012
Western students flood to Chinese biz schools By Todd Balazovic


Westerners flock to universities in China to advance professional chances with MBA programs - It was only the hardiest adventurers who took up the chance to learn about the mysterious East when China first opened its doors to foreign students in 1950. Now, in an age where China is an economic powerhouse, foreign students have traded their backpacks and guidebooks for a suit and tie as droves of experienced professionals are seeking admission in Chinese business schools. [Related story: The next frontier]

Driven by the huge gap in the supply of internationally trained managers five years ago, thousands of foreign students from the United States and Europe are enlisting in Chinese MBA and EMBA programs in an effort to get an edge in China's increasingly competitive global business field.

But, unlike six years ago, the focus for business schools is no longer just learning about China. The goal posts have moved as rapidly as the economic tides have shifted.

"We are no longer the 'how to do business in China' supplier, we are the 'how to manage in fast growth markets' supplier to companies on a global basis," said John Quelch, vice-president and dean of the China Europe International Business School based in Shanghai.

With China's Ministry of Education looking to attract more than 500,000 international students by 2020, the number of foreigners seeking elite MBAs akin to those obtained at internationally renowned schools like Harvard or Oxford is showing promising growth.

Leading the pack is Quelch's CEIBS. In 2009, Forbes ranked the CEIBS business MBA program as the eighth among the top 10 non-US two-year MBA programs in the world.

CEIBS has seen its percentage of foreign students almost double from 20 percent to 39 percent over the past 5 years. Other top business schools in China, like Fudan University's EMBA partnership with Washington University and Tsinghua University's MBA program with the MIT Sloan School of Management have also seen positive results.

Detailed in the National Outline for Medium and Long-Term Education Reform and Development (2010-20), the Chinese government is making large endeavors to educate the next line of business leaders.

Because of their efforts, Chinese business schools have gone through one of the most rapid evolutions since the first Chinese MBA programs were offered in 1991, when just 90 Chinese MBA prospects enrolled at the first nine schools offering the courses.
But in the 20 years that followed, China has managed to develop a handful of some of the top sought-after MBA programs by partnering with prestigious US and European universities to develop a curriculum that conforms with the international standards.

Among China's most recognized is Tsinghua's IMBA program, developed in 1997 through a partnership with Massachusetts-based MIT Sloan School of Management.

"We've been receiving great help from the Sloan School on developing the curriculum and training our faculty. This has built the solid foundation of our MBA program," said Qian Yingyi, director of Tsinghua's School of Economics and Management.

While the reputation of these MBA programs is often born out of partnering with Western schools, which allows universities like Tsinghua to call upon the decades of business school teaching experience shared by established institutions like MIT Sloan, Chinese business schools are drifting away from their Western foundations. Rather, they are determined to differentiate themselves by capitalizing on the nation's unique global position.

It was the prospect of learning the China's fast growth markets that first drew 26-year-old Mike Tuan out of a $120,000-a-year sales and marketing job in the US to pursue his MBA in China.

"Right now, China is being used as a global model, and understanding that model is a big advantage," the Tsinghua MBA graduate student said.

The prospect of being able to rub shoulders with China's current and future leaders is perhaps one of the biggest, but unsung, benefits for foreign students studying in China.

By graduating from Tsinghua's partnership program, Tuan said he will be able to associate with both Tsinghua and MIT Sloan's alumni network - a big advantage for someone seeking business opportunities.

"When you are doing an MBA, half of it is networking, and you want to make the network where you want to use it. That alone is a good reason to come to China," he said.

In addition to getting access to a degree and an alumni network branded with a top-notch university, many foreign students are drawn to China by the cheaper costs of living and tuition.

For international students at Tsinghua's IMBA program, tuition for the two-year program costs $29,800. If the same student were to fully enroll at MIT Sloan's MBA program in Massachusetts, the cost for tuition alone would be around $50,300. And for students who take advantage of China's cheap food and housing outside the classroom, the savings are even greater.

This means foreign students studying in China can almost halve their MBA tuition costs without having to sacrifice their brand name.

Sparking the growth in Chinese business schools has been the whirlwind of multinationals expanding operations to China over the past 10 years as foreign companies rush to get a grip on the next big consumer market. At the end of 2011, foreign direct investment in China topped $116 billion, and that number is only set to go up as foreign companies see growth back home slow due to economic problems.
"Because of the increasing importance of China and the growth that it represents in overall corporate performance among many multinationals, they no longer rely on growth coming from the developed markets," Quelch of CEIBS said.

With more than 260,000 foreign students, China is the fourth-leading destination worldwide for students studying abroad full time, behind France, the UK, and the United States, according to the International Institute of Education's (IIE) 2012 Project Atlas report. Around 30 percent of those students are pursuing MBA and EMBA degrees.

Those numbers are set to rise as efforts by the Chinese government to attract foreign students start to show results. With more than 800 million yuan going toward scholarships for international students in 2010, housing incentives and a jump in accredited schools - the China option is becoming increasingly attractive.

"China has been very strategic in providing financial incentives and information to attract more students," said Peggy Blumenthal, senior counselor to the president of IIE, a US-based NGO promoting international exchange.
Attracting students is not only valuable for China in terms of helping the world comprehend the often-misunderstood rising superpower, it is also profitable.

In the US, where education draws more than 700,000 international students a year, tuition fees brought into the country by foreign students accounts for $13 billion in the US economy.

But, while the benefits of studying in one of the world's fastest-growing economies may be numerous, the opportunities for foreign MBA graduates to work in China aren't always as plentiful as China's swelling market may suggest.

Despite a critical need to fill a gap in the managerial class six years ago - in 2006 McKinsey & Co estimated that China would need more than 75,000 top-level executives by 2010 - tens of thousands of Chinese students took up the call, enrolling overseas and returning home to fill those positions.

The result is that many companies, both foreign and domestic, prefer to hire Chinese graduates who have studied abroad and earned international experience when looking to expand operations.

"It's difficult to learn the intricacies of China's business culture just by studying in the country for two years. It's almost impossible," said Ben Leary, CEO of Column Associates, a Beijing-based talent management agency.
On the other hand, Chinese students studying abroad are able to grasp Western business concepts quickly and apply them to the Chinese way of doing business, he said.

In addition to having larger access to a pool of Chinese talent, a majority of positions being offered for foreign managers are senior, meaning that fresh graduates do not have the experience requirements to hold the available jobs.
"Multinational companies aren't necessarily looking to recruit fresh graduates for management positions. They want people who have been working in China for 10 years or more," Leary said.

This is the problem recent CEIBS graduate Eric Seidner is confronting.

The 31-year-old American first came to China during its economic upswing seven years ago.

He said that when it comes to applying for jobs, the language barrier and Chinese human resources practices often give Chinese applicants the upper hand.

"Those who have the biggest advantage from what I've been seeing are the ones who have gone abroad and studied and returned - they have the international experience, the exposure to Western education and are still fluent in the language and culture," he said.

But, just as Chinese graduates who return to China after studying in the West have an advantage, foreign professionals who return home after studying in China have a unique edge.

For James Osterloh, who's enrolled in the two-year MBA program at CEIBS, choosing to go China was a way to distinguish himself in his pre-existing job as project manager at Standard Bank in South Africa.

"Going forward, I will be able to compete better with my peers in the bank by using the China expertise," Osterloh said.
The 31-year-old former British army captain said after he finishes his degree, he will return to the bank to play a bigger role in helping develop ties between China and Africa, a position his previous education and experience would have never allowed him to do.

"It really adds a dynamic to my profile that I didn't have before."
March 18 2012
Meet Hualuxe, China's Newest Upscale Hotel Brand By Laurie Burkitt
InterContinental Hotels Group is aiming to do something it hasn't done before in China: become Chinese.

The world's largest hotel operator by number of rooms is rolling out a new China-branded line of hotels called Hualuxe at the end of 2013. The name uses the Chinese word "hua" for majestic and English's "luxe" to connote luxury, said Richard Solomons, IHG's chief executive, in an interview.

The hotel is targeted toward more traditional Chinese consumers who value tea houses over a Western bar and intimate luncheon rooms more than cavernous banquette halls, Mr. Solomons said.

IHG is adding 20 Hualuxe hotels to its existing pipeline of 149 IHG hotels, including brands such as Crowne Plaza, Holiday Inn and its namesake InterContinental. But unlike the other IHG brands, Hualuxe will look a lot more like typical high-end Chinese hotels, which offer services such as VIP check-in lanes and special elite dining rooms, Mr. Solomons said. Bathrooms will resemble relaxing spas and lobbies will be transformed into gardens.

"We wanted to tap into the essence of Chinese hospitality," he noted.


U.K.-based IHG's bid for the Chinese image comes as the travel market in China explodes and is joined by an increasing number of voyagers from smaller Chinese cities, where residents have had less exposure to Western brands and traditions that the big multinational hotel chains embody.

China's combined domestic and international tourism revenue is expected to increase 14% annually for the next nine years — creating a 5.5 trillion yuan (roughly US$838 billion) tourism market, up from 1.5 trillion yuan in 2010, according to the most recent estimate from consulting firm Boston Consulting Group. Chinese consumers are powering a travel boom that's set to catapult China's tourism market past Japan's by 2020, according to this estimate.

Why would a Chinese consumer choose a Western hotel chain that's attempting to become more Chinese over staying in a Chinese hotel? According to Mr. Solomons, Hualuxe will be more elegant and will be consistent nationally, giving reward points to return guests. In the next 15 years, it will expand to 100 different cities, he added.

IHG executives are well aware that Chinese sightseers are also traveling overseas. After Hualuxe gains traction in the domestic market, IHG plans to expand it in places where Chinese tourists are flooding and will be gaining ground, like Europe and the U.S., Mr. Solomons said, noting that he does not have a timeline for the launch.
Many hotel companies are more than willing to overhaul their normal business approaches to win over Chinese tourists, providing food and services that a typical Chinese hotel would offer to make Chinese travelers feel more at home.

For instance, last year Starwood Hotels & Resorts Worldwide and Hilton Worldwide rolled out global hospitality standards such as in-room tea kettles, slippers and translation services, centered on wooing Chinese guests.

Hualuxe prices will hover around those of Crowne Plaza's, where guests pay around US$300 to US$400 for a room with a king-sized bed in Beijing, according to Mr. Solomons.

IHG earned US$1.9 billion in hotel revenue from China last year, nearly doubling from US$1 billion in 2009, Mr. Solomons said, adding that China accounts for 10% of IHG's profits and 28% of new hotels planned. The company's operating profit in Greater China, including Hong Kong, Taiwan and Macau, jumped to US$67 million in 2011, up 24% from a year earlier.

In 2011, IHG's global revenue jumped to US$1.77 billion, up 9% from a year earlier.
March 12 2012
China Tourism chiefs call for easier US visa application forms


A Chinese woman heading to Los Angeles showing her boarding pass at Beijing Capital International Airport. Although the United States has simplified visa application procedures for Chinese tourists, local tourism experts are not optimistic the development will give much impetus to businesses specializing in sending Chinese people to the US.

Experts say visitor numbers would grow if policy was more simplified - The United States policy to simplify visa application procedures for Chinese tourists has encouraged travel businesses, but local tourism experts have urged the US side to take more substantial steps for the country with the world's fastest-growing outbound tourism.

Since February 13, the new US policy that promised efficient procedures for non-immigrant visas in China shortens the application process to three weeks. Furthermore, Chinese applicants can renew their visas that have expired for less than four years without further interviews.

The time saved will enable another 100,000 visas to be issued every year.

Last year, about 1.36 million Chinese visited the United States, a rise of 26 percent year-on-year, according to the latest figures from the China Tourism Academy.

"Visits to the US have seen continuous growth since the US issued group tourism visas to Chinese travelers in 2008," said Jiang Yiyi, director of China Tourism Academy's International Tourism Development Institute.

But compared with other countries and regions in Europe and Asia, the growth is not as fast as it should be, largely due to existing tourism barriers, especially the complicated visa application procedures, she said.

The increase in the number of outbound Chinese visitors to Southeastern Asia last year was 100 percent, to Africa 40 percent and to Europe 21 percent, Jiang said.

"The US visa application involves one of the most complicated procedures and application forms of all countries," Jiang said.
She added the change brought about by the new policy was largely cosmetic. "The simplification of the visa application does not mean lowering the application standard," Jiang said.

"It is hard to attract a really large number of Chinese tourists unless significant progress is made in visa applications, tourism products and travel safety on the US side."

Several Chinese travel agencies agree. Apart from the reduction in the application time, the daunting amount of preparation and the standard for reviewing the applications have not changed much, said Li Mengran of the marketing department at Beijing UTour International Travel Service Co Ltd.

But they still hailed the new policy. "The change in visa policy is a positive gesture. The move will warm up tourist businesses on both sides, creating a new impetus for traveling to the US," added Li.

Previously, it took between 50 days and two months to get interviewed. Now it is shortened to about two weeks, she said. The message that applications are easier gives travelers an encouraging signal.

Considering the long procedure for visa applications, most US tours were designed for two-week trips. Now the routes can be more flexible.

The Beijing UTour travel agency has offered a nine-to-10-days individual tour package for young people rather than the group tour bought mainly by people aged between 40 and 50.

Li said the most popular destinations among younger travelers are honeymoon havens such as Hawaii and Guam.

Feng Weigao, executive for the product research and development center at Caissa Travel Management Co Ltd, said the new policy will stimulate return trips and traveling independently.

"It is difficult to travel around such a vast country in just one visit," Feng said. "The new policy will increase the opportunities for Chinese travelers to return to the nation to have a deepened travel experience."

Jia Fang, 31, who visited the United States last year with her husband on an individual tour, expects to go to the country a second time this year thanks to the new policy.

Jia, who was amazed by the country's fresh air, hospitality and the easy traveling experience, said they are going to the East coast to visit the nation's top universities and renowned museums."
PBOC: China's Yuan exchange rate decided by market
Zhou Xiaochuan (3rd L), governor of the People's Bank of China (PBOC), the country's central bank, Hu Xiaolian, deputy governor of PBOC, Liu Shiyu, deputy governor of PBOC, and Yi Gang, deputy governor of PBOC and head of the State Administration of Foreign Exchange hold a news conference on monetary policies and financial reforms in Beijing on Monday.

A trade deficit in the first two months this year and its impact on the exchange rate of Renminbi is "a good thing" for China, the governor of China's central bank said Monday.

The supply and demand relations in the market are playing an increasing role in deciding the exchange rate of the Chinese currency, Zhou Xiaochuan, governor of the People's Bank of China (PBOC), said at a press conference on the sidelines of the ongoingannual parliamentary session.

China swung to a trade deficit of $31.48 billion in February, the largest in a decade, as import growth far outpaced exports.
Yi Gang, vice governor of the PBOC and director of the State Administration of Foreign Exchange (SAFE), also described the trade deficit in February as a "positive sign" for a more balanced international balance of payment for China.
March 3 2012
China Premier received "Best Friend of American Worker" award from America's International Longshoremen's Association
Chinese Premier Wen Jiabao was granted Friday the "Best Friend of American Worker" award in appreciation of China's strong support for the growth of jobs for American workers.
The award from America's International Longshoremen's Association (ILA) was received here by Zhang Yesui, Chinese ambassador to the United States, on behalf of the Chinese premier. Wen visited the Port of Boston during a visit to the United States in December 2003.

ILA Vice President William McNamara said his association was honored to give the award to Premier Wen to thank China for its great contributions to creating more job opportunities for American workers.

The award ceremony coincided with the 10th anniversary of the first direct vessel call to the Port of Boston by China Ocean Shipping (Group) Company (COSCO) in February 2002.

For his part, Zhang said "this award represents a unique recognition of Premier Wen Jiabao's strong support to the COSCO-Massport partnership." Massport stands for the Massachusetts Port Authority of the United States.

"I think today's event is a good example of how the United States and China are cooperating in a full range of areas, and how the Chinese business and trade can contribute to American jobs and community in six states of the New England region of the United States, particularly in the city of Boston," Zhang noted.

The COSCO-Massport partnership reflects the very nature of China-U.S. business relations, which is win-win in nature and benefits the people of the two countries, Zhang said.

COSCO, founded in April 1961, is China's largest company specializing in global shipping, modern logistics and ship building and repairing.
March 1 2012 Share
For Beijing, it's no more Mr Abstention By Cary Huang
China's use of its veto in UN Security Council debates on Syria shows it has shed its low-profile approach and will use its clout to protect Middle East interests - When China and Russia vetoed a United Nations Security Council resolution this month calling on Syria's President Bashar al-Assad to step down, they revived fears that the old ways of geopolitics had returned.

In the years after the dismantling of the Soviet bloc in the early 1990s, scenarios in which the Soviet Union squared off with the United States over any resolutions that stepped on its geopolitical toes seemed to be gone forever.

But now "there's a hint in the air of a revived cold war", according to Patrick Seale, a British historian specialising in Syria and the Middle East.

He adds that "with their vetoes, Moscow and Beijing were saying that they too had interests in the Middle East that they were determined to protect".

In his essay in The Diplomat entitled "Syria and the New Cold War", Seale noted that Russia's interests in the region go back decades, but that China's priorities in the region are fairly recent.

Its new assertiveness suggests that the rising power is shifting away from its decades-old diplomacy of "low profile" and "non-intervention", emboldened by its status as the world's second-largest economy.

Analysts say the UN debate over Syria is no longer about the Middle Eastern country's internal power struggle.

Instead, with its vetoes, Beijing in particular is laying claim to its interests in the Middle East and is determined to protect them.

This new "step-in diplomacy" "suggests a gradually evolutionary process of Beijing's changing diplomatic policy and diplomatic behaviour", according to George Tsai Wei, an academic at Taiwan Cultural University's Sun Yat-sen Institute of Globalisation Studies, who studies China's diplomacy.

Previously, China had been known as "Mr Abstention" in the Security Council, voting to avoid confrontations in disputes involving the US-led bloc or other, developing nations involved. This tactic, devised by Deng Xiaoping , was designed to allow China to concentrate on its own economic development.

Since a permanent member's abstention is the functional equivalent of voting "yes", assuming there are nine affirmative votes from other members of the council, the tactic was welcomed by the West, and acceptable to the country being reprimanded, such as in the cases of Kosovo, Iraq, Afghanistan and Libya.

The Syrian veto represents a significant departure from Deng's tactic, according to Chinese academics.

"It is not a good thing for a big power like China to be a Mr Abstention for so long," said Tao Wenzhao , a senior research fellow with the Chinese Academy's Institute of American Studies.

He believes a rising power should take greater responsibility than Deng's developing nation.

"China wants to play a bigger role and its efforts to mediate in the Syrian conflict are driven by its willingness to show itself as a global player," said Joseph Cheng Yu-shek, a China watcher with City University of Hong Kong.

"China certainly wants to exert and develop its influence in the Middle East region, which is of strategic importance."

When US-led Nato went to war over Kosovo in 1999, the world was a different place. Russia was an economic basket-case and China was neither the world's second largest economy nor Washington's biggest creditor. Today, all that has changed. While Beijing will not underestimate the global reach and technological edge of the US-led alliance's military might, it is aware of the West's limitations in flexing those muscle because of its years of economic downturn and hefty sovereign debt.

Cheng said Beijing had set three criteria for accepting international intervention: prior consultation between the big powers; that countries in the affected region have reached a consensus; and that the intervention will not hurt China's core interests.

In the case of Syria, the second requirement was met, as most Arab nations supported the Security Council resolution. However, "the US did not consult China and the intervention hurt China's core interests", Cheng said.

Given Syria's strategic importance - it borders Turkey, Jordan, Iraq, Israel and Lebanon - as well as its close ties with Iran and Lebanon's armed group Hezbollah, China believes the Assad regime's downfall will not only strengthen US supremacy in the region but also threaten China's oil supplies. Beijing has made no secret of its determination to protect these.

Chinese diplomats see Syria as having had to bear the brunt of Arab-Israeli conflicts, which include the loss of territory - the Golan Heights - to Israel. With a population of 22 million and a territory of 185,000 square kilometres, Syria is middle-sized but plays a big role country in the Middle East because of its geographic importance.

"China's strategists have carefully calculated the gains and losses of its vetoes," said Jin Canrong , associate dean of Renmin University's school of international relations.

Jin said China had placed the Syria issue in a wider perspective of global geopolitics because the region's strategic significance to China's energy supply, citing the fact that China was now the world's largest energy importer and Iran - an ally of Syria - was a major supplier of oil and gas.

"China and Russia have demonstrated the UN will play no role contrary to their interests," John Bolton, a former top diplomat to several administrations and US ambassador to UN, wrote in the conservative Weekly Standard magazine.

Bolton, now a senior fellow at the American Enterprise Institute, said China and Russia had learnt from bitter experience that their inaction in allowing Nato's Libya campaign had morphed into Muammar Gaddafi's overthrow.

China abstained rather than vetoing the resolution authorising the action, perhaps believing Nato would confine itself to no-fly zones over threatened cities like Benghazi rather than overthrowing Gaddafi.

"Obviously concerned not to make that mistake again, Russia and China are now fully alert to challenges to their client states. Syria proved to be the test case, provoking the double veto," Bolton said.

Domestic issues also influence China's decisions. After the change in governments in Egypt and Libya, Beijing is now watching Syria for signs of a domino effect of falling regimes in the Middle East.

The issue is particularly sensitive this year, with the Communist Party poised to undertake a once-a-decade power transition in the autumn.

The party, which carried out a bloody crackdown on pro-democracy protesters in 1989, has confronted domestic challenges to its authority, some of which have been inspired by the Arab Spring, as widespread discontent triggers increasingly louder calls for political reform in the world's last major communist-ruled nation.

Beijing's authoritarian leaders have used overwhelming force against anti-government protests in Tibet and the traditionally Muslim northwestern region of Xinjiang .

The fall of Libya's Gaddafi regime and the overthrow of similar authoritarian rulers in Tunisia and Egypt have heightened Beijing's decades-old fear of dissenting ideas spreading to the one-party rule country.

"Peace and stability will help eliminate terrorism, separatism and extremism," said a China Daily commentary last week, explaining why China should veto UN resolutions. Beijing has accused Tibetan and Xinjiang rioters of terrorism, separatism and extremism.

The recent open debate between US senator John McCain and Chinese Vice-Foreign Minister Zhang Zhijun over the issue of whether China would have riots similar to the Arab Spring has demonstrated Beijing's concern.

Professor Xiao Xian , a leading Middle East expert and vice-president of the Chinese Association for Middle East Studies, said that Beijing was fully occupied by the concept of the "Arab Spring", believing it was a Western scheme to uproot authoritarian regimes elsewhere.

Yin Gang , a research fellow at the Chinese Academy of Social Sciences' West Asian and African Studies Institute, said China's assertiveness reflected the leadership's concern that Syria would become another Libya.

Furthermore, Beijing's fear was that Iran, where a core interest of China was at stake, would be the West's next target, China Daily said.

People's Daily, in a front-page commentary, said China must stick to its line of opposing any attempt to force regime change or intervene in Syria. It also warned about the risk of stirring up a hornets' nest of bloodshed and instability in a volatile world.

While Premier Wen Jiabao said that China would not protect the Assad regime, a number of diplomatic sources said that after the downfall of Gaddafi the Chinese leadership had agreed among themselves that Libya would be the last place where the West would be allowed to intervene.

"No forced change of regime is China's bottom line," Tsai said.
February 27 2012 Share
Chinese work ethic succeeds in face of recession when Spain's unemployment rate is 22.8%

Almost a quarter of Spain's foreign entrepreneurs are Chinese immigrants, many from the same region

With an unemployment rate of 22.8 per cent, the euro area's highest, Spain appears to be spiralling back into recession. Yet the Cobo Calleja industrial park 24 kilometres south of central Madrid shows few signs of economic distress.

A manager's Mercedes must be moved to make way for an incoming truck. Forklifts and workers pushing metal carts swerve to avoid each other as they rush to deliver orders. Merchants cram white sneakers and brown leather boots into boxes.

"I can't think of one Chinese person who is unemployed," Jin Jing says as she surveys the commotion outside her warehouse crammed with women's clothing. "There are jobs to be found in this crisis if you are willing to work. The Chinese are clearly willing to work."

The activity in Cobo Calleja reveals a surprising source of strength for the troubled Spanish economy - immigrants from China. Almost all of the shopkeepers and wholesalers in the park are Chinese.

While they account for less than 3 per cent of Spain's 5.7 million immigrants, Chinese make up nearly 23 per cent of the country's foreign-born entrepreneurs, according to the Labour Ministry.

For a decade, Spain's explosive growth lured foreign workers into the country. But when the housing market collapsed in 2008, more than one million immigrants found themselves out of work.

The government offered €10,000 (HK$104,000) to foreigners who agreed to go home and not return to Spain for at least three years.

Few Chinese accepted the offer, and government statistics show there are 165,000 Chinese in Spain, though many academics believe the number may be more than double that.

Almost 18,000 new Chinese immigrants arrived in Spain in the three years ended December 2010, and most seem to have found work.

A primary strength of the Chinese community in Spain is its cohesion. Many Chinese say a strong majority of their ranks come from one place - Qingtian county, about 480 kilometres south of Shanghai.

That mountainous corner of Zhejiang province has little arable land, so for the last 200 years many of its people have emigrated.

Throughout the 20th century, Qingtian immigrants trickled into Spain, and their numbers began to rise in the late 1990s.

After arriving in Spain, the Qingtianese began opening Chinese restaurants and small corner stores, then moved into importing and selling goods from their homeland.

Lately they've started buying tapas bars catering to Spaniards, and today signs of their presence are everywhere.

Many Chinese schools and cultural centres are operated by Qingtian natives. Chinese restaurants serve up the region's cuisine, and the rough Qingtian dialect can be heard in many Chinatowns in Spain. The close Chinese community helps new arrivals find work and has created informal lending groups that allow immigrants to pool capital and more easily borrow money.

Such networks helped Jin Jing and her siblings, who have been in Spain for more than two decades. They own Freebase, a clothing line designed in Spain, made in China, and sold in more than 2,000 stores across Spain.

In 2002, the siblings invested €60,000 in a tiny store in Madrid. Three years later they ploughed €3 million into a sprawling warehouse in Cobo Calleja. In January, the company bought a 113,000 sq ft textile printing factory.

"For the Chinese who have managed their savings, this crisis has brought a business opportunity," says Jin's brother Yong.

While many in Spain admire this can-do spirit, they often feel the Chinese "do not integrate and are only interested in working", said Dan Rodriguez, an anthropologist at the Autonomous University of Barcelona. As a result, "anti-Chinese sentiment is quite widespread", he said.

Katia Wu, a 27-year-old clothing wholesaler and retailer in Barcelona, has experienced that resentment.

"I have been told by Spaniards that I work too hard and steal business from the locals," Wu said. Though Wu said business has slowed, she and her husband, Deng, opened three new shops last year. "We had a choice," Deng said. "Slow things down or be aggressive. We decided to compete."
February 24 2012 Share
Lessons of the Opium War By Andrew Moody
Julia Lovell believes much of the impetus behind China's transformation in recent years comes from the fear of falling behind.

Acclaimed writer says she had to revise almost every assumption about Chinese empire - Julia Lovell says the Opium War still leaves a lasting mark and casts a shadow on China even today.

The 36-year-old China historian, who has just written a book on the 19th century conflict between Britain and China, Opium War, Drugs, Dreams and the Making of China, says the war certainly teaches those in modern China of the dangers of falling behind the West.

"If you talk to many Chinese about the Opium War, a phrase you will quickly hear is luo hou jiu yao ai da, which literally means that if you are backward you will take a beating," she says.

"So the events of the Opium War are still held up as a tragic reminder of what happens if China shuts its doors to the outside world."

Lovell, who is perched in the junior common room at Queen's College, Cambridge, surrounded by dark 18th century portraits, believes much of the impetus behind China's transformation in recent years comes from the fear of falling behind again.

"They have very strong echoes in the present day in a China which in the past 30 years has very energetically embarked on a process of ... opening itself out to political, economic and cultural global influences," she says.

The war, which is largely forgotten in Britain and elsewhere, remains a seminal moment in Chinese history.

Britain, controversially, even at the time, used its then state-of-the-art navy against primitive Chinese warships to secure trade passages into China for its lucrative opium trade. The conflict eventually led to most of China's major ports being ceded to foreign powers.

"I think so much of the tragedy comes from the dramatic and terrible discrepancy in firepower between the British and the Chinese and as a result of that thousands of Chinese died in terrifying ways," she says.

"They either burnt to death or they committed suicide because they were terrified by these foreign invaders whose language and intentions they couldn't understand."

The book, Lovell's third on China, is shortly to be published in Chinese, and took her three years to produce, including spells in China reading through many contemporary Chinese documents of the time. It focuses in detail on the first Opium War (1839-1942), but also deals with the second (1856-60) as part of the aftermath of the initial conflict.

"I noted that many historians had written wonderfully about the Opium War before but that Chinese historians tended to focus on Chinese sources and Western historians on European or American sources. There was relatively little overlap and what I wanted to do was provide an English account of both sides of the story," she says.

The book, which runs to nearly 400 pages, is written in Lovell's often wry and witty style as she demonstrated in an earlier book on the history of the Great Wall.

As such it has proved a word-of-mouth success among those wanting to delve deeper into Chinese history.
"It has been well received. Whether it has moved on from being a book about China to being something greater than that we will have to see," she says.

The Opium War was very much a clash of civilizations. The British, with the East India Company at the vanguard, effectively sold opium to China in the early 19th century in exchange for tea, for which it had developed an unquenchable thirst.

The Chinese authorities, worried about growing addiction, banned the trade, leading to military conflict.

The first Opium War ended with the Treaty of Nanking in 1842 ceding Hong Kong to Britain.

Some of the events in Lovell's book read like a comedy, rather than a military conflict, with many of the key participants not fully understanding what was going on.

Various emissaries during the various key battles sent back reports to the then Qing Dynasty (1644-1911) emperor Daoguang informing him of great victories when, in fact, major defeats had occurred.

"The reality was that the further away you were from Beijing the freer the rein you had. It was really quite flabbergasting how fast and loose some of the emperor's servants played with the truth," she says.

Lovell says the war uncovered just how disunited China was at the time with the Qing Dynasty, the result of a Manchu invasion, being ethnically different from the majority Han Chinese population.

She says this was never more in evidence than when Canton (the modern city of Guangzhou) was under siege by the British in 1841.

"The city is full of Chinese, all drawn from different provinces in China, and they are too busy fighting each other to put up a coherent fight against the British. I was struck by how complex this place we call China is. Writing this book really caused me to revise almost every assumption I had before about the Chinese empire."

Lovell, the daughter of music teachers, was born in Cumbria in the extreme northwest of England but lived in many parts of the country.

She went on to read history at Cambridge but switched disciplines after the first year to Chinese partly because she was inspired by James Bond who in You Only Live Twice (the film and not the book) revealed he had read oriental languages at the same university.

"I remember seeing the film in the Christmas holiday when I was considering changing subject and I thought it would be a good cocktail party anecdote if I changed subject because I wanted something in common with James Bond," she recalls.

To build her language skills, she went on to study Chinese at the Johns Hopkins Center for Chinese at Nanjing University.
"It was very important for me to spend that nine months in China as an immersion in the language," she says.

She returned to Cambridge to do a PhD and became a research fellow before taking up her current role as a lecturer of modern Chinese history and literature at Birkbeck, the University of London.

Lovell has a worldwide reputation as translator and has translated many leading writers into English, including Lu Xun, the leading Chinese writer of the early 20th century and more modern writers like Zhu Wen. She has also translated Eileen Chang's Lust, Caution, on which a major film was based.

The Chinese have very different concepts about history, as Lovell has discovered in her other role as a historian.

"I think it is true on China that even on an everyday level ordinary people are used to conjuring up a wide range of historical analogies. This familiarity with history has no analogue in Britain, for example," she says.

She found while sitting in on history classes at schools and universities in China doing research for her book, there were diverse opinions about the Opium War.

"I was struck that although much of the teaching is framed to blame the conflict, very correctly, on British aggression and misconduct, many of the responses from children in the classrooms were strikingly critical of the Chinese themselves."
February 18 2012 Share
China's Xi Jinping talks trade with California, U.S. leaders By Walter Hamilton


Chinese Vice President Xi Jinping addresses the U.S.-China Economic and Trade Cooperation Forum in downtown Los Angeles.

China's vice president received a warmer welcome at an economic forum in Los Angeles on Friday than he seemed to get in Washington earlier in the week.


But beneath the glad-handing surface were some of the same tensions that were on display when Chinese Vice President Xi Jinping met with his U.S. counterpart, Joe Biden, on Tuesday. Biden took China to task on several fronts, including trade policies and intellectual property rights.

Xi appeared in downtown Los Angeles with state and federal officials, including Gov. Jerry Brown and Los Angeles Mayor Antonio Villaraigosa, and they all pledged economic cooperation.

"We can help each other, help ourselves and help the people of the entire world," Brown said.

Villaraigosa announced plans to open a tourism office in the city of Chongqing. It would be Los Angeles' second outpost in China. A Beijing office opened in 2006.

Aside from the pleasantries, however, was unease over Chinese trade policies and piracy issues.

Although American exports to China have grown strongly in the last two years, the trade deficit between the two countries has widened as imports from China also rose, said U.S. Commerce Secretary John E. Bryson.

"We have to work harder to achieve balanced trade growth," said Bryson, the former chief executive of Edison International, as Xi looked on impassively.

Xi defended China's trade record, saying in prepared remarks that the notion of China benefiting disproportionately from unfettered U.S. markets, while closing its home market to U.S. companies, is mistaken. Inexpensive Chinese goods, Xi said, have given the average U.S. household the equivalent of $1,000 in disposable income.

"China has indeed benefited a lot … [but] so has the United States," Xi said. "Both China and the United States are winners."

Chinese Vice President Xi Jinping concludes 4-day US visit by attending Suns-Lakers game


Chinese Vice President Xi Jinping wrapped up his four-day U.S. visit in Southern California style — in a box seat at the Los Angeles Lakers' game against the Phoenix Suns on Friday night.

Expected to become president of the world's most populous nation next year, Xi began the final day of his U.S. visit at a downtown trade conference hosted by the Chinese Ministry of Commerce and then accompanied Vice President Joe Biden to a suburban school in South Gate that specializes in Asian studies.

The day ended at Staples Center, across the street from the JW Marriott at LA Live, where Xi was staying. He entered the arena on a red carpet toward the end of halftime, then watched the entire third quarter and part of the fourth alongside Gov. Jerry Brown and Los Angeles Mayor Antonio Villaraigosa as the Lakers beat the Suns 111-99.

Xi and his party then left for the airport.

During the game, Villaraigosa presented Xi with a Lakers jersey that had his name on the back. Former Lakers star Magic Johnson came up to the suite to meet him, as did Los Angeles Galaxy soccer player David Beckham.

Kobe Bryant, who scored 18 of his 36 points in the third period while Xi was in the building, had a pair of autographed shoes sent up to the Chinese dignitary.

The NBA has been enormously popular in China since the arrival of 7-foot-6 center Yao Ming, who spent eight seasons with the Houston Rockets before retiring in July. On Thursday, the league announced that its 21-game broadcast schedule during the Chinese New Year celebration in China from Jan. 21-28 was watched by 96 million viewers there — 79 million on the league's television partners in China, and another 17 million on digital platforms.

The recent success of Jeremy Lin, an American-born point guard from Harvard who has had a phenomenal two-week run with the New York Knicks, has only added to the NBA's popularity in China. Lin is the first American-born NBA player of Chinese or Taiwanese descent.

The league staged preseason games in China the previous few years, although international play was scrapped this season because of the lockout.

A number of NBA players who became free agents at the end of last season played in China during the 149-day lockout, including J.R. Smith, Wilson Chandler and Kenyon Martin.
February 17 2012 Share
Why China's Political Model Is Superior By ERIC X. LI


THIS week the Obama administration is playing host to Xi Jinping, China's vice president and heir apparent. The world's most powerful electoral democracy and its largest one-party state are meeting at a time of political transition for both.

Many have characterized the competition between these two giants as a clash between democracy and authoritarianism. But this is false. America and China view their political systems in fundamentally different ways: whereas America sees democratic government as an end in itself, China sees its current form of government, or any political system for that matter, merely as a means to achieving larger national ends.

In the history of human governance, spanning thousands of years, there have been two major experiments in democracy. The first was Athens, which lasted a century and a half; the second is the modern West. If one defines democracy as one citizen one vote, American democracy is only 92 years old. In practice it is only 47 years old, if one begins counting after the Voting Rights Act of 1965 — far more ephemeral than all but a handful of China's dynasties.

Why, then, do so many boldly claim they have discovered the ideal political system for all mankind and that its success is forever assured?

The answer lies in the source of the current democratic experiment. It began with the European Enlightenment. Two fundamental ideas were at its core: the individual is rational, and the individual is endowed with inalienable rights. These two beliefs formed the basis of a secular faith in modernity, of which the ultimate political manifestation is democracy.

In its early days, democratic ideas in political governance facilitated the industrial revolution and ushered in a period of unprecedented economic prosperity and military power in the Western world. Yet at the very beginning, some of those who led this drive were aware of the fatal flaw embedded in this experiment and sought to contain it.

The American Federalists made it clear they were establishing a republic, not a democracy, and designed myriad means to constrain the popular will. But as in any religion, faith would prove stronger than rules.

The political franchise expanded, resulting in a greater number of people participating in more and more decisions. As they say in America, "California is the future." And the future means endless referendums, paralysis and insolvency.

In Athens, ever-increasing popular participation in politics led to rule by demagogy. And in today's America, money is now the great enabler of demagogy. As the Nobel-winning economist A. Michael Spence has put it, America has gone from "one propertied man, one vote; to one man, one vote; to one person, one vote; trending to one dollar, one vote." By any measure, the United States is a constitutional republic in name only. Elected representatives have no minds of their own and respond only to the whims of public opinion as they seek re-election; special interests manipulate the people into voting for ever-lower taxes and higher government spending, sometimes even supporting self-destructive wars.

The West's current competition with China is therefore not a face-off between democracy and authoritarianism, but rather the clash of two fundamentally different political outlooks. The modern West sees democracy and human rights as the pinnacle of human development. It is a belief premised on an absolute faith.

China is on a different path. Its leaders are prepared to allow greater popular participation in political decisions if and when it is conducive to economic development and favorable to the country's national interests, as they have done in the past 10 years.

However, China's leaders would not hesitate to curtail those freedoms if the conditions and the needs of the nation changed. The 1980s were a time of expanding popular participation in the country's politics that helped loosen the ideological shackles of the destructive Cultural Revolution. But it went too far and led to a vast rebellion at Tiananmen Square.

That uprising was decisively put down on June 4, 1989. The Chinese nation paid a heavy price for that violent event, but the alternatives would have been far worse.

The resulting stability ushered in a generation of growth and prosperity that propelled China's economy to its position as the second largest in the world.

The fundamental difference between Washington's view and Beijing's is whether political rights are considered God-given and therefore absolute or whether they should be seen as privileges to be negotiated based on the needs and conditions of the nation.

The West seems incapable of becoming less democratic even when its survival may depend on such a shift. In this sense, America today is similar to the old Soviet Union, which also viewed its political system as the ultimate end.

History does not bode well for the American way. Indeed, faith-based ideological hubris may soon drive democracy over the cliff.

Eric X. Li is a venture capitalist.
February 15 2012 Share
Like Father: Xi Zhongxun - Like Son: Xi Jinping Not First in Family to Visit Iowa (also visited Hawaii in 1980)

Chinese Vice President Xi Jinping, the man expected to become China's top leader in the fall, will be presented with an unusual gift on his visit to Washington this month – an album of photographs taken during his father's only visit to the U.S., back in 1980.


Xi Sr. (second from left) and Song Ping (far left) visit the Polynesian Cultural Center on the Hawaiian island of Oahu.

They show his father, Xi Zhongxun, leading a delegation of provincial leaders on a tour of New York, Washington, Iowa, Colorado, California and Hawaii, according to the National Committee on United States-China Relations, which organized that trip and will present the album.

One shows the elder Xi – a revolutionary hero — wearing a flower garland in Hawaii, where he was persuaded to don a hula skirt and "shake his bottom a bit" according Jan Berris, Vice President of the Committee, who accompanied the delegation on the trip in 1980.

"I don't think they expected people to be so warm-hearted and friendly," Ms. Berris said in a telephone interview. "As things progressed, and there were no major problems, they visibly relaxed and enjoyed things a litte bit more."

The 17-day tour was designed to build on the progress made in improving relations during Deng Xiaoping's landmark visit to the U.S. in 1979, shortly after China launched its market-oriented economic reforms and re-established diplomatic ties with the U.S.

"All of them were outspoken because they had confidence in who they were, but also because of the kind of leader Xi was," Ms. Berris continued. "This group was one in which he provided the atmosphere that made them feel confident about asking questions and being themselves."

The photographs are the latest evidence to emerge of the relatively strong links between Xi Jinping's family and the West, especially compared with the man he is due to replace, Hu Jintao, who only visited the U.S. for the first time in 2002.

The younger Mr. Xi — who has a daughter studying at Harvard, an ex-wife living in Britain, and a sister in Canada — first visited the U.S. in 1985 when he led an animal feed delegation to Iowa and plans to return there next week for a reunion with the family he stayed with.

The elder Xi's delegation also visited Iowa on his trip at the invitation of Robert D. Ray, the governor at the time, who had recently visited the southern province of Guangdong, where Mr. Xi was governor from 1979-81.

In Iowa, the 1980 delegation went to a pork chop barbecue, a John Deere factory and a pig farm, had dinners in private homes and watched a performance by the San Fransisco ballet. Some of them also watched a presidential debate between Jimmy Carter and Ronald Reagan.

Other highlights of the trip included a trip to Bloomingdales in New York, a helicopter ride over Manhattan, a tour of Disneyland in California and visits to the North American Aerospace Defense Command in Colorado and to Pearl Harbour in Hawaii.

The elder Xi's role as leader of the delegation highlights his status within the Party in 1980: Among the other members were senior figures including Song Ping, who went on to become a member of the Politburo Standing Committee and mentor to Hu Jintao.

Xi Sr. helped lead Communist forces to victory during China's civil war, and served as Vice Premier, but was purged in 1962 for supporting publication of a book deemed critical of Chairman Mao Zedong and held under house arrest for most of the next 16 years. He was rehabilitated in 1978 and the following year became governor of Guangdong, where he proposed and oversaw the establishment of China's first special economic zone. He died in 2002.

The photographs, and Ms Berris's recollections of the trip, also illustrate the elder Xi's relatively liberal style of leadership – which eventually saw him sidelined from the Party elite after the Tiananmen crackdown in 1989.

Ms. Berris said she had attended a meeting with Xi Jinping during a recent visit to China, and expected him to play on his personal ties to the U.S. during his visit, especially during his trip back to Iowa.

Mr. Xi raised eyebrows in 2009, when he appeared to criticize the U.S. in a speech in Mexico, saying: "Some foreigners with full bellies and nothing better to do engage in finger-pointing at us". He has not many any similar remarks in public since.

"He's a good politician and wants to show that side of himself," said Ms. Berris. "He comes across like his father, who was very outspoken and not shy and retiring. He's a man with his own personality."
February 7 2012 Share
Simpler visa procedures for Chinese tourists By Xin Dingding, Zheng Yangpeng and Shi Yingying

Travel agencies and destination countries try to cash in on a predicted spending and tourism surge, Xin Dingding, Zheng Yangpeng and Shi Yingying report from Beijing and Shanghai.

The ever-increasing number of Chinese tourists means that more and more countries are trying to simplify visa red tape.
A prime example of this occurred just last month. US President Barack Obama promised that procedures in China for non-immigrant visas will be much more efficient.

Travel services and destination countries are positioning themselves to cash in on the expected tourism surge.

Li Meng of China International Travel Service said that the company doubled the number of April-October air tickets it usually buys for China-US flights. This is the route's peak travel season.

Figures back the confident outlook. The number of Chinese visitors to the US has grown from nearly 400,000 in 2007 to more than 1 million in 2010, according to the China Tourism Academy.

Chinese companies benefit by providing travel services, but the numbers are also good for destination countries. Tourists and students bring in hard cash and in sluggish economic times, cash is king.

The United States is the most frequently cited "dream destination" for Chinese citizens, followed by France, according to research by the US Travel Association. However, more Chinese visited second-place France.

"A big reason has been the US visa system," the Travel Association's Siming Cao told China Daily in an email. "If you look at countries that have made their visa process simpler for Chinese citizens, they capture a larger share of outbound travel than the US."

As evidence, she said that 38 percent of Chinese international travelers visited Western Europe in 2010, compared with 13 percent for the US.


Visa applicants gather outside the US embassy in Beijing on Jan 30.

Dun Jidong, a marketing manager with Ctrip, a leading online travel agency, said, "Many Chinese are scared away by the difficulty in filling out application forms printed in English and the inconvenience of personal interviews required for every applicant.

"Often an applicant has to stand in a line for nearly a day for the interview," Dun said. "More troublesome is that before the interview, the applicant has to wait a long, long time."

So many visa applications were submitted during the first half of 2010 and 2011 that applicants had to wait two to three months on average for the chance to interview, Dun said. That eliminated many travel plans with a short lead time.

The delay was compounded by the annual crush of applications for student visas from July through September.

For those who went through the whole process, many who answered a reporter's questions outside the US Embassy found it exhausting. One of them was Zhou Yan, a student from Shandong Normal University in East China.

She said she and her classmates had traveled more than 400 kilometers from Shandong to Beijing for an interview. "We waited for three hours, but the actual interview only took three minutes."

What's changing - The problem with the US visa system has been its capacity to handle the Chinese demand. US Ambassador Gary Locke has said China is the source of about 11 percent of all visa applications to the US, second only to Mexico. The latest figures from the US State Department show that consular officers handled nearly 260,000 visa applications in China, an increase of 48 percent, in the last three months of 2011. Handling them better and quicker is the goal of policy changes.
Simpler visa procedures for Chinese tourists By Xin Dingding, Zheng Yangpeng and Shi Yingying

Travel agencies and destination countries try to cash in on a predicted spending and tourism surge, Xin Dingding, Zheng Yangpeng and Shi Yingying report from Beijing and Shanghai.

The ever-increasing number of Chinese tourists means that more and more countries are trying to simplify visa red tape.
A prime example of this occurred just last month. US President Barack Obama promised that procedures in China for non-immigrant visas will be much more efficient.

Travel services and destination countries are positioning themselves to cash in on the expected tourism surge.

Li Meng of China International Travel Service said that the company doubled the number of April-October air tickets it usually buys for China-US flights. This is the route's peak travel season.

Figures back the confident outlook. The number of Chinese visitors to the US has grown from nearly 400,000 in 2007 to more than 1 million in 2010, according to the China Tourism Academy.

Chinese companies benefit by providing travel services, but the numbers are also good for destination countries. Tourists and students bring in hard cash and in sluggish economic times, cash is king.

The United States is the most frequently cited "dream destination" for Chinese citizens, followed by France, according to research by the US Travel Association. However, more Chinese visited second-place France.

"A big reason has been the US visa system," the Travel Association's Siming Cao told China Daily in an email. "If you look at countries that have made their visa process simpler for Chinese citizens, they capture a larger share of outbound travel than the US."

As evidence, she said that 38 percent of Chinese international travelers visited Western Europe in 2010, compared with 13 percent for the US.

Visa applicants gather outside the US embassy in Beijing on Jan 30.

Dun Jidong, a marketing manager with Ctrip, a leading online travel agency, said, "Many Chinese are scared away by the difficulty in filling out application forms printed in English and the inconvenience of personal interviews required for every applicant.

"Often an applicant has to stand in a line for nearly a day for the interview," Dun said. "More troublesome is that before the interview, the applicant has to wait a long, long time."

So many visa applications were submitted during the first half of 2010 and 2011 that applicants had to wait two to three months on average for the chance to interview, Dun said. That eliminated many travel plans with a short lead time.

The delay was compounded by the annual crush of applications for student visas from July through September.

For those who went through the whole process, many who answered a reporter's questions outside the US Embassy found it exhausting. One of them was Zhou Yan, a student from Shandong Normal University in East China.

She said she and her classmates had traveled more than 400 kilometers from Shandong to Beijing for an interview. "We waited for three hours, but the actual interview only took three minutes."

What's changing - The problem with the US visa system has been its capacity to handle the Chinese demand. US Ambassador Gary Locke has said China is the source of about 11 percent of all visa applications to the US, second only to Mexico. The latest figures from the US State Department show that consular officers handled nearly 260,000 visa applications in China, an increase of 48 percent, in the last three months of 2011. Handling them better and quicker is the goal of policy changes.


The dragon dance produces smiles outside the It's a Small World ride at Disneyland during Spring Festival. About 1,000 Chinese mainlanders visited the California park on Jan 25.

Charles Bennett, minister-counselor for consular affairs at the US Embassy, said earlier that 50 more American staff members would be deployed to the embassy and US consulates in China this year. More interview facilities will be built, and the embassy is considering streamlining the application process, allowing applicants to have their interviews as quickly as two days after applying.
In addition, some qualified travelers who previously were granted visas might be able to renew their visas without another interview, saving both time and money. The US hopes it will encourage these travelers to visit the US again, and meanwhile free resources to interview 100,000 more first-time Chinese travelers.
Bennett said the new policy will not loosen standards - "national security remains this administration's highest priority," the embassy's website says - but that the US expects to approve visas for nearly 90 percent of Chinese applicants this year.

Li of China International Travel said the company estimates an additional 80,000 to 100,000 tourist visas could be handled in Beijing and Shanghai combined this year.

What others do - Industry observers noted that the new US visa policy follows a global trend of adopting "Chinese-friendly" policies to boost tourism.

Japan, for instance, has relaxed its visa policy to Chinese tourists three times since 2009. Now, an applicant who lives in a big city and has a credit card can get a visa to Japan.

New Zealand last year reduced the number of documents it requires and raised the number of multiple-entry visas issued.

Spanish Tourism Minister Miguel Sebastian said at a business forum in Barcelona in July that Spain planned to ease visa requirements for Chinese nationals, encourage more direct flights between the two countries and open more tourist offices in China.

Germany, which like the US requires personal interviews of applicants, plans to simplify and speed its visa issuance this year, according to a Reuters report in December. However, the embassy told China Daily recently that no changes are expected soon.

Industry observers noted that all the new measures of developed countries stopped short of lowering the standards for issuing visas to mainland Chinese. However, policy changes do indicate that other countries are realizing the importance of the Chinese market, said Jiang Yiyi, director of China Tourism Academy's International Tourism Development Institute.

"We find that once a country relaxes its visa policy for Chinese tourists, it usually produces immediate results in the growth of visitor numbers."

After Japan eased its visa policy, she said, mainland tourists to Japan exceeded 1 million that year and reached 1.41 million the next.

The World Tourism Organization said global tourism grew 4.4 percent last year, but China's international travel increased 20 percent. Nearly 70 million mainlanders visited overseas destinations including Hong Kong, Macao and Taiwan; about 20 million visited other foreign destinations.

Big spenders welcome - According to the US Department of Commerce, Chinese tourists on average spend more than $6,000 per trip, compared with about $4,000 spent by all international travelers in the country.

More than 800,000 Chinese visitors contributed $5 billion to the US economy in 2010. Based on that, and a projected 135 percent increase in visitors, Chinese travelers would contribute $11.75 billion to the US economy in 2016.

A Beijinger who joined a tour group last year did his part. The man, who gave his name only as Qi, said every member of his group spent at least 20,000 yuan ($3,167) on top-brand clothes, shoes and bags. (Food and lodging were extra.)

Qi said he is thrifty and doesn't buy expensive clothes at home, but regretted having curbed his spending on the trip. "I wished I had bought more, because clothes and shoes of some brands are indeed cheaper in the US than in Beijing."

Yang Wen, 37, a human resources manager in Shanghai, said she plans to apply next month to visit the US in May. She said she spends hundreds of thousands of yuan on luxury goods every year while traveling abroad. People like her can help boost the gross domestic product in the US, she said.

Michele Rothstein, spokeswoman for Simon Property Group's premium outlets division, said in an email that the group is "pleased with the growth (in) visitors from China who have embraced our outlet centers as must-visit destinations. ... We look forward to initiatives that enable more people to come to the US."

Write the reporters at xindingding@chinadaily.com.cn, zhengyangpeng@chinadaily.com.cn and shiyingying@chinadaily.com.cn

Tour packages growing up - When the United States first allowed tour groups from China's mainland in 2008, cautious travel agents limited their packages to important sites on the East and West coasts and Hawaii - all in about two weeks.

Breathless, see-everything-famous trips were well suited for Chinese who might visit the US only once, especially in an immature market. Now, agencies are offering wider selections of travel options in light of planned improvements to the US visa application process in China and the expected leap in Chinese visitors to the US.

China International Travel Service, one of the largest agencies in Beijing, has begun selling more focused tours. They include shopping trips to both luxury stores in Beverly Hills and large outlets on the East Coast, and themed tours, such as one to national memorials and parks including Mount Rushmore.

Online travel service www.Ctrip.com said it will work to develop more US-bound group offerings this year. It plans to introduce new tours to Seattle and Florida.

However, Fei Lina from Shanghai Jinjiang International Travel said January and February are a low season for US trips, so it is not a good time to test US President Barack Obama's promise of a shortened and simplified visa procedure.

"Some say we need to wait until the second half of this year to see the real impact of the policy, and I think we need to wait until 2013 at least," she said.

Some agencies worry that expensive US-bound airfare and the lack of local tour guides could make tours to Europe or to islands such as Bali and Maldives during off-seasons appear more cost-effective.

Ge Jingwen, who works at SAL Tour in Shanghai, said, "It's never an easy thing to grab cheap US tickets. For example, you can get a 3,000 yuan ($475) flight to Europe when there's a discount, but any destination in the US costs you at least 5,000 to 6,000 yuan."

Li Meng with China International said that if the number of China-US flights does not increase, the prices of tickets will rise with demand. That would push up the prices of US-bound tour packages as well.

School also a draw - The US is attractive to Chinese students and their parents, not just tourists. The Institute of International Education reported that the number of Chinese studying abroad increased 23 percent last year, but those working toward undergraduate degrees in the US rose 43 percent.

EIC Group, an overseas study consultancy, said the appreciation of the renminbi against the dollar made their tuition and living expenses cheaper.

Li Nannan, a consultant with New Oriental education group, said a bachelor's degree in the US now costs at least 1.5 million yuan ($238,000) and a master's degree at least 1 million yuan.

Different from the past, when many Chinese students relied on scholarships, "an overwhelming majority of Chinese parents now pay for the tuition and living expenditure," she said.

That, and the fact foreign students generally pay much higher tuition than in-state students, makes these students welcome as income generators for US colleges and universities.
Write the reporters at xindingding@chinadaily.com.cn, zhengyangpeng@chinadaily.com.cn and shiyingying@chinadaily.com.cn

Tour packages growing up - When the United States first allowed tour groups from China's mainland in 2008, cautious travel agents limited their packages to important sites on the East and West coasts and Hawaii - all in about two weeks.

Breathless, see-everything-famous trips were well suited for Chinese who might visit the US only once, especially in an immature market. Now, agencies are offering wider selections of travel options in light of planned improvements to the US visa application process in China and the expected leap in Chinese visitors to the US.

China International Travel Service, one of the largest agencies in Beijing, has begun selling more focused tours. They include shopping trips to both luxury stores in Beverly Hills and large outlets on the East Coast, and themed tours, such as one to national memorials and parks including Mount Rushmore.

Online travel service Ctrip.com said it will work to develop more US-bound group offerings this year. It plans to introduce new tours to Seattle and Florida.

However, Fei Lina from Shanghai Jinjiang International Travel said January and February are a low season for US trips, so it is not a good time to test US President Barack Obama's promise of a shortened and simplified visa procedure.

"Some say we need to wait until the second half of this year to see the real impact of the policy, and I think we need to wait until 2013 at least," she said.

Some agencies worry that expensive US-bound airfare and the lack of local tour guides could make tours to Europe or to islands such as Bali and Maldives during off-seasons appear more cost-effective.

Ge Jingwen, who works at SAL Tour in Shanghai, said, "It's never an easy thing to grab cheap US tickets. For example, you can get a 3,000 yuan ($475) flight to Europe when there's a discount, but any destination in the US costs you at least 5,000 to 6,000 yuan."

Li Meng with China International said that if the number of China-US flights does not increase, the prices of tickets will rise with demand. That would push up the prices of US-bound tour packages as well.

School also a draw - The US is attractive to Chinese students and their parents, not just tourists. The Institute of International Education reported that the number of Chinese studying abroad increased 23 percent last year, but those working toward undergraduate degrees in the US rose 43 percent.

EIC Group, an overseas study consultancy, said the appreciation of the renminbi against the dollar made their tuition and living expenses cheaper.

Li Nannan, a consultant with New Oriental education group, said a bachelor's degree in the US now costs at least 1.5 million yuan ($238,000) and a master's degree at least 1 million yuan.

Different from the past, when many Chinese students relied on scholarships, "an overwhelming majority of Chinese parents now pay for the tuition and living expenditure," she said.

That, and the fact foreign students generally pay much higher tuition than in-state students, makes these students welcome as income generators for US colleges and universities.
January 29 2012 Share
China Eyed as Next Educational Frontier By Andrew Browne


'The way I explain it to my friends in the U.S. is that you cannot achieve 10% GDP growth per year by working a 35-hour week – even if you're as smart as the Chinese,' Mr. Quelch said. Above, the dean attended the Lujiazui Forum in Shanghai on May 20, 2011. Education: Exeter College, Oxford University (BA and MA), the Wharton School of the University of Pennsylvania (MBA), the Harvard School of Public Health (SM) and the Harvard Graduate School of Business Administration (DBA); Career: Harvard Business School, London Business School.

Breakneck economic growth has far outstripped the supply of management talent. Meanwhile, Chinese companies in both the private and state sectors are responding to government incentives to "Go Out" and compete against the best companies in the world—while juggling fierce competition, rapidly changing technology and shifting macro-economic forces at home.

No wonder some of the world's most prominent business schools are eyeing China as the next educational frontier.

China Europe International Business School got to China early. That gives it a head start in terms of faculty and facilities. Its new pitch: "China Depth Global Breadth," marrying insight into how China works with an international perspective that attracts students from China and around the world.

Dean John A. Quelch, a veteran of the Harvard Business School and London Business School, insists that despite economic turmoil in Europe, the CEIBS brand in China remains untarnished. "Germany is held in very high regard," he insists. Besides, he adds: "People in China take the long view."

Mr. Quelch talked with Andrew Browne in Shanghai. The following interview has been edited.

WSJ: Like everybody else in China, CEIBS seems to be investing massively in infrastructure. Tell us something about your expansion plans.

Mr. Quelch: The Shanghai campus will double in size by the end of 2013. We also have a campus that we opened in Beijing in 2010 and we currently have operations in Shenzhen that may convert into a fully fledged campus within the next two to three years.

We also have an appetite for going west, and looking at that hundred million people in the Chengdu-Xian-Chongqing triangle, who will eventually want their own business school and will not necessarily want—or be able—to fly to Beijing or Shanghai.

The reason why Stanford exists is because Harvard always thought that Californians would be happy to come east to Boston, and never imagined they'd want their own Harvard, a.k.a. Stanford.

WSJ: The No. 1 complaint of foreign companies in China is lack of management talent. Isn't that a huge opportunity for you?

Mr. Quelch: First of all, China's pace of expansion has outrun the speed with which managers can experientially develop themselves, and so our role is to be an accelerant. We take experienced or high-potential young managers, and we accelerate the speed with which they can assume more management and leadership responsibilities.

Second, because we cannot serve everybody—obviously—the admissions criteria that we apply and the rectitude of our admissions policies is extremely important to our overall economic impact.

WSJ: What's the mix of students between college graduates and mid-career managers?

Mr. Quelch: We focus on more senior executives even compared with a Harvard Business School. We graduate 1,000 people a year, roughly, 800 of them are executive MBAs; average age 40. The other 200 are MBAs; average age 30.

You have to have an extremely strong teaching faculty—very practical, very experienced—to be able to command the sustained attention and respect of 40-year-old business people.

We are the No.1 revenue-generating business school in executive education in Asia built around our unique ability to deliver both "China Depth and Global Breadth."

WSJ: How do the changes in the CEIBS syllabus over the years reflect the shifting dynamics of the Chinese economy?

Mr. Quelch: Initially the focus was on functional competency [in] finance, accounting and marketing etc. Now the emphasis is on integrated general management and problem-solving across functional silos. Teamwork and leadership in fast-growth markets are stressed in our curriculum.

WSJ: Lack of integrated management is said to be one of the weaknesses of many Chinese companies? Why is that?

Mr. Quelch: The main reason is that China is run by engineers [who] typically have strong skills in finance and accounting and economics, but with less developed skills in the areas of leadership, change management, marketing, to some extent strategy as well.

So the soft skills, as we refer to them in the States, are the ones which are underdeveloped in China. The hard skills are well-developed. And so our curriculum places considerable emphasis on overlaying soft skills on the foundation of hard skills that many students bring to the classroom.

WSJ: Isn't part of the problem that state-owned enterprises have many of the same kinds of rigid hierarchies that you have in the Communist Party?

Mr. Quelch: That may be the case. But there's one thing that I've discovered in China: no-one—and I'm talking about the state sector—gets promoted for breaking the rules, but no-one gets to the top if they just follow the rules. So there is an art in China to taking new initiatives but doing so in a manner that is not destabilizing.

WSJ: But can that system generate true innovation?

Mr. Quelch: I think you can, if you throw a considerable amount of money behind it. But certainly a major challenge in the state-owned sector is to achieve innovation.

In every country the public sector is different from the private sector, whether it's the U.K. or the U.S., there's an approach, a culture and a style that is different, norms that are different. But in China I think that the gap is wider, certainly than it is in the States, and it's almost a case of natural selection where people come to a fork in the road in China and either go to the state sector or to the private sector. And the mental mind-set associated with each is more substantially different than it is in the U.K. or the U.S.

The innovation in China is much more likely to be generated out of the private sector, even though the state sector is hugely well-endowed with resources that could fund innovation.

WSJ: What advice would you give to Chinese companies headed overseas?

Mr. Quelch: Chinese companies should not go abroad as Chinese companies. They should go abroad as companies with an important differentiated value offering that consumers will be happy to pay for—and the country of origin is irrelevant.

WSJ: When will we see the emergence of global Chinese brands?

Mr. Quelch: I think that Chinese companies will add value initially in the B-to-B (business-to-business) sector, not the B-to-C (business-to-consumer) sector. Many people in China are eagerly awaiting the day when the first truly global Chinese brand enters the top-10 ranking of the world's most valuable brands. I think that's probably at least a decade away.

But Chinese companies like Huawei, ZTE—these companies have extremely good technology and know how to invest in technology acquisitions and, increasingly, they are acquiring or hiring non-Chinese to help them become global players. Those are the companies that are likely to be at the forefront of Chinese value-added overseas. Yes, there will be a Lenovo, there'll be a Haier, there'll be a Geely—we'll all, as consumers, be interested in following the fortunes of these B-to-C companies, but I think the B-to-B space is where Chinese companies are really going to excel.

You look at Sany at the moment: it's a very promising long-term competitor to Caterpillar.

WSJ: You say that Chinese companies are increasingly hiring foreigners and becoming diverse. Can you give examples?

Mr. Quelch: If you go to the U.K. website of Huawei, you will find that it's all about Basingstoke. It's not about Huawei as the global brand; it's about Huawei as a company that is in Basingstoke.

This is where the Chinese are going to move faster than the Japanese because a major brake on Japanese global expansion ended up being the shortage of talented Japanese who were interested in, or linguistically able to, operate in international markets.

But the Chinese are much more outgoing, and perhaps because they're coming 30 years later there are many more millions of Chinese who are English-language capable.

My guess is that whereas when a Japanese company made an acquisition the foreign executives immediately hit the equivalent of a glass ceiling, in the case of foreigners in a Chinese company, it's going to be easier for them to move up the ranks.

What will really make a difference in that regard is reciprocity. If and when, for example, Sam Su of Yum Brands becomes the first Chinese CEO of a Fortune 500 company born in China then they will accept a free flow of non-Chinese executive talent throughout their organizations.

WSJ: What was the biggest surprise for you working in China?

Mr. Quelch: The biggest surprise is that there are no weekends in China. I've always been a very hard-working person, but I have been amazed at the degree to which on Saturdays and Sundays I find myself involved in professional activities.

The way I explain it to my friends in the U.S. is that you cannot achieve 10% GDP growth per year by working a 35-hour week – even if you're as smart as the Chinese.

I remember Jack Welch famously held meetings on Saturdays with his people. But I think for many Chinese this is an historic moment of opportunity – a once-in-a-lifetime, maybe a once-in-a-millennium moment in time that no one wants to waste. So many Chinese display a relentless resolution to work hard today for themselves, their families and a better China.
January 21 2012 Share
United States to streamline travel visas for Chinese

The United States is expected to simplify and quicken the process of visa applications for Chinese travelers, US President Barack Obama announced on Thursday as part of an initiative to boost tourism.

"Every year, tens of millions of tourists from all over the world come and visit America. And the more folks who visit America, the more Americans we get back to work," Obama said in the White House news release.


US President Barack Obama unveils a strategy aimed at boosting tourism and travel in front of Cinderella's Castle at Disney World's Magic Kingdom in Orlando January 19, 2012.

Emerging markets such as China, Brazil and India are specifically mentioned in his plan as tourists from the three countries contributed about $15 billion and thousands of jobs to the US economy in 2010.

The number of travelers from China is projected to grow by 135 percent by 2016 compared to 2010. Chinese tourists on average spend more than $6,000 per trip, according to the US Department of Commerce.

Under the initiative, the non-immigrant visa processing capacity in China will increase 40 percent this year and 80 percent of non-immigrant visa applicants will be interviewed within three weeks of receiving the application.
Charles Bennett, minister counselor for consular affairs of the US embassy in Beijing, told China Daily earlier that 50 more American staff members will be deployed to the embassy and US consulates in China this year.

In addition, more interview windows and buildings will be built and the embassy is considering allowing people to arrange an interview date as early as two days after he applied, he said.

He said that nearly 90 percent of the Chinese applicants will be issued a visa in 2012, a figure that has seen steady growth in the past decade.

Walt Disney CEO Robert Iger told CNBC on Thursday he supports the effort to streamline applications for tourist visas.

People from Brazil, India and China in particular "have the wherewithal to travel to the US and have a growing desire to do so", Iger said. "So if you can make it easier to come, it's a big deal."

"Obviously the international tourist is very valuable to us, because they tend to stay longer and spend more money," Iger said.

Many US travel associations believe that the US has some catching up to do in improving its visa policy and travel services for Chinese travelers.

The State Department has quickened the process of non-immigrant visas in China in recent years, handling more than 1 million visa applications in 2011, an increase of 34 percent from the previous year.

Sylvia Dai, an employee at a Beijing-based Japanese auto company, said it was too difficult and took too long to get a US visa even though she was invited and guaranteed by her company's US branch.

"I went on business to the US twice, in 2006 and 2010. But I had to wait in line for a long time, about five hours," Dai said.

Jin Canrong, deputy dean of the School of International Studies at Renmin University of China in Beijing, said the US initiative is a "smart" one as it creates a new engine for the US to recover from its economic difficulties.

"The growth potential of emerging markets such as China and Brazil is huge, so focusing on attracting tourists from China and Brazil is just an easy choice to make," he said.
January 20 2012 Share
Dragon dance - China enters the Year of the Dragon in a stronger position to withstand economic shocks from the outside world than before the financial crisis in 2008 By Andrew Moody


Just over three years ago, China was heavily dependent on exports and lost 30 percent of its markets in a matter of weeks.

As we enter the Chinese New Year on Jan 23, the world's second largest economy - which grew by 9.2 percent in the last 12 months, according to the latest official figures - would be more resilient to a deepening eurozone crisis or a double-dip recession in the United States.

The economy is now more broadly balanced and less dependent on the export of inexpensive manufactured goods.

Donna Kwok, the Hong Kong-based China economist at HSBC, is confident GDP growth will hit 8.6 percent this year.
She says net exports (the difference between exports and imports) are now just between 2 and 3 percent of China's GDP, compared with 8 percent in 2007.

"We estimated that over the last year, net exports contributed next to nothing to headline GDP growth. Most of the growth has been internally generated," she says.

"Private household spending, public spending investment now make a much more significant contribution."

London-based Jonathan Fenby, director of China research at Trusted Sources, the emerging markets research service, and also author of the upcoming book Tiger Head, Snake Tails, says the China economy has moved on significantly in a short period of time.

"The trade effect on China's growth is certainly less than in the middle of the last decade going into the 2008 downturn," he says.

"If Europe goes into serious negative growth of 2 to 3 percent, it might result in China's growth slowing by just half a point to 7.5 percent. Exports contribute less to GDP growth than they did in 2007."

The situation in Europe and the prospect of a Greek default and exit from the euro was one of the factors that spooked the financial markets in China as well as the rest of the world in 2011.

The Shanghai Composite Index, China's main stock market indicator, fell 21.68 percent in the 12 months to the end of December - the third-largest drop ever in a single year but not as severe as the 65.39 percent slump in 2008 - but has rallied in the opening weeks of 2012.

Kwok at HSBC says it would be turmoil in the financial markets as a result of a euro collapse that would have the biggest impact on China, rather than anything to do with trade.

"The turbulence in global financial markets could potentially spill over into the real economy, not only in Europe and the United States but also in Asia," she says.

"I think this is where the major risk lies with the European sovereign debt crisis."

Some believe the euro crisis will become significantly more serious in 2012 and will risk dragging the world economy into recession.

The buoyant mood of the markets in the opening weeks of this year have been interrupted just once when ratings agency Standard & Poor's downgraded nine eurozone countries, even stripping France of its prized triple-A rating, on Jan 13.

Derek Han, chairman of North Square Blue Oak, a research and investment company with offices in Beijing and London, believes we are in for major drama in the first three months of the year.

"I think in the first quarter, we are going to get into a very difficult situation in Europe. It is not a question of whether there is going to be a default or a break-up but what kind. I believe the euro is unsustainable and it will come apart. It is an unthinkable mess," he says.

Han, who lives in Florida, says China will be unable to escape the ramifications of this.

"China is already seeing a slowdown of European imports of Chinese goods but they are soon going to stop dramatically. China's growth will certainly slow in the first quarter depending on what happens and how messy the default is."

The Chinese economy faced a number of key challenges in 2011 including rising prices, particularly of food which rose 9.1 percent in the year to December, and unprecedented levels of local government debt, which until the eurozone came along was one of the major international financial stories.

Inflation as measured by the consumer price index (CPI) reached a high of 6.5 percent in July but as a result of government monetary tightening measures had fallen to 4.1 percent in December, according to the National Bureau of Statistics. For the full year, it was down to 5.4 percent.

Many economists now expect further loosening of the bank's reserve requirement ratio (RRR) in the first half of the year - allowing more credit back into the banking system - and then for interest rates to start being cut in the second half of the year.

Wang Jianmao, professor of economics at the China Europe International Business School (CEIBS) in Shanghai, worries the government has not quite put the inflation genie back in the bottle and cautions about loosening monetary policy.

He believes if the government pursues a policy of relaxing the RRR, it should actually also raise interest rates as a precaution.

"I think any lowering of the Triple R and an increase in interest rates would be a very bad combination. I think the government needs to increase interest rates at the same time so we don't have a problem with inflation," he says.

Duncan Innes-Ker, senior economist for the Economist Intelligence Unit and a China analyst, also sees the danger of inflation rising at the end of 2012 but anticipates the government's anti-inflation measures to have the biggest impact in the early part of the year.

"We are expecting inflation to average around 3.5 percent in 2012, although it will probably be heading back above 4 percent year-on-year by December," he says.

Kwok at HSBC expects the government to go full steam ahead with a 0.25 percent interest rate reduction some time in the second half of the year after further reductions in the RRR.

"We will see three more Triple R cuts by the end of June and once inflation comes down below 3 percent, we shall see the first 25 basis points interest rate cut. We are only anticipating one this year."

The National Audit Office, China's leading auditor, revealed in June that municipal authorities had borrowed some 10.7 trillion yuan ($1.68 trillion, 1.33 trillion euros) in 2010, around a quarter of China's GDP.

Much of this expenditure was on infrastructure projects using the 4 trillion yuan of cash the central government had pumped into the economy in the wake of the 2008 economic crisis.

Many economists felt at the time this represented wasteful spending and could considerably slow China's juggernaut growth rate in the medium term.

Wang at CEIBs believes 2011 may prove a turning point and that this year any planned infrastructure project will come under much greater scrutiny.

"There is a need to spend money in a smart and not a stupid way. You need to look at getting a good return or else it will slow the growth of the economy," he says.

"Those government officials who have made the wrong decisions are simply bad decision makers and should be held accountable and punished so you get a more disciplined environment."

Wang says that instead of a focus on the hardware of infrastructure, the government should place more emphasis on the software of people.

"One way of doing this would be to improve the basic education in the rural areas of China and hire more higher quality teachers. You would then build more of an educated middle class in these areas which would boost consumption over the longer term," he says.

A major concern in China remains the property market, which has been subject to more than two years of tightening measures, after house prices tripled between 2005 and 2009.

According to an analysis of Chinese official figures, the prices of new homes rose by just 2.2 percent in November, the slowest rise for the whole year.

Kwok at HSBC says the risk remains of an over-correction of property prices.

"The China government has no intention of letting up on its current tightening measures being imposed on the property market until prices in tier-1 cities such as Beijing and Shanghai have fallen by 20 to 30 percent. If property price falls were to overshoot that, then growth could come in lower than expected."

Innes-Ker at the EIU says whereas in the West property price falls would be seen as bad for the economy, in China they actually provide a boost to consumption.

"When property prices are rising, people feel as though they have to save more to buy a property so when they fall they need to save less and therefore they spend more," he says.

"It is the opposite of what happens in the West when rising house prices encourage people to borrow against their houses and spend more."

Apart from the major headline economic data, some believe the Year of the Dragon could be when Chinese companies begin to assert their relatively strong financial position and begin to make acquisitions, particularly in Europe and North America.

Mike Bastin, a leading expert on Chinese brands and now a researcher at Nottingham University's School of Contemporary Chinese Studies, believes some of China's big name brand-owning companies could be involved.


"I see Chinese companies making a number of audacious takeover bids for established Western brands in 2012. I wouldn't be surprised if Lenovo, China's leading computer maker, or Haier, the household appliance maker, launch bids for American or European companies," he says.

There will be focus outside China in 2012 on whether there will be any moves toward a further internationalization of the Chinese yuan.

The yuan - the value of which is a major subject of debate in the US presidential race - reached a record level against the US dollar at the end of 2011, rising 4.86 percent over the year as a whole on top of a 3.1 percent appreciation in 2010.

"I think there will be an opening of new channels for Chinese people to invest overseas to prepare for the internationalization of the Chinese currency. It will be a gradual step-by-step process but I think it may happen much earlier than 2020, the timeline that some predict," he says.

One of the major issues of 2011 was whether the Chinese economy was heading for a hard or soft landing and while the debate still exists, many now are more confident of a soft landing.

"I think the question is now less about a hard or soft landing but more about what pattern we are going to see in growth," adds Innes-Ker at the EIU, who is forecasting 8.1 percent GDP growth for the year.

"I think what we are going to see is a very sharp downturn in the first and second quarters - mainly the lagged impact of measures to slow down the property sector - but then a sharp recovery in the second half."

Kwok at HSBC agrees: "We still feel comfortable about a soft landing because of the fact the government realizes the seriousness of the situation and will implement the loosening measures required."
January 17 2012 Share
U.S. Loses High-Tech Jobs as R&D Shifts Toward Asia


Caterpillar signed off Jan. 4 on expanding its Wuxi China, R&D center.

The U.S. is rapidly losing high-technology jobs as American companies expand their research-and-development labs in China and elsewhere in Asia, the National Science Board said Tuesday.

Global, U.S.-based companies such as 3M Co., Caterpillar Inc. and General Electric Co. have spent billions of dollars in recent years to expand their overseas research labs. Such companies aim to tap a broader pool of scientific talent, tailor products to overseas markets and curry favor with foreign governments by doing more research abroad.

3M is expanding labs overseas "in preparation for a world where the West is no longer the dominant manufacturing power," Chief Executive George Buckley told investors last year. "Given the moribund interest in science in the U.S., this is strategically very important." R&D spending at 3M, which is based in St. Paul, Minn., typically is 5% to 6% of annual sales and among the highest in the corporate world.

U.S.-based labs continue to innovate, developing such hit products as the iPad tablet and the Kindle e-book reader, but those products are made in Asia. That has raised fears that more R&D will flow to Asia. Researchers often find it easier to work near factories, where ideas can be tested quickly.

In the six years through 2009, about 85% of the growth in R&D workers employed by U.S.-based multinational companies has been abroad, according to the National Science Board, a policy-making arm of the government's National Science Foundation. U.S. companies generally aren't closing labs at home but rather focusing expansion abroad. The overseas portion of their R&D employment grew to about 27% in 2009 from 16% in 2004, the report said.
To a large extent, companies are setting up labs where engineering and scientific talent is becoming concentrated. About 56% of the world's engineering degrees awarded in 2008 were in Asia, compared with 4% in the U.S., the report said. Moreover, a large portion of engineering students in the U.S. are foreigners; 57% of U.S. doctoral degrees in engineering in 2009 went to foreigners, mostly from East Asia or India.

As a result of such trends, the U.S. lead in science and technology is "rapidly shrinking," the report said.

Overall U.S. employment in high-technology manufacturing—which includes computers, communications, medical equipment, aerospace, pharmaceuticals and measuring devices—has decreased 28% since 2000 to about 1.8 million jobs, the report said. That partly is because of more-efficient manufacturing methods and the recession, but it also reflects the growing abilities of China and other Asian countries to make high-tech goods.

The trends are "troubling," said José-Marie Griffiths, chairman of the committee charged with producing the biennial report. The U.S. continues to do well globally in aerospace and pharmaceuticals, she said.

Total U.S. spending on R&D in 2009 was about $400 billion, the highest in the world, but Asia is catching up. The total for China, India, Japan and seven other Asian countries came to $399 billion. The European Union's total was about $300 billion.

Caterpillar this month announced plans to expand a Wuxi, China, R&D center that opened two years ago and now has more than 500 engineers and support staff. The expansion will add research capabilities in engines, fuels and hydraulics, among other areas. The center is near Caterpillar factories making engines, parts and construction machinery.

A Caterpillar spokesman said Chinese R&D workers are better able to understand product needs for their market than U.S.-based researchers can. And having labs scattered around the world allows the company to work on urgent projects around the clock, passing them from one time zone to another, he said. Caterpillar's largest R&D center by far is near Peoria, Ill., where the company is based. Other research sites are in Chennai, India; Peterborough, England, and Ono, Japan, as well as Wuxi.

GE, which is based in Fairfield, Conn., in late 2010 announced plans to spend $500 million to set up six product-development centers in China. In November 2010, GE added a global research center in Brazil, its fifth such center in the world. Others are in India, China, Germany and Niskayuna, N.Y.

A GE spokesman said the company employs 2,000 people at its global research headquarters in Niskayuna, up more than 10% from a decade ago. "GE is investing in research and development in the U.S. and around the world," the spokesman said. "It's not an either-or proposition."
January 16 2012 Share
Beijing Takes On U.S. Envoy Over Rights


China sharply criticized comments by the U.S. ambassador to Beijing that China's human-rights record is deteriorating, adding to tensions between the two nations ahead of a sensitive visit by China's likely next president.

U.S. Ambassador Gary Locke told television interviewer Charlie Rose in an interview that aired on Monday that China is significantly cracking down on dissent. He said Chinese leaders were afraid they could face uprisings similar to last year's Arab Spring.

"The human-rights climate has always ebbed and flowed in China, up and down, but we seem to be in a down period and it's getting worse," Mr. Locke said.

In an unusually candid response to a question about human rights in China, Foreign Ministry spokesman Liu Weimin on Tuesday told a daily media briefing that Mr. Locke's comments don't accurately reflect China's human-rights situation and that the majority of Chinese were happy with the country's development.

"Some people always take viewpoints of the minority in China as the mainstream public opinion, and I think this is entirely wrong," Mr. Liu said. "Should we take the views of those in the Occupy Wall Street movement as society's mainstream public point of view?"

A U.S. Embassy spokesman declined to comment.

The remarks come at a sensitive time as both sides prepare for an important U.S. visit likely next month by Xi Jinping, who is widely expected to become China's next president in a once-a-decade leadership change that begins late this year. It is a rare opportunity for U.S. political leaders and diplomats to learn more about Mr. Xi, whom many analysts view as a business-friendly and largely pragmatic politician.

Mr. Liu acknowledged social problems existed in China and said they resulted in part from the country's breakneck development. "We have a population of 1.3 billion people, and we completed in 30 years what took the Western world 300 years," he said. The country "will naturally face some social problems, but the government is striving to resolve these. I think the efforts in this respect are also visible."

"We are willing to work with the international community on human-rights issues…but we also oppose the use of human-rights issues to interfere in China's internal affairs, including China's judicial sovereignty," Mr. Liu added.

Beginning in February 2011, following anonymous online calls for an Arab World-style Jasmine Revolution in China, security forces detained or confined to their homes dozens of lawyers, artists, writers and other political activists. Among the most recent cases, two veteran dissident writers were sentenced in late December to nearly a decade in prison each, in what human-rights observers described as unusually harsh penalties.

Religious followers, particularly Tibetan Buddhists, Muslims and Christians who worship in unauthorized churches, have also been targeted lately, religious experts say. In China's Tibetan-populated western regions, at least 16 ethnic Tibetans have set fire to themselves since March, according to state-run media and international advocacy groups. State Department spokeswoman Victoria Nuland said last week that the self-immolations were a manifestation of anger and frustration among Tibetans and highlighted "severe restrictions on human rights, including religious freedom inside China."

Last month, in an interview with the Associated Press, Mr. Locke also said the U.S. was concerned over human-rights developments in China during the past year.
January 14 2012 Share
In praise of the Chinese way By Chen Weihua


Ann Lee lists in her book a host of Chinese practices in areas such as education, Confucianism and banking that she believes the United States can learn from.

Ann Lee believes China's best practices are a good model for other nations

Over the past 33 years since China started its reform and opening-up policy, the country has looked to the West in its modernization drive. The zest for learning has been reflected in almost every area of society.

Most Chinese and Westerners believe China has all the things to learn from the outside world and few have fathomed that the West should also learn from China.

Not according to Ann Lee, a professor of finance and economics at New York University and a senior fellow at Demos, a non-partisan public policy think tank.

In her new book What the US Can Learn from China: An Open-Minded Guide to Treating Our Greatest Competitor as Our Greatest Teacher, Lee argues that sharing some of China's best practices and enduring principles can help foster much-needed change at home and could prove beneficial for sustainable economic growth and development around the world.

Lee says China has become a convenient scapegoat for American economic problems and the nations in the West have often overlooked these practices because they assume that China stands for values that are the polar opposite of their own. In many cases that is wrong.

Lee agrees that the book is biased. "It's not as if I think China can do no wrong. It's about best practices. Why would I talk about things that are not good, which is not the point of the book?"

The book lists a host of principles in areas such as education, Confucianism, work ethic, banking practices and even soft power and the ways government officials are selected as models that Lee believes the United States can learn from.

For example, contrary to the conventional wisdom in the West, Lee argues that China's leaders have earned their authority through a lifetime of meritocratic service that is far from arbitrary. "Their system of earned authority actually resonates strongly with Western values, is surprisingly popular with its population, and may even be used to strengthen today's democratic institutions.

"Although China's system is far from an ideal democracy, its system of meritocracy contains elements of democratic representation that permeate the entire governance structure.

"The Chinese believe that the privilege of leading a country should belong only to those who have proven that they can serve the country over long periods of time in a selfless way and accomplish a great deal. Thus the process of leadership selection in China at its heart is based on merit rather than mere popularity contests during elections."

Lee finds that unlike some US politicians who are elected to the federal government with limited leadership experience in both government and in the corporate world, a Chinese leader will have served in a variety of government roles that may be as diverse as leading several provinces as governor, engaging in trade negotiations, heading a State-owned company and running regulatory agencies.

A 2010 Pew Global Attitude Survey reported that 87 percent of Chinese said they were content with their country's direction; only 30 percent of American respondents said they were content with their country's direction.

Lee also sees the brilliance of China's five-year plans, which she compares to a strategic plan drawn up by a US corporation.

She argues that the beauty of China's system is that market forces are permitted to flourish at the corporate and retail level, but the government role is to make decisions independent of fleeting considerations like returns on investment.

"Despite historically widespread corruption at the local level, Party policy is at least predictable," says Lee, who migrated with her parents from Hong Kong to the US when she was in the second grade.

She says that in the US, politicians realize that pleasing their constituents with promises of quick fixes, like big tax cuts across the board, is a more effective way to win elections than putting forward long-term solutions to deep, structural problems like overhauling the entire tax code.

She says the lack of long-term planning in the US also makes it difficult for the Chinese to work with US government officials. In negotiations, foreign leaders never quite know whether the treaties they negotiate will ever get through Congress.

Lee, a former investment banker and a partner in a pair of multibillion-dollar hedge fund firms, is critical of Wall Street and cautions of an over-powerful financial industry, declaring that "rather than Wall Street serving the real economy, Wall Street has enslaved it. Financialization has put the cart before the horse."
She reckons that a vast majority of financial transactions conducted by banks and private equity firms are done for purely financial reasons, which often clash with the national goal of creating jobs or driving innovation.
She praises China for putting money into the real economy.

"There would be no China miracle if China followed the same monetary and fiscal policies as the United States."
Lee defends China's currency policy and believes its strong economic engine as a result of its peg to the US dollar has been a blessing for almost everyone. "After the 2008 financial crisis, China single-handedly brought the world out of recession, assisting countries from Brazil to South Africa to resume strong economic growth comparable to the pre-Lehman levels," she says, referring to the bankruptcy of the financial services firm Lehman Brothers.

According to Lee, who has traveled many times in China since the mid-1980s, including teaching at Peking University in 2008, China was able to engineer this feat because its financial institutions were heavily controlled and regulated by the government.

While Washington and Western media have been relentless in filling the airwaves with scathing accusations of China being a currency manipulator, Lee says that if she were to advise Chinese leaders, she would advise against buckling under such pressure.

She believes that people such as the economist Paul Krugman and the former treasury secretary and former CEO of Goldman Sachs Henry Paulson, who push for drastic renminbi appreciation, represent special interests. Given the fact that many top economists do not want to reveal their sources of funding, Lee says these economists are no better than politicians.

Lee argues that China's way of dealing with countries, including those in Africa, is often more civilized than the American way of relying on military resources.

In the epilogue she reminds readers that China still has a lot to learn from the US, which has made enormous contributions to the world. However, the list she proffers is meager and includes the concept of respecting uniqueness, the spirit of risk taking and brand awareness.

Lee says one of the reasons she wrote the book was that opinion pieces she offers for publication are often rejected. In that respect she is not alone, she says.

"The US media propaganda is so sophisticated, so nuanced. They are very good at blocking things that are substantial and showing only things that are ridiculous," she says.
January 13 2012 Share
Executive integral part of Air China By Wang Jun


Chi Zhihang has become a strong advocate for the loosening of visa restrictions for Chinese visitors.

Chi Zhihang is aptly named for his job as the head of North American operations for China's flagship carrier.

Zhihang in Chinese means aspiration for aviation, and as vice-president and general manager of Air China North America, the 48-year-old Beijing native has helped oversee the development of one of the most important markets for Air China, the world's largest carrier by market value, according to the International Air Transport Association.


Air China's unprecedented growth brought the company 12 billion yuan ($1.83 billion) net profit in 2010, according to Air China's annual report, making it the most profitable airline in the world, Air Transport World reported.

As a child, Chi memorized every single page of the aviation industry reference book, Jane's All World's Aircraft. Perhaps he was following in the footsteps of his parents, who were professors at Beijing University of Aeronautics & Aeronautics and "loved what they did", Chi said.

But, when he was readying for college, he realized that by becoming an aviation major would probably mean being assigned a job in some remote outpost after graduation, as most aviation majors who worked for the national defense did in the early 1980's. Chi chose to major in mechanical engineering instead.
The Chinese aviation industry has come a long way since the early 1980s. In 1981, the General Administration of Civil Aviation of China, now known as Civil Aviation Administration of China (CAAC), started a once-a-week China-US flight between Beijing and New York. In the spring of 1982, CAAC launched a flight between Beijing and Los Angeles.

At that time, the main purpose of the international flights was to take government leaders abroad for meetings and to send athletes to competitions, Chi said. The joke at the time was that CAAC stood for "Chinese airlines always canceled", Chi recalled, meaning performance wasn't important because commercial success wasn't important.

Chi flew to the US in 1988 via Beijing, Shanghai, San Francisco, Los Angeles, New York and landed in Boston to start the graduate program at Massachusetts Institute of Technology's Sloan School of Management.

"It took close to 24 hours," he recalled.

At the time, there were less than 30 flights between China and the US per week on any airline. Now, Air China alone has 28 flights connecting the two countries on a weekly basis, Chi said.


The same year that Chi landed in the US, China's civil aviation industry underwent an overhaul. The airline division of CAAC was divided in to six airlines, each named after the region where it had its hub, with CAAC acting solely as a government administrative and regulatory agency.

The six airlines were subsequently consolidated into three in 2002: the Beijing-based Air China International Corporation, the Shanghai-based China Eastern Airlines and Guangzhou-based China Southern Airlines. Air China International Corporation had all of the international routes at that time. Other Chinese airlines have caught up in recent years.

In 1994, Chi obtained a doctorate from MIT. His thesis topic, Dynamic and Network Effects in Airline Yield Management, guided by Dimitris Bertsimas, was a return to his early interest in aviation. Chi was recruited by Northwest Airlines that same year. For the next nine years, he worked in technical, marketing and management positions in Minneapolis, rising to the level of director. One of his major contributions to Northwest was developing the company's strategic alliance with Air China.

When Air China was searching for someone to manage its US operations, Zhang Lan, former executive vice-president of Air China, recruited Chi.

Chi was hired as the general manager for the Air China's Los Angeles office in 2004. It is the first time in China's civil aviation history that a foreign citizen had been hired as a senior executive (Chi is a naturalized US citizen).


"I know the position was very challenging," Chi said, "because I understood Air China's problems from our (Northwest's) alliance with them. However, it was irresistible to me to try to solve those problems."

One major problem was organizational. Air China had three offices in the US: San Francisco, Los Angeles and New York. They operated like three independent airlines, Chi said. Each had its own toll-free number, marketing strategy, sales plan and operational system; they even competed against each other for customers.

In 2006, the West Coast offices consolidated, with Los Angeles as the West Coast headquarters. Chi was appointed the general manager of the western US region.

Two years later, Chi was promoted to vice-president and general manager for North America, and was based in Los Angeles. All offices, including the New York office and Vancouver office, were placed under centralized management with a unified sales policy and centralized financial system.

According to Chi, Air China's next step will be to further streamline operations and customer service by adding directors to oversee those functions in all of the North America offices.
"Our models are Lufthansa and Cathay Pacific Airways, which we highly respect," Chi said. "Both of them operate by function, not location."

On Sept 1, Air China began a second daily non-stop flight between Beijing and Los Angeles. Before the second flight was added, seats on the flights were 90 percent full, on average, and 95 percent full during peak seasons. Now, flights are about 80 percent full, the airline reported.

At the inauguration of the second flight in Los Angeles, Air China Vice-Chairman Wang Yinxiang said that it took the airline 24 years to offer daily flights between Beijing and Los Angeles, but only five years to add a second flight. Chi attributed this to China's rapid economic development that has allowed more people to travel.

In 2012, Air China will gradually replace the Boeing 777-400 aircraft that fly between China and North America with Boeing 777-300ER aircraft. The first aircraft should debut in Los Angeles on Feb 1. The new twin-engine aircraft will save the company about 40 percent in operation costs - it burns four tons less fuel per hour than the current four-engine aircraft.

Growing with the company for the past eight years, Chi now finds himself working on something bigger than Air China - the China-US relationship.

Addressing the Global China Summit, an event at the United States Institute of Peace on Sept 27 attended by former US Secretary of State Henry Kissinger and former UK Foreign Secretary David Miliband, Chi, along with other participants, called for the US government to speed up the visa process and to allow more Chinese tourists and businesses to enter the US.


According to Chi, 1.1 million South Koreans came to the US in 2010, while only 750,000 Chinese were allowed into the country, even though China's population is 27 times that of South Korea's. The main reason for the difference: the US' tight visa restrictions on Chinese citizens.

"My biggest challenge in doing business here is that I cannot get enough people (to fly from China to America)," he told an audience of statesmen, scholars and officials.


Chi has become a strong advocate for the loosening of visa restrictions for Chinese visitors, giving speeches and lobbying US government agencies. On Nov 3, Chi was given the China Business Leadership Award for his "distinguished contribution to US-China relations" by the US-China Policy Foundation.

"My business is to bring people together," Chi said.
January 12 2012 Share
China and India join bid to build largest telescope in Hawaii


Countries to help North American institutes to build 30-metre instrument to look back billions of years - China and India are catapulting to the forefront of astronomy research with their decision to join as partners in a Hawaii telescope that will be the world's largest when it's built later this decade.

Both countries will pay a share of the construction cost - expected to top US$1 billion - for the Thirty Metre Telescope at the summit of Mauna Kea volcano. They will also have a share of the observation time.

It's the first advanced telescope in which either country has been a partner. "This will represent a quantum leap for the Chinese community," Shude Mao, professor of astrophysics at National Astronomical Observatories of China, said on Wednesday from Waikoloa on the Big Island, where he was attending a meeting of the telescope's scientific advisory committee.

The Thirty Metre Telescope's segmented primary mirror, which will be nearly 30 metres long, will give it nine times the light-collecting area of the largest optical telescopes in use today. Its images will also be three times sharper.

G.C. Anupama, professor at the Indian Institute of Astrophysics, said the largest telescope in India had a two-metre mirror, though another was being built that would be 4 metres. be 4 metres.

"So it's a huge jump for us from the 4 metre to the 30 metre," Anupama said from the sidelines of the advisory committee's meeting.

The telescope, known as TMT, will be able to observe planets that orbit stars other than the sun and enable astronomers to watch new planets and stars being formed.

It should also help scientists see some 13 billion light years away for a glimpse into the early years of the universe.

The University of California system, the California Institute of Technology and the Association of Canadian Universities for Research in Astronomy founded the telescope, which is expected to be finished in 2018.

China joined as an observer in 2009, followed by India the next year. Both are now partners, with representatives on the TMT board. Japan, which has its own large telescope at Mauna Kea, the 8.3-metre Subaru, is also a partner.

Mao said Chinese astronomers would likely want to use TMT to study the origin of planets outside our solar system, black holes, dark matter and dark energy.

China had leading theoretical astrophysicists, but it lagged behind in the field of observational astronomy, Mao said. The telescope will help China overcome that.

He said China would contribute at least 10 per cent of the construction cost, and more if its budget allows. Like India, 70 per cent of its contribution will be in-kind.

Mao said the project would also be valuable for the image China broadcasts to the world. "There are many things that are manufactured in China, but we want to move up in terms of technology," he said. All astronomers, wherever they were from, look at the same sky, he said.
Honolulu (updated on Monday June 28 2010): The University of Hawaii Board of Regents unanimously approved a plan Monday to build the world's largest telescope at Mauna Kea's summit.

The decision clears the way for managers of the proposed Thirty Meter Telescope to seek a permit from the state to build the facility on conservation land. TMT managers aim to begin construction late next year and finish by 2018 if they can get a permit.

Some Native Hawaiians have opposed the telescope on the grounds it would defile Mauna Kea's summit, which they consider sacred. Environmentalists say the telescope would harm the rare wekiu bug.

But the board was moved by the potential it offered for advancing science, providing jobs and helping the economy. The university's board must vote on the project because it owns the lease for the land on which the telescope would be built.

"I think it would be almost unthinkable not to approve this project for what it would mean for scientific research and astronomy, what it would mean for education, and the answers it may provide to unlock the mysteries of the universe," said UH Board of Regents member Chuck Gee.

Seven members of the public testified in favor of the telescope at the board's meeting. No opponents spoke, though critics have been vocal about their arguments against the telescope in the past.

Of those who submitted written testimony, 30 were in favour and 10 were against.

The University of California system, the California Institute of Technology and the Association of Canadian Universities for Research in Astronomy are spearheading the project.

The telescope would be able to observe planets that orbit stars other than the sun and enable astronomers to watch new planets and stars being formed. It should also help scientists see some 13 billion light years away for a glimpse into the early years of the universe.

A lack of major cities on the Big Island also means there's little light pollution to interfere with observations.

Astronomers and observatories in Japan, China and India have signed on to participate in the Thirty Meter Telescope.

Jean-Lou Chameau, president of California Institute of Technology, said the telescope was one of the world's most important projects in science over the next 20 years.
January 10 2012 Share
Experts: Higher China wages won't see foreign exodus
All bets against China's economic successes during the past 20 years continue to come up empty. 2012 will not be an exception.

The Saving and Loan crisis in 1987, the Asian Financial crisis in 1997/1998 and the world financial crisis in 2008 (mishaps created by the world's largest western economic powers), China and Hong Kong have came out stronger both economically and financially. Chinese with its humble culture did not come out start pointing fingers, they just find ways to keep their houses in order.


Workers assemble Ford cars on the assembly line at Changan Ford, the joint venture between Chang'an Automobile (Group) Co Ltd and Ford Motor Co in Chongqing.

2010 growth rate in Shanghai was 9.0%, below national average while Pearl River Delta growth rate was 13.5% benefiting from the close ties with Hong Kong providing financial expertise and management skills.

Even with those changes, the country retains its huge market for products and services.

A variety of US companies, including the iconic Ford Motor Co, have been reported to be considering bringing some manufacturing back to the United States. Yet jobs continue to be added in China.

Because of an agreement struck with the United Auto Workers (UAW), a labor union, Ford has announced plans to shift 12,000 jobs back to the US from China, Mexico and Japan in four years.

Trevor Hale, a China-based spokesman with Ford's Asia Pacific and Africa operations, declined to say how many jobs the company will transfer, saying the plan "refers to a jobs shift from a supplier in China to a component plant in the US".

Meanwhile, he said the company is adding jobs in China, which has been the largest market in the world for automobiles since 2009.

"Ford remains committed to growing in China and, in fact, we will double the number of professional employees we have here by 2015," Hale said.

The company is adding 550 salaried jobs to its wholly owned entities in China in 2011, and it will add another 1,200 by 2015. The automaker also has plans to bring 15 additional types of vehicles to China by 2015.

Over the next four years, the Detroit "big three" - General Motors Co, Ford and Chrysler Group LLC - are likely to add more than 29,000 hourly and salaried employees in the US, according to the US-based Center for Automotive Research.

In recent contract talks with the United Auto Workers, the three carmakers agreed to increase the entry-level wage paid to autoworkers in the United States from about $14 an hour to about $19.28 over the course of a four-year labor contract.

An executive at a leading US automotive supplier in China - who declined to identify himself or his employer - said even though pay is bound to increase in China, labor costs in the country still remain much lower than in the US.
The cost of workers' wages was equal to about 1 percent of the supplier's revenue in China two years ago, and the number doubled to 2 percent in 2011, the executive said.

Moreover, the company expects to see its labor costs increase by 45 percent in three years, he said.

The salary for entry-level jobs in Guangzhou's automotive companies is about 1,800 yuan ($281) a month, roughly $1.70 an hour. The big three, in contrast, offer an entry-level wage of $19.28 an hour.

"Labor productivity is indeed higher in the US, but it is also rising rapidly in China," he said.

In 2011, minimum wages were increased in China to help workers cope with rising prices. In the first three quarters of the year, minimum wages increased by an average of 22 percent from the same period a year before, according to the Ministry of Human Resources and Social Security.

Shenzhen in Guangdong province has the highest minimum wage in China at 1,320 yuan a month. Next in the rankings are Shanghai and Beijing.

"Salary increases are significantly high in China," said Jim Leininger, a Beijing-based executive with the consulting-company Watson Wyatt Inc.

He predicted that most industries in 2011 would have experienced a salary increase of between 10 to 12 percent for local employees who work for foreign companies or first-tier domestic companies.

There can be no doubt that China is becoming a more expensive place to do business. In the past 10 years, salaries in the country have increased on average by as much as 12 percent a year.

But that does not mean companies will stop investing in China, said Leininger, who is also the chairman of the American Chamber of Commerce's human resources forum.


Business people keep coming to China and are still drawn by the country's optimistic economic outlook and large domestic market - not simply its abundant supply of cheap labor, he said.

According to a recent study by the Boston Consulting Group, 2 million to 3 million jobs could be added in the US in the next five years as China's labor costs increase and manufacturing in the US becomes less expensive.

But very few executives and analysts in China agree.

US companies in China say they are confident about their business prospects in the country, the American Chamber of Commerce said in a statement.

About 85 percent of US companies in China reported revenue growth in 2010, according to a survey conducted by the chamber.

"I doubt that many American companies are planning to close down their factories in China and move them back to the US," said Jack Perkowski, founder of JFP Holdings, which helps Western companies bring technology and products to China.

"The reason why foreign companies will not leave China is because the market is here."

He said some makers of cheaper products may want to move their manufacturing operations to Vietnam and other countries where costs are lower than in China. He advised against taking such a step, though, saying it would be better to move to places such as Chongqing, where costs are much lower than along China's coasts.

Li Xiaogang, director of the Shanghai Academy of Social Sciences' foreign investment research center, said patriotic loyalties are unlikely to be enough to prompt a company to move manufacturing back to its home country.

In the first 10 months of 2011, the value of foreign direct investment from the US came to $2.73 billion, which was down 23.05 percent from the year before. That led to concerns about a continued decline in the amount of investments coming from the US

In 2011, fewer investments came to China from the US, a result mainly of US economic troubles.
--------------------------------------------
*News information are obtained through various sources: South China Morning Post, The Standard, Hong Kong Trade Development Council, Hong Kong Economic and Trade Office, Hong Kong Government, Asia Society, Wall Street Journal, China Daily, Xinhua, World Journal, The Singtao Newspaper, TVB, CCTV Stations in China and others that are deemed reliable, but not guaranteed